It's estimated that three-quarters of the smartphones in the world use the Android operating system.
That's over 5 billion smartphones, showing just how connected people are across the planet.
Android phones are easy to use. You can call people, access the internet from virtually anywhere, and download any app you need to make your life easier.
However, the ease of access to the internet and social media means that all users can also be at risk.
It's natural to want to protect loved ones, and even employees, from these dangers.
Fortunately, this is possible through the use of a hacking app.
They are designed to let you see all the activity on someone's phone. That allows you to take action when necessary and keep them safe.
There are hundreds of hacking apps on the market. They are not all as effective as each other.
We've looked at them and tested them to find the best Android hacking apps, saving you time and effort.
Best Android Hacking Apps 2023
The best Android hacking apps don't need you to jailbreak or root a phone.
They simply install, disappear into the operating system, and work.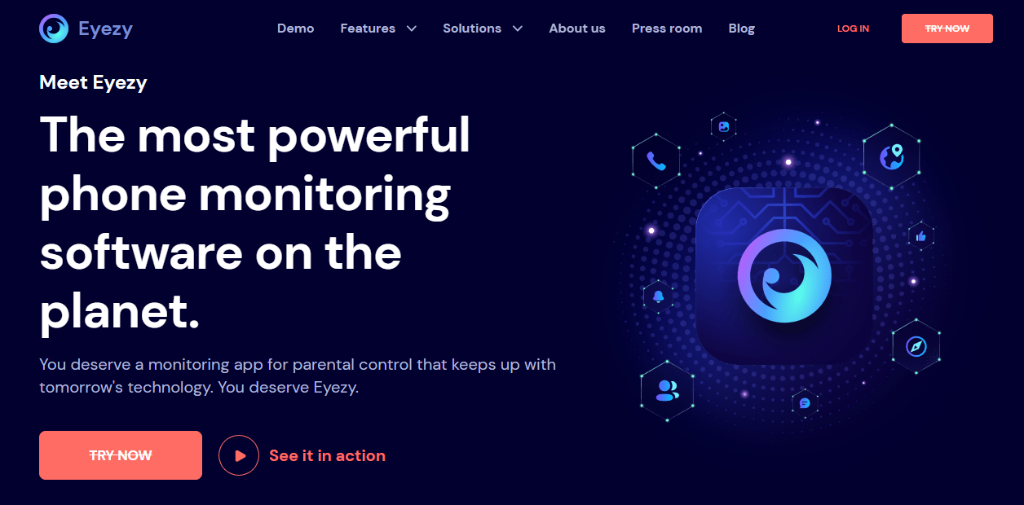 EyeZy is undoubtedly one of the best on the market. It offers several subscription levels ranging from one to twelve months.
The longer you subscribe the cheaper it gets.
A twelve-month subscription will cost you $9.99 per month while just one month's subscription is $41.99. The app does also work with Apple devices.
EyeZy gives you full access to the Android device, including a full list of phone contacts, calls made, duration, and frequency.
It also allows you to see all the messages, posts, an,d comments on all the major social media sites.
You'll be able to access all the images and videos on the phone, even if they have been deleted.
It's also possible to see a list of installed apps and their browser history.
The app allows you to see where they are and where they have been. But, the best feature is the notifications.
You can tell the EyeZy app keywords and phrases, it will notify you when they are being used.
In addition, it will tell you when someone is in an area they shouldn't be.
EyeZy can even tell you when new contacts are added or when a specific contact is being communicated with.
The app has full encryption and hides inside the operating system. You'll never know it's there.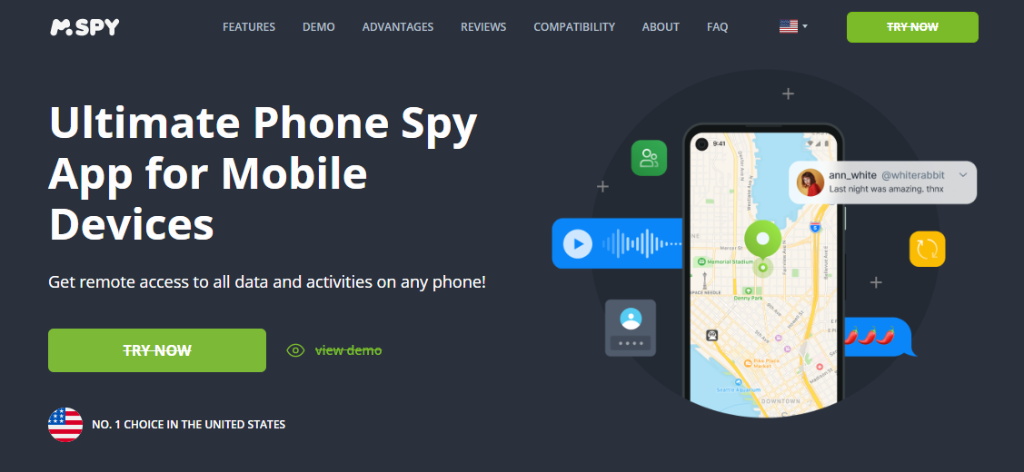 mSpy operates in the same way as EyeZy. It's earned a reputation as one of the best hacking apps in the world.
It can also be used with Android and Apple phones.
The cost is comparable at $9.92 per month when you sign up for twelve months. A single month will cost you $41.99.
mSpy uses a keystroke logger. This means it records every button that is pressed on the phone, ensuring it knows everything that is written, even if it's subsequently deleted.
You'll get access to their contact list including being notified of any new additions.
This makes it easy to see who they are calling and when, letting you know if they call someone a lot.
mSpy gives you full access to all the major social media channels.
You'll be able to see all their posts and comments received, as well as any media shared. It even gives you hidden and deleted posts.
Of course, the app can read SMS messages and can tell you the target's current location.
That's useful if you need to know where they are for their own safety.
The app also allows you to see their browser history, bookmarked sites, and the sites they visit the most frequently.
mSpy has an excellent customer service team, they can be contacted via live chat or email and are always available to help.
You'll find them friendly and knowledgeable.
Of course, the app is very easy to install and use, you may not need their help.
uMobix also works with Android and Apple devices. It's a well-designed app with plenty of useful features.
The pricing is slightly higher, a month will cost you $49.99 while twelve months is $12.49 per month.
However uMobix does have an impressive array of features.
These include a full list of calls made and received, the contact list, all SMS messages, and a GPS-based location tracker.
The uMobix keystroke logger ensures that all activity is recorded, even if items are subsequently deleted.
You'll get full access to the target's social media accounts, ensuring you see all messages posted, comments made, and media shared.
The app will tell you whether the phone is online or not, give you a full list of applications on the phone, and even tell you how long they have been using each app for.
uMobix will also identify any other app spying on data and tell you while recording all relevant device info.
It keeps the data accessoble for up to 180 days, depending on your chosen setting.
A nice feature is the ability to capture a picture of what is happening on the phone at any given time. It can help you identify an issue.
Like most hacking apps it also gives you some control over the phone.
This includes deleting unwanted apps, blocking website access, and even restricting calls to specific numbers or during certain periods.
The customer support team is very helpful and can be contacted by live chat at any time.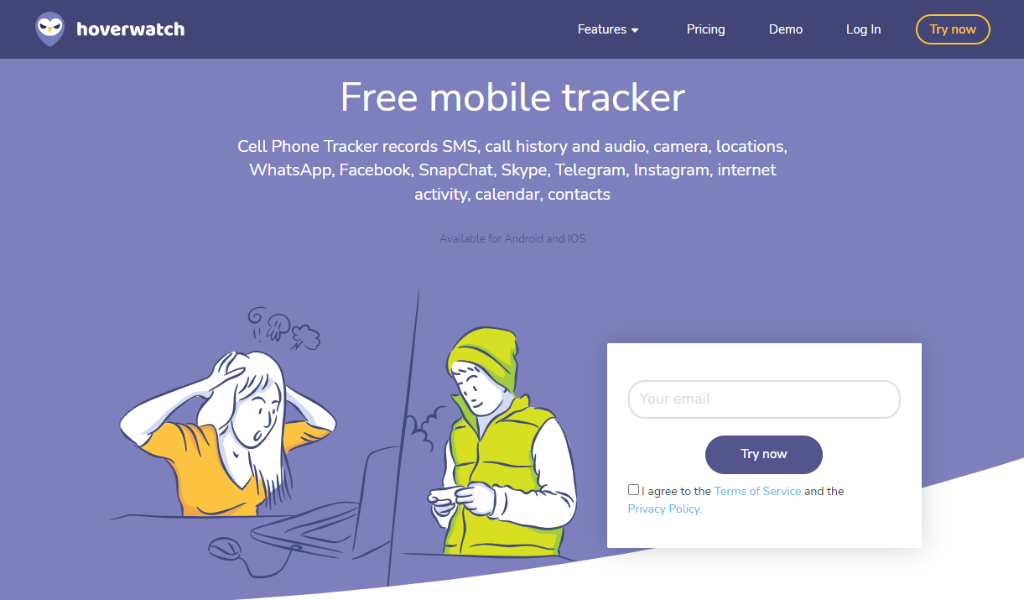 Hoverwatch doesn't offer a demo but it does allow you to sign up for free. Naturally, you'll have limited access to its functions.
If you decide you want access to everything then prices start from $24.95 a month for a one-month, one-device subscription.
One device for 12 months is $99.95.
You can also access the professional service which allows you to track 5 devices for $199.95 for twelve months.
Or, there's a business option which lets you track 25 devices. That's $499.95 for the year.
Hoverwatch gives you full access to all SMS messages and all social media messages. That's incoming and outgoing as well as any media files.
Even the deleted messages on Snapchat and the hidden ones on TikTok will be visible. 
Naturally, Hoverwatch can tell you exactly where the phone is and whether it has entered areas where it shouldn't have been.
It also gives a complete record of browser history and most frequented sites.
Alongside this, Hoverwatch will notify you if the user changes SIM cards.?
It will still track the phone's activity regardless of which SIM card is in.
A very useful feature of Hoverwatch is the ability to take a photo using the front camera.
It automatically takes a picture every time the screen is unlocked. It also takes screenshots periodically.
The customer support team can be contacted via live chat and are very helpful.
However, in many cases you'll find the answers you seek in the FAQs on the Hoverwatch website.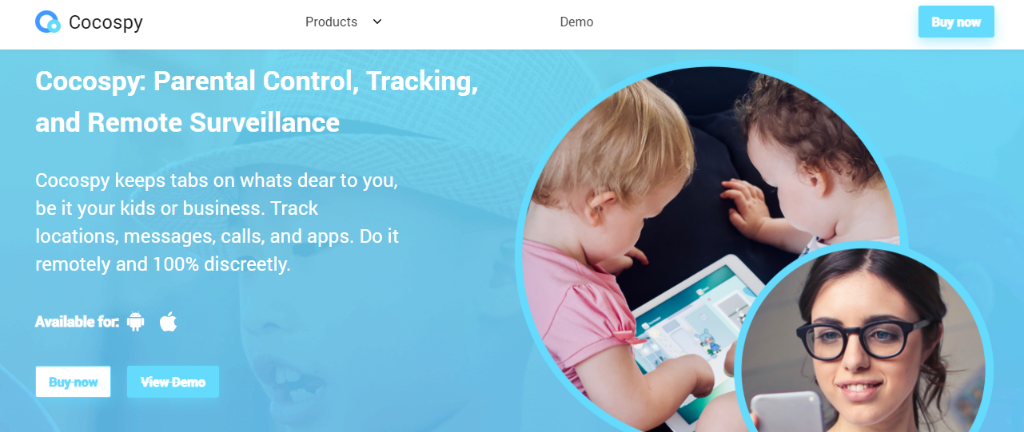 Cocospy is a well-respected hacking app that works exceptionally well with Android phones.
Best of all, it has an excellent demo feature which allows you to see everything the app has to offer.
Cocospy will cost you $49.99 for one month or just $9.99 a month with a twelve-month subscription.
You can pay by credit card, PayPal, or even with Bitcoin.
The app allows you to see all the contacts on a target phone and logs of calls made and received, including duration.
You can check where the target currently is and where they have been and even set notifications to tell you if the phone goes somewhere it shouldn't.
Cocospy also allows you to see which apps are being used on the phone, the complete browser history, and even which sites have been bookmarked.
Of course, you'll be able to see the main social media sites and all messages on these sites, including comments posted and images shared.
This app offers an excellent overview of what the target is doing.
If you have any questions throughout the process you can contact the friendly support team via live chat.
6. FlexiSPY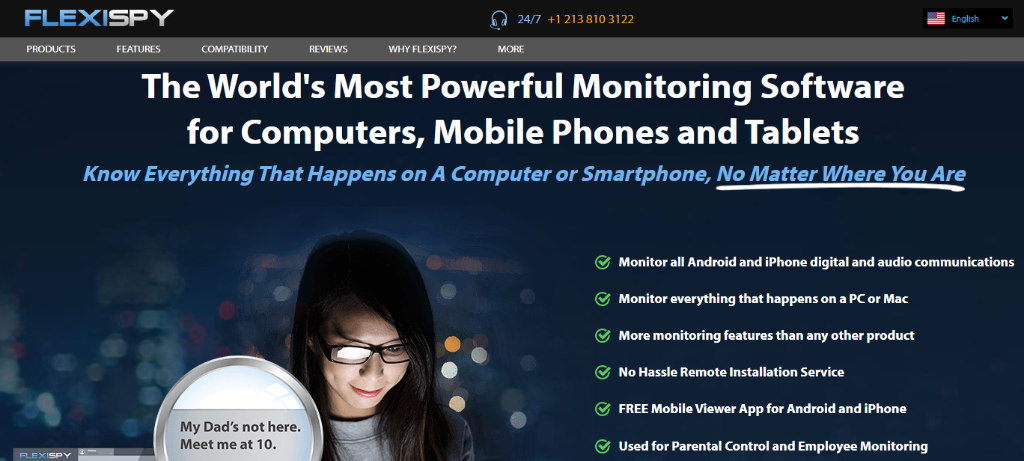 FlexiSPY is an excellent choice if you're particularly concerned with what phone calls are being made by an individual.
Once installed, the app allows you to listen to any phone call received by the target phone.
You can even intercept the call to speak to the person concerned yourself.
Alongside this, the app allows you to register specific words and phrases.
These, when used, will trigger a notification to be sent to you, allowing you to check what is happening on the phone.
As well as monitoring calls, you'll be able to see all the calls made and received by the phone and the complete contact list.
That includes being notified when new contacts are added.
FlexiSPY lets you see the messages coming and going on the most used social media sites, including any media sent or received.
You'll even be able to take screenshots whenever you want as proof of specific behavior.
The app also allows you to check the browser history and see all media stored on the phone. Of course, you can also track the location.
Flexispy offers a lite option for $29.95 for one month. It's budget-friendly but doesn't give you access to all the features.
The premium option, which gives you everything, is $79 for a one-month contract and $179 for a twelve-month contract.
7. Webwatcher
Webwatcher is designed to hack any Android system. It also works with PC, Mac, and iPhones.
The app is simple to install and use, giving you full access to the chosen device.
You'll be able to see all text messages, photos sent, received, and stored on the phone, and all phone calls to and from the device.
It also allows you to track the phone, both where it is and where it has been.
Naturally, you can check all correspondence on social media sites, including the hidden and deleted messages.
Webwatcher also allows you to see browser history, most frequented sites, and even the bookmark list.
Naturally, you can check the contact list, app list, and even be notified when new ones are added.
Webwatcher for Android costs $50 for a three-month contract or $110 for a twelve-month subscription.
Installing Your App
All of these apps are very easy to install. However, you will need access to the target phone.
Once you've subscribed online you'll be given a link.
You'll need to open a browser on the target phone and paste the link. It will then install in the operating system where it is invisible.
Before you install you should turn off the Play Protect and you will need physical access to the device.
Most Common Reasons To Use An Android Hacker App
If you're thinking about using a hacker app you're not alone. Millions of people use them.
The most common reason is to check on what your child is doing online.
It's a great way to keep them safe while giving them the freedom to explore and mature on their own.
You may also want or need a hacking app if you're worried your partner is cheating or you are trying to rebuild trust in the relationship.
Finally, employers often like hacking apps as they allow them to track employees and make sure they are working when they are supposed to be.
However, if you're an employee doing this make sure it's disclosed in your employment terms.
Summing Up
One thing is certain, you're not alone when using a hacking app. It is, unfortunately, something that everyone needs to do at some point.
The key to doing it successfully is to choose one of the best Android hacking apps currently available.
We've checked them out for you and listed the best above. All you have to do is sign up and enjoy the benefits.