If you're looking for ways to help your sales team grow your business revenue, consider investing in a sales enablement initiative and sales enablement software to facilitate the process.
Sales enablement is a relatively new concept designed to streamline the sales process by providing sales reps with the training, tools, and feedback they need to be more successful, faster.
In this blog post, we will discuss what Sales Enablement is, what sales enablement software is, and how it can help your business achieve its goals.
What Is Sales Enablement and What Are the Benefits?
According to Elay Cohen who pioneered the sales enablement industry during his time at SalesForce taking the company from $300 Million to $7 Billion in sales, "The essence of Sales Enablement is to help companies grow their business faster by aligning their people, processes, and priorities."
It's a discipline, a process, and as of now one of the impactful methodologies in the sales space with technology platforms designed around the process to help companies institute their own enablement initiatives to equip their sales teams with the tools, knowledge, and resources they need to be successful.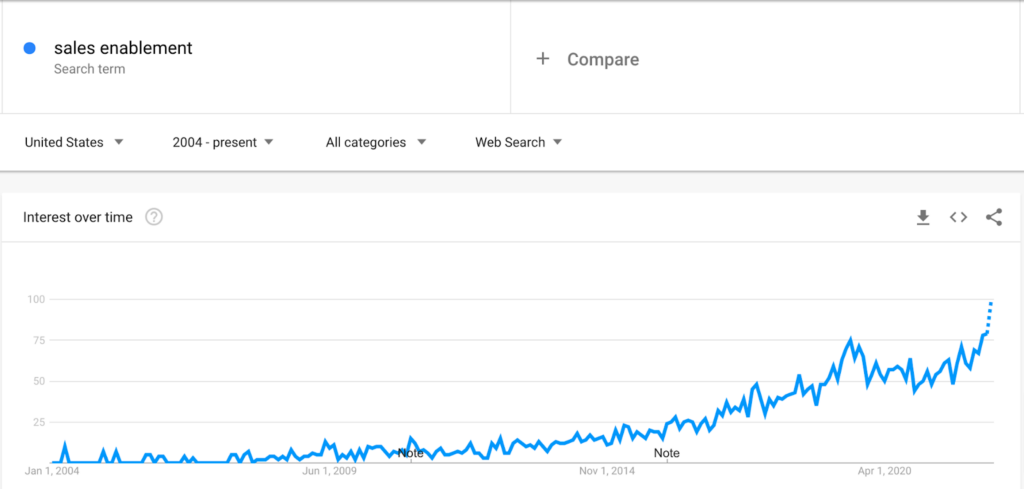 Sales enablement interest has exploded over the past five years.
By providing salespeople with access to relevant information, training, and resources, at the right time, sales enablement helps sellers close more deals in the same period of time, improving customer satisfaction by ensuring that salespeople are able to provide accurate and up-to-date information, to help answer customers' questions and close deals.
The companies that achieving hyper-growth today are likely achieving it through the help of their sales enablement initiatives.
By investing in sales enablement, businesses can give their sales teams the resources they need to succeed.
How Can Sales Enablement Software Help Your Business?
Enablement can help in multiple ways, with the most impactful being sales effectiveness, but it can also help on a personnel basis as well.
Sales Effectiveness
Sales effectiveness is a term used to describe the efficiency and productivity of a sales team. By providing sales reps with the training, tools, and feedback they need, sales enablement helps to improve the effectiveness of a sales team.
Sales Training
Ringcentral reduced ramp by 1/3 in under 6 months
"We had record-breaking revenue quarters at RingCentral with the highest number of deals closed and highest attainment, right away"
SHEEVAUN THATCHER – Head of Global Sales and Growth Enablement RingCentral
Sales Productivity
By giving sales reps access to relevant information and training at the right time, sales enablement helps to improve the productivity of a sales team.
Omada Health boosted sales employee productivity significantly with sales enablement.
"We multiply the productivity of our teams with modern learning and coaching."
2.5X Increase in Productivity
2X Increase in Cross-Sell/Up-Sell and New Logos
70% Increase in Sales Attainment
BILL DOUGHERTY – Chief Information Security Officer at Omada Health
Sales Revenue
By modeling top sellers and using pitch practice and weekly sales huddles it's easier for sales teams to collaborate, and convey what's working and what's not working across the entire organization, facilitating the team to close more deals and earn more revenue.
PowerSchool saw performance lifts across all revenue metrics
"We use it for everything – from our customer-facing collateral, communications, stack ranking, manager resources, learning paths and connecting data back to Salesforce."
CAROL SUSTALA – VP Sales Strategy & Enablement at PowerSchool
Employee Retention
In today's competitive talent market, sales enablement is essential for any company that wants to stay ahead of the curve and help employees win. By investing in sales enablement, you can give your sales team the edge they need to succeed.
Sales enablement can help to improve retention by ensuring that salespeople have the skills and knowledge they need to be successful in their role, and earn to their maximum potential.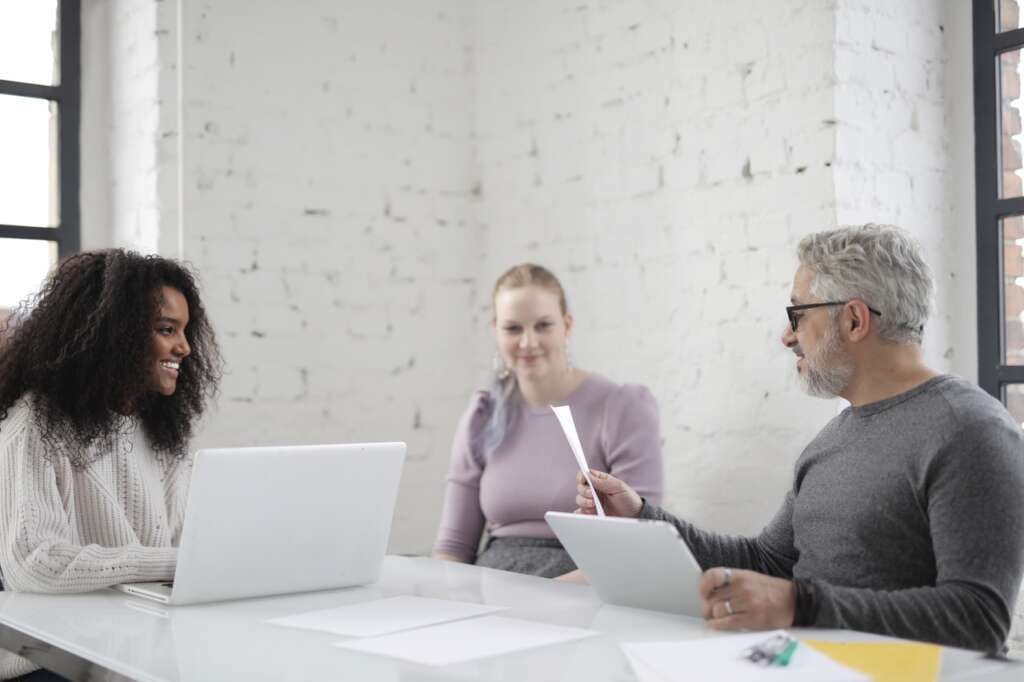 Tools That Comprise Modern Sales Enablement Software Platforms
Sales enablement software consists of different modules and components that altogether facilitate sales throughout the sales cycles.
Learning Tools
Use short, easy-to-digest lessons, micro-tests, video role-playing and feedback from your peers to speed up the impact of sales enablement programs and helps to onboard new hires quicker.
Coaching Tools
To make sure your managers are coaching and developing their teams regularly, sales enablement software has built-in coaching systems and templates that make it easy for managers to provide their teams with personalized sales coaching.
Guided Selling Tools
Efficient sales content gives you access to the latest, most up-to-date, relevant and successful sales content, for wherever you are in the sales process so you can keep moving forward and pushing leads down the pipeline.
Analytics Tools
But perhaps most importantly, sales enablement platforms can help you show how your sales enablement efforts have helped increase revenue.
If you are running a manual enablement program, it can be hard to correlate your program data with sales performance data. Modern enablement software makes it easy to correllate by providing correlation engines for Salesforce or by integrating our data with your Business Intelligence (BI) system of choice and correllate leading indicators.
Eliminate Sales Inefficiencies
Sales enablement helps to create a more cohesive sales team by fostering communication and collaboration. Without sales enablement, sales teams are forced to rely on their own resources and knowledge, which can lead to inefficiencies and a lack of standardization.
Lack of standardization in sales methods and processes can lead to inefficiencies and missed opportunities. Without sales enablement, sales teams miss opportunities and lose deals because they don't have the right information or tools. In addition, sales reps waste time on manual tasks that could be automated, and they duplicated effort because there's no central repository for sales collateral.
Conclusion
Any business, especially an enterprise business, that is not using a sales enablement platform in 2022, will be at a distinct competitive disadvantage. Without sales enablement, enterprises will struggle to keep pace with their competitors.
Sales enablement software technology provides sales teams with the tools and resources they need to be successful, including training, education, and support. Without sales enablement, businesses will not be able to achieve the same level of success or growth. Therefore, businesses should prioritize sales enablement in order to stay competitive and ensure long-term success.
Ultimately, investing in a sales enablement initiative and software can have a monumental impact on the bottom line of any b2b business, especially enterprise business for 2022 and beyond.