Are you looking for the best VPN free trial no credit card required?
When it comes to choosing a suitable VPN, you may not want to go all-in without knowing all the details first.
Luckily, there are various providers that offer VPN free trial no credit card so that you can have some time to figure out which one is right for you without having to risk your money.
However, it's crucial to understand that most VPN service providers are pretty sneaky while offering an "actual" free VPN trial.
Typically, new users are given a 30-days compensation guarantee which allows them to get a full money refund if they aren't happy with the providers' services.
But many of them don't offer a genuine free trial.
So, it would be best if you carefully choose a VPN for yourself. That's why we've listed the three best VPN providers you can use in 2023. Let's go!
3 Best VPN Free Trial No Credit Card Required in 2023
These are a few best VPNs with a free trial to consider in 2023:
NordVPN – 🏆 Winner!

There nothing in the world is entirely perfect, and a VPN provider isn't an exception. However, NordVPN is as close to an ideal VPN as any provider could be.
And we aren't exaggerating it. In fact, NordVPN is one of the best-known providers in this VPN industry.
NordVPN is based in Panama, a country with zero data retention laws and a place where there is no jurisdiction from the international surveillance alliances- 14 Eyes, 9 Eyes, and 5 Eyes.
This means that the VPN provider can work freely to protect its users' online privacy and security without interference from the government or other bodies.
Moreover, NordVPN is an innovative VPN company that comes up with new and better features to improve the privacy of its users.
For example, it was the first brand to introduce Tor over VPN and one of the most famous ones for providing a Double VPN feature which is very helpful for enhancing privacy.
When it comes to the VPN server network, NordVPN is one of the market leaders. It currently offers more than 5500 servers which are located in 59 different countries.
However, the numbers keep constantly changing as it introduces new server locations every now and then.
More precisely, it has a well-established network of servers.
It's a good thing because no matter where you're using NordVPN, you'll find a nearby server that will help you in achieving good VPN speeds.
Still, there are locations where you won't find NordVPN servers because it has servers in only 59 countries, where there are almost 200 countries around the world.
Additionally, NordVPN is a premium provider and is known for its affordable pricing. In fact, despite being one of the industry leaders, it charges as much as most of the other providers.
Although it doesn't let you use its services for free, you can use its 30-day money-back warranty.
To use the NordVPN free VPN trial no credit card service, you'll have to sign up for a plan on its official website like usual and make payment.
Then, cancel your subscription within 30 days, and you've used the service all for free. It literally reduces your cost to zero.
However, it might take some days to avail of your refund.
Finally, NordVPN offers various options for its customers to get in touch with its support team. It includes 24/7 email support as well as live chat.
The provider even allows you to have details on the type of data it has logged, which is rare. However, it has no phone number if you want to talk to a human personality.

Surfshark is a versatile VPN provider which allows its users to access the internet in peace, knowing that no one can track them or their device.
It offers a fantastic combo of speed with security. With different VPN protocol options and an array of features, users know that they can use it and do everything they do online.
Surfing the web is like surfing in the water. It's exciting as well as involves risk. It would help if you were very careful while doing both activities.
However, the most dangerous things about browsing the web happen in the background, which we don't see.
So, staying safe is pretty hard, not if you use Surfshark VPN.
The provider works amazingly well in the background to protect your and other user's privacy.
In fact, Surfshark encrypts your internet traffic and hides your IP addresses completely by routing it via one of its secured servers.
It ensures that no one, not even your ISPs, can track your online activities.
Moreover, Surfshark encrypts users' data and online information with AES 256-bit encryption, which is what a good VPN in 2022 should use.
Besides, it routes your internet traffic via multiple servers, providing an additional layer of protection and security.
That's a green flag since not many premium VPN providers in the market do that.
No-Borders Mode and Camouflage Mode are available on Surfshark, making it safer and easier to connect to your VPN, especially in a country where VPN use is restricted, such as China.
The Camouflage Mode is also called obfuscation. It makes your Surfshark VPN traffic appear to be regular traffic.
On top of that, Surfshark is an excellent option if you're looking for a free VPN trial since it offers a 30-day money-back guarantee.
Although it would be wrong to say that there is a free trial with this VPN provider, you can cancel your subscription within 30 days and get your money refunded.
It's like getting a free trial cause you'll eventually get your money back.
However, remember to cancel your plan before the end of the 30-day money-back period, or else you won't get refunded.
Now, if you think getting a free VPN trial with Surfshark is challenging or complex, you definitely need to correct something. It's pretty easy.
It would be best if you got a subscription for Surfshark VPN, downloaded it on your device, had full access for 29 days, and then canceled your plan and asked to give you a refund.
It'll allow you to use the services of this VPN utterly free of cost.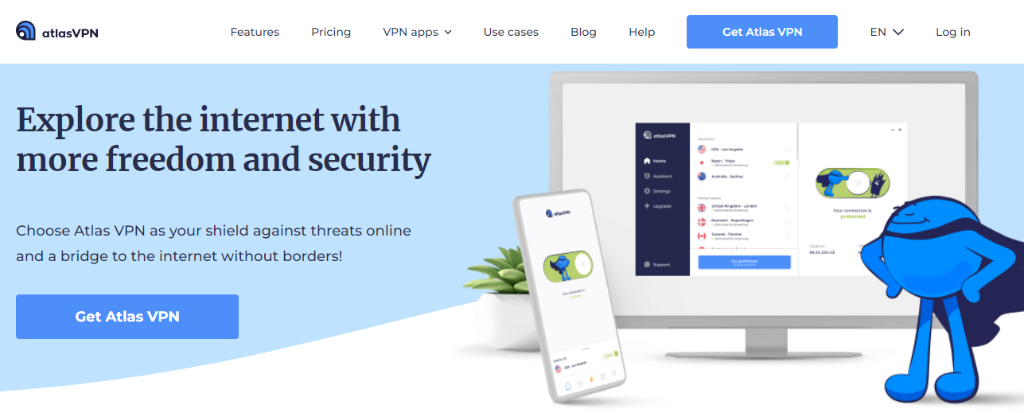 If you're looking for an affordable VPN option, Atlas VPN is precisely what you need.
Even though it leaves some things to be desired (such as more server locations), it offers incredible services with various useful features.
It's a freemium service which means it provides both completely free as well as premium services.
The free version of Atlas VPN is entirely free, and that's why you won't need any free trial.
Moreover, its premium plans are affordable and also come with a 30-day money-back guarantee.
Just like NordVPN and Surfshark, you can use its compensation guarantee as a free VPN trial no credit card.
Atlas VPN is compatible with almost all operating systems and has Android, iOS, Mac, Windows, Amazon Fire TV, and Android TV apps.
Moreover, premium users can enjoy unlimited simultaneous connections, which is essential if you use several devices.
Apart from that, both versions offer robust security and good speed.
However, the accessible version of Atlas VPN has a daily data limit of 2 GB and won't help you in unblocking geo-restricted online streaming platforms.
On the other hand, the paid one can easily unblock Netflix and other streaming services such as Amazon Prime Video, Disney Plus, Hulu, and more.
The best thing about Atlas VPN is that it doesn't keep records of any personally identifiable data.
Therefore, despite being headquartered in the United States (which isn't considered a privacy-friendly country), using this VPN provider is safe since it won't track your online activities.
Moreover, it supports peer-to-peer file-sharing.
Additionally, Atlas VPN offers some specialized servers for its premium members. It has three SafeSwap servers located in the United States, Singapore, and the Netherlands.
These aim to maximize your privacy online since they access your internet from multiple IP addresses that keep changing.
Furthermore, the mobile apps of Atlas VPN have MultiHop+ servers in North America and Europe.
It's another advanced network that hides all your online activities behind various VPN locations.
It further adds more online security and anonymity. The MultiHop+ servers are best if you want to bypass surveillance and censorship.
It's for someone who needs to escape government surveillance in countries with highly restricted online policies.
Atlas VPN also has a kill switch feature which is useful when the VPN connection drops or fails.
How to Get a Free VPN Trial No Credit Card
To get a free VPN trial no credit card, you've to choose a VPN for yourself.
We recommend using anyone from the list above, as these are industry leaders with unique features.
However, we really like the services of NordVPN, so you, too, can use them. Once you've selected a VPN, it's time to sign up.
After signing up, you need to install the VPN on your device and open it. Enter your credentials, and you're good to go.
You can use it for a couple of weeks and cancel the plan before the trial period ends. That way, you'll get a refund.
How to Choose the Best VPN Free Trial No Credit Card
Here's a list of factors to consider while choosing the best free trial VPN no credit card in 2023:
Compensation Guarantees: One of the most important things to look for in a VPN is its money-back policies.
We advise you to choose a provider that offers a compensation guarantee so that you can cancel your plan anything you want without worrying about wasting your money.
Trial During: Before signing up, you should know for how many days a provider gives a free trial. Please choose a VPN that offers a trial for a month or more so that you get enough time to try a VPN out.
Convenient to Use: While a few VPN providers are hard to use, some are beginner-friendly. We recommend getting a VPN that is easy to use. That way, you'll stay calm if you're a first-time user.
Server Network: It's essential to get a VPN that has a broader server network so that you can unblock as many geo-restricted sites as you want. That's why you should give high priority to the number of servers a provider offers.
FAQs
Is it Possible to get a NordVPN Free Trial Without a Credit Card?
Yes, getting a free NordVPN trial without a credit card is possible. You have to pay for its subscription via cryptocurrencies or Apple Pay.
It offers a 30-day free trial on all operating systems apart from Apple-made devices.
How Much Does a VPN Provider Cost after the Free Trial Period Ends?
If you fail to cancel your plan before the free trial ends, your VPN provider will charge you the prescribed amount.
However, that amount ultimately depends on the VPN provider and your chosen plan.
Is there a 100% Free VPN?
Yes, free VPN providers do exist. However, it's not worth your time.
That's because free providers often sell users' online browsing history to marketers and third parties (including hackers). So, you should never use these.
On top of that, free VPNs have various other frustrating characteristics, such as low bandwidth caps, slow speeds, unsteady connections, and limited VPN servers.
So, we always recommend you use a premium one because nothing is more important than your safety.
Conclusion
Fortunately, there are a few solid groups of free VPN trial without a credit card.
So, you can use these without having to worry about risking your money.
With that being said, we recommend using NordVPN, which comes with various unique features.
It's a good option for streaming, privacy protection, torrenting, as well as gaming. Moreover, the provider has a 30-day free trial, which is a plus point.