Many of us are guilty of illegally torrenting books, movies, digital books, and cracked versions of apps.
If you are using a torrent client, it is given you will end up unknowingly downloading pirated content once.
The fine for the mistake is close to $250,000 (only if it is a repeated offense) and five years in prison.
While this may not always be enforced, you should better be safe than sorry.
When you use BitTorrent and alternatives like qBittorrent without a VPN, you expose yourself to scrutiny from the law.
So, equip yourself with the best VPN for qBittorrent to torrent and don't worry.
Best VPN for qBittorrent in 2024
qBittorrent differentiates itself from other BitTorrent alternatives by providing a free, adless service.
If you are a regular user, you find features such as IP filtering, port forwarding, remote torrent management, and plugin support appealing too.
The download speed is satisfying, though the seed number plays a part. It has all the advantages uTorrent hides behind a subscription.
The only thing missing from this too-good-to-be-true torrent client is the built-in VPN option.
Even so, you can bind your VPN to qBittorrent- a tool we will teach you how to set up later in the post.
First, check the best 3 VPNs we selected for qBittorrent through personal testing:
NordVPN – 🏆 Winner!

When we tested the performance and user interface, NordVPN emerged at the top. NordVPN streams keenly protected OTT platforms with SmartDNS.
Providing military-grade encryption and snappy servers for torrenting is not a challenge.
The current NordVPN server count is 5474, established across 60 countries, all customizable based on location, specialty, and protocol.
The novel variety of servers includes:
P2P servers
Obfuscated servers
Onion Over VPN
Double VPN
When you torrent, P2P servers and the protocol are the biggest part of the speed puzzle.
Peer-to-peer networks are equipped to handle large data transfers, increasing your download and upload speed.
Even when you do not choose a P2P server beforehand, NordVPN reroutes to it when it detects the exchange of massive files over the grid.
Nord Security modeled its in-house protocol- NordLynx- after WireGuard. The spectacular speed test results prove the effectiveness of the upgrade.
A torrent user also has the option to connect to other protocols, such as IKEv2/IPSec and OpenVPN UDP/TCP.
qBittorent does not spam you with ads, but if it did, NordVPN's ad, malware, and cookies trackers and blockers would take care of you.
In addition to torrenting, you can share files with your friends over Meshnet.
NordLynx powers this private encrypted network where you can connect to other devices without using the internet.
Other unbelievable features from NordVPN include:
Dedicated IP, so you appear legit on apps that detect VPN.
Dark web monitoring so your data is never leaked into the infamous underworld of the internet.
No activity logging, so not even government officials can track your data.
Multifactor authentication to prevent anyone else from logging in.
DNA leak tests to confirm your internet traffic is secure.
Split tunneling so all the pressure of torrenting on NordVPN does not overwhelm your general internet connection.
NordVPN works almost anywhere with a Kill Switch, protecting your information if the connection fails.
You can connect up to 6 devices with 24/7 support from the company for setup and settings.
If you are not in love with NordVPN after 30 days of use, you can get your full money back.

Surfshark has approval from Info Security, AV-TEST, and AV comparatives.
However, its biggest badge of honor is the no-log activity certificate from Deloitte, a big four auditing firm.
The VPN service is affordable for those seeking internet security while torrenting on qBittorrent.
It allows you to connect as many devices as you want on a single subscription.
All the while, they spoil you with choices for servers. P2P servers are aplenty among their 3200 once distributed over 100 countries.
Other server types consist of:
Static IP
MultiHop
Standard
The Standard server conducts huge file exchange and streaming with no additional support.
Surfshark protocols you can choose are WireGuard, IPSec / IKEv2, and TCP / UDP.
Meanwhile, let us take a look at Surfshark's impressive collection of tools:
CleanWeb 2.0 is a browser extension to block malware, phishing, or cookie from a torrent site.
Automatic shutter over the camera.
Dynamic Multihop, where your traffic passes through two servers with customizable locations.
Bypasser to unblock websites that block VPNs.
The IP rotator changes your IP every ten minutes, so hackers never pin you to a single location.
Privacy guarantee comes in the form of AES-256 encryption and RAM-only servers. You can combine all these features with Surfshark Alert and Antivirus.
So you get notifications for any data leak anywhere online.
When you know someone is scrutinizing your personal information, you can take steps to remove it and report the person.
Antivirus can save you from any file with the slightest chance of malware from a torrent website never infiltrating your device.
Our favorite product under the Surfshark umbrella is Incogni. The tool is now limited to US, UK, Canada, EU, and Switzerland residents.
Incogni requests and demands the removal of personal information from data brokers on your behalf.
This is an automatic function you do not have to approve once you get it running. So, make full use of the functions and 24/7 customer service.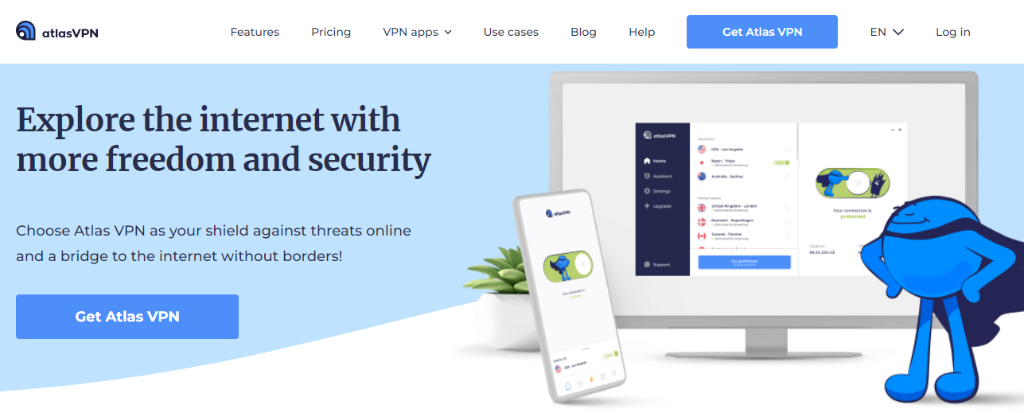 Atlas VPN has surpassed many competitors for a security service introduced in 2020.
It got top reviews from TechRadar, Forbes, and PCMag and got incorporated into its list of services by Nord Security.
This is possible with Atlas VPN's premium 750 servers spread across 45 locations.
Whatever type of service you need, you can find it among the following:
P2P servers
Private DNS
SafeSwap
Streaming
Moreover, every server except the streaming and SafeSwap ones is made available to free users.
Atlas VPN also relies on two protocols- WireGuard and IPSec/IKEv2.
And thus, you have the perfect potpourri to torrent with maximum privacy, speed, and no ISP throttling.
When it comes to encryption, Atlas VPN offers two advanced options. You can choose between ChaCha20-Poly1305 or AES-256 tunneling.
Atlas VPN also has other tools which make it appealing as a VPN for qBittorrent:
Split tunneling to divide your network between those with VPN enabled and regular use.
MultiHop+ allows your traffic to hop between several encrypted locations, keeping you more anonymous than ever.
The malware blockers exist, so no malware, phishing, or virus-filled content enters your device.
A data breach monitor scans the internet for any leak of personal information.
A no-log policy, so nothing you do with a VPN enabled ever gets in the hand of anyone else, not even the security providers.
You can also enable the Kill Switch, so you never download anything when the connection drops.
Atlas VPN accepts unlimited devices, no matter your subscription tier.
You can also connect Android TV and Amazon Fire TV to the VPN service.
How to Set Up and Bind Your VPN to qBittorrent?
For any VPN service you choose to set up and bind to qBittorrent, it should have the following qualities:
It will not log your internet activities.
Known for its fast performance.
Supports P2P file sharing.
Does not originate from a country where the law can demand customer information without adequate papers.
If the VPN of your choice meets these expectations, here is how you should set it up:
Download and install the VPN software. Select the version compatible with your personal computer's operating system.
Register and connect to a location more lenient with torrenting.
Install and set up the qBittorrent software now.
Open qBittorrent and click on Tools at the top of the page.
Select Options from the drop-down menu.
Click on Advanced.
Ensure the name of your VPN is selected next to the Network interface.
Hit Apply and OK.
Close and reopen qBittorrent.
Run a test to check if you were successful with your attempt to IP bind the VPN to qBittorrent. Disconnect the VPN and pull up a file to upload. It should not go through.
Now, connect to the VPN again and try to torrent something. It should be super-fast.
It is like having a Kill Switch outside of the VPN. You never do anything on qBittorrent without VPN protection after binding it.
Why is qBittorrent Not Working With VPN?
qBittorrent presents no resistance to VPN.
If you are having issues getting the torrent client to work, it may have something to do with your computer or VPN settings.
It could be something as simple as having an out-of-date qBittorrent version.
Try the following methods to see if you get better results:
Uninstalling qBittorrent
Downloading the updated version
Restarting your computer
Enabling the Kill Switch on your VPN
Changing the VPN server
Rebooting your router
Using a proxy server
Connecting to an obfuscated server
If none of these work, you can flush your DNS as a last attempt.
Write cmd on the search bar.
Double-click Command Prompt once you get the option.
Type in the command ipconfig /flushdns.
Lead it with the following:
ipconfig /registerdns
ipconfig /release
ipconfig /renew
netsh winsock reset
5. Restart your computer.
Your cache data may contain your real IP address.
The previous memory can confuse the system because the VPN registers a different location and IP address on qBittorrent.
A simple DNS flush helps eliminates old data and fixes the issue.
FAQs
Does qBittorrent Block VPNs?
No, qBittorrent or any other torrent client has no issues with VPNs. They even encourage it. 
Many torrent websites get shut down or blocked due to the amount of pirated content by the government in many countries.
Naturally, it lowers the traffic on those websites and decreases their profit. 
Blocking VPNs is unnecessary if users access the website with a VPN that keeps it running. 
Does VPN Slow Down Your Torrenting Speed?
VPNs have the ability to slow down and speed up your torrenting.
It works over your internet, and the total system can be a big load on the server.  
Yet, if you are facing issues of ISP throttling, a VPN can increase your internet and torrent speed by obscuring your IP address.
It bypasses the bandwidth limit your ISP placed on your connection and allows you to download faster. 
Does qBittorrent Have a Built-In VPN?
No, qBittorrent does not come with a built-in VPN feature. However, it is receptive to VPNs. 
If you were to turn on a VPN service, qBittorrent would not trouble you. An in-built feature even allows you to bind your VPN to qBittorrent.
In other words, when you try to launch qBittorrent without turning on the security solution, it refuses to upload or download anything. It is as flexible as it can get. 
Is Torrenting Illegal?
Torrenting is the process of sharing files from peer to peer over the torrent protocol with the aid of the internet. It is a legal network, and torrenting itself is not a crime. 
The issue occurs when people upload and download copyrighted content without the owner's approval.
You would not get in trouble if you were to upload a short film you created on a torrent website. You can even upload something your friend created if they consent to it.
However, they can sue you if they decide to take back the agreement and you do not have a written contract or proof. 
Additionally, suppose your friend has no proof the content belongs to them; then suing you would be useless. 
So, torrenting is not illegal, but people do pirate content more often than not. 
Final Thoughts
If you are worried about VPN slowing down the speed of qBittorrent, always go for the ones with P2P support.
The port forwarding tool in qBittorrent also improves performance, allowing two-way communication between peers.
As such, NordVPN has proven to have the most qualification among the qBittorrent VPN services.