We will not overwhelm you with a bunch of VPNs that will not work.
Instead, we have curated the three best VPN for online poker to bypass PokerStars, GGPoker, and more.
You will need a VPN to access your favorite poker site when flying somewhere like Singapore, where gambling is mostly illegal.
Additionally, countries like Spain only allow citizens to play within home-based websites.
So, if you travel outside, you should have a VPN ready to spoof your location back to it.
Luckily, we have 3 VPN tools which will bypass any geo-restrictions and any blocking attempts from the poker sites.
Best VPN for Online Poker in 2024
The VPNs best suited for online poker are:
NordVPN – 🏆 Winner!

The face of Nord Security, NordVPN controls over 5400 servers in 60 countries.
Serving unlimited bandwidth and spreading thousands of servers in one location ensures your connection never dips.
The location and the server type can be customized into:
P2P server
General server
Dedicated IP server
Obsfucated server
The Obfuscated servers hide the fact that you are using a VPN from your ISP.
As for Double VPN, it is so you can encrypt your traffic twice before loading the poker website.
All encryption is military-grade level, as verified by independent auditors.
NordVPN has also earned the title of fastest VPN from AV-TEST.
NordVPN's most advantageous features include the following:
Dedicated IP address to give your internet profile authenticity. The fake IP address will belong only to you, and you can skip any blacklist from online poker sites.
The entire threat protection toolset fights off malware, trackers, and cookie requests.
Meanwhile, NordVPN keeps monitoring the dark web for the slightest hint of the mention of your name or any other personal information.
It offers a Meshnet feature which is an encrypted private tunnel to help you share your files and information about your files and information about your poker winnings securely.
You can connect up to 6 devices on NordVPN and split your connection under VPN protection and regular network.
The security service is also famous for having an easy interface and a 24/7 available customer support team who will go beyond their job description to help you—making it the best VPN for Online Poker.

Surfshark records an upload and download speed of 325 Mbps on average across all its servers.
It streams content at 4K and conducts ultra-high-definition video calls without a hitch.
It delivers on the sweet promise of logging no user data and 256-bit AES encryption.
This is established by reputable big four auditing firms such as Deloitte.
Cure53 also tested Surfshark for any framework issue and found any existing one to be significantly minor.
The VPN service is widely available, with 3200 servers in 100 countries.
Surfshark may not offer dedicated IP, but it has far too many IP addresses for any VPN-detecting system to collect them all.
Protocols such as WireGuard, OpenVPN, and IKEv2 keep the servers sharp as you try to win.
Other features include:
The IP rotator hops through several IP addresses at a 5 to 10 minutes gap. Turn this feature off before loading your poker game. Gambling sites will find it weird if your IP address keeps on changing.
Tunnel through two servers with Dynamic Multihop, allowing yourself double encryption. You can choose the exact server location on Surfshark.
The Bypasser exists to arm you against online poker and streaming websites resisting VPN-enabled connections.
Surfshark automatically guards you against webcam hackers. 
For malware, ads, annoying pop-ups, and phishing attempts, CleanWeb 2.0 is there to block it all.
Every device you own can be connected to Surfshark. Your entire family can work under its protection.
Plus, you have the assurance of 30 days money back.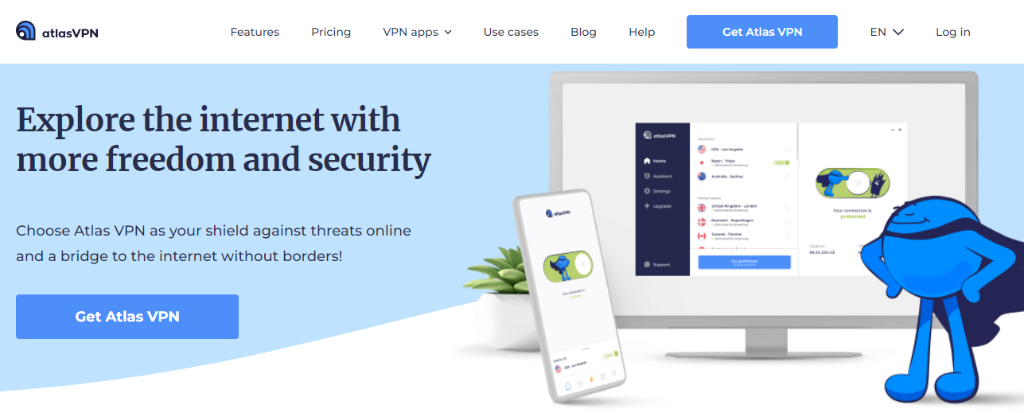 Lastly, we have Atlas VPN on our list, which takes competitive pricing to a new level.
All the facilities of the paid version are available on the free one.
The only difference is the 2GB monthly cap and a lack of the SafeSwap feature.
Even streaming servers are available for free. Of course, streaming Netflix or Amazon Prime on the unpaid version is still difficult.
These sites are smarter about VPNs and have safeguards to block them.
Atlas VPN combats it by keeping its list of IP addresses a secret and having numerous servers in a single region.
In 45 locations, you have over 750 servers you can link to.
Each server has its specialty, such as:
WireGuard protocol
IPSEC/IKEV2
P2P transfer
SafeSwap
Streaming
Private DNS
Free servers only operate in the United States and the Netherlands at present, and Atlas VPN has also been open to independent auditing.
VerSprite audit of Atlas VPN found medium to low-security risks.
The low threats mostly affect iOS users, which Atlas VPN is already doubling down on.
However, none of the threats can compromise user-sensitive data.
The SafeSwap servers keep the hackers guessing about the source of your internet traffic as you browse the internet from several IP addresses.
MultiHop+ is another puzzle piece of the same feature.
Your traffic hops through several VPN locations, getting encrypted at each turn.
The malware-blocking feature is the savior you need on poker websites, where every click can redirect you to an ad, phishing, or virus-spreading website.
If you want your poker location and the regular Facebook IP address to be different, use the split tunneling tool.
No other app has to be under VPN security if you want, and you can use the tool at full speed.
Why You Should Use a VPN to Play Online Poker
Poker websites have the curse of never appearing legit.
The safest of them have thousands of pop-up ads redirecting you to sites you never want to visit without a VPN.
While you are hoping to earn real money through your poker skills, a smart hacker collects your credit card details.
Yet, gambling websites get huffy about people using a VPN or proxy.
So, while we have some genuine reasons we are about to list for you to use a VPN, we understand if you are hesitant to use the tool so as not to get flagged by the poker site.
Unblocking Gambling Websites
The preliminary reason for using VPN for online poker is that it can help you unblock geo-restricted sites.
If you are from a country where gambling is illegal, we will recommend not trying it with a VPN or otherwise.
However, if you live in a state where poker is legalized, and only the website of your choice is blocked, VPN can overcome this problem.
Even so, we recommend playing for game points, not real money. If the poker site detects you are using a VPN, they can ban your account.
You end up not withdrawing the amount you saved before the suspension; it will belong to the poker site.
There is a workaround for the issue, but it would require you to file a complaint with your ban and more legal know-how.
Protects Your Identity
VPN encrypts your data and rotates your traffic through several servers. It blocks your ISP's unfiltered access to your information.
They would know you are using a VPN, but they can not legally stop you from using one.
Suppose you must enter your bank details or credit card information on a poker site.
When you have VPN enabled, third-party malicious actors cannot view this information.
If a hacker were to send you a spy link, the VPN would block it to protect you.
Whether careful or not, every action you commit with a VPN is secured.
VPN allows you to scour the internet and play poker with ease without worrying about your data being sold.
No-Lag Connection
ISP throttling is a severe issue in most continents, with the exception of Europe.
The moment your ISP detects the rush of traffic from your IP address to a poker website, it places a bandwidth limitation.
Not something you want to deal with while playing online poker.
You have to be fast and active to win; seconds lag can lead you to lose money.
A no-lag VPN changes your current location and gets you out of your ISP's hot zone. You can use the bandwidth you need to become the day's casino winner.
Tips to Use VPN for Online Poker
If you are going to play online poker with a VPN enabled, you have to be smart. Follow some rules, so you never face any issues during payout.
1. Always Connect with A Paid VPN
Free versions have the same public IP addresses, which pokers sites know belong to certain VPN managers.
Paid VPNs keep their IP addresses hidden and only release to a select few. It keeps gambling sites from detecting it.
2. Connect to A VPN First
Before opening a poker site, turn on the VPN. You should not visit GGStars with your regular IP address and reload it with a VPN later.
This will set off triggers on the site.
3. Get a VPN with A Dedicated IP Address
A dedicated IP address is a permanent fake internet address your VPN assigns to you.
Since it only belongs to you, poker sites deem your account trustworthy.
4. Cashout Often
If the poker site figures out you are using a VPN, your account could be deleted along with the funds.
Keep cashing out every chance you get, so you are never at risk of losing $3000 without warning.
5. Get a VPN with A Kill Switch
A Kill Switch is an automatic service in paid VPNs. You can decide whether you want it or not.
Enable it because the switch prevents your device from making unsecured interactions on the web.
If your connection drops for a second, your network link is severed immediately.
You get your connection back up when the line is stable.
This is an excellent tool to have when loading online poker. You are never without the VPN-allotted IP address.
6. Opt for Alternative Payment Methods
E-wallets or cryptocurrencies for payment and cash out do not require you to verify your identity on the poker website.
If you do not have a bank address for the location, it is better to go for payment methods that cannot be tracked.
Is Playing Online Poker with a VPN Illegal?
Playing online poker with a VPN itself is not illegal.
Provided you are not accessing the website from a country where online or offline gambling is against the law.
For example, US citizens can legally play online poker outside their respective states, where gambling may be illegal.
Alternatively, Washington allows all kinds of gambling except online wagers.
At which point, it is a Class C felony. It is not the poker site you need to worry about then, but the authorities.
Now, casinos do frown upon VPNs, proxies, and other regional unblockers.
If the gambling website realizes you have any of these services, they will refuse to payout the amount you earned.
They might ban your account without any explanation altogether.
You can be smart about the VPN you select so the poker site never suspects anything.
In general, read the terms of services on the website and only register if you think your VPN or proxy is strong enough to bypass detection.
FAQs
Will Using a VPN to Play Poker Cause Issues During Cashout?
A poker site may refuse your cashout request if you live in a country where online gambling is illegal or the specific website is banned.
The moment the website establishes that you are withdrawing funds to which bank in which country, it can freeze or delete your account. 
VPN can mask your address, but it can not change your identity.
You can have a bank account in a country where poker and the site run legally.
Some ask their relatives for bank details and proof of address. 
People also payout with cryptocurrency since the verification threshold is lower in the payment form.
Some sites allow payout with PayPal, so you can register with them. 
Can I Use Bitcoins to Play Poker with A VPN Enabled?
If you have VPN on and are unsure about payout with real cash, you can use cryptocurrency on sites like PokerStars and Full Tilt.
However, their VPN detection system is strong, and even Bitcoin payouts could be difficult. Go for websites with wider worldwide availability.
You can use cryptocurrency during payouts but temporarily disable the VPN if you think it will cause problems. 
For example, you can sign up with Bovada, CoinPoker, and BetOnline. 
Can Poker Sites Detect VPNs?
Yes, poker sites can detect VPNs and deny access to users using one. 
All VPN providers have a list of IP addresses they assign their customers.
Poker sites keep track of these addresses and ban incoming traffic from those. This is especially the case with free VPN sites. 
Paid VPN services have exclusive IP addresses that they do not assign to multiple customers.
They reserve it for single users who pay for their subscriptions. 
As these IP addresses are rare and dedicated to one person, poker sites do not realize it belongs to a VPN provider. 
You should also go for VPNs with a bigger range of servers. It allows them access to more IP addresses to serve you. 
Some sites like PokerStars scan your personal computer for the existence of VPN software.
As such, configuring a VPN to your router may be a better idea to avoid detection. 
Final Thoughts
Your financial information is at risk when you play with real money on poker sites.
VPNs ensure your identity and network are protected at all times.
However, you are always at risk of a ban while using VPN or a proxy for online poker.
This is a decision you have to make on whether you prefer safety or a worry-free cashout experience.
To help you along, we have compiled a list of the best VPNs for Online Poker you can purchase, which had the most success with gambling sites.