Artificial Intelligence is evolving at a great pace, and ChatGPT is the best example of the said statement.
For beginners, ChatGPT (Generative Pre-trained Transformer) is an immense language chatbot trained using supervised and reinforcement learning techniques by OpenAI.
With ChatGPT, one can look for an answer to any simple to complex question by using queries and is replied to with the best possible solution.
Everyone is using ChatGPT to its full potential as the results are frighteningly accurate and extremely helpful for everyone in their general and professional life.
The major downside with the ChatGPT is that its services are restricted in a few notable countries, which include China, Russia, Ukraine, Afghanistan, Belarus, Venezuela, Iran, and Egypt.
ChatGPT has most recently been blocked in Italy, too.
Due to these restrictions, people from the above-listed regions can't use the extremely prominent and efficacious ChatGPT as they cannot sign up.
As a result, people started using it through unverified sources.
To overcome all the geographical restrictions and securely use ChatGPT, VPNs are the best solution.
Best VPN for ChatGPT in 2023
Considering ChatGPT is an extremely useful resource available for free, it would be a great loss if one couldn't get hands on it.
As ChatGPT is being prominent, several unverified sources have surfaced on the internet disguising it.
These disguised ChatGPT sources make the users believe that they are being provided ChatGPT services.
In reality, these unverified sources make the user vulnerable if not taken good precautions.
With the VPN, the user can withstand many major security concerns that occur while looking for ways to use ChatGPT, and it provides a safe and secure way to face the rest of the dangers lurking on the web.
By using a reputable VPN, one doesn't need to find an alternative to use ChatGPT.
Instead, the user can use the primary source of ChatGPT by unlocking the geographically locked content through the servers of the VPN.
Considering all the issues associated with accessing ChatGPT in areas where it isn't available and also to protect the user from the rest of the dangers of the web, we have tested several prominent VPNs.
The below-listed VPNs are thoroughly tested and are extremely efficient at lifting restrictions on geographically unavailable content.
In addition, these VPNs can help the user with safe surfing by making them resilient against most of the dangers of the web.
Here is the list of best VPNs for ChatGPT;
NordVPN – 🏆 Winner!

NordVPN is an outstanding VPN offering excellent security features comprising up-to-date encryption standards.
It is spread across the world with a wide customer base featuring promising great reviews and ratings.
The main reason behind considering NordVPN for using ChatGPT is because of its ability to unlock geographically locked content through its impressive servers.
All the NordVPN servers are extremely efficient, with around 5200+ servers laid across all the continents combined.
The servers of NordVPN promise great stability along with support for unlimited bandwidth resulting in hassle-free streaming and downloading.
With these servers, people from the regions where ChatGPT isn't available can access it without any issues.
Unlocking geographically locked content wouldn't be enough if it doesn't keep the user safe, and to overcome this issue, NordVPN offers a "Threat Protection feature."
This newly updated feature focuses on providing the user with real-time protection to the user without connecting to any NordVPN servers.
To enable this feature, the user can simply turn the toggle ON and surf the web without worrying about viruses, malware, and trackers.
Alongside many outstanding features, it comes with all the necessary features for surfing the internet, which include the use of obfuscated servers, dedicated IP, MultiHop, IP Masking, Network Kill Switch, etc.
NordVPN hasn't settled with these features and went ahead to collaborate with the TOR to generate the VPN for Tor combo.
With this combo, the user can surf the internet more securely and is protected against many dangers of the web.
In addition, NordVPN also offers Dark Web Monitoring support, and as a result, the user is even protected on all levels of the web, which only a few VPNs offer.
Speaking of logs, NordVPN comes with a no-log policy, and no information is gathered without the user's consent.
As NordVPN provides the best for the user, it is compatible with all the prominent operating systems that support multi-platform compatibility.
In addition, NordVPN got most of your devices connected for up to six simultaneous connections.
When it comes to pricing, all the NordVPN plans are made based on monthly and yearly timeframes.
The user can make use of the trial pack before purchasing any plan, and the best part of NordVPN is the support for outstanding customer support.

Next on our list, we got Surfshark VPN with its impressive security features, making it one of the contenders for the best VPN.
Similar to many prominent VPNs, Surfshark features the best encryption standards with an easy-to-use interface, making it extremely reliable for the user.
As ChatGPT is not available to use in some prominent countries, the people of the respective regions have started reaching out to unverified sources, putting them at risk.
With Surfshark, the user can access ChatGPT without any restrictions, along with safety and security, thanks to Surfshark VPN servers.
Surfshark VPN made sure to lay servers across every continent to ensure every part of the continent gets a stable connection.
The 3200+ high-speed stable servers are extremely efficient and promise unlimited bandwidth, hence the user can use ChatGPT and other content on the web without worrying about network speed.
As Surfshark VPN offers unlimited bandwidth, the user can stream high-resolution content and download large-size files without issues.
As we are worried about the dangers associated with using unverified sources of ChatGPT, Surfshark VPN gets you covered with the Clean Web feature.
With this feature, the user is covered in real-time and protects the user from possible viruses, malware, and trackers.
In addition, the Camouflage Mode by Surfshark is a welcome addition as it is extremely efficient at keeping the user's privacy safe, and the best part is that the ISP cannot recognize if the user is using a VPN.
Alongside these outstanding features, Surfshark made sure to include all the necessary security features for surfing the web, which include IP Masking, dedicated IP, leak protection, Kill Switch, Private DNS, Multi-hop, and many more.
Surfshark VPN is very transparent about the logs, and no data, except for the crash logs, is gathered.
Even the crash logs are gathered upon user consent, hence the user can surf without worrying about privacy.
When it comes to Surfshark VPN's device coverage, it supports multi-platform compatibility with no restrictions on the number of simultaneous devices connected.
Hence all your devices are covered under one Surfshark plan.
Coming to plans, Surfshark offers affordable monthly, quarterly, and yearly plans along with a 30-day trial pack.
The customer support of Surfshark VPN is quite reliable, with instant solutions to user queries.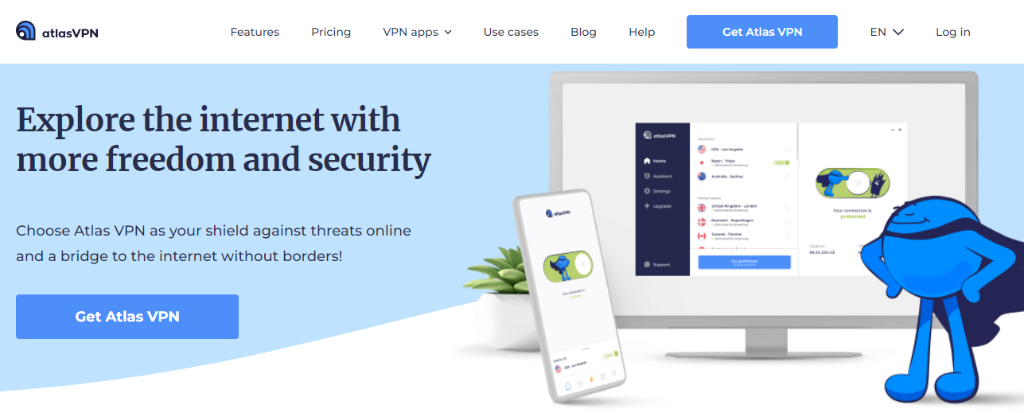 Atlas VPN is well known for the outstanding speeds offered by its servers.
Alongside these impressive servers, it is also known for all the necessary features, like advanced and up-to-date encryption standards.
As ChatGPT is not available to access in some of the most prominent countries, Atlas VPN is one of the best ways to access the unlocked content by using servers that can efficiently unlock all the geographically locked content.
Unlike the other prominent VPNs, Atlas VPN doesn't have a huge number of servers, but it comes with 750+ stable servers, which are perfectly placed in critical areas of the world to ensure long-lasting connections.
These servers provide the user with the best possible bandwidth; hence the user can stream high-resolution content without buffering and also download high-speed content without any restrictions.
In addition to high-speed servers, Atlas VPN offers an ISP Throttling bypass feature which helps with removing all the limitations imposed by the ISP to the user.
As a result, the user can use the ISP plan to the full extent resulting in enhanced streaming and downloading.
With Atlas VPN's IP Masking and dedicated IP features, the user can surf the web privately, and it comes in handy while visiting unverified websites.
For instance, all the unverified sources that promise ChatGPT access are extremely risky, and these security features come to the save.
Alongside these necessary features, Atlas VPN also offers MultiHop, a system to monitor data breaches, a network kill switch, and superior Internet encryption.
All the security features Atlas VPN offers are currently basic and necessary.
In the coming future, we can expect a more refined Atlas VPN, considering the rate at which new improvements are taking place.
Atlas VPN is very clear about the logs that are being gathered, and even crash logs are not collected without user consent.
The good part of Atlas VPN is the assistance with cross-platform compatibility and unlimited simultaneous device connections.
One of the main reasons behind considering Atlas VPN is the affordable plans.
All plans on offer are priced very reasonably, and the best part is that the user gets a trial pack before purchasing any plan.
Atlas VPN's customer care is very promising, with instant support, and is available all around the clock.
FastestVPN is a top-rated VPN service that offers its users top-notch security and privacy features.
The service is compatible with all major devices, including Windows, Mac, iOS, Android, Fire TV, and more, making it a versatile option for users who want to protect their online activities.
One of the standout features of FastestVPN is its ability to be installed on routers, which allows for VPN protection on more than 20+ platforms.
This means that users can enjoy secure Wi-Fi over all their devices without the need for a separate app, making it a great option for households with multiple devices.
FastestVPN uses military-grade encryption to protect users' online activities, making it virtually impossible for anyone to intercept or decrypt their data.
The VPN service uses AES-256 encryption, which is the industry standard for data protection.
Additionally, FastestVPN offers several protocols, including the Auto protocol, OpenVPN (UDP/TCP), and IKEv2, which allows users to choose the best protocol for their needs.
FastestVPN is a great solution for unblocking geo-restricted content, making it an ideal choice for streaming and gaming enthusiasts.
The VPN service has servers in more than 40 countries, which means users can access content from around the world.
FastestVPN also has a built-in ad blocker, which blocks annoying ads and pop-ups, making for a better browsing experience.
The FastestVPN Support Center provides user guides, customer support assistance, and helpful video tutorials to set up FastestVPN and its add-ons on various devices.
The VPN service also offers a 24/7 live chat support feature, which allows users to get help with any issues they may encounter.
FastestVPN is a reliable and fast VPN service that offers users a great balance of security, privacy, and speed.
The VPN service has a strict no-logging policy, which means it does not keep any logs of its users' online activities.
This makes FastestVPN a great option for ChatGPT or those who are concerned about their online privacy.
How to Use a VPN for ChatGPT?
Considering all the myths associated with using VPN, one might assume that using VPN might be tedious and requires a learning curve.
VPN softwares are developed considering all users in mind, hence all the complicated processes are hidden from the user with an easy-to-use interface.
Here's how you can use a VPN for ChatGPT.
First, choose the server from the list or from a map if it is available.
By going to the settings or changing them using the quick access menu, make sure to verify that all security mechanisms that are required to browse the web safely are active.
Upon checking everything, simply click on "Connect," which might be in the form of a button or toggle.
Note: The interface might vary according to the software, and the above steps mentioned might not match with all software.
Hence consider the above steps as an example, and if you're still not sure how to connect to the VPN, browse the VPN's main website.
How to Choose the Best VPN for ChatGPT?
There are many things to consider before buying a VPN, but the main ones to think about when buying a ChatGPT VPN are;
ChatGPT is currently not available in a few countries; hence the VPN must be capable of unlocking geographically locked content.
Surfing unverified websites might put the user's privacy at risk, hence make sure the VPN gives a dedicated IP and IP Masking features.
ChatGPT might not consume a lot of data, but it is always advised to select the VPN that offers stable servers resulting in uninterrupted streaming and downloading support.
Verify the security features that the VPN offers, and it is a good idea to have Private DNS, Data Breach Monitoring Systems, AES-256 encryption, Kill Switches, Dark Web Monitoring, Threat and leak prevention, etc.
No-logs must be collected by the VPN without user consent, hence verify if the VPN is offering a no-logs policy.
There is a high chance of using ChatGPT on several devices, hence purchase a VPN which offers multi-platform simultaneous device connectivity and compatibility.
Customer support must be reliable, and all the plans must be affordable.
FAQs
Can ChatGPT Answer any Questions?
Everything comes with limitations, and so does ChatGPT.
It is trained with the data that occurred before 2021, hence it cannot answer all the questions as it knows events occurred before 2021.
It is always advised to cross-check the answers with trusted sources, as the results might sometimes be biased or inaccurate.
Is ChatGPT Safe to Use?
ChatGPT is extremely safe to use, but the data is collected to enhance the performance.
The collected data and old conversations can be deleted upon request, but ChatGPT officials have advised to not share any personal information.
Is ChatGPT Free?
ChatGPT is currently free for all users, but in the future, there are high chances of OpenAI imposing charges for queries, and the user might have to purchase plans.
According to OpenAI, ChatGPT is free to use during the initial research preview, and as per the trusted sources, the company might charge the user after the feedback period.
Conclusion
ChatGPT is arguably one of the best-developed chatbots so far. The probability of the user being provided with an inaccurate answer is very rare, and the results are frighteningly accurate.
As ChatGPT has gathered everyone's attention, several dubious alternatives of ChatGPT are flooded across the web and stores of Google and Apple. Even though the user is extremely careful, there are high chances of being a victim accidentally.
In addition, we have discussed several countries not having access to ChatGPT, and people of the respective regions are at more risk, as the chances of them visiting an unverified website or installing a bogus app are very high.
To withstand all the dangers associated with accessing ChatGPT is made easy using a VPN. With a VPN, you're protected against most viruses, malware, and trackers.
To conclude, VPN provides the user with the best way to stay private and secure on the web. In addition, they are simple, with no necessary learning, and are reliable to use.