Viralyft Review 2024
Viralyft is one of many companies in the industry that claim to help you with your social media growth online. They are the kind of company that can help you not only with Instagram, but with Spotify, SoundCloud, and Facebook as well.
This means that you might think you've got a lot of features to choose from, but they're not actually worth your time. One way to do get away from companies like this is to have a few alternatives that can help you get ahead with your social media growth.
This way, you can rely on a few companies to get the job done or switch it up from time to time depending on what the current trends are, and you can avoid Viralyft at all costs. So, why would you want to avoid them? Read the review below.
What is Viralyft?
Viralyft is a company that claims to be able to help you with every aspect of your social media engagement, including of course you Instagram. We don't only review companies related to Instagram, but we think that it's helpful that you find as many companies that can help you with Instagram and other social media platforms as possible.
We really don't like that they are claiming that they can help you with everything because what this really means is that they are just being lazy with their features, and they are spreading themselves way too thin.
They are providing super low-quality features to their clients because they ultimately just want to find a way to make a quick profit. All of the features that they display on their homepage are fake and can't be trusted.
What are Viralyft's Features?
Viralyft has a really sad list of features, that they have only just managed to divide into different categories based on social media platforms. For the sake of this review, we will focus on their Instagram features. They have divided these into being able to buy Instagram followers, likes, views, and comments.
If you care about the legitimacy and authenticity of your Instagram profile, then you need to stay far away from these guys. Why? Because they promise rock-solid results, even though they are sourcing all of their Instagram engagement from fake profiles that aren't actually going to add to your Instagram engagement at all.
They also promise that they have 24/7 customer support, but we can tell you right now that there are plenty of existing clients that have had real issues getting in touch with them. They even promise a secure checkout system that isn't actually as safe as you might think.
This means that you could very easily share credit card information, only to have it stolen by a third party. Basically, what we're trying to say is that every aspect of Viralyft is overexaggerated, and not going to serve you well in the long run.
They are only out for themselves and have no real interest in helping their clients do well on Instagram or any other social media platform for that matter.
Review Conclusion
Viralyft is so bad, that if you try to get in touch with them at any point, we can promise you that you will be met with a brick wall. There are lots of companies in this industry that can be taken at face value, even if they are low quality because what you see is what you get.
They don't pretend to be something that they aren't, and for this reason, you can have low expectations of them from the beginning. What's concerning to us about these guys is that they make all these promises to their clients, making them believe that they can actually help them do really well.
This is particularly damaging, and it means that your reputation is on the line from the very beginning, but you don't think it is. We are also disappointed to see that
Viralyft has written fake reviews of their services on websites like ReviewsXP, and they have even had their Trustpilot reviews and account removed. If you care about the security of your Instagram profile, then you'll stay well away from a company like this and make the most of the companies that we have discussed below.
The bottom line is that these guys just aren't worth your time and we condemn them for even attempting to pull the wool over their client's eyes.
Pros & Cons of Viralyft
Let's review what we believe are the best Viralyft alternatives in the industry right now for your social media growth.
First Look
"I like Media Mister for my social media growth because they are really good at knowing what I want, and helping me achieve it. I love that they have a connected network of professionals that they use to get my profiles in front of the right people."
"GetAFollower is a great choice for me because I have trust issues with companies like this in the industry. It took me a while to come around to the idea of using GetAFollower, but eventually I was able to see that this company is one of the most trustworthy companies of its kind."
"Buy Real Media makes my life so easy when growing my social media profiles, especially Instagram. They ensure that I am able to get the engagement on my posts when and where I need it, so that I can build up more of the right audience for my content."
"Seek Socially has been there for me since day one, which has really changed how I perceive companies like this. I used to be skeptical, simply because they didn't look like they were going to be around for a long time, but Seek Socially has proven them wrong."
"The thing that I love the most about Growthsilo is that they are there for their clients all the way through. They also manage everything for you, so if you're like me and want to be able to not even think about your engagement, then check them out today."
Top Viralyft Alternatives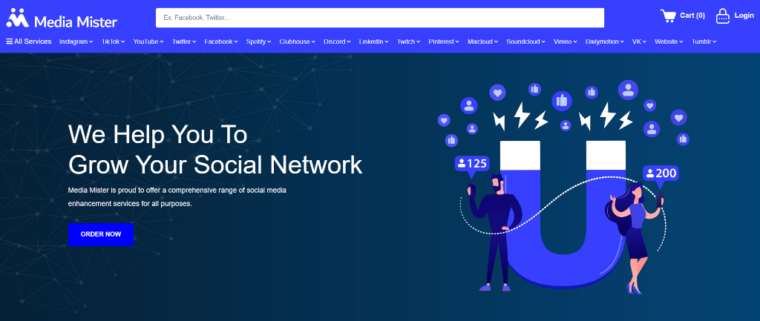 Media Mister is a Viralyft alternative that's definitely worth looking into. Why? Because they can effectively help you grow your social media, and they will keep your reputation safe at the same time.
They say that they utilize a huge network that they have created of industry professionals that will work hard on your behalf to expand your content's reach across the board.
They have industry professionals in this network that fall into every kind of niche and industry you can think of so that you can diversify your content's visibility.
We also love that they can help you with more than just Instagram, which means it's got features for everything. If you scroll a little bit further down their home page, you will see positive testimonials from existing clients, so that you can feel confident that they are definitely legit.
They also have a large FAQ section, so that you can get to know them a bit better before you commit to anything.
GetAFollower is the kind of Viralyft alternative that's worth looking into if you are hoping to keep things consistent across the board.
They say that they can help their clients get real social media services for some of those popular platforms out there.
They say that they help their clients who are looking to gain more exposure for their brand, so that you can increase awareness around your content, and build your audience in a big way.
One of the things that we really like about this company is that they promise to deliver their high-quality engagement in a really good timeframe, which is usually three days.
They promise that they only send their clients real followers, which means that these accounts are created by real people within the network, that get paid a share of the fee to follow you. This way, buying Instagram and Facebook followers is completely free from risk.
It also means that it's really easy to gain a following. All you need to do is enter a few basic details, and you will get all the engagement you could want for your social media platforms.
Buy Real Media is a Viralyft alternative that brings a little bit of a point of difference to the table, which we can always appreciate.
They say they cannot only help their clients buy automated, real Instagram likes, but they can also help them through their automatic detection system.
They use this detection system to work out when you have uploaded a new image or video to your feed, and as soon as they do, they will send engagement your way.
Not only is this effective and convenient, but this means that you don't have to think about how much engagement you're going to get on your post when you first upload it.
Another aspect of this feature that is going down really well amongst existing clients is that they are able to diversify the engagement. This means that you will never get the same number of comments and likes on any given post, so that every piece of content is going to get a different engagement rate.
However, they will never send so little engagement as to reduce your chances of doing really well with your Instagram profile. If you like convenience, and efficiency when growing your Instagram profile, then we highly recommend these guys.
Seek Socially says they are the number one growth service in the industry and can help you with your Instagram followers, and while there are plenty of companies out there that claim this, we believe that these guys can actually follow through on this promise.
They talk a big game, but they also follow through with a big game as well.
One aspect of their features that we really like above all else is that they focus on what your target audience looks like, and then they focus on similar people in your industry.
They know that your best chance of finding people to interact with your content is to look at who is interacting with the content of your competition.
This is why in the beginning, they will ask for a list of people within your industry that you consider your rivals. From here, they will put their features to work, and make sure that they are finding people who could end up liking your contents more than someone else's.
We think this kills two birds with one stone, because not only do you attract more of the right people for your content, but you get to get one step ahead of your competition.
Growthsilo is more than happy to offer its clients organic and real Instagram growth, but again, in this case, they are really able to follow through on what they say.
Not only is this because they are a very well-established business in the industry, but they also have a lot of positive reviews on third-party websites.
In fact, they are trusted by some of the most successful brands in the industry, and again talk up a big game that they can easily follow through on.
They say that they offer their clients two different plans, and once you've chosen the plan that suits your needs the best, they can help you target the right audience for your content. This way, it is going to be super easy for you to get the engagement that you need without even having to try on your end.
At the end of the day, they want to help their clients reach more of the right followers, monetize their business accounts on Instagram, and breakthrough that follower block. If you have struggled to do this on your own, then just know that with a company like Growthsilo, your life is going to be a whole lot easier.
Our Review Process
When we review companies like the ones above, we make sure to do our homework. This is why we look into at least 163 Viralyft alternatives and read upwards of 2680 customer testimonials.
We make sure that we find both good and bad things about the companies so that we can come to an informed conclusion about which sites we should be recommending to you.
At the end of the day, you want to keep your existing online reputation safe, and the best way to do this is to choose from lists like the one above. Enjoy having multiple options to choose from, and don't forget to check out any free trials available!