Omegle arrived on the social media scene as a way for people to get randomly paired together to have a conversation without even having to sign up or create an account. The idea is certainly interesting, and it gives people a way to stay private online while talking to a stranger.
However, if you are caught engaging in malicious activity, or you're spamming, then there's a chance that you could be blocked and have your IP address banned. Another reason why you might be restricted is because Omegle is limited in your location, or your government has banned it.
If you fall into any of the above categories, then this article is for you. We will talk about which VPN and proxy companies we think are best when it comes to getting around Omegle restrictions.
Residential VPN for Omegle
Residential VPNs are great for making the most of residential IP addresses, instead of more popular datacenter IP addresses. Datacenter options might be more popular, but this is because they are cheaper, and cheaper means lower quality. Residential IP addresses are a lot harder to identify.
Let's take a look at what we think are the best residential VPNs and proxies to use for all of your Omegle activity.
Hola VPN
This residential VPN service is free to use, and it works really well with Omegle. It is considered one of the best residential VPNs out there, as it has been created by one of the best residential proxies on the market, Luminati.
Hola VPN can help you make the most of peer-to-peer networks where you might have to share, but if you don't want to share then you will need to sign up for their paid packages. We always recommend that you use a VPN that doesn't require its users to share, so that you can keep your personal information safe.
Trying their shared IP addresses out initially for free is potentially worth it, but we always recommend that you end up paying for their residential VPNs.
Tuxler
Tuxler supports Mac and Windows, and just like Hola VPN has a free and paid version. They have an exclusive pool of residential IP addresses that automatically refresh, and they are known in the industry as having to largest pool of VPN services available.
One of the best things about this residential VPN is that they can help you access Omegle even if you've been blocked. It is very difficult to detect their IP addresses, and they are available in over 100 locations.
Betternet
Betternet doesn't ask its users to register to make the most of its features. This means that all you need to do is download their software and start using their IP addresses. They are great for accessing Omegle if you have been restricted, and their features are really difficult to detect.
They can be used with Mac, Windows, iOS and Android, and they are currently used by millions of people around the world. Not only are they easy to use, they are reliable and fast.
Residential Proxies for Omegle
Residential proxies work well with Omegle, just like residential VPNs do. However, unlike residential VPNs, proxies are mostly made for commercial use, which means that they are more expensive.
However, the most important thing to remember here is that they work, and they are going to be great for all of your anonymous Omegle usage.
SSL Private Proxy definitely knows a thing or two about helping its users get around websites like Omegle, wherever they are located in the world. They have some of the most robust and reliable proxies for Omegle, which is why they are number one on our list when it comes to proxies.
As well as offering dedicated IP addresses, they offer them in multiple cities, multiple subnets, and every month they randomize them, so they will never be detected by Omegle. They offer their clients an unlimited bandwidth, and with each proxy you get 100 threads.
We also think that their monthly rates are pretty good, considering the quality of the proxies.
High Proxies is another solid contender when it comes to some of the best residential proxies in the ind`ustry for Omegle. They say that they offer their clients premium proxies at the best prices, and they also say that they are hosted on extremely fast servers.
One of the things that we like about this residential proxy provider is that they offer VPNs as well, so that you can consolidate all of your online Omegle activity through them. They promise that none of their proxies are shared between users, so that your personal information is safe.
Their setup process is free, and they offer live support if you encounter any issues.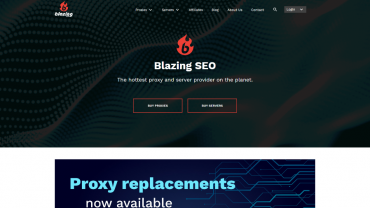 Blazing SEO Proxies is another excellent residential and private proxy provider for all of your Omegle activity. They say that they come with unlimited threads, unmetered bandwidth, and proxies with zero limits. They say that all of their proxies come with blazing fast network lines, and they support HTTPS, SOCKS and HTTP.
They also offer their clients proxy authentication, and competitive pricing which is almost unheard of with high quality features like this. They will even replace your proxies automatically and for free when they aren't working anymore.
Final Thoughts
Being able to access Omegle whenever you want to, wherever you're located in the world, is a great advantage, but it can only be done if you have the right VPNs and proxies to work with.
The good news is that there are plenty of options out there, it's just important for you to know which ones are effective and which aren't. There are a lot of companies in the industry that are offering free or cheap features, which at the end of the day aren't worth your time.
Spend a little bit more, and discover how an investment like this can pay off in the long run.