Trusy Social Review 2023
When it comes to the world of Instagram, sometimes you have to pay a little bit more than your budget allows to get the engagement you need.
Most of the time, companies aren't going to charge you too much for their services, but every now and then you will come across a company that is charging a lot, but they are completely worth it.
However, the trouble is that you won't know whether they're completely worth it until you do some research around the company and establish whether they have an existing reputation or not.
Let's give one company, in particular, a review and determine whether they are worth your time or not.
What is Trusy?
Trusy, or Trusy Social, is a company that can assist you with your Instagram growth that says that they can help their clients with massive organic growth when it comes to their social media platforms in general.
We believe that they can assist you not just with Instagram, but with other social media networks out there, and they say that they want to help their clients boost their reputation in general.
They believe that with their features, you can receive the publicity that you deserve, and become a lot more successful in your niche.
They also believe that their services are the answer to your growth on social media, and through them, you can experience going from zero, to influencer, to celebrity really easily.
What are Trusy Social's Features?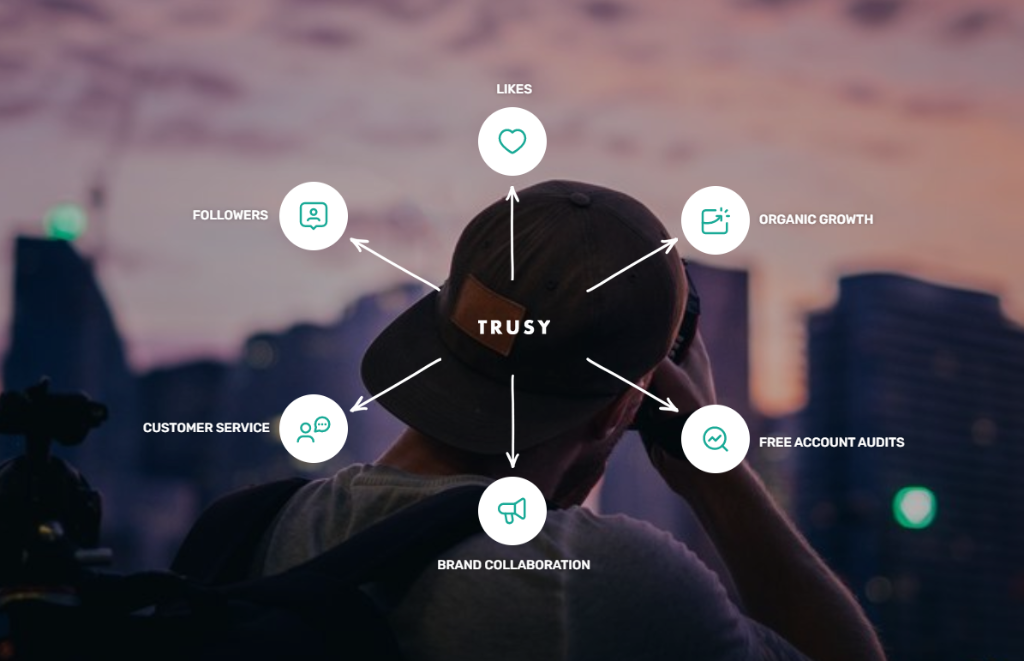 Trusy Social has quite a few different features for you to choose from. The first thing they talk about on their website is how they can help their clients with growth on Instagram.
They say that they have a process that has been proven that includes implementing highly targeted actions from a huge network of individuals so that they can leverage your Instagram profile for you.
They also say that they can help their clients with celebrity partnerships, meaning that they will bridge the gap between you and well-known celebrities who can potentially give you a shout out, or promote your Instagram profile in general.
If you know a particular celebrity that has a brand that you want to work with, they say that they can assist you with this, but they can also help you get your product or brand included in their celebrity giveaways.
This means that they will talk to a celebrity about what your needs are and help them learn all about your brand so that they can make a choice as to whether they want to promote you or not.
They provide their clients with the option to customize a marketing campaign as well. Another feature that they seem to offer is 'brand accelerated', which means that they give your small brand the opportunity to get the kind of spotlight that other bigger brands normally do.
They say that they combine mass media coverage with their network of existing celebrities to help you achieve this.
What is Trusy Social's Pricing?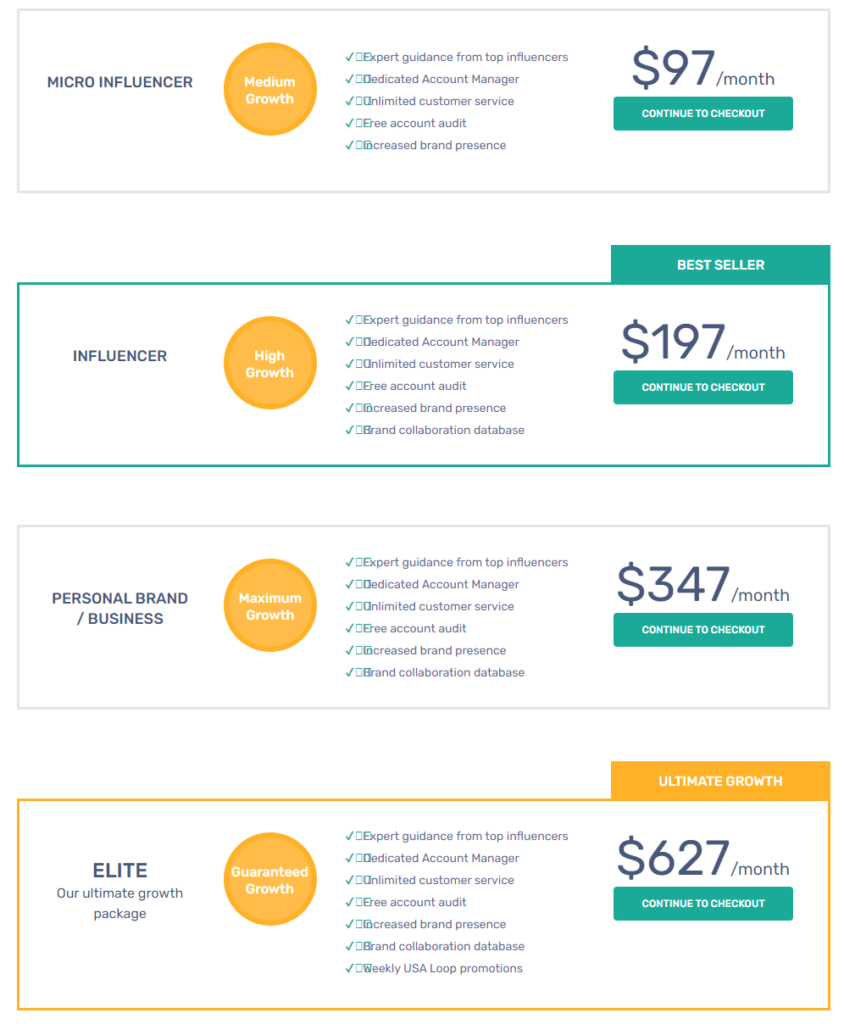 Trusy Social has a lot of different pricing for you to choose from, and as you can imagine, this is divided into categories based on what kind of growth you want right now, and what aspect of your brand being online you want to focus on.
We're going to focus on their Instagram growth for the sake of this review. They say they can assist you with their micro influencer package, which is going to cost you $97 a month.
They say that this comes with medium growth, as well as expert guidance from top influencers. It also comes with a dedicated account manager.
Their influencer package is going to offer you expert guidance from top influencers, as well as unlimited customer service and a dedicated account manager. This is going to cost you $197 a month.
From here, they have a business and personal brand package that offers maximum growth, expert guidance from top influencers, a free account audit, and increased brand presence. This is going to cost you $347 a month.
Lastly, their elite growth package is going to give you guaranteed growth, expert guidance from top influencers, a free account audit, increased brand presence, and access to a brand collaboration database. This is going to cost you $627 a month.
As we mentioned in the beginning, this is the kind of company that charges a lot for their features, which might initially put you off. However, we believe that when you find the right company, it is worth paying a little bit more than what your budget allows.
How Did Trusy Social Do in Tests?
Trusy Social was put to the test by our team of experts to determine whether they were truly the right company for you or not.
At the end of the day, you aren't going to know for sure unless they have actually been tested out by us, which is why we make sure to do this with every company that we review.
We obviously went for their cheapest package, which cost us $97 for the month.
We are pleased to say that they got in touch with us straight away about their services, what they could do for us in terms of our Instagram growth, and we received the kind of engagement that we expected to receive for how much we paid.
What About Their Team?
Companies in the social media marketing industry need to be really careful about what they are offering their clients in terms of engagement, growth, and information.
The more information a company has about their team on their website, the more reliable they're going to be. We are pleased to say that Trusy Social has sufficient information on their website for us to believe that they can we trust them, and really has their clients' best interests at heart.
Review Verdict
At the end of the day, we believe that Trusy Social is the kind of company you will want to rely on if you plan on expanding your budget at some point, and taking your growth really seriously.
However, if you don't have the budget for a company like this, then you might want to check out some alternatives. We understand the reality of social media marketing, and we understand that the majority of small brands out there simply don't have this kind of money to throw around.
While there are many great companies out there that can help you with your Instagram marketing, some are better than others.
Beyond this, some are going to be better suited for your Instagram marketing strategy than others.
With your specific niche and industry, what might work for one person isn't going to necessarily work for you, which is why it's good to have a few options to choose from.
Let's take a look at some viable Trusy Social alternatives so you can cover all your bases and come to an informed decision about who is going to be the best fit for your profile.
Trusy Social Alternatives: First Look
"I love Growthoid because they take pride in making sure all of their customers are safe when using their services. They also make sure that all of their engagement is real and authentic. These guys are in it for the long haul."
"Growthsilo not only comes with a huge variety of features that you can sync up with your Instagram engagement strategy, but they also offer these are incredibly competitive prices. You won't find this type of value for money in many other parts of this industry."
"Safety is important when relying on a third party for your Instagram engagement. This is why it's important to choose a company that is going to keep you safe out there. Follow Adder has a lot of experience in this, which is why they're considered experts at what they do."
Best Newcomer: Upleap
"While hundreds of new companies pop up every week that claim to help you with your engagement, there aren't many that can compete with the reputations of more established Instagram marketing businesses. Upleap has managed to achieve this, though."
Best Reputation: Jarvee
"I love Jarvee because they have been around since the beginning of Instagram marketing, which means they have had a long time to establish their solid reputation with hundreds, if not thousands of customers."
Trusy Social Alternatives
Our review of Growthoid focuses on one particular feature they have, which we think is pretty impressive.
We could go through their extensive list of Instagram marketing features that include things like brand building and social media advertising, but for this list, we want to talk about just how affordable they are.
There are not that many companies out there that have such an affordable price range, considering the number of features on offer here. They don't lower the quality of their services by giving out free trials – this is so that they can focus on their paying customers.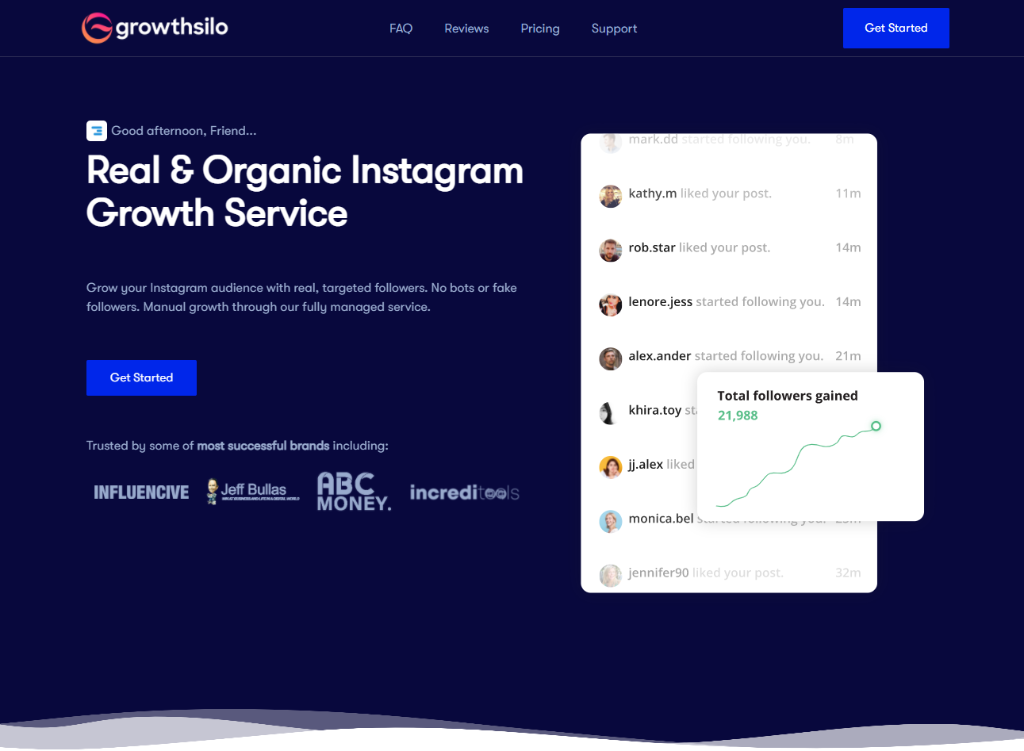 There's a good reason why Growthsilo is at the top of this list – and when we reviewed them, it was a complete breeze.
This is because the second you visit their website, it's clear that they care about the prosperity of their clients online. This is why they explain from the very beginning that all of their Instagram engagement is organic.
What we like particularly about Growthsilo is that they're prepared to sit down with you and help you build an organic Instagram strategy that's completely customizable, based on your industry and niche.
They want you to have a reach that puts your content in front of thousands of people, which means you've got a pretty good chance of doing well if you sign up with them.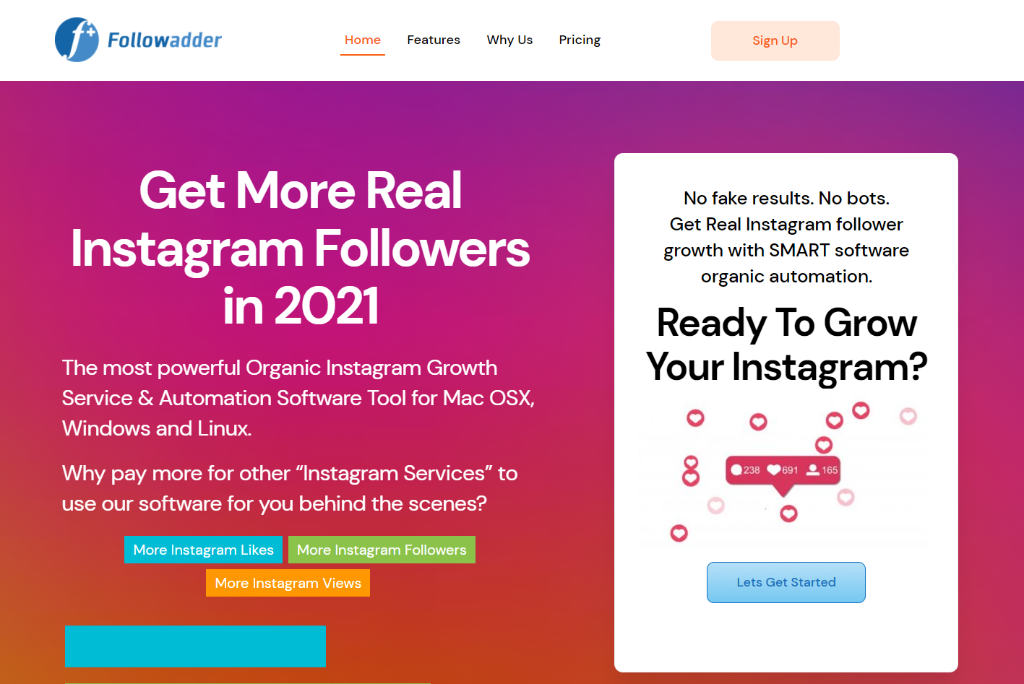 Follow Adder gets the safety award from us because when we reviewed them, we found that they put this as a priority.
Interestingly, Follow Adder is actually a downloadable dashboard that you use with your desktop, and they are compatible with many different computer software systems, including Mac, Linux, and Windows.
Follow Adder is a safe option because they allow you to be in control of your own engagement through their dashboard. This is a great way to keep your engagement well within its limits so that you don't get in trouble with Instagram.
4. Best Newcomer: Upleap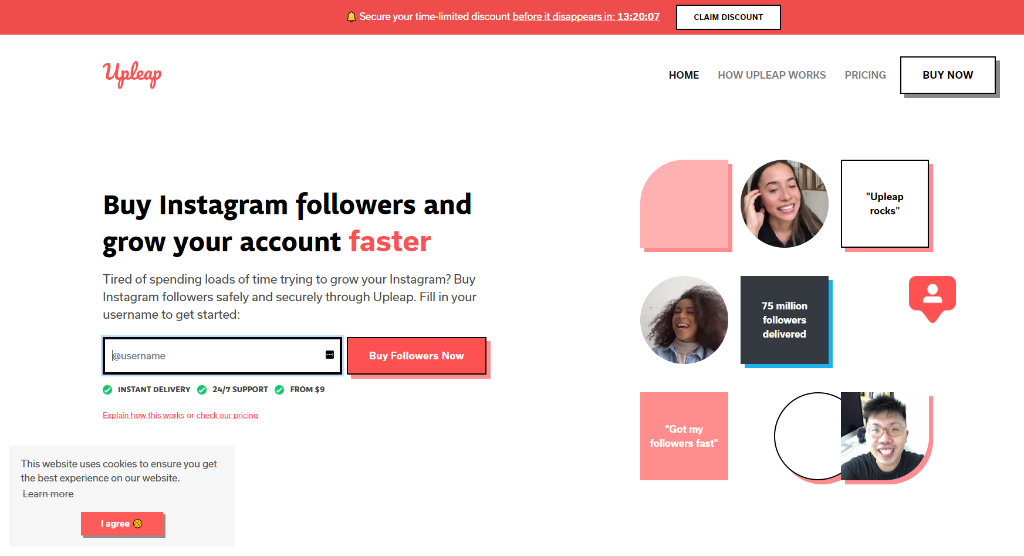 You may be tempted to go with a company that's spent years building up its reputation, but there's merit in trying something new as well and going for a company that hasn't been around for too long.
When we reviewed for this title, the name Upleap kept coming up over and over, and we can see why.
These guys get right into things when you visit their website, and begin by promising you a dedicated account manager for your Instagram growth.
This is definitely a feature to be impressed with and not something you see all that often in this industry. These guys already appear to be going from strength to strength.
5. Best Reputation: Jarvee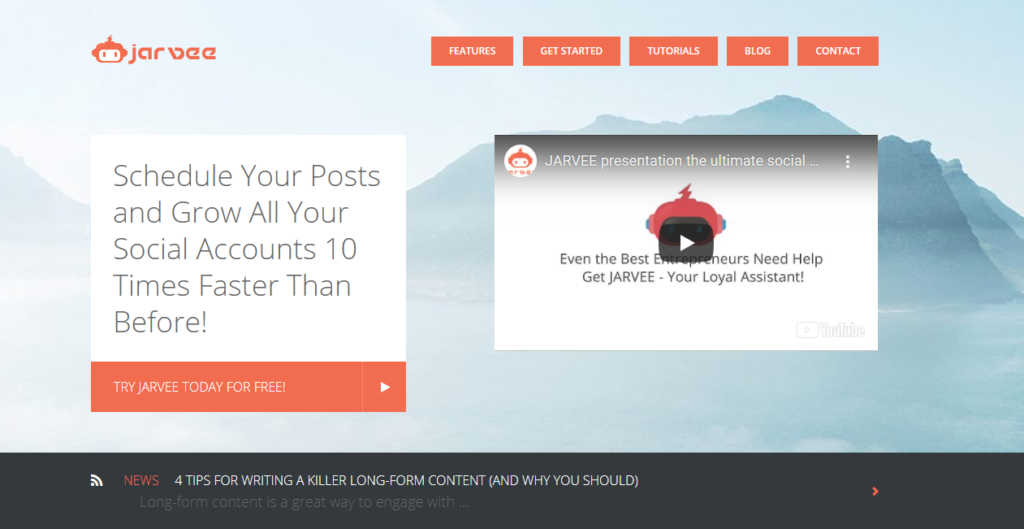 It's not hard to see why Jarvee has earned the title for best reputation – they've been around since the beginning.
We didn't even really have to review them, because you don't have to look far online to see all the positive client testimonials, both on their website and elsewhere.
This is because Jarvee has had years of experience building up people's Instagram accounts and engagement.
There aren't too many companies who can say they've been at it since this industry first began, which is why we have so much confidence in a company like Jarvee.
Our Review Process
When we do our research for the list you see above, we make sure to be thorough, so you only see the very best.
In fact, we looked at over 165 Instagram marketing companies and even read upwards of 4000 customer testimonials, whether they're positive or negative.
This way, you can be confident that the companies you see on our list above are the best of the best.
They're going to take care of you and make sure you do well on Instagram. Our list of the best Trusy Social alternatives is going to make sure your Instagram engagement is next level.