Business travels are crucial to a company's growth. Harvard Business Review suggests face-to-face communication is 34 times more successful than emails. Moreover, the ROI on business travel is around $12.50 per dollar.
Business travel is far from what's portrayed in movies. The glamorous portrayal of business class flights, lavish accommodations, and dinner at Michelin-star restaurants is a bit chaotic at the backend.
Employees spend hours navigating across different sites to find budget-appropriate flights and hotels. Any unregulated, trivial expense makes a hole in your pocket. But not anymore.
Now you can automate mundane tasks associated with business travel with a travel management tool. This article gives you a list of the best tools to optimize travel spending so you can enjoy business trips rather than worrying about your budget.
The Best Travel Management Tools To Optimize Your Spending
A travel management tool takes care of travel booking while controlling costs. It sets clear policies for business-related travel, thus cutting the scope of shadow spending. Your finance team can take a breather as the tool automates invoicing and reconciliation.
To summarize, a travel management tool is a must-have to track and reduce your travel expenses. Below is a list of the best travel management tools in the market. Choose the one that suits your business needs.
TravelPerk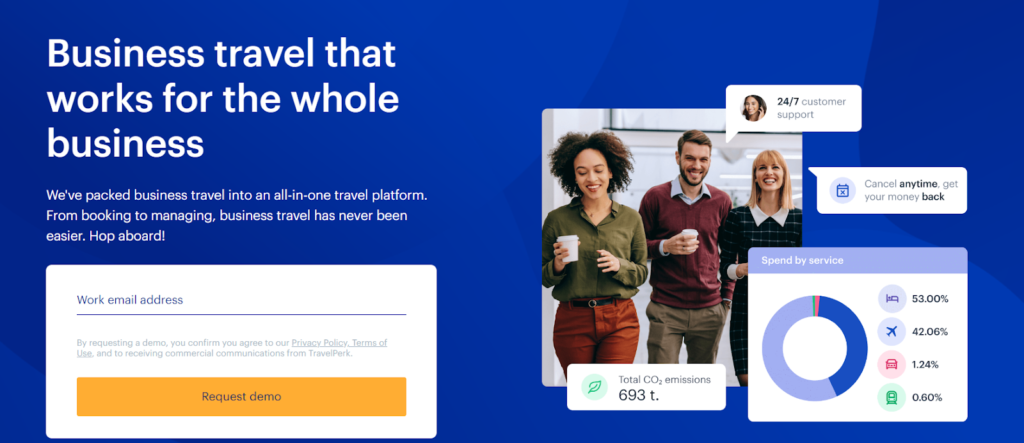 If you're looking for a fast-tracked travel management solution, TravelPerk is your go-to. It reduces the pain of business travel by offering the world's largest travel inventory in one place.
Like the sites you visit individually while booking flights and hotels, TravelPerk brings all of them into its dashboard, so your team needs to visit only one platform.
However, a lot of users like TravelPerk for its expense reports functions. With TravelPerk, your employees can submit receipts on the go, make reconciliations, track expenditures, and generate reports quickly.
TravelPerk's app facilitates 24/7 support from real travel experts who can help with everything from rebooking to updating itineraries when travel plans change.
Another exciting feature is incentivizing the employees with a loyalty program. This way — no matter who is booking — business travelers can automatically collect travel rewards.
TravelPerk checks all the boxes in terms of features, travel support, and expense management. Also, as per the TravelPerk list, business travelers are more confident about TravelPerk meeting their expectations as opposed to other tools.
SalesTrip
SalesTrip is a one-stop solution for all your travel management requirements. Its AI-driven trip search showcases only relevant air, rail, and car options to avoid the 'too many cooks spoil the broth' shambles.
SalesTrip's robust API documentation has a lot of room for setting up travel policies and pre-trip approvals.
You no longer need to dread long hours for multi-layered approvals as the tool assigns approvers based on criteria such as region, designation, and more.
SalesTrip provides actionable travel and expense insights without needing a third-party expense management tool.
Your employee can capture and submit expense receipts on the go through the seamless integration of personal or company credit card data. The finance department then reconciles and tracks the transactions as it occurs, not once a month.
Once the reconciliation is done, SalesTrip facilitates users with express reports and extensive analytics to track instant ROI of every business trip.
SAP Concur

SAP Concur is the world's leading travel and expense management solution provider. The tool captures travel data from anywhere in the world under one comprehensive dashboard customized per the company's needs. 
You also get access to their vast travel suppliers network for availing the most affordable and budget-friendly options for flight bookings. SAP Concur also streamlines the process of policy compliance.
For total transparency, SAP Concur collects data from multiple sources. It reminds you in case of any report discrepancies to ensure that the employees are reimbursed without any delays.
To help businesses automate its workflow, SAP Concur performs everything, from booking reservations to capturing travel expenses with utmost proficiency. However, due to its high price range, SAP Concur isn't all that budget-friendly for smaller companies.
Travelstop

Booking flights even through a travel management tool can be costly if you don't have extensive options. You'd stumble upon the same options and spend a dime on air tickets.
Travelstop tackles this challenge by partnering with over 800 airlines and 600,000 hotels and offering the best inventory. The bookings can be customized as per the company's travel policy to ensure synchronized travel compliance.
Along with that, this Singapore-based company is revolutionizing the unmanaged travel system with a sleek UI, comprehensive inventory, and data-based expense insights — all of which are still missing in Southeast Asia — at least at affordable rates.
With Travelstop's AI-driven dashboard, you can also get real-time visibility of your employees' travel status and support in case of disruption. This facilitates keeping tabs on their whereabouts so you can always ensure their safety.
These Travelstop features make it an incredibly powerful solution for business travel.
Spendesk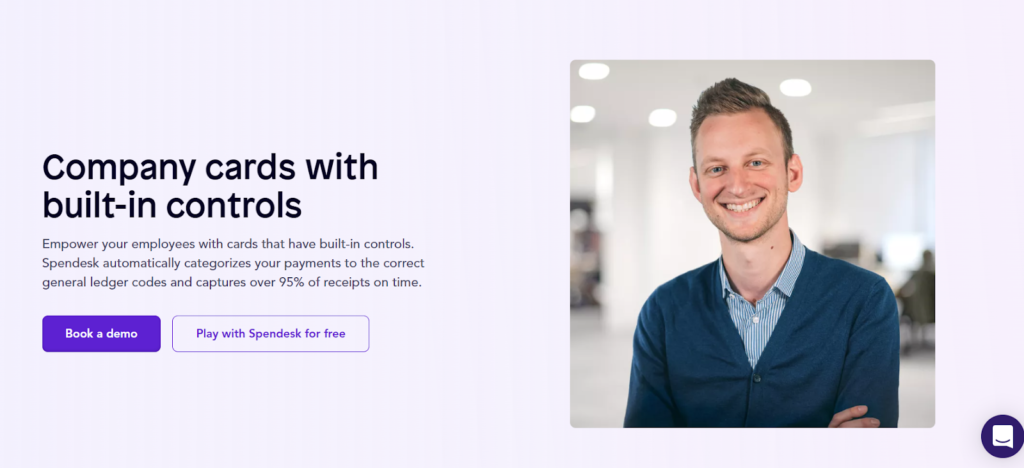 After finding budget-friendly accommodation and flights, how do you plan the payment distribution? How should your teams pay for food expenses, hotel booking, or inter-city transportation?
If your employee buys flight tickets with the company card, and later uses a personal card for the rest of the trip, reporting travel expenditure later could get tricky.
Spendesk solves this problem. It provides multiple payment methods — all of which are linked to the same user.
They can pay with a virtual card and then carry their physical card for incurring other expenses. Both these cards are on their name, so the finance team can gauge who's spending which is not possible with a company card.
As all the spending is recorded in real-time, your finance team can track spending as it happens. That's not the case with traditional expense reports, which teams file at the end of the month.
Again, to keep all the financial issues to rest, Spendesk is your safe and secure travel management tool.
Egencia

Sometimes your employees tend to explore some unsafe areas while traveling and are not reachable via phone/video call.
What to do in that situation? Enter Egencia.
Egencia has partnered with leading security providers and gives the employee's update every 15 minutes. Also, their geographical risk level indicators warn the employees to avoid traveling to regions with potential threats.
Apart from making your employees risk-averse, Egencia has partnered with 500,000 hotels and over 475 airlines to fill your travel appetite with varied options. Whether you want to stay in luxury or embrace affordability, Egencia provides the best-in-class suitable options.
Another very useful feature is Egencia's ability to provide optimum control over your travel budget through Egencia preferred rates, unused air credits, and, the most important, Savings Finder feature.
Savings Finder works behind the scenes to save you money. For instance, if prices drop on the flight/hotel you booked, Egencia automatically re-books the exact accommodation/flight at the lower price.
With Egencia, you don't need to crib about price drops. Egencia works as a one-stop solution for getting exclusive rates with personalized experiences that optimize your travel cost.
TripActions

While traveling abroad, there's always this risk of running out of cash. What's your plan B for when you run out of cash and the store you're shopping at only accepts cash?
Well, you don't need a plan B when you have TripActions' travel management tool.
TripActions allows your employees to pay for anything, anywhere, using physical or virtual cards with built-in policies.
These transactions get recorded within its expense management system to automate the mundane expense report process.
TripActions starts looking even more attractive when you look at its intuitive machine learning capability that helps the software come up with recommendations based on your choices. Whether that's private jets, 5-star hotels, or an economy-class flight, TripActions lets your employees focus on the destination rather than the journey.
Additionally, if your business has a specialized ERP and accounting system, you can auto-sync all the financial data in one place to avoid any discrepancies in the future. This helps in two ways — saving time on repetitive data entry and boosting the month-end reconciliation process.
In a nutshell, TripActions is proficient in controlling costs without compromising the quality of your business trip.
Amp up You Travel Management
Visiting your ideal clients for sealing a massive deal is all fun and games until you sit in front of the screen and start booking flights and accommodation.
While any travel management tool can help you with the basic process, you need something more powerful to simplify and streamline business travel. Hopefully, you now have the information you need to choose a robust business travel management tool.