There are still some people who want to make their own DVDs, even though DVDs are no longer popular as before. But do not worry that you cannot find the right DVD burner, this post will give you the top 5 DVD burners. You can use them to keep the important data or the good memory on your DVDs with those DVD burners.
Part 1. How to Choose a DVD Creator
Part 2. Top 5 DVD Creator
Part 3. FAQs about DVD Creator
Part 1. How To Choose A DVD Creator
Before you learn how to choose a DVD creator, there are some key qualities of DVD burners you need to know. And one of the qualities of a good DVD creator is that it has a fast, responsive, and easy-to-use interface, the second quality is that it is versatile, and finally it is to keep your files safe.
So, if you want to know how to choose a DVD creator, you should see this software could meet how many qualities above. And as far as you know, to find the best DVD burning software, you have to test-drive as many different programs as you can. You will only know if the DVD burner is right for you after you test if.
Fortunately, this post will give you the top 5 DVD burners after testing. You can choose one from them and see which one is most compatible with the good qualities.
Part 2. Top 5 DVD Creator
1. AnyMP4 DVD Creator
AnyMP4 DVD Creator is a multi-function DVD burner. You can convert multiple videos like AVI, MOV, MXF, MP4, and more to DVDs, folders, and ISO files with high quality. Besides, unlike other DVD creators who can just only burn data or media files into DVD, you can also use this software to burn media files into Blu-ray discs with excellent video quality.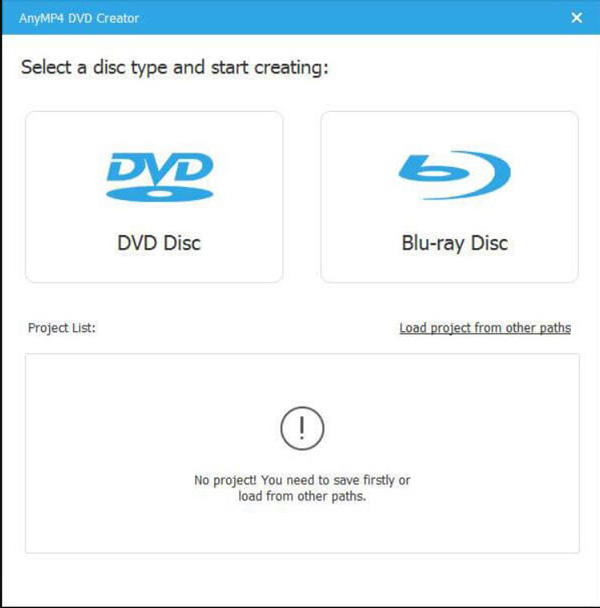 Features:
Customize your menu template by adding your own images as the background.


Support VSO, CdrTool, and IMAPI SDK burning engines to create videos into many DVD formats in the retail market and online.


Combine and merge several video titles into one chapter to play.


Add the audio track, subtitle, background music, and pictures.
Advantages:
Burn any media files to DVD/Blu-ray disc, folder, or ISO.


Have powerful burning engines to create DVDs.
Disadvantages:
Require Win 7 and Mac OS 10.6 above.
2. ImgBurn
ImgBurn is a lightweight free DVD burning software designed for burning CDs, DVDs, and Blu-Ray discs from both audio and video files. Users can write image files to discs including ISO, BIN, CUE, DI (Atari Disk Image), IMG, MDS, NRG, PDI, and more. It also supports writing files/folders to DVDs.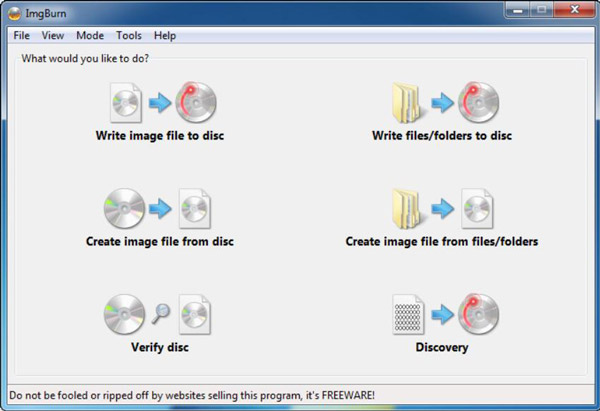 Features:
Provide an image queue for burning several images with minimum interaction.


Have an optical disc burning engine of the DVD Decrypter.


Support full Unicode folder and file name.


Build DVD Video discs, HD DVD Video discs, and Blu-ray Video discs.
Advantages:
Support many operation systems including Wine.


Lightweight the burned images.
Disadvantages:
Do not support RAW disc ripping or burning.


Does not support multi-session discs.
3. CDBurnerXP
CDBurnerXP is a free DVD creator for Windows 10. It allows users to burn all kinds of discs, create ISO image files, remove all contents from a rewritable disc, etc. But it requires you to install Windows .NET Framework first before you can install it on your Windows PC.
Features:
Make audio CDs with or without gaps between tracks.


Verify the written data after the burning process is done.


Save your compilations for the creation of backups.


Import previous sessions and edit existing file structure on CD/DVD.
Advantages:
Disc spanning: Spread data on multiple discs.


Burn mp3-CDs to store many audio files on one single disc.
Disadvantages:
Inflicts the open candy malware on the workstation through the installation wrapper.
4. Nero Burning ROM
Nero Burning ROM offers everything you need to burn ISO files, as well as copy CD, DVD, or Blu-ray data. You can rewrite discs, rip CDs, and save ISO images, etc. What's more, as one of the best DVD creator software for Windows, it's packed with your electronic signature so that everyone knows you own the copyright.
Features:
Give you password protection to protect your most important asset.


Burn and copy videos, photos, or music to CD/DVD/Blu-ray/ISO.


Printing on discs with LightScribe and LabelFlash technology.


Converting audio files to other audio file formats.
Advantages:
Erase the rewritable discs


Encrypt discs to restrict access to the data archive
Disadvantages:
Quite old and backdated


Come with unwanted bloatware
5. DVDStyler
DVDStyler is an open-source free DVD burner that is available for download on Windows and Mac systems. In addition to creating DVDs, it also helps to create individually designed menus and thus works as a decent DVD menu creator for Mac and Windows. Photo slideshows can also be created using the program.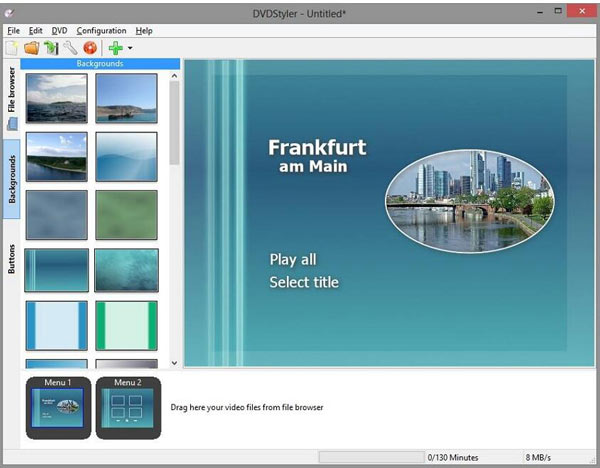 Features:
Support all commonly used video, image, and audio formats.


Come with editing tools like changing color, font, and other parameters of graphic objects.


Allow customizing navigation using DVD scripting.


Support the multi-core processor to make the process faster.
Advantages:
Create a slideshow on this software.


Build and compile it yourself with the source code.
Disadvantages:
Will reencode all video and audio except MPEG and VOB.
Part 3. FAQs About DVD Creator
Can I Use Windows Media Player As A DVD creator?
Yes, you can. But WMP merely could make a data DVD, data CD, or audio CD, except for a video DVD. In addition, MPEG-2 and AC-3 Dolby Digital decoders are not included in Windows Media Player since Windows 8.
How Many Movies Can You Put On A DVD?
A standard 4.7GB Single Layer recordable DVD is able to store around 120-133 minutes of video. And a Dual Layer 8.5GB blank DVD can hold video for up to 240 minutes
What To Do When The Laptop Is Without A DVD Driver?
Nowadays, there are a few laptops with DVD burners. So, if you want to burn DVDs on your laptop, you need an external DVD burner on your laptop.
Conclusion
After reading this post, you must know which DVD burner you should choose to use. DVDs are not outdated yet; you can also keep your important data or good memory with them if you want. Now go to create your own DVD with the software above.