Redesigning a product, specifically UX design, is no small feat. Not only do you have to take into account the current users of the product, but you also have to anticipate the needs of future users. In addition, you have to be mindful of the company's budget and the timeline for the redesign.
All of these factors can make redesigning a product a daunting task. The following 5 tips will help you structure the whole process in your head and successfully redesign.
Reasons To Update UX Design
One of the most important questions a UX designer can ask a client about a redesign is why they want to conduct it. There are many legitimate reasons to redesign a website, ranging from technological obsolescence to poor user experience.

However, not all redesigns are necessary or successful. To ensure that a redesign is justified and effective, it is essential to have a clear understanding of the goals and objectives from the outset. Only by identifying the reasons for the redesign can a designer hope to create a successful new website.
Here are seven signs that it might be time for a change:
The site looks outdated. If your website looks like it was made in the early 2000s, then it's probably time for a redesign.


New branding needs to be implemented. If your business has undergone a rebranding, then your website will need to reflect the new look and feel.


Technological advances have made the site seem antiquated.


The site isn't optimized for mobile or social media.


The information architecture of the site is a mess and many links are broken.


The user experience is confusing and there is no unified structure.


Analytics show users have trouble doing what they need and don't stick around.
Tips To Help You Do A UX Redesign
A UX redesign requires preparation, analysis, and brainstorming. There are many factors to take into account. The following tips will help you think about the main thing and draw the right conclusions.
Advice 1: Conduct Research On Existing Users
To design a successful UX redesign, it is important to first understand the needs of existing users. One way to do this is by analyzing product analytics to identify pain points and areas for improvement. Another method is to directly elicit feedback from users through interviews and surveys.
By taking the time to understand how users interact with the current product, you can make informed decisions about where to focus your efforts in the redesign process. Ultimately, designing with users in mind will help create a better overall experience for all.
Advice 2: Analyze Business Goals
Before embarking on a UX redesign, it is essential to understand the business's goals for the project. The UX solution should be specific to the business's goals while keeping user needs in mind.
For example, if the goal is to increase page views, the user experience should be designed in a way that makes it easy and beneficial for users to navigate the site.
Alternatively, if the goal is to complete more sales, the UX should be designed to make it easy for users to find the products they are looking for and complete transactions. By keeping the business's goals in mind, it is possible to create a UX redesign that will have a positive impact on the bottom line.
Advice 3: Competitor Analysis
When redesigning a product, it can be helpful to take a look at what your competitors are doing. See what works well for them and what doesn't. Try to find innovative solutions that you can borrow to better engage your users.
Additionally, avoid any pitfalls that you see their products falling into. Ultimately, by analyzing your competition, you can get a better sense of how to design a product that meets or exceeds user expectations.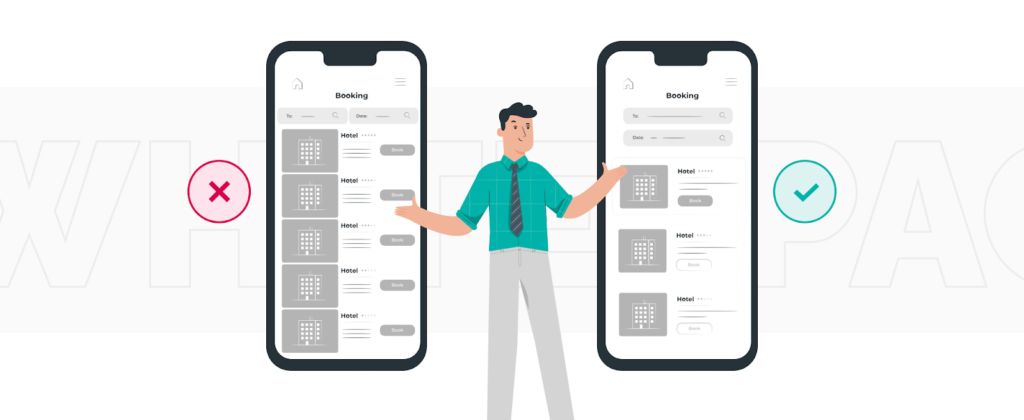 source: techmagic.co
Advice 4: Identify Areas For Improvement In UX Design
Carefully collect the data from all channels and review the analytics. This will help you decide on your next steps in the redesign process based on the real data, and work on the actual pain points of the users.
Discuss each part of the collected feedback and prioritize the areas that you are going to focus on during the UX redesign. This will help define the scope of the redesign process.
Advice 5: Follow Current Trends
A UX redesign is a chance to take a step back, analyze how your users are currently interacting with your product, and make changes that will improve their experience. It can be a daunting task, but by following current trends in UX design, you can ensure that your redesign is on point.
One of the most important trends right now is personalization. As users become more accustomed to being treated as individuals, they expect their experiences to be tailored to their specific needs and preferences.
Another big trend is the use of micro-interactions. These small moments of interaction can add up to a big impact on the overall user experience. By including micro-interactions in your redesign, you can encourage users to keep coming back.
Finally, remember that simplicity is key. In our fast-paced world, users are looking for products that are easy to use and understand. By keeping your redesign focused on the essentials, you can create an experience that users will love.
Conclusion
The most important thing in a redesign is time and user feedback. You should be prepared to make adjustments after the upgrade. It is important to understand that not everyone will like the update, as it has always been.
People get used to something and not everyone is ready to move on. The main task of a good UX designer is to make the transition between the old design and the new one as easy as possible, and the speed mastering as fast as possible.
One way to make upgrading easier is to keep the old version of the site and let it be used by whoever wants it. Some people may need more time, others less. All users are your customers, so you need to take into account the wishes of each party.
At the same time, you should not give up progress because of a couple of people who do not want to get acquainted with the new, but objective wishes or dissatisfaction must also be monitored. This will help bring your site or application to an optimal state for all stakeholders.