First of all, do you have a LinkedIn account? If your answer is yes, great! If you don't have the answer, then it's time to create a new LinkedIn profile.
Because LinkedIn offers you invaluable offers, you can find a job on LinkedIn and learn about the challenges faced by professionals in their working life.
This platform is not like other social media platforms. That is, instead of sharing snapshots of your daily life, you can share advice about your work field with your followers.
But who will follow you on LinkedIn? If you want to know why should you update your LinkedIn profile, you can just look at your post impression or follower count.
For this, we present you 5 things to include in your LinkedIn profile. After doing these LinkedIn tips, your LinkedIn followers will already increase. People will automatically send you a link to offer.
5 Things To Include In Your LinkedIn Profile
1.) LinkedIn Profile Picture
Since LinkedIn is a professional platform, here you need to post a high-quality and professional picture on your LinkedIn profile photo.
Because here, the followers are first impressed by your picture. We want to give you some tips on how to prepare your LinkedIn profile photo:
A.) Use Clean And Soft Lighting
The simplest thing you can do to give your images an instant; the polished look is to use soft, natural light.
You can do this at home by using a "ring light" from Amazon or indirect window light.
When window light is not available, professional photographers will frequently employ enormous softboxes and umbrellas to achieve this basic and clean lighting.
B.) Dress For Success
Clothing matters! We rapidly frame how we see others by their clothing. You might be skeptical about an auto mechanic who is dressed in a three-piece suit.
And perhaps even more skeptical of a CEO dressed casually in a hoodie that has seen better days.
C.) Smile!
We are much less likely to connect with someone if they appear cruel or scary. Similarly to this, we are more likely to wish to connect with someone who appears friendly and nice.
But not all smiles are created equal. In general, there are 3 types of smiling: mouth open smile, teeth smile, mouth closed Smirky smile. Whichever of these comes naturally to you, definitely do it.
D.) Clean Background
Your background can say quite a bit about you. Usually, a basic, clean background will be the best choice.
You can use a basic wall or curtain as your background if you're making this yourself. It keeps everyone's attention on you!
In a professional portrait studio, we employ specific backgrounds and papers to enhance your appearance. This style suits all business sectors.
E.) Profile Video
Consider the 30- to 60-second video that plays behind your picture as your executive summary.
It's the finest method to convey your personality and sense of style to decision-makers, especially those who don't know you well.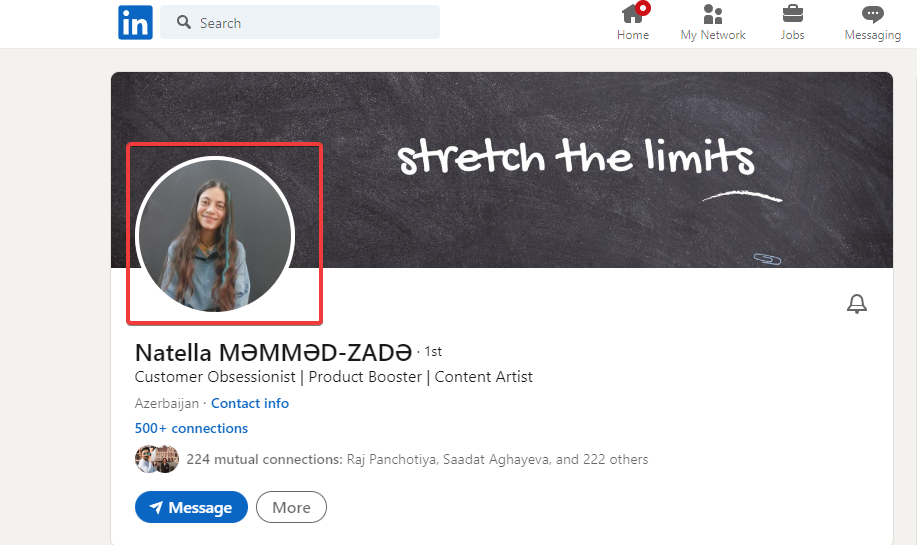 2.) About
Since you tell your story in your About section, it is the most key element of your LinkedIn profile. Surprisingly, a lot of people fail to use this important digital space.
The most popular version of your bio will probably be your About, which gives you a chance to interact with readers.
Don't mix up what it replaced with your About (the now-defunct element called Summary).
As its name suggests, the summary was designed to be a brief summary of everything in your profile.
As opposed to this, your about should be a fascinating mix of your accomplishments, experience, and awards, as well as your values, hobbies, and uniqueness.
Make sure your About section is engaging since people want to connect with people they know, like, and trust.
3.) Summary Of Industry Experience, Expertise, And Education
State where you came to your current position in the experience section of your LinkedIn profile.
You can even record what skills you learned in each experience. You can write these skills, in general, in the Skills section.
Your acquaintances or colleagues you work with can endorse your skills or give a short recommendation about you. Also, list your education clearly.
4.) LinkedIn Profile URL
To start, most LinkedIn URLs have the following structure:
Although many have numbers or letters added after your name, many use linkedin.com/in/firstname-last name, which looks like this: linkedin.com/in/fistname-lastname/123a456b7.
Adapt your URL by following these quick, simple steps:
Click on view profile → edit public profile & URL in the top right corner
Click edit URL again in the upper right corner → customize your link → save
If your preferred customization option isn't available, try coming up with another distinct identifier, like a number or an initial.
To keep growing your network and improving your personal brand, add your new personalized URL to your email signature and resume after saving it.
5.) Be Active On LinkedIn
One of the most important things you need to do on LinkedIn is to be active.
If you are not active here, that is, if you do not comment on anyone's post, or if you do not share a post yourself, the number of people following you will be very small.
If you find it difficult to post 2 or 3 posts per week, use LinkedIn automation tools. For this, it is enough to learn how to schedule Linkedin posts and prepare and schedule a post.
Bottom Line
To wrap up, your LinkedIn profile should be comprehensive, up-to-date, and always accurate.
It's important to be intentional and strategic about the way you present yourself on the platform in order to stand out from the crowd.
Keeping your profile updated ensures you are presenting yourself in the best light possible – someone who is professional, reliable, and credible.
Taking these tips into account can help position you as an ideal candidate for any job or opportunity. Thanks for reading, and make sure to check back for more helpful tips and tricks!