These days, students have access to more computer power in the palm of their hand than they did in a whole lab of iMacs a few decades ago. Obviously, this creates a gap between the technology teachers are familiar with and what modern tech-savvy pupils are already using in their daily lives.
Today, most students know much more about the world of technology than the older generation. They already actively use automated plagiarism checkers, conclusion generators and citation machines.
Besides, some individuals turn to a so-called essay rewriter to handle their papers. With the help of this tool, they can instantly get their own or someone's essay written. By submitting a unique rewritten version to instructors, students can save their time and focus on the task of higher priority. 
Educators may use technology to engage students, but only if they can harness the energy and excitement of students for their own benefit. A teacher has the ability to redefine, rethink, and create new challenges for pupils to demonstrate their comprehension of the material.
It is possible to employ current EdTech technologies to engage students and teach essential academic subjects. To get you started, here is a list of implementable options for bringing your EdTech toolbox into the future.
Mind Mapping With Bubbl.us Or Coggle
Brainstorming using visuals, making connections, or creating visual representations of ideas and related concepts are all examples of mind mapping.
Use an EdTech tool to ask students to categorize a list of vocabulary relevant to the unit of study. The initial group must defend their category to other collaborative groups, who can then examine the rationale of the categorization. 
Assessment or even project-based learning contexts might benefit from this. Images, icons, and symbols representing a relevant subject can be graphically organized and classified by students. Some things to examine (depending on your subject area) include: animal classifications; artwork styles; politicians; molecular diagrams; plot events; engineering procedures; gathered data; chart/graph kinds.
It is possible to save a mind map as a picture with Bubbl.us, a web-based tool for doing so. Collaborating and sharing is simple. Up to three mind maps can be created for free (a premium plan costs $4.91 per month).
Coggle is a website where you may make and share mind maps with others online. It's simple to share and work together in real time. For $5 for Awesome-level capabilities, or $8 for Organization-level ones, you may create up to three private mind maps with the free plan.
Video Collaboration Via Skype, Zoom Or Google Hangouts
Students are able to communicate with individuals all over the world in a way that would be impossible otherwise, thanks to collaborative and synchronous video software interactions and dialogues.
Find an interesting Skype project and join it. Take part in a Skype project. Searches can be narrowed down by topic, demographic, and geographic region.
It is possible for teachers and students to collaborate with other classrooms on a wide range of subjects, including geography and culture (such as Mystery Skypes, which use questioning skills to identify the location of another school), social-emotional skills (such as celebrating International Peace Day), STEM projects (such as writing code), and grammar comprehension (like book discussions).
Virtually bring in guest lecturers. Many writers, presenters, researchers, and other experts are eager to talk with your students, but in-person interactions are sometimes unfeasible owing to time, location, and budgetary restrictions.
They are willing to talk with your students. Use technology for communication to bring the world to your classroom. Using Skype is completely free of charge.
Skype in the Classroom is a free community that provides live educational experiences. Account and access to a computer with a camera, microphone and internet connection are required.
Using Zoom, you may hold video conferences with other people across the world. Up to 100 people can participate in a free, 40-minute meeting. Paying for a plan unlocks more options and features (like the breakout rooms that I mentioned).
A Google Account is required to use Google Hangouts. You'll need an internet-connected PC with a camera and microphone for video chats.
Virtual Reality Tours Via Quests, Classcraft Or Google Expeditions
VR is a computer-generated 3D representation that may occasionally be physically manipulated. Digital data from the user's surroundings is brought into real time as part of augmented reality (AR).
A 360-degree perspective of a new area may be viewed in virtual reality situations using a headgear that alters the image as I turn my head.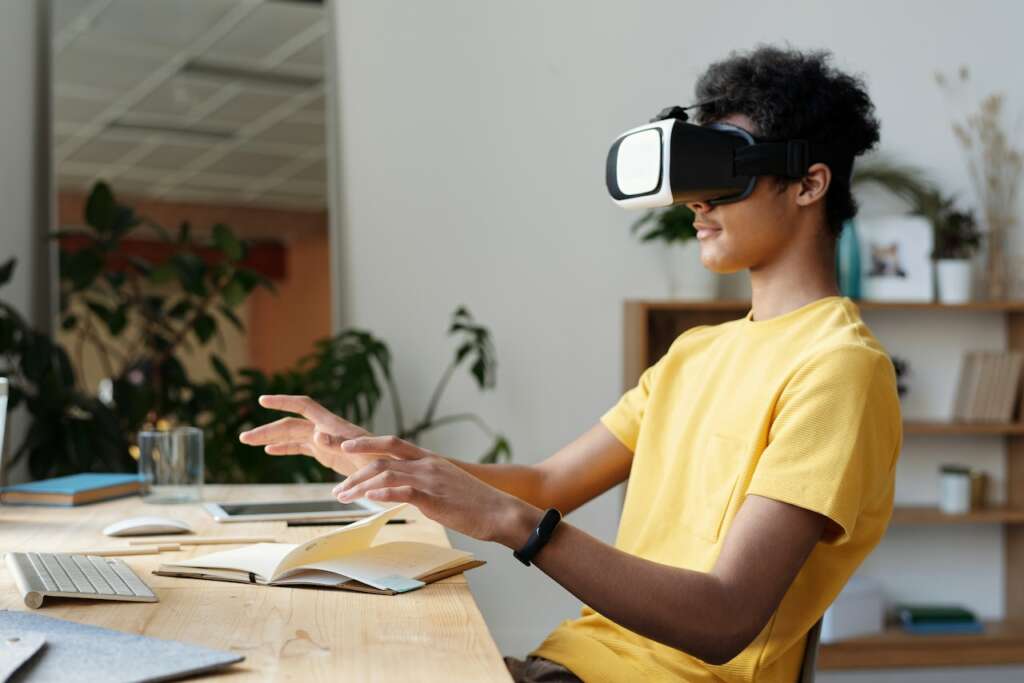 For example, even though I'm in my school's science lab, I can see a 3D model of the solar system suspended in midair thanks to augmented reality.
Take a virtual tour with your students. Some of these may be found at DiscoveryEducation, Google Expeditions and Skype Virtual Trip. A virtual field trip may bring the world into the classroom in the same way that a real field trip does. These tours may be used for any sort of topic or for any age. 
Online platform Quests sends students on a journey for knowledge and rewards their achievement. Classcraft delivers tailored learning journeys through Quests. Using Quests, you can place your lesson plans on interactive maps and designate each dot a specific learning objective.
Using Google Expeditions, instructors may take their students on virtual and augmented reality trips. Expeditions can be categorized as "arts/culture/science/environment/history" .
You may also experiment with virtual reality on YouTube 360 for free. You may get a bird's eye view of every city in the globe at no cost with 360cities.
Final Thoughts
An easy strategy to significantly boost student engagement in the digital era is to design practical and relevant courses that allow students to create, connect, synthesize, and evaluate information utilizing edtech tools.
New technology might feel too hard to apply properly since it's always evolving. Take measures to eventually plunge in and accept everything that technology has to offer, even if you need to start small.