I finally got around to reviewing one of the top companies in the Instagram hashtag industry – Task Ant.
It's not often that you come across a company that is a game-changer, so when we discovered Task Ant, we knew that I had to talk about it.
Task Ant Review 2023
There aren't that many Instagram growth companies out there that are worth your time, so when you do come across the right ones, you've got to hang onto them. Let's review Task Ant.
What is Task Ant?
So, when we say Task Ant, what are we talking about? Well, this is one of the most reliable Instagram growth companies that you're going to find out there right now.
Not only do they do everything organically and manually, but they make sure that all of their prices are accessible to everyone, and that your account is safe from being suspended or banned.
Of course, these types of features are going to appeal to most people out there.
Why Use Task Ant?
Why would you want to use Task Ant for your Instagram growth? Well, I think the question should be, why wouldn't you? Let's say you want to use them to help you grow your engagement and bring more people to your profile.
It's a pretty competitive world out there, which means that unless you've got a unique, original approach to the whole thing, you're going to struggle. This is where Task Ant steps in – they have taken a completely different angle when it comes to their clients' Instagram engagement, which is ultimately going to give them a huge headstart and put them in front of the competition.
Whether you've been using Instagram for a long time now to grow your brand or you're still pretty new, keeping on top of all the engagement activity can be mundane and repetitive at times.
With Task Ant, you can make the most of their user-friendly features and save a huge amount of time, which you can spend on creating more amazing content for your feed instead.
How Does Task Ant Work?
So, how does Task Ant work, then? Well, their main feature is a sophisticated search engine that they've had developed specifically for hashtags.
This means that you can put any hashtag you can think of into their search engine, whether it's one that you already use or one that you might like to in the future, and the result is exclusive, realtime data and analytics on it.
Not only can you find out how popular your hashtag is, but you also get to figure out how relevant it is to your niche or not. The more information you have on the hashtags that you use, the better you can implement them into your overall strategy and use them to your advantage.
Because Task Ant has set it up this way, all you have to do is search your hashtags – that's it.
Pricing Review
A review wouldn't be complete without discussing pricing.
As well as having great price points, Task Ant also comes with a 14-day money-back guarantee, so if you don't like it, there's no love lost. With this being said, I have a feeling that you're not going to need this.
Their prices start at just $15 a week and go up to $38 a month, which is incredibly affordable, especially when you compare them to other Instagram growth companies in the industry that charge way more and have way less to offer.
With both price points, you get the same features – the only difference is when you pay. If you prefer to pay on a week to week basis, it costs $15, but if you're happy to sign up on a month to month basis, it's $38.
Reviewer's Final Thoughts
As you can see, I've been very happy with how Task Ant has worked out so far, and I'm confident that you will feel the same way.
They are personable with their customers, have excellent support in terms of technical assistance, and they keep their price points nice and affordable so that everyone can have access to them.
Task Ant is an excellent all-rounder, which I can highly recommend to help with your Instagram engagement.
Task Ant Alternatives

While Task Ant is an excellent option, we still think that it's worth having a few options up your sleeve, just in case you need them. There's absolutely nothing wrong with having some Task Ant alternatives that you can turn to every now and then.
Let's check them out.
Growthoid is a great Task Ant alternative because it is simple, yet effective. It also guarantees to its clients that all of its growth is organic, which means that it doesn't mess around with fake accounts or bots, just real people.
We love that they set out to target the perfect audience for you, so that you can not only have the right people looking at your content, but they can target the audiences of people within your niche.
This is going to specify your audience's growth, so that the majority of people who are looking at your content are actually going to be interested in it. We think they have great pricing, and even better customer support, which is always nice.
MoreLikes
MoreLikes is one of those Task Ant alternatives that is upfront and honest with their clients, and can help you get more Instagram likes the easy way. However, this doesn't mean that they compromise on quality, so if you're looking for an honest, authentic way to get more Instagram likes on your content, then we highly recommend that you check these guys out.
One of the things we love the most about this Instagram growth company is that they can detect new uploads within 60 seconds and send you the right number of likes. They stagger their likes according to your needs, so that they come across as genuine and really work to help with your Instagram growth in general.
Growthsilo is one of those Task Ant alternatives that can help you with real and organic Instagram growth. They know that their clients have high standards, and they don't expect anything less from them, making them a great company to work with if you are serious about your Instagram growth.
They say that their growth service is completely managed for you, so you don't have to think about any aspect of it. The first thing they get new clients to do is choose the plan that is right for them, along with your desired target audience. Once you have done this, they can take over. It's as easy as this.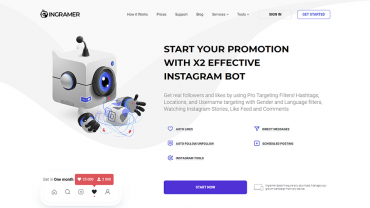 Ingramer is definitely the kind of Instagram growth service that you will want to check out if you want to get everything covered at once. They can not only help you with smart hashtag search and advanced direct chat, but they can also help you with their post planner for all types of content, free Instagram downloads, free trending hashtags, free profile analyzer, and a free profile search.
Honestly there's not really anything that this Instagram growth service can't do for you, so we highly recommend that you check them out as a legit Task Ant alternative.
Flick.tech is a Task Ant alternative with a few tricks up its sleeve.
They can help you manage, find, and analyze your Instagram hashtags effortlessly without you having to give them too much information so that they can manage the majority of your hashtag growth.
They say that they want to help you grow your business, account or influence by reaching new audiences with your Instagram content. They have a seven day trial so that you can check them out before you commit, and they also say that it's super easy to get set up with them.
What's more, you can cancel anytime, so there's no long-term obligation. We think that this all-in-one hashtag research tool is exactly what you need for your Instagram growth.