Stormlikes Review 2022
Stormlikes say that they can offer you real and exclusive Instagram auto likes, and can even give you 50 free likes to get you going.
This is an enticing offer, and you may have even tried out Stormlikes already, but there's not just one Instagram growth company out there that can do it all.
In fact, we know of quite a few that can also be beneficial to your account. Plus, it's great to have some up your sleeve in case anything were to happen to Stormlikes.
Instagram has been shutting down a lot of companies lately, so it pays to be prepared.
Let's take a look at what we've got on the list.
Why Instagram likes?
At this point of being on Instagram, you might be wondering what the big deal is with Instagram likes. You know how important Instagram followers are, and you love it when someone comments on your content.
But, are Instagram likes really that big of a deal? We are here to tell you that yes, they are. They are inherent to your Instagram engagement rate, and this is why growth services everywhere are helping their clients get more likes on their Instagram content.
What is Stormlikes?

Stormlikes is one of those companies that might have you think that they can just help you with Instagram likes, but they can also help you with views and followers at the same time.
The thing about your engagement rate on Instagram is that you've got to take care of every aspect of it, so if you are neglecting any part of it, the balance is going to be off.
This is why you need to take care of your likes, just as much as you need to take care of your followers, views and comments. Stormlikes can help you with it all, and the best part is that you will get your engagement within minutes.
Getting Started with Stormlikes
To get started with Stormlikes, all you need to do is visit their website, and you will be able to see the three main features that they offer. As we mentioned, they offer followers, likes and views, so you have to decide what you want help with right now.
Once you've done this, you will select your features, and then you will go through their checkout system, and pay for their features. After this, you can expect your engagement. You might have to share a bit of personal information, like your username or password.
Stormlikes Features
We have talked about how Stormlikes can help you with your Instagram engagement, but did you know that they can also help you with the other social networks that you probably have as well?
They can help you with your TikTok, with your SoundCloud, with your Spotify, and with your Facebook. This means that you can get quite a range for your brand's online growth, and keep it all synced up.
Stormlikes Pricing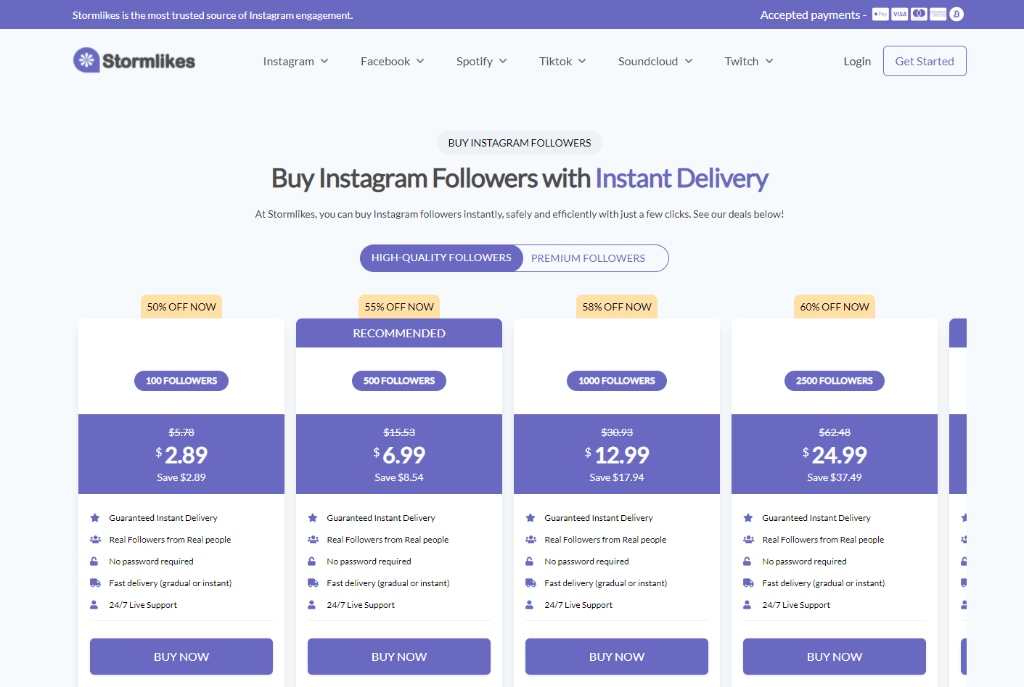 For the sake of this review, we are going to focus on Instagram and Stormlike's pricing around their Instagram features. They are able to help you with your Instagram followers, and 100 is going to set you back $2.89. 500 followers is going to set you back $6.99, and it goes up from here.
Honestly, we think that their features and their pricing reflect a company that is high quality, and doesn't want to charge too much for their features, but isn't giving them away for free.
With all of their Instagram features, they guarantee quick delivery, as well as real interactions from legit people, live support, and the promise that they don't need your password.
How Did Stormlikes Do in Tests?
Stormlikes did really well in tests, so we're pleased to share the results with you. We signed up for 100 Instagram followers, which as you know cost us $2.89.
We didn't have to give our password as they claim, and we also received our engagement straight away, as they promise.
We are pleased to say that our followers were relevant to our Instagram profile, and they came with a high retention rate, meaning that they actually hung around and interacted with our content and didn't go anywhere.
We don't think there's any risk to our Instagram reputation when using this company.
What About Their Team?
Companies like this need to be really accountable to their clients, otherwise, they're going to not want to work with them.
The more you can get to know a service before you start using it on a regular basis, the easier it is going to be for you to trust them.
We are pleased to say that Stormlikes has a really good amount of information on their site, especially about their team. We were able to get to know the people behind their features to the point where we felt really confident about their expertise.
Review Verdict
So, Stormlikes is a company that is going to take care of you, and is going to make sure that you don't get red-flagged by Instagram for using their features.
We think that they are worth your time at some point, and they are going to make sure that you can sustainably grow your account for quite a while.
However, we also don't think that it can hurt to have other options available, so let's dive in and see what else is out there that you can pair with Stormlikes.
First Look
1. Best of the Best: Growthoid
"Growthoid gets my vote for being the type of company that truly cares about their customers. Growthoid claims that they don't sell fake followers, and I can attest to this. I haven't had one bit of fake engagement come my way – only real, active Instagram followers that actually interact with my content."
2. Second Best of the Best: Growthsilo
"Growthsilo calls themselves a creative growth agency – and this exactly what they are. They're the kind of company that can help you expand your brand's creativity across many different online platforms. They've helped me with my Instagram, and they've got my next email marketing campaign all ready to go."
3. Best to Keep Within a Budget: Follow Adder
"Follow Adder is one of those companies that makes me feel confident about what they can do for me. I've been through quite a few of these companies and was feeling pretty jaded when I decide to try Follow Adder. Thank goodness I did – they have set me right and remained consistent ever since."
4. Best for the Security of Your Account: Task Ant
"Task Ant is so simple, you could miss just how amazing they are. While they do come across as just another Instagram growth company, they're anything but. In fact, they've even got a growth feature that you're not going to find with too many other companies, so get in quick."
5. Best for Being an Old Business: Nitreo
"Nitreo likes to help its customers by providing amazing features with affordable price points. Nitreo has helped me through the last few years of Instagram engagement, and they haven't failed me yet. This is one of those rare businesses that is going to stand the test of time, no matter what Instagram tries to do."
Stormlikes Alternatives
1. Best of the Best: Growthoid
Our review of Growthoid revealed that they are bringing out a brand new engagement feature that's going to put you ahead of the pack.
You can forget about the days of using things like the follow/unfollow feature – it's not even that effective anymore, anyway. Instead, try their brand new mass story view tool, that can help you view other people's stories on a mass scale.
This will get people checking out your content in no time.
2. Second Best of the Best: Growthsilo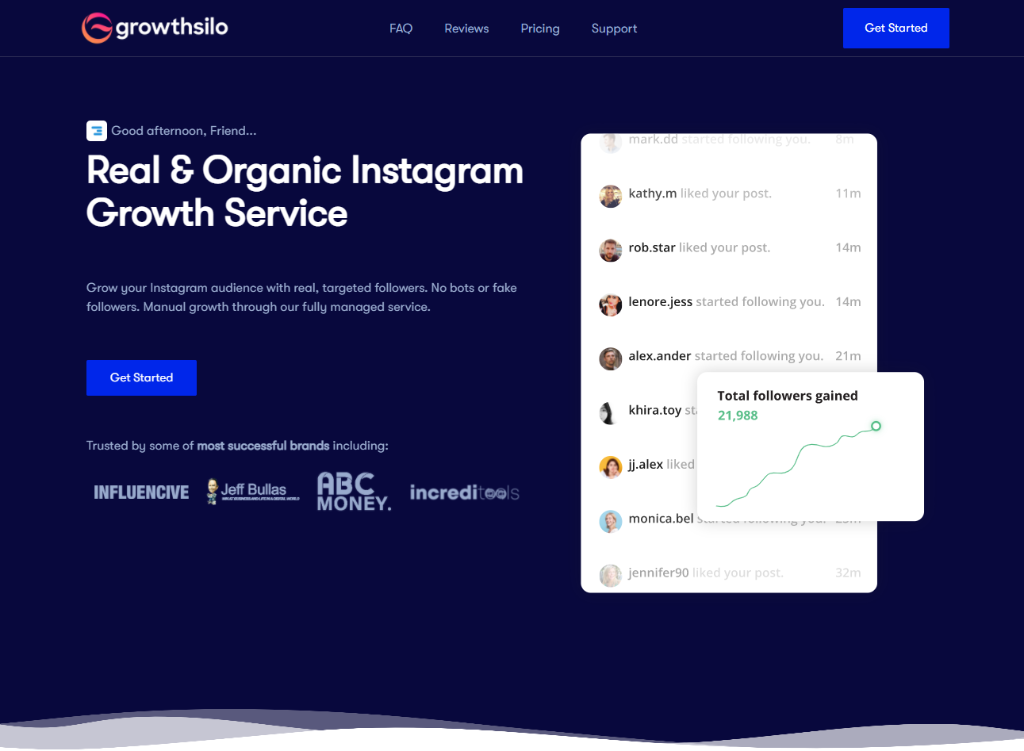 When we reviewed Growthsilo, we found out why people are saying that they're so much more than just a growth service.
Their feature list is extensive and covers so much more than just Instagram. They can focus on your website, too, and tell you whether they think it needs a bit of work.
They can even help you figure out your next email marketing strategy. There's very little that Growthsilo can't do.
3. Best to Keep Within a Budget: Follow Adder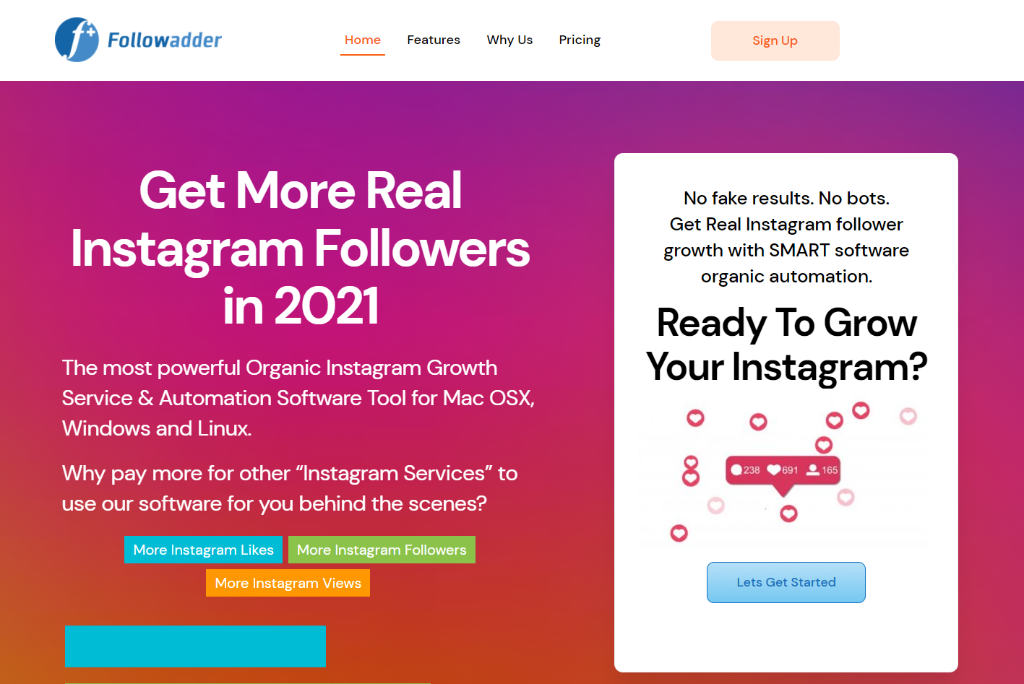 Follow Adder not only wants to save you money, but they also want to save you time as well.
They know that your schedule can get busy when you're trying to get a new brand off the ground, and they also know that this doesn't have to cost you too much, either.
They want to take some of the burden from you without you having to blow out your budget. Their features are simple, yet effective, and you can even customize them yourself.
4. Best for the Security of Your Account: Task Ant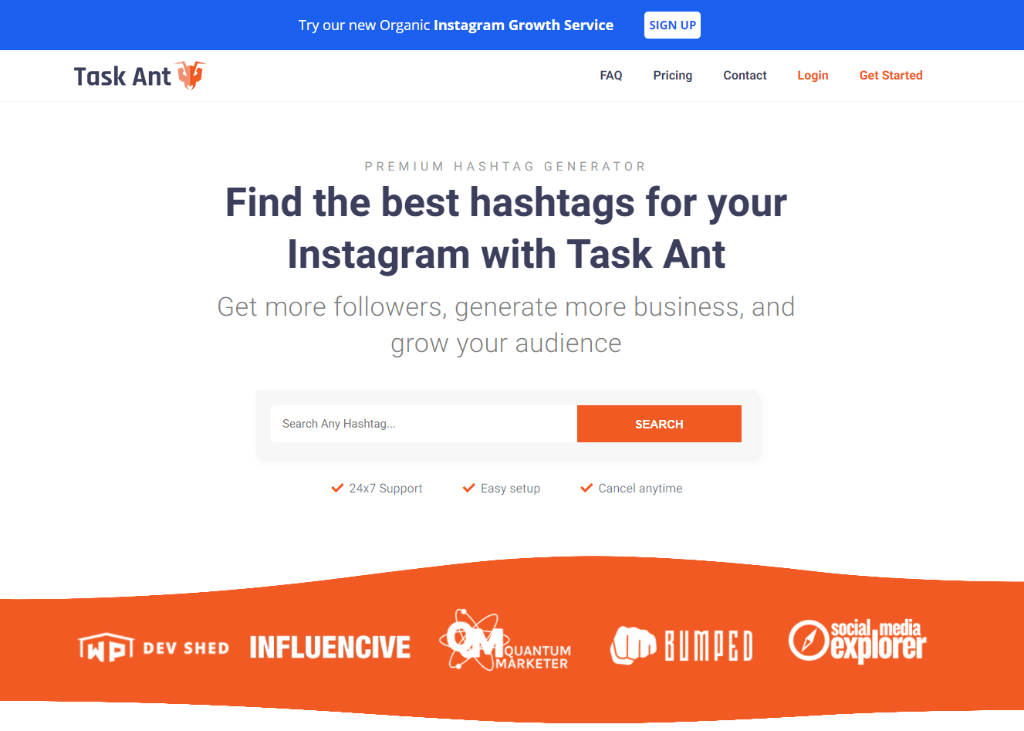 Task Ant is the kind of company that has entered the Instagram growth industry with an entrepreneurial spirit.
They know that they need something that's really going to stand out against the hundreds of other growth companies out there.
Enter their hashtag search engine. You can look up any hashtag you want and see if it's going to help your growth or hinder it.
5. Best for Being an Old Business: Nitreo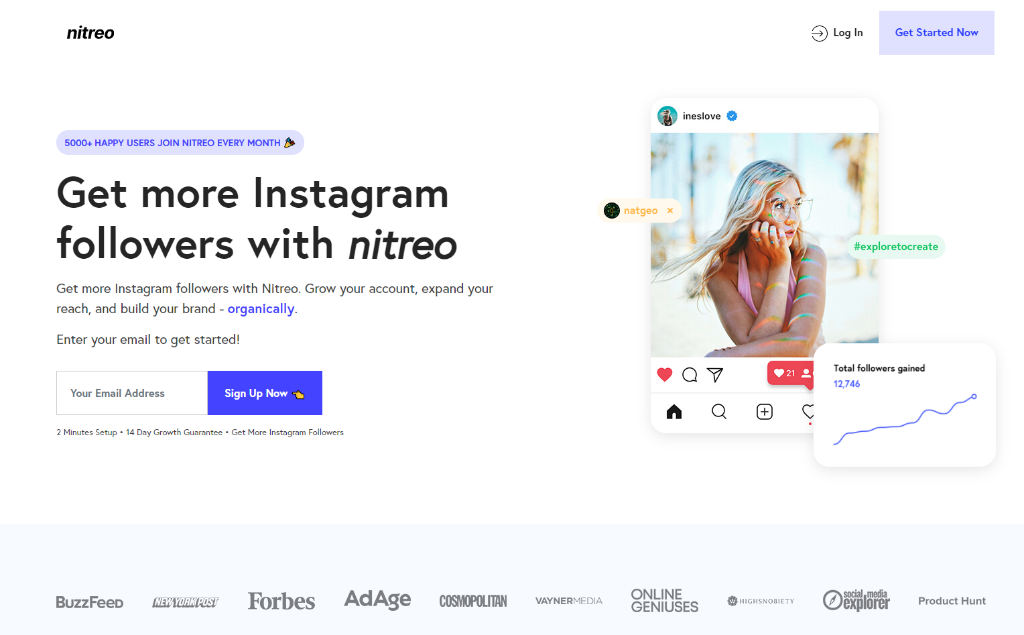 When we reviewed Nitreo, we knew that we had to put them on the list. This loyal, reputable company has been around since the growth industry first started gaining traction, so they've been here for it all.
They know that it takes working smarter, not harder to grow your Instagram, and they have the features to make this possible.
Did You Know?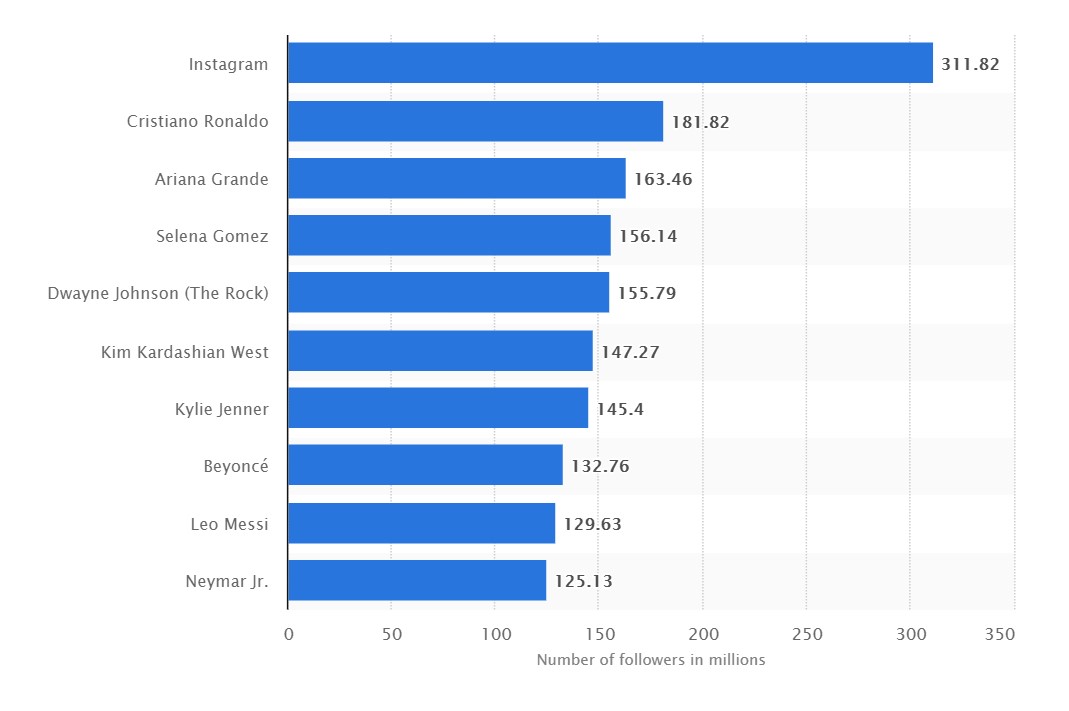 Who do you think has the most followers on Instagram?
It may seem obvious, but Instagram itself has an account that has over 305 million followers.
Next in line you've got Cristiano Ronaldo, who has an impressive 173 million followers.
In third place is Ariana Grande, with 158 million followers.
How many photos that people upload onto Instagram do you think have a filter?
Well, believe it or not, 89.5% of photos posted to Instagram actually don't come with a filter at all. We know – hard to imagine.
Our Review Process
When we go out there and search for the best Instagram growth companies to put on our list that you can use in place of Stormlikes, we make sure to do our due diligence.
This is why we look at 185 Instagram growth services and review at least 6530 customer reviews from third-party sites such as Trustpilot, that have both good and bad things to say.
This is the best way for us to determine who should make the cut, and who shouldn't.
Check out their free trials today to give your Instagram a boost!