Marketing has now become an essential part of every business that launches itself in the market. From big enterprises to small startups who want to make a name for themselves in the market.
It is also essential in getting noticed by the people who could be your target customers. The thing about email marketing is that it's becoming a little slow presently.
A lot of people prefer opening up an email to simply know what kind of deals your company is offering.
Most individuals from the younger generation are actively using social media and email to keep a check on latest offers and products.
Compared to that, you will find few people checking marketing messages. Despite this, SMS marketing is quite a popular and effective method of reaching out to consumers and keeping them aware.
What Is SMS Marketing?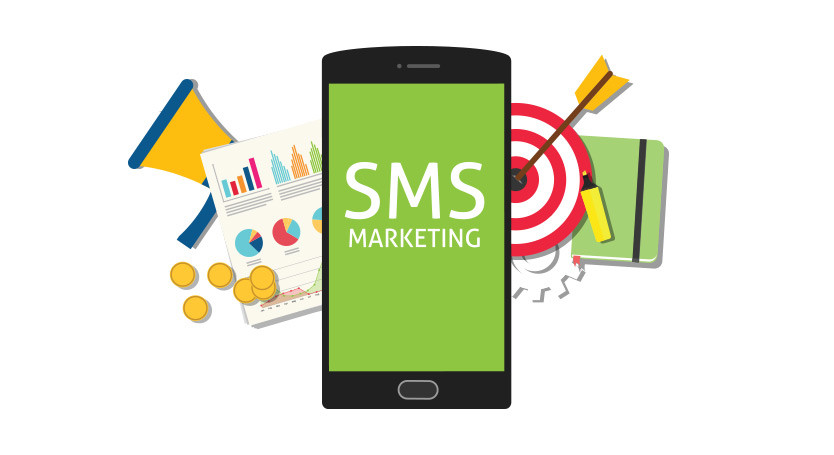 SMS marketing is a specific target marketing that allows the potential customer to know what the company has to offer through a simple text message.
As compared to email marketing it has shown that SMS marketing has a great turnover and opening rate.
Emails are nearly at the point of not being opened at all by your potential customer, but SMS's have a 99% opening rate which is way higher than emails.
SMSes are received and can notify the user about the specific details that your business has to offer. If your message is interactive enough and catchy, it'll certainly be able to help you get potential customers.
Messages are also almost always read through and a quick overview can help the person understand what the gist is.
What Is SMS Marketing Software?
To be able to cater to a huge audience you should be well aware of the consumer base you want to target. Businesses need to realize what sort of customer will be buying your product.
These things need management and software that can help the business easily incorporate mass texting and customization. Softwares such as these can help companies manage things that are related to SMS marketing.
They can help the company in doing things like adding the customer's actual names without manually typing in the names.
The simple integration of all the commands in one place makes it easier for companies to keep up with their sent messages and help them know exactly how well these texts did.
Why Should Your Company Consider SMS Marketing Software?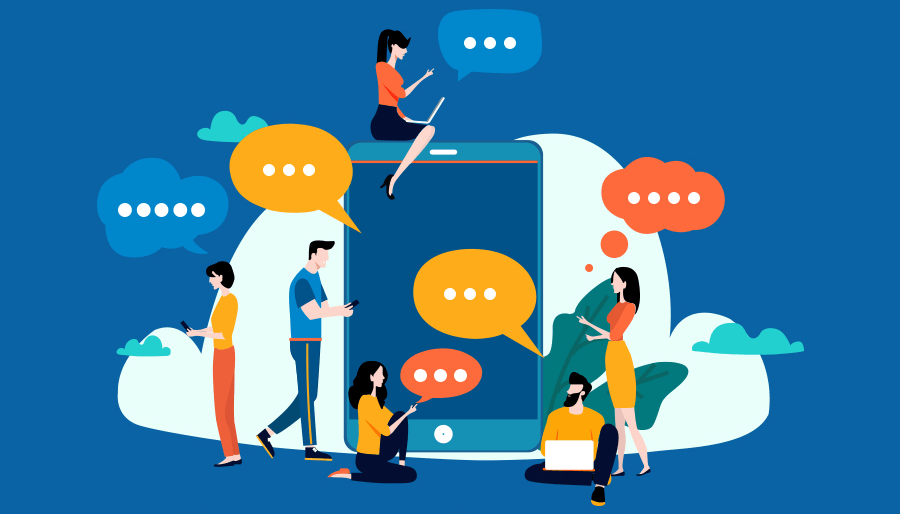 Whether you're a small company or a big enterprise, you need to catch up with the times. SMS marketing is an important tool that gets people to notice your business.
These are simple texts sent over to the customer on their phones, but they make a very big impact on how they view your business.
A professionally written text message will help your customer deduce what your business represents. To also ensure that your messages are being sent with the right tone and integration then you may want to get SMS marketing software.
These are not only simple but also have details that help the company specify the customer they're targeting. A combination of personal information and individuality can bring the customer towards you.
SMS marketing software also helps in timing what you need to send. Analysis shows that every social media platform and marketing technique has a specific time that is suitable for making the most impressions.
Similarly, text messages are also supposed to be sent at a prime time to ensure they're reaching the audience almost instantly and are being opened at the right time.
Every single software allows a different set of techniques that can be helpful for you and your business in the long run.
Best SMS Marketing Software
To ensure you're selecting the best option that suits your company, we've compiled a detailed list of the best SMS marketing software & platforms that will definitely help you achieve what you want.
Text magic has been around since the start of the technological revolution. They are one of the pioneers in this niche and have achieved a lot of success since their very beginning in 2001.
At that time, people had not started to even think that social media sites would become such an important part of marketing and text messages would be so valued.
Since Text Magic has been in the market for a long time, it has been able to successfully identify an important segment and make itself efficient enough to cater to a huge audience.
The app allows the company to send messages to almost 200 countries and has the proper functions to cater to a specific audience.
All text messages sent also cater to the specific language the country speaks to make it more personal and establish a much stronger connection.
It also allows the company to identify who owns the specified number so they are not wasting their messages.
You don't even have to worry if you are not great at writing texts since Text Magic has multiple texts formats which can help in creating the right message.
With bulk texting and MMS support, you'll be able to make your message interactive and fun.
People can also establish separate accounts for each team member to increase idea generation. The pricing is very minimal with a tag of $0.04 per message sent.
At the end, you not only get a great deal but also a month free subscription with a designated number which has to be paid $4 to maintain, every month.
To be an all-rounder, you would want to consider something like Omnisend. This SMS marketing platform allows the user to send both emails and SMS marketing messages to ensure that there is a higher reach to the customers.
Omnisend has been designed with the aim of providing the best services to businesses that utilize it. This software can certainly help you stay relevant in the market.
With the help of email tracking, Omnisend allows its customers to send follow up messages to consumers.
This helps businesses make sure that the customer is clearing out their cart or even potentially going through the full process of buying the products.
They also offer worldwide integration and have language support to help with that. The company wants their customers to reach a larger audience and have codes that are linked to every country on the planet so that the company can reach out to anyone from anywhere.
Two-way messaging is also a great tool that helps the business ensure that its services are top-notch. This can be made possible with Omnisend, the customers can converse with the business in real-time and be able to give feedback.
The pricing is exceptional too for all kinds of businesses. The first version is free with 60 messages and 500 emails, the second is $16/month and it allows 60 international SMS with 6000 emails and 500 contacts.
You also get free and unlimited web push. The last allows 3,540 worldwide SMS and unlimited emails which include the offers from the standard pack, this is priced at $59/month.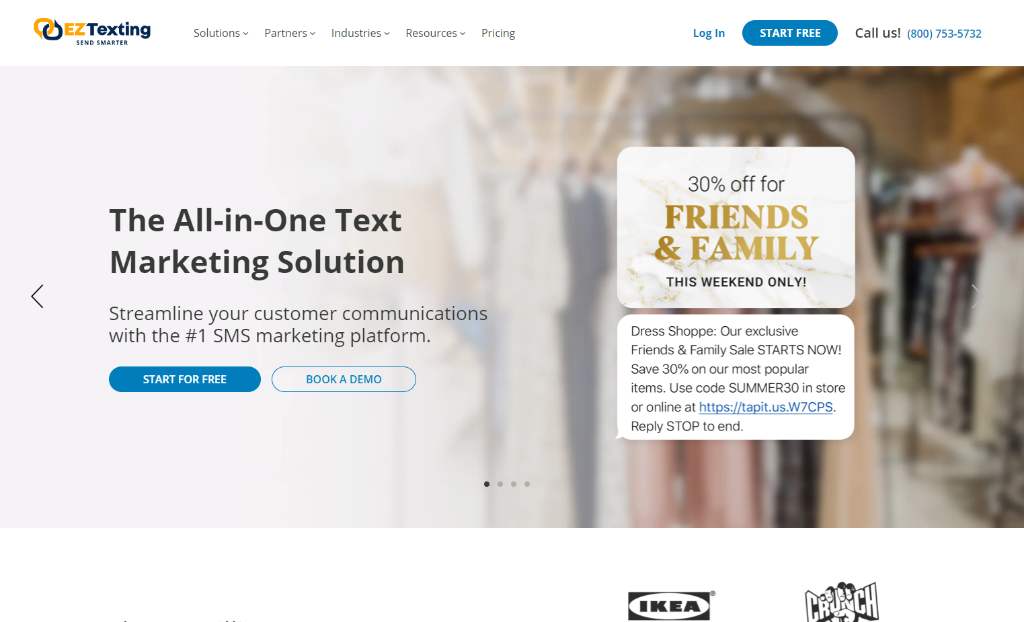 EZ texting was introduced in the market in 2006 and has been consistently proving itself worthy of being used by both large enterprises and small businesses.
The company allows their user to ensure that they are sending the right messages to the right audiences. A proper way of integration is clearly visible with this software.
To ensure that the company has proper insight on the customer, the software allows them to send text messages and save customer names as the keywords that they prefer.
This way the business will be able to identify which message should be sent to whom. You should also be aware of the feature that helps you save time.
If you're don't very keen on rewriting text messages over and over again you can simply save the text message for later use.
EZ Texting also allows the user to make the messages a lot more interactive and give the option of adding a poll to the message.
Instead of having a conversation with the customer in real-time, the polls can help in knowing what the customers require.
The pricing is pretty standard and reasonable with a 14-day trial to get you started. People can then choose from 3 packages priced at $19/month that allow unlimited calls and integration.
The $29/month allows value features and MMS services. $49/month allows all essentials and API access.
Ringy is that one piece of SMS marketing software which you need to ensure that everything in your business is satisfying your customers.
You should be able to interact with your customers in a way that makes them feel valued and ensure that you have the proper management when it comes to calls and feedback.
Ringy was established in 2013 and has a fair share of knowledge considering the work experience of 8 years.
The company also ensures that you won't have to work a lot harder and can work smarter with this simple tool.
Every single text message does not require you to run back and forth to check the analytics of your text message. Instead, you can check the details about each text message with a simple email on your phone.
This marketing program has some of the largest range of features to offer and has an extended amount of details that help the customers know what type of customers they have targeted and who has had a good response.
This also helps you in scheduling messages and ensuring your messages are sent on time with the right tone.
The SMS marketing software even allows content management and contact management. You could hire multiple people to check the feedback each text message receives to ensure future ease in making appropriate text messages.
This has a free version and has one standard package which is priced at $99/month which offers an extensive amount of features.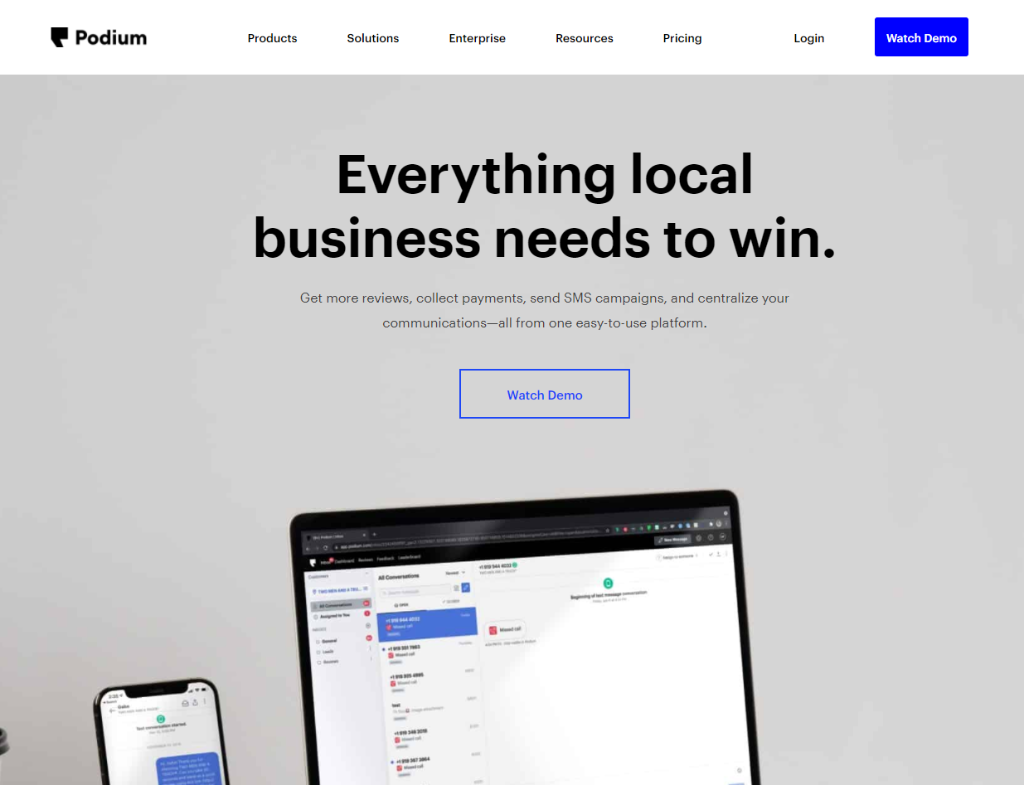 Podium is all about creating a better relationship between the customer and a business. They want to make sure the business or startup that is considering their service can allow the customer to become loyal towards them.
The basic view for this service is the fact that it needs the user to be able to interact with the business and understand them a lot better. This is to help businesses realize how important they are, and how essential customer feedback is.
To make sure you are instantly being notified of any messages the customer sends, this allows message integration, this means that any message that is sent either on text message, Facebook or Instagram will be shown to you in one place.
This will allow you to get back to the customer much more quickly. You can also set up automatic responses which send appropriate messages for questions that may be frequently asked.
Additionally, to make sure that the customer is satisfied with the purchase, companies can add a customer review generator.
This could allow customers to give their feedback right after they are done purchasing their products.
Creating leads from multiple sites such as Google and Facebook can also help in creating pop-ups that direct the customer to the desired website.
The best thing about Podium is that you can access the main features for free but for all-around access you need to purchase a specific deal that is priced according to your company and needs.
The pricing starts from a $350/12-month subscription.
Text line is a great SMS marketing option for those companies who want to integrate their services from being just a mass texting website to having a connection with their customers on a more personal level.
This allows the company to add in the option of having conversations that are safe and kept confidential between the user and the company.
People who work at hospitals or doctors who run certain services can have their patient's sign consent forms and book appointments through this app.
The software is supported by both IOS and Android and can be used to inform the user of any messages that have been sent in by the customers.
This way, the company can send in the basic mass texts to inform their customers about any details that they deem important. These messages can also be timed correctly with the schedule messaging feature.
Contact management is also an essential part of the service which ensures that the company is not spamming their potential customers and has the right details about them.
Pricing is a little costlier but it has a free version. The lowest cost is $59.97 which has limited features, the standard package is priced at $89.97 and the pro version is priced at $249.95.
All of these are charged on a monthly basis.
ClickSend is regarded as one of the new generation of SMS marketing software. This has been around for a few years now and has been mentioned in Zapier's fastest-growing app in 2019 as well.
Considering the recent progress and advancements, the company is well aware of what it needs to do to add in details which attract younger customers and make the messages a lot more interactive and interesting.
The software has incorporated text to speech options successfully. Most people would be aware of the "speech-to-text" format where you speak and your phone converts that into a text message.
With ClickSend, you write down a text message and the software converts it into a speech text that you can send us a voice note. This could create a more personalized experience for the person on the other end.
Two-way communication can also be established with certain customers to enable proper marketing and the replies that will be sent are free of cost.
Mass texting can also be turned into mass MMS's where the business can add certain features such as gifs and emojis to make the message fun.
The software could be quite fun and interesting to use, with the prices being exceptionally affordable as well.
A business number needs to be maintained at $1.91/month and SMS cost $0.0268/month, MMS starts at 0.0425/month, voice calls start at $0.0157/month.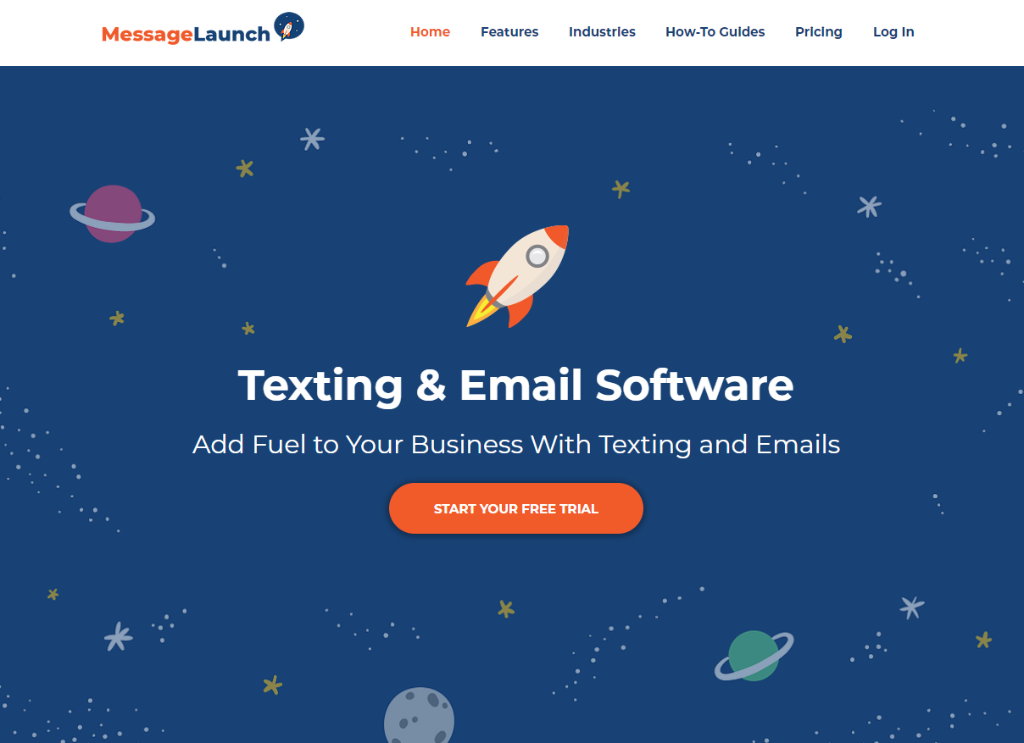 Message launch, as the name may suggest, is a great SMS marketing service for companies who want to generate subscribers with text messages.
It is an analytic platform that makes sure that your customers are being sorted into target categories with the help of text message keyword identification.
Once your customer expresses certain words in the text message leads it will be quick to identify what their needs are and the company/business which uses the platform will be able to send in messages which account for new deals and promotions.
This helps in making customers online and generating leads which would lead to the customer being into programs or deals which are being sent in.
To make sure your customer is getting a great experience it also lets you interact with the customer and ensures that connections and queries made through social media sites are also accounted for.
The threads of feedback are stored in text message threads on Message launch and the company can go back and forth to ensure the problems that were identified by the customers are being fulfilled and completed.
When your target audience is identified, it allows the company to send specific messages and links or even promotions to the customer in the form of drip campaigns.
This can help you ensure that no spam text messages are being sent.
There is a 14-day free trial and after that, a paid subscription starts from $9.99. The paid subscription goes up to $99.99 with features added on as the price goes up.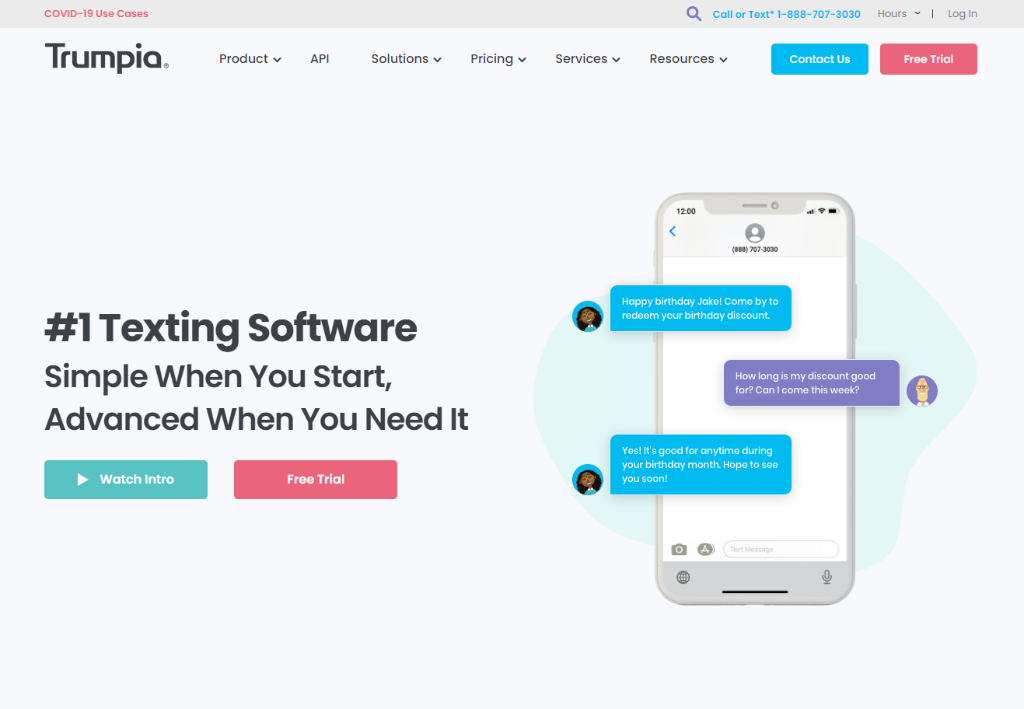 Trump is a SMS marketing platform that offers great services to ensure good product marketing. This not only makes sure you are sending mass text messages to your customer but also ensures that they are sent to the right customers.
The help of data analysis and characteristic details, including other marketing techniques allows the user to ensure that the messages being sent are to the right potential or existing customers.
Data analysis ran through the text message sent and let the company know which of those sent text messages had failed during delivery and those that were successfully creating leads.
Trumpia has also served big companies like Coca-cola, 7/11, and Costo. These are companies that sell products in an instant and are still considering the use of such software.
This software also allows the usage of email marketing in which the company can send in pamphlets, well-written emails, campaigns, and anything that adds to the product being promoted.
A drip campaign is also followed in this software, where the customer when entering or using a specific keyword is given a certain promotion.
The timing is also set and allows certain messages to be sent a certain time to ensure a good response. It's pricing starts at $45/month with 1,000 SMSs and 5,000 emails credits.
The second option starts at $195/month with 5,000 SMS and 50,000 email credits with advanced features.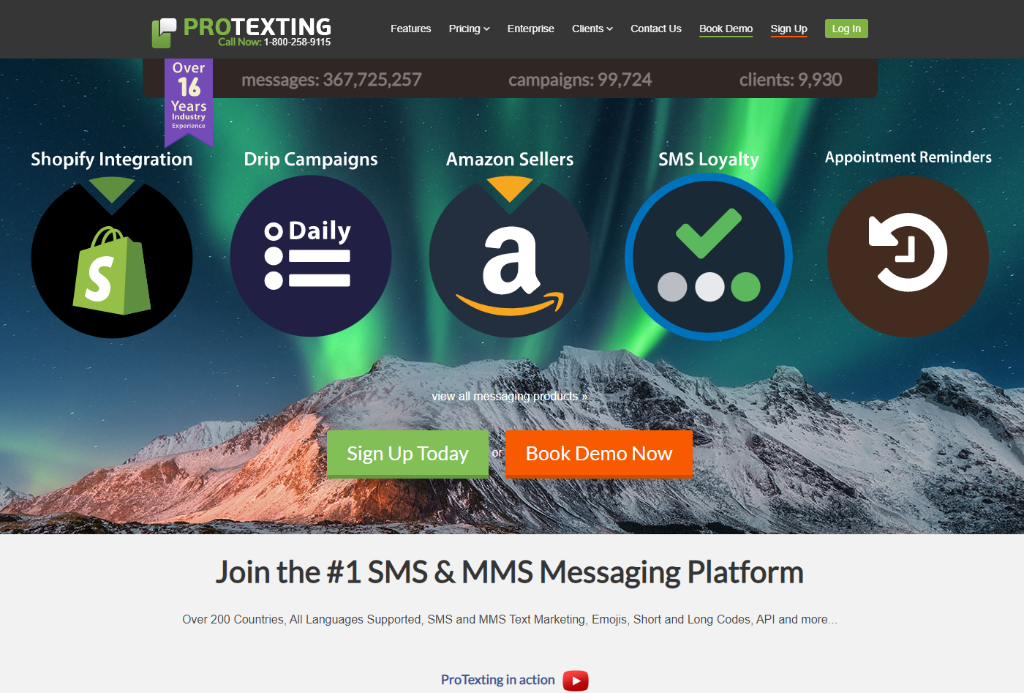 ProTexting has come a long way today from where it began. It was just a simple text messaging platform but now it offers multiple solutions to your needs.
The best thing about this platform is the data analysis. You get a detailed analysis of every text message you send to ensure that you know exactly how well everything is doing.
You can know which customers have subscribed to your services through a designated keyword and how many have opted out of it and want no part.
To also ensure that every customer feels valued and validated this sends an automated message as soon as the customer gives some feedback or uses the two-way texting option.
You can choose what the automated response will be to ensure it represents your business perfectly, it can even be a call to action message to promote the customers to avail the offers that are being offered.
This software has something known as group texting, this is a feature that allows you to send messages dedicated to your specific target market.
All you have to do is write the message you want to send and the software will send it to every number in your group that exists in the US.
The pricing starts at $49/ month with 1,000 credits, going to $79/ month including 1,700 credits, with each SMS costing almost 1 credit. The company also offers custom packages for certain customers.
Final Thoughts
These are some of the best SMS marketing software, services and platforms that you can use to grow your business within a short span of time.
They allow small businesses as well as large enterprises to avail their offers.