SE Ranking is an all-in-one SEO platform, so it may not be an obvious solution for YouTube since it's not a search engine. Nonetheless, YouTube has a built-in search engine as a part of its platform, making it possible to optimize your videos to get higher rankings in the search results – it's SEO at its finest. Let's see how SE Ranking can help you with YouTube video ranking.
SE Ranking Review 2022
SE Ranking was founded in 2013, almost a decade ago. Since then, it has gained numerous updates and tools, making it the truly all-in-one SEO software it is today. Its tools help with the whole SEO cycle: from keyword research to position tracking. Let's become better acquainted with these tools.
What Is The SE Ranking Keyword Rank Tracker?
The purpose of the keyword position tracking tool by SE Ranking is to crawl and store search results to analyze the search performance of a project. It will scan SERPs daily to see the slightest changes in rankings. Knowing these changes, you can tweak your strategy accordingly.
What's The Big Deal With Position Tracking On YouTube?
Position trackers are a must for monitoring progress on the Google search. They will provide you with additional insights on your performance in addition to data from Google Search Console that shows rankings for your search queries as well as traffic.
Similar to GSC, YouTube can show your channel's overall performance, including metrics such as Impressions, CTR, and Views, so having a YouTube rank checker online is a good idea to understand your progress better.
Unlike GSC, YouTube Studio has no data on the average position because it does not show the search appearance of a video. Instead, all you can get from the Studio in this regard is the distribution of traffic sources.
How did users find you? What search queries led to click? How to check channel YouTube ranking? Those questions can be answered via the SE Rankings position tracker.
Getting Started With SE Ranking
To start tracking search performance, you must first set up a project. Inside the project, you can add keywords and search engines, and edit them if needed, so the best practice is to set up one project for a single YouTube channel.
How To Add A YouTube Channel To SE Ranking?
Log in to the SE Ranking platform and click on the "Create project" button.

Add a link to your channel in the Website URL input – SE Ranking will automatically detect that it is a YouTube link and not a regular web page and treat it correspondingly.

Change the Domain type to URL.

Enter the project name (the most common option is a video title or a channel's name).

If you have several project groups, you can assign the channel to a group or create a new one to keep your properties organized.

You can increase the search range to the top 200 results, but most of the time, the top100 is more than enough to evaluate the search performance.

You should disable Website Audit for a YouTube project since you don't have to optimize any website.
You can set up a project for a YouTube video and a channel, but the latter restricts some functionality (we'll discuss this later). The best way is to have several projects grouped into one folder representing a channel, where one of the projects is set up for a channel and the others for a video – this way, you won't miss anything.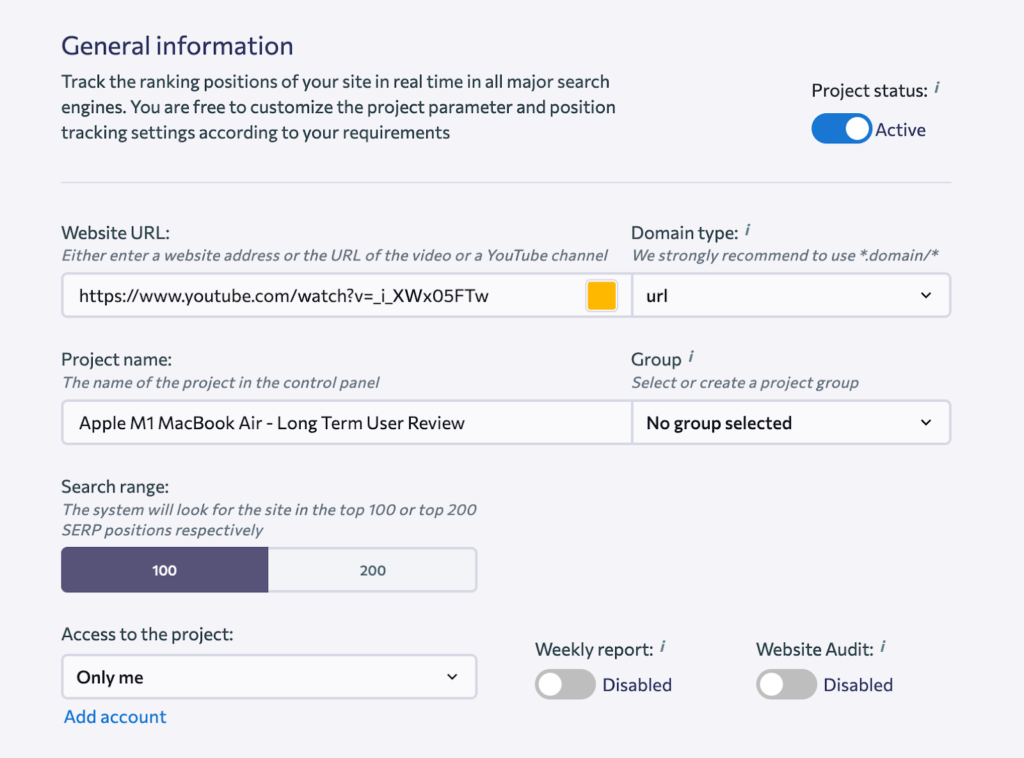 How To Add Keywords To YouTube videos?
The next step is to add the keywords you want to track. Keywords Suggestions, in this case, provide too general options because they are the most popular requests on youtube.com and not channel- or video-specific.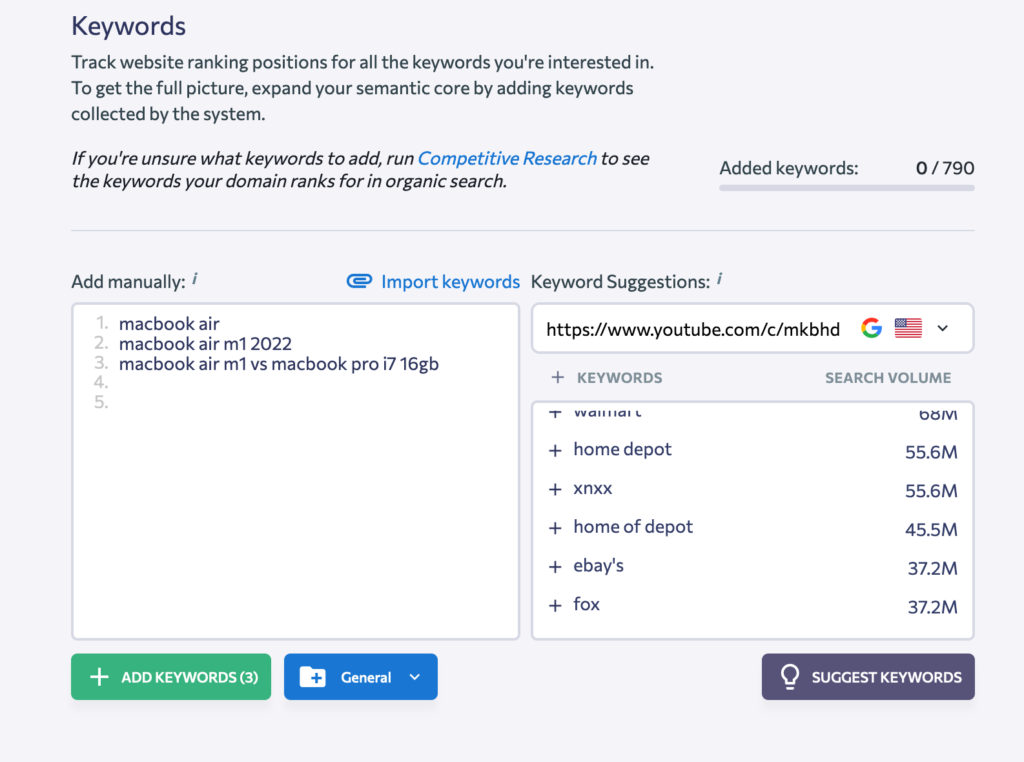 There is a better way of adding keywords – exporting from YouTube Studio. Here, pay attention to the following tabs:
Searches across YouTube – depending on what you are searching for, it'll show you the most popular suggestions for the query you lookup.

Your viewers' searches from the Studio – a list of specific search queries based on your audience's activity shows what topics your viewers are interested in. It's a great way to find keywords and content ideas.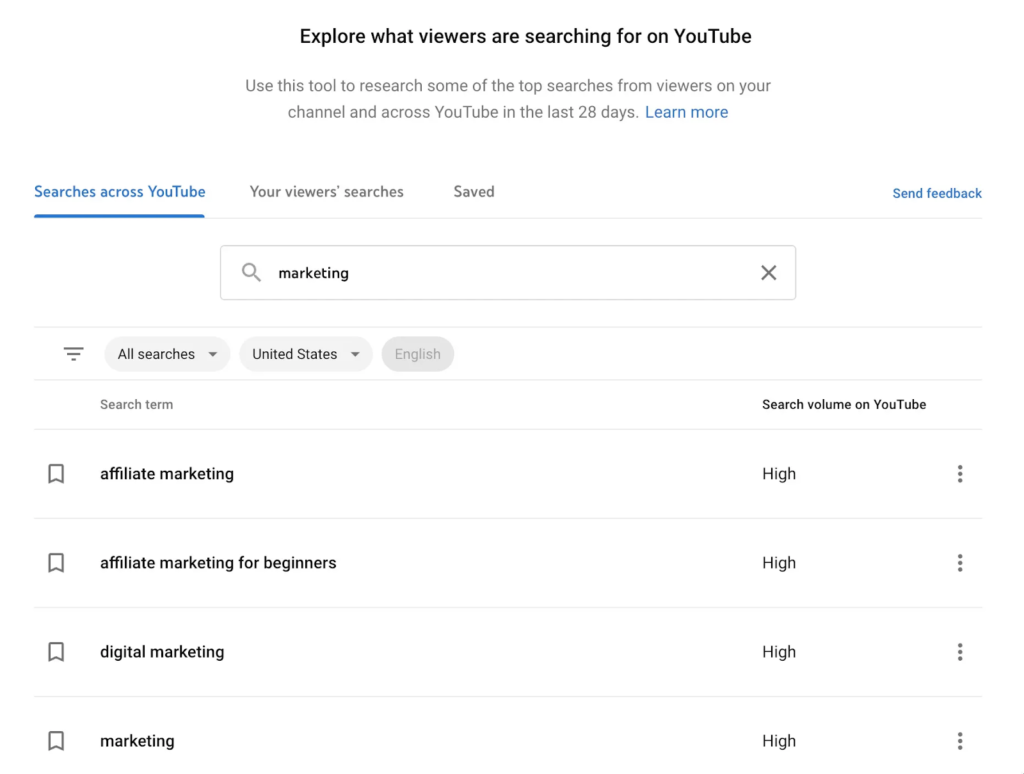 Mark all keywords you find valuable by clicking the bookmark icon next to them. When you have the list of all keywords you want to track, you can find them on the "Saved" tab, save them on your computer as a *.csv file, and add them to your project using a bulk import.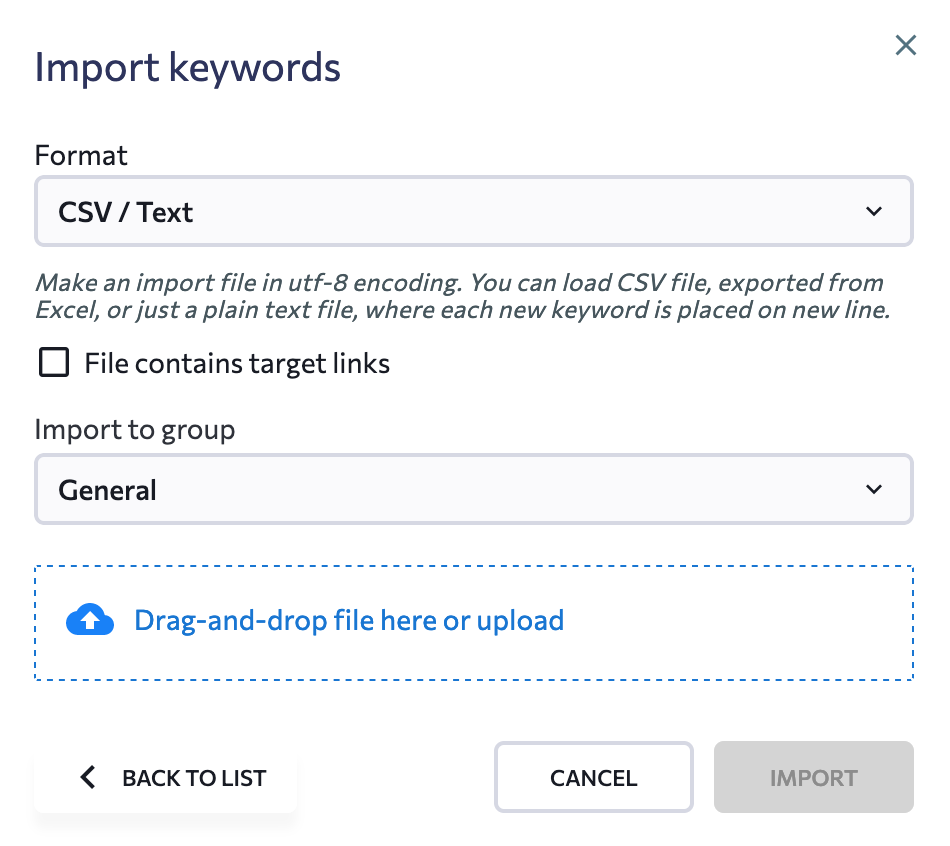 Which Search Engines To Choose?
Here is when things start to get interesting. We must take a step back and remember how YouTube videos are discovered. The first and obvious source is YouTube itself, so of course, we add this search engine.
The second most popular organic traffic channel for YouTube videos is Google search, since almost 1/3 of search results contain videos in them, the majority of which are YouTube videos.
This leads us to conclude that we also need to add a Google position tracker to measure the performance of our YouTube videos from Google search.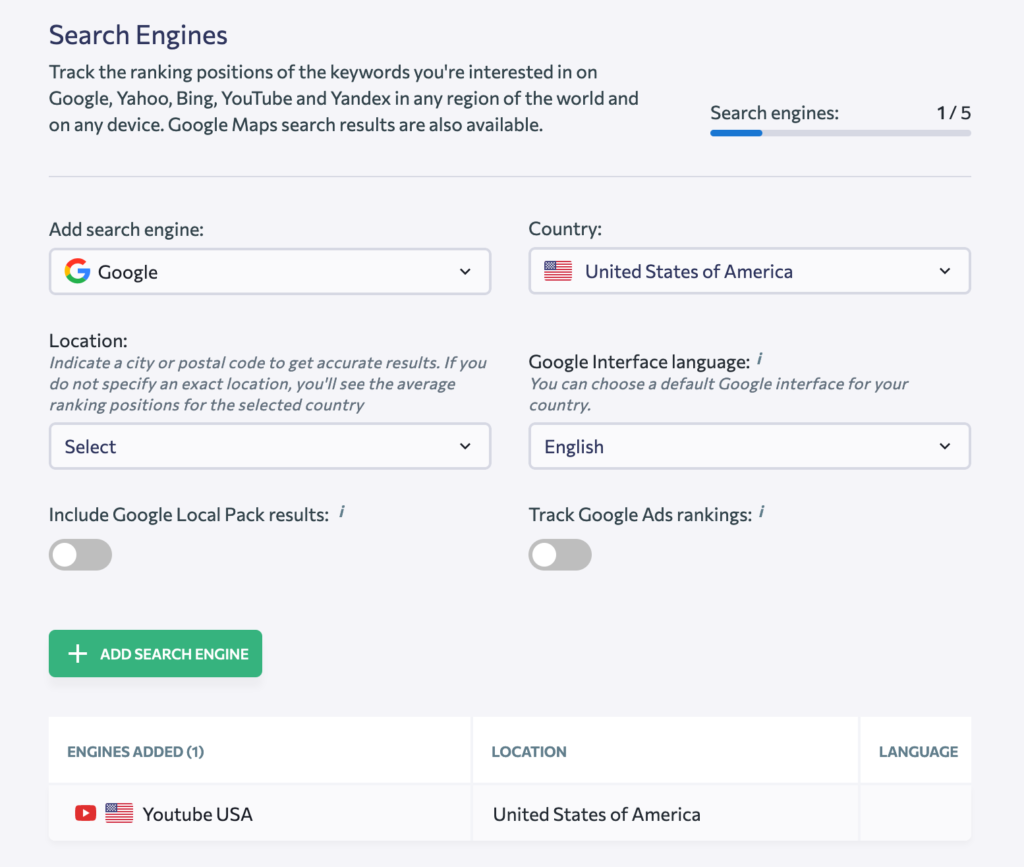 One more thing to consider: search results vary greatly depending on country and language. If you are targeting an audience from several countries, adding a search engine tracker for each of them is a good idea. SE Ranking allows for tracking up to 5 search engines for each project.
How To Add Competitors?
In Competitors, you can add your competitors' videos to track their performance further and compare it to yours. Don't forget to add URLs to YouTube videos (not channels) to see their performance.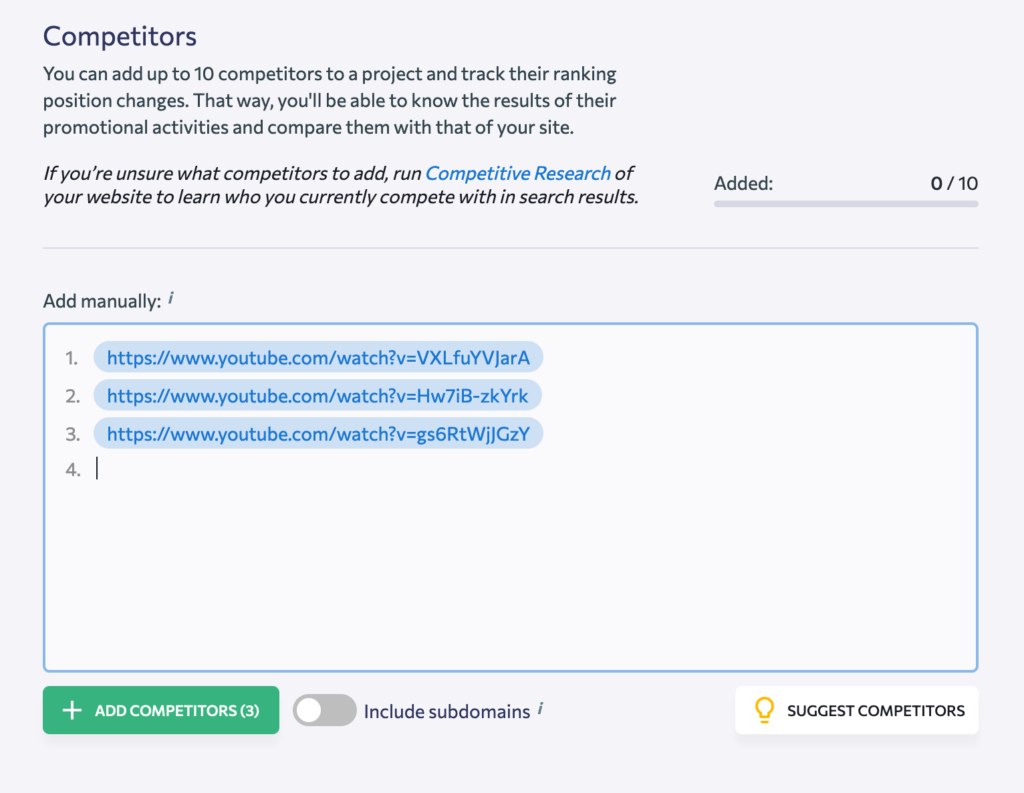 Hint: you can find competing videos fast by navigating to SERP Competitors and copying links there instead of manually searching on YouTube. But make sure you choose the URL in the display mode.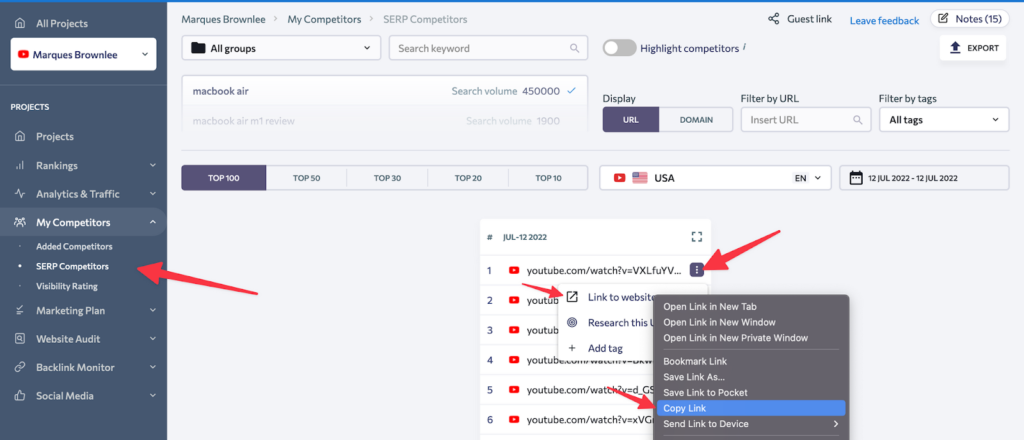 SE Ranking Dashboard Review
All is set up. Now let's head to the dashboard and see what insights we can get from the SE Ranking YouTube video rank checker.
Dashboard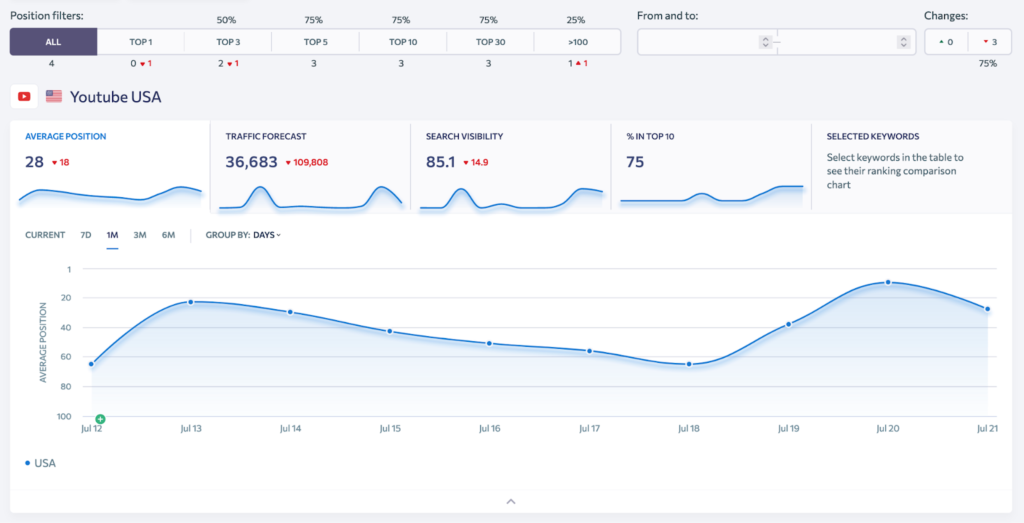 The dashboard for YouTube shows such metrics:
Average position – the average search ranking position of queries you added to the project.

Traffic forecast – estimated traffic (views) based on keywords' search volumes and their ranking positions.

Search visibility – a percentage representing the share of impressions your project gets for all keywords added to a project in a given search engine.

SERP features – the number of times you appeared in featured results. For a YouTube project, you may be interested in the Video feature. We'll come back to this in a moment.

% in the Top 10 – the share of queries for which you rank in the Top 10 compared to the total amount of keywords added to the project.
The graph represents the dynamics of a selected metric
Detailed Report

Here you can see the position of each keyword in the search engine you've added. Depending on your chosen data range and columns, you can customize the table to meet your needs.
You will generally see a list of keywords, a target URL for each query, and its search volume and ranking results date-by-date, depending on the frequency you check your account (daily, every three days, or weekly).
The keywords' search volume and competition metrics are based on the Google search and clickstream data, but you can also rely on this data for YouTube research. That being said, if there is a high demand on Google search for the topic, you can also expect similar trends on YouTube search.
SERP Features
We promised to come back to this. SE Ranking lets you track whether your video appeared in a featured snippet on Google. As a significant part of traffic comes to YouTube from Google search, you may want to pay more attention to it.
Along with the ability to check the ranking of your entire YouTube channel and monitor where you are on the YouTube SERP, you can understand your channel's rankings as a whole. This feature may provide valuable hints to correct your content strategy accordingly and bring your project to the next level.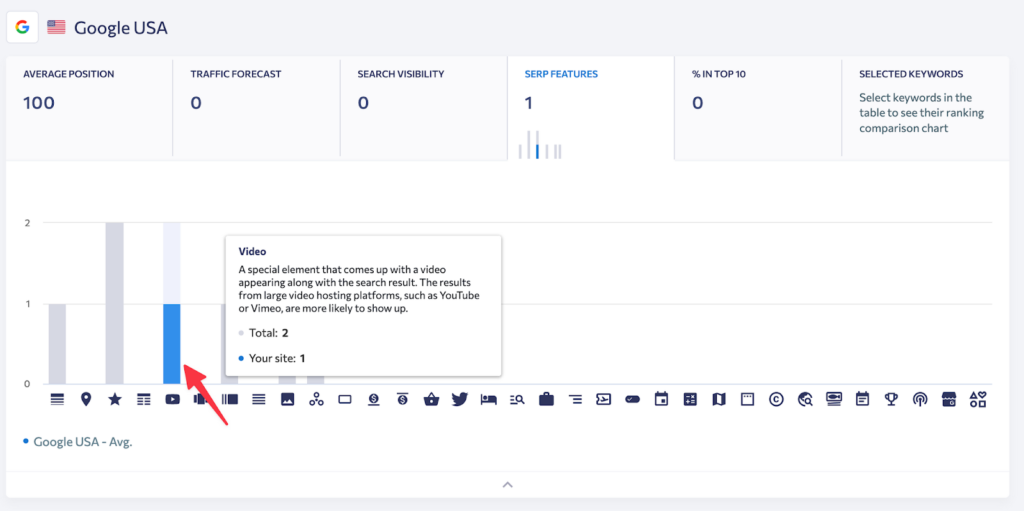 To see details on keywords where you're featured in rich results, head to your channel or video rank tracker table settings and turn on the SERP features column.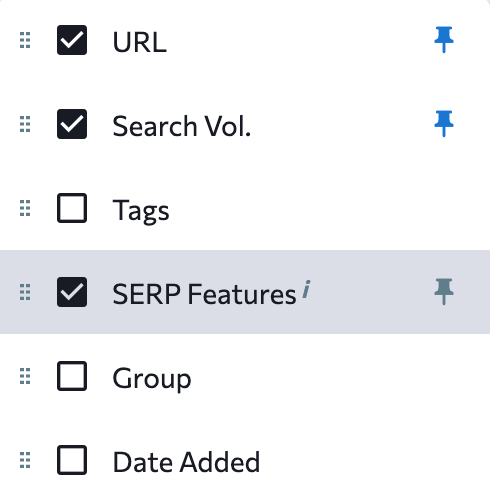 Watch Your Competitors
We've been adding competitors. Now let's see how to analyze them.
Go to the project's menu and click My Competitors, then Added competitors. First, you will see graphs similar to what you've seen in your project overview, but now with comparisons to your rivals.

The detailed report is also familiar, but now instead of dates, you see your competing videos and can examine the positions alongside each keyword.

In addition to the manually added rivals, SE Ranking allows you to check your organic competitors. Head to the SERP Сompetitors section in the project menu. Choose a keyword for which you want to see the SERP and date range. Once you set up everything, you will see the search results list.
With this knowledge, you can easily identify leaders, analyze factors that impact their positions most, and tweak your strategy accordingly.
SE Ranking Keyword Rank Tracker Review Of Features
We've gone over the fundamentals of how SE Ranking works. Now let's wrap it and highlight what it can do for you.
Get Accurate Keyword Ranking Data
Since YouTube analytics doesn't have data on rankings, SE Ranking comes in handy for crawling keyword positions with the desired frequency and gives you an agile toolset for a precise analysis of search performance.
Find Out Which Keywords Drive The Most Traffic To Your YouTube Channel
Go to column settings above the ranking table and add the Traffic forecast column. Now, you can see your keywords by traffic and sort them to find out which ones bring the most traffic. Click on the column header, and the data will instantly be sorted.
Prevent Traffic Loss Proactively
The right time to take action is when you see a small but consistent ranking drop across all your keywords – you are not necessarily losing traffic, but if the trend continues, you surely will. Knowing this allows you to identify what should be improved and fix it before it becomes a big problem.
Identify Keyword Cannibalization Issues

If you've assigned a keyword to a specific URL (or video in this case), you have the opportunity to detect keyword cannibalization – an issue where your other video ranks for the same keyword.
This means that the video you've intentionally optimized for a keyword has the same or less relevance than your other video, and they are competing to be shown as a search result.
Sometimes it happens because of time factors, and you must wait a bit for YouTube algorithms to process your video. If that's not the case, take a closer look at your videos to separate them.
View Historical Data For Ranking Performance
Understanding what actions lead to position changes is vital to determine what works best for you and your competitors. Rankings don't change instantly; there is always a delay between a change and its effect, so keep this in mind when analyzing your strategy.
To help you with this, SE Ranking provides historical data in both keyword and competitive research tools so you can keep track of the SERP and your rivals.
SE Ranking Pros And Cons
Pros
Precise settings. SE Ranking makes it possible to set up YouTube rankings tracking and add other search engines and languages to collect complete data on organic search performance.

Accurate data. SE Ranking's position tracking is exact. Each day you receive a real snapshot of the SERP by every search query, making it possible to see the slightest changes.

All tools for your project promotion are in one place. YouTube SEO is a lot more than just position tracking. There are tasks like keyword research, competitor analysis, and off-page SEO. SE Ranking has the complete toolset for SEO, SEM, and Content Marketing activities.

Great analytics tools. Speaking of rankings analytics, SE Ranking handles it extremely well. You have access to data of any level: from macro, where you can see the performance summary of your projects or understand the SERP evolution over time, to micro, where you can see the slightest position changes of your channel or competing videos.

Flexible pricing. The platform offers flexible pricing plans, so you can choose the settings that fit you best. Also, if you feel that you need something of another scale, there is an option to request a custom plan.
Cons
An unintuitive first step of project setup. To set up a YouTube project, you must adapt the website's settings to the YouTube channel or video.

If you are a beginner, the platform may overwhelm you with the amount of information you can get from the tools, as there is a lot.

An Essential plan will not give you access to the API. So if you need to use SE Ranking as a third-party tool, you will need to buy the Business subscription or higher.
How Did SE Ranking Do In Tests?
We started with a free public demo account to make this review happen. It has core functionality available, so we were able to test the Keyword Research tool for free.
Yet, the demo account has restrictions, so to keep the experiment clean, we purchased a basic ("Essential") subscription to unleash the full potential. From that point, we could create custom YouTube projects for position tracking – everything was intuitive and worked amazing.
What About Their Team?
There is a lot to learn on the first login to SE Ranking. That's why we contacted support to ask about the different features of their software.
It was a true pleasure to talk to the team – The answers were fast, polite, and precise. The SE Ranking representative made a platform tour for us and explained in detail how to work with every tool, considering our requests. The conversation went in a friendly manner and covered all of our questions.
SE Ranking Review Of Pricing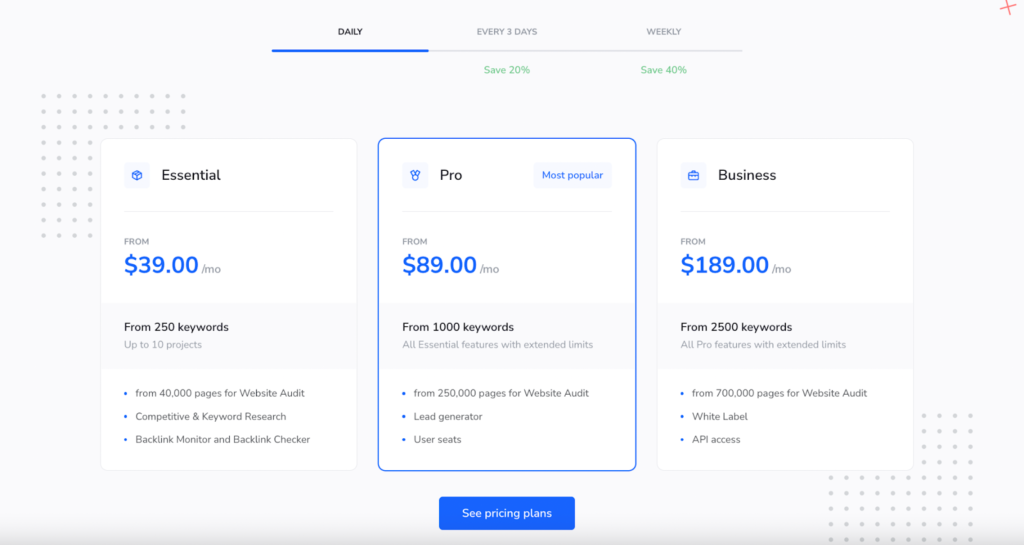 SE Ranking has flexible pricing that depends on ranking check frequency, the number of projects and keywords you will track, and the number of monthly checks.
Also, the Pro and Business subscription plans include additional features like historical data for keywords/domains, access to organic SERP history, and the ability to expand the keyword base. If it's okay for you to get positions once a week, you can save up to 40% per month.
Plus, paying annually saves you another 20%. This way, an Essential subscription with daily ranking checks starts at $39.20. It's a great deal, especially compared to competitors that cost four times more for a basic plan with the same or somewhat less functionality.
SE Ranking Reviews From G2
People love SE Ranking! Almost 90% of its users gave the platform 5 stars, and the average score of 1000+ reviews is 4.8 – amazing results. This is one of the reasons that it claimed G2's Best Results badge.
SE Ranking Keyword Rank Tracker Verdict
SE Ranking is great SEO software. It has wonderful research and analytic tools and really shines regarding position tracking. Its agile settings make it possible to set up tracking for websites and pages and YouTube channels and videos.
The information you get from the rank tracker cannot be overestimated since it's the most accurate way to see YouTube performance by keywords to improve your content strategy.
Get started with a 14-day trial or log in to a demo account and try it out yourself!