Do you like Rumble, the alternative to YouTube with looser restrictions on what can be uploaded?
You've found the right place to learn how to save your favorite Rumble videos to watch later without an internet connection.
This article can help you find the best Rumble video downloader to save your favorite videos easily.
Relax and enjoy learning about the best tool for watching your favorite Rumble videos on the go.
Best Rumble Video Downloader Apps
Following is our list of the top Rumble downloader apps that enable you to download Rumble videos: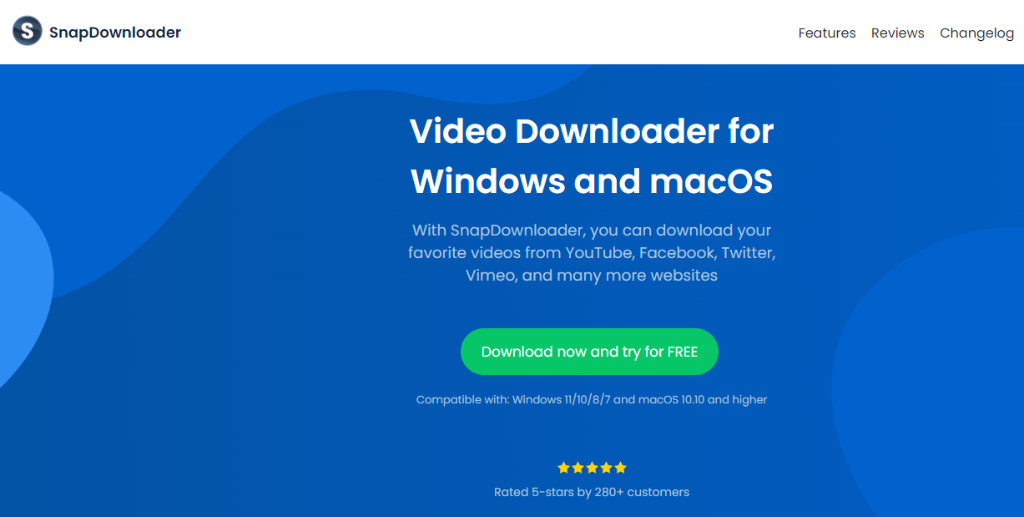 Video from over a thousand websites, including Rumble, YouTube, and Twitter, can be downloaded with the help of SnapDownloader, an excellent piece of software.
SnapDownloader is the best option for anyone who wants to watch high-quality videos offline because it supports downloading videos in stunning 4K and 8K resolutions in addition to QHD and 1080p.
It works with both Windows and Mac.
You can rest assured that the service will work with the website you're trying to download from, as it supports over 900 sites.
The app also has the incredible capability of converting videos to MP3 format.
This is an excellent feature for those who care more about the sound than the picture in a video.
Downloading and converting a video to MP3 format is as simple as a few clicks. There's a lot more to SnapDownloader, though.
You can easily download multiple videos at once or an entire playlist.
You can also set downloads to begin later, so you don't have to wait until the videos have been wholly downloaded before you can watch them.
With SnapDownloader, you can get your videos without waiting hours because of the app's lightning-fast download speeds.
And if you run into any problems while using it, their support staff is always available to help you.
Copy the embedded URL from the Rumble website and enter it into SnapDownloader's search bar to download a video from Rumble.
After that, the app will look for the video independently and offer you a selection of output formats.
The user-friendly and adaptable video downloader SnapDownloader makes it simple to download and watch your favorite videos offline.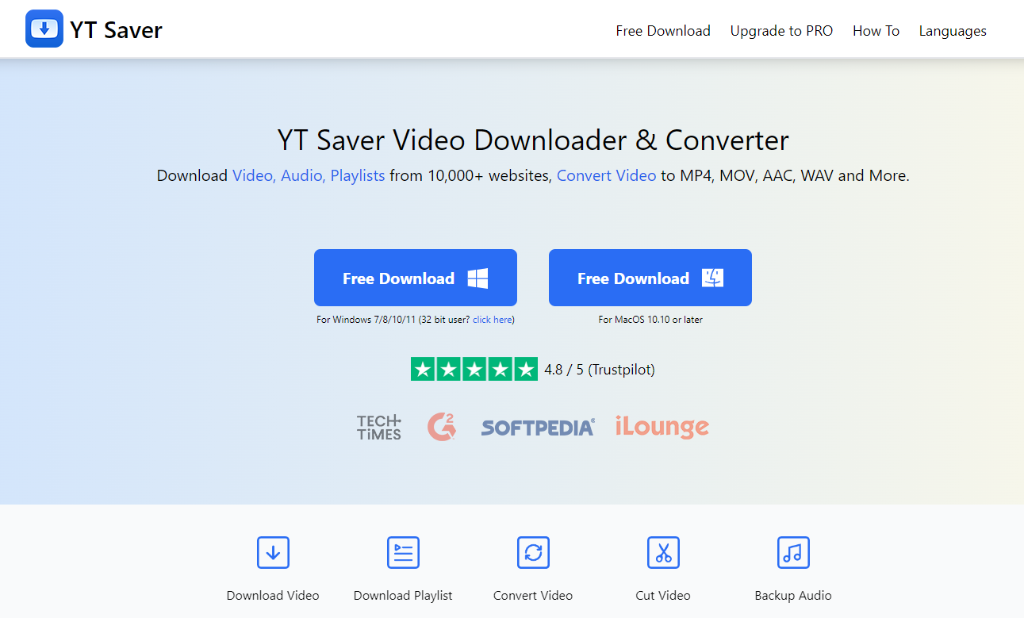 YT Saver is a powerful and flexible video downloader with many options to meet your requirements.
It supports multiple output formats and qualities, allowing you to download videos in various resolutions, and it can download content from many websites.
The service stands out from the crowd thanks to its unlimited downloading capacity.
No limits are placed on how many files a user can download from Rumble or any other video-sharing service.
The app is capable of downloading a single video or an entire playlist.
You can easily convert downloaded videos to other file types with YT Saver, which includes MP4, AVI, MOV, and more.
You won't have issues playing media on gadgets or players supporting only certain file types.
YT Saver's capacity for mass-downloading videos is also noteworthy.
There are no restrictions on how many episodes of a given show you can download from any streaming website.
Binge-watchers will find this feature especially helpful.
The ability to download an entire playlist from YouTube is fantastic if you frequently use the service. 
The ability to save an entire YouTube playlist makes it convenient to play any video at any time.
You can now watch your preferred videos without worrying about finding them online.
A YouTube cutter is included so the user can trim the video to the desired length.
With the software's quick download and conversion times, your file transfers will go off without a hitch.
It also supports downloading YouTube captions.
Regarding video downloads, discretion is of the utmost importance, and YT Saver keeps your downloaded videos out of the wrong hands.
YT saver is one of the best video downloaders available because of the features and functionality that set it apart from the competition.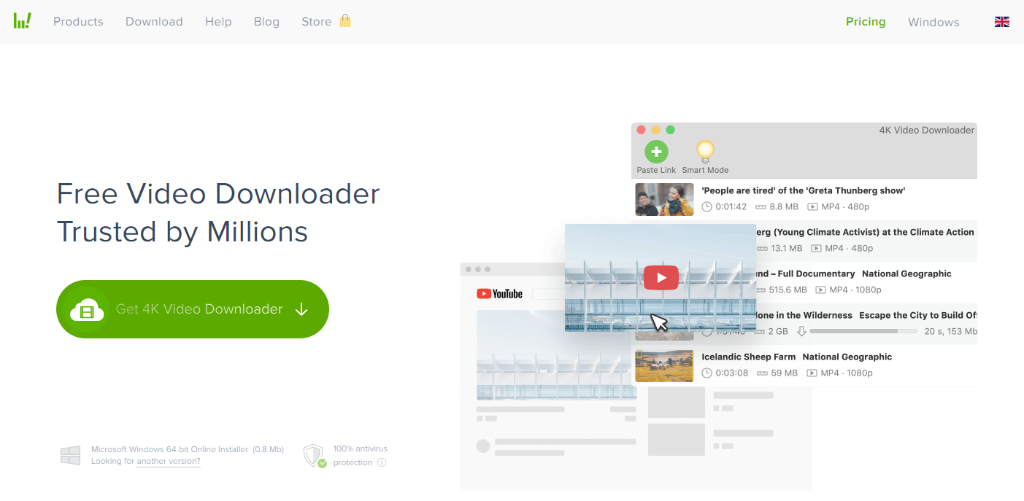 The best solution to your downloading needs is 4K Video Downloader.
It works with all operating systems, including PC, Mac, Linux, and Android.
Therefore, you can effortlessly download high-quality Rumble videos from anywhere.
You can use it on Vimeo, Fansly, Twitch, Facebook, YouTube, and many other sites, not just from Rumble.
The 4K Video Downloader's user-friendly interface makes downloading videos easy.
To download a Rumble video, copy the URL, paste it into the app, and boom! You can now watch your video.
That's not all, though. Various features are available in 4K Video Downloader to enhance your downloading experience.
You can select the video quality you want to download from 240p to 8K and from numerous file types, including MP4 and MKV (if available).
It is a flexible tool for all your downloading requirements because it allows you to download audio files in MP3, M4A, or OGG formats.
Additionally, you can download the 4K Rumble videos of your favorite YouTuber as soon as they are uploaded using the Subscriptions feature, even if you don't have an account.
The Smart Mode of 4K Video Downloader is arguably its most impressive feature.
Without choosing file types or quality settings, you can quickly and easily download videos with just one click.
The most carefree way to download Rumble videos is through this method.
Why then wait?
Start using 4K Video Downloader right away for free to enjoy your favorite Rumble videos uninterrupted and buffer-free offline.
Reasons to Download Rumble Videos
Here are some of the most important
Offline Viewing
Watching Rumble videos without an internet connection is another perk of downloading them, which is especially helpful when you're on the road or have spotty access to the internet.
You can kick back and enjoy your downloaded videos without an active internet connection whenever you like.
Research and Education Possibilities
Researchers and teachers would do well to download relevant Rumble videos.
In doing so, they can collect valuable information for applications as diverse as academic studies and classroom debates.
Video downloading is also helpful when the desired video is unavailable online.
Keeping Your Favorite Videos Saved
You can save video clips from Rumble for posterity with a simple download.
If you want to ensure that you always have access to your favorite videos, even if they are removed from the website, downloading them is a good option.
Video Quality
The high quality and resolution of Rumble videos are one of the main benefits of downloading them.
Compared to online streaming, the quality of videos downloaded from Rumble is often much higher.
You can watch them on a bigger screen or HDTV without worrying about losing picture quality.
Having a Rumble video saved to your computer makes it simple to show to friends and family.
You can send videos via email, social media, or messaging without worrying about buffering or slow connection speeds.
It's never been simpler to show off your Rumble video skills.
Conclusion
With abundant downloading options, obtaining Rumble videos has never been simpler.
Whatever your needs for various output formats and resolutions, you can find the ideal tool among SnapDownloader, YT Saver, and 4K Video Downloader.
Don't wait any longer to download and watch your favorite Rumble videos offline with the help of these simple methods.
Anytime, anywhere, with just a few clicks, you can dive into a sea of thrilling Rumble content.
Find the best Rumble video downloader for your needs and start enjoying the incredible videos available on Rumble right away.