Ritetag Review 2023
If you have been down the social media marketing rabbit hole for a while now, then you will be aware of the various pieces that make up the whole. You will know that with social media networks like Instagram, Twitter, and Facebook, there are moving parts that all come together to help you be successful.
One of these parts is hashtags. Hashtags got their start on Twitter, but have since transcended most social networks out there, resulting in them being one of the main ways you connect with more of your target audience.
However, just because hashtags are the bread and butter of a successful Instagram profile, doesn't mean that it's easy to come up with the right ones for your content.
In fact, with all the competition out there, there are now plenty of overused hashtags in every niche that might be appealing initially because they relate so closely to your content, but ultimately aren't going to help you do well.
This is where you need to outsource your hashtag strategy to a hashtag generator tool. Let's review Ritetag in particular, and then take a look at some alternatives that you can keep up your sleeve as well.
What is Ritetag?
Ritetag says that they can help their clients find relevant hashtags for your industry. If you are someone who has no idea which hashtags for use for your content, then this company says that they can help you.
They can help you get instant hashtag suggestions for text and images on mobile and desktop, and they say that their suggestions are based on real time hashtag engagement. Ritetag offers new clients a free trial, as well as various ways to download their features, so that you can use them on your own time.
Ritetag offers its clients hashtag suggestions for texts, hashtag suggestions for images and tag sets, so you can organize your hashtags into different categories based on the content that you upload, and integrations. This means that they can help you get hashtag suggestions right where you manage your social profiles.
As far as we can tell, this hashtag generator tool can help you not only with Instagram, but with other social networks out there as well. Their clients can consolidate their hashtag strategy across the board, using just one tool for it all.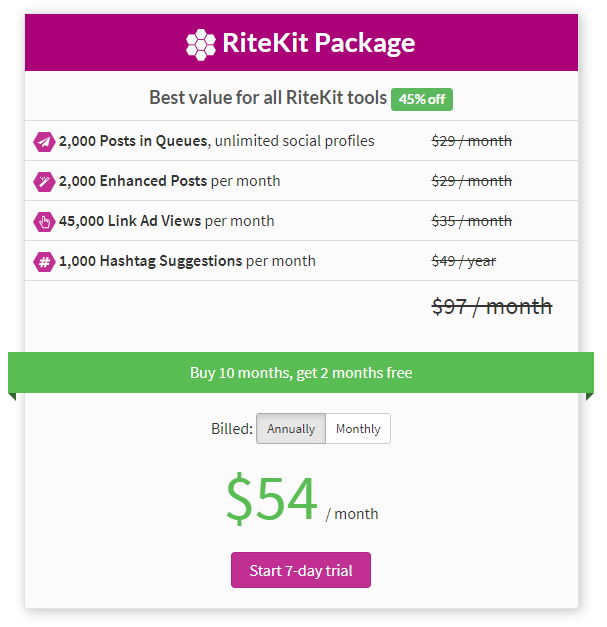 Ritetag's pricing is divided into a few different categories. Their first package is going to cost you $54 a month, and this is billed annually. They say that this is the best value for money.
This comes with a free trial for seven days and its features include 2000 posts and cues, 45,000 link ad views per month, and 1000 hashtags additions per month. This is their main package, and it consolidates all of their features. Alternatively, you've got the option to buy each of their features separately.
If you are looking to craft and publish posts, then this is going to cost you $12 a month. Enhancing and automating your posts is going to cost you $24 a month, and then adds on links is going to cost you $15 a month.
Lastly, if you are just looking to get help with hashtag suggestions, this is going to take you back $49 a year. They say that this includes hashtag suggestions for 1000 queries a month from both their mobile app and browser extension.
Review Conclusion
Ritetag is a hashtag generator tool that is one of many in the industry that has a variety of different features for you to choose from. They have divided their packages into different categories based on what you might need, and their pricing appears to be middle of the road.
We found a lot of information on their website about their features, as well as the option to expand your hashtag strategy to other social networks as well. With this in mind, let's take a look at some alternatives to Ritetag, so that you have a couple of options up your sleeve for future needs.
We always recommend that our readers have a few options available, as the industry is vast, and unfortunately includes a lot of companies that you should avoid. Let's dive in.
First Look
"MetaHashtags simplifies everything when it comes to being a hashtag generator tool. They don't make it hard for me to find the best hashtags for my niche, so that I can start being successful on Instagram straight away."
"I don't think that Flick.tech has been in the hashtag growth industry for long, but they have certainly proven themselves to me. They are confident in their features, and this shows in how they relate to clients like myself."
"Growthoid has been able to help me not just with my hashtag strategy for Instagram, but with the rest of my growth as well. This means that I can consolidate it all under one roof, and not pay multiple companies for the trouble."
Best for Features: Ingramer
"If you are like me and want to make sure that everything is covered when you outsource your growth to a third party, then you will want to check out Ingramer. These guys know that their clients want help with it all, and their feature list is long."
Best for Personability: Growthsilo
"Growthsilo is personable; something that I have really struggled with finding in this industry. There are lots of companies that will eat you up and spit you out again, but not these guys. They truly care about the client as the individual."
Best for Being Simple: Upleap
"Upleap is one of those hashtag generator tools that I was surprised to learn was actually really good, because when you visit their website they look basic. They are actually anything but, which is why I will go to them every time I need help."
"Stellation Media is living proof that a company in this industry can survive almost anything. They have been around for years now, and have worked out how to adapt to the times, so that they are still going strong."
Best for Being Efficient: Kicksta
"I like Kicksta because they don't take life too seriously, but they are still committed to helping their clients do really well with their hashtags on Instagram. I know that I can trust them for all my Instagram needs, and they won't let me down."
Best Ritetag Alternatives
MetaHashtags is a great Ritetag alternative because they can help you find the best hashtags for your Instagram.
They aren't just going to send you hashtags that are relevant to your niche, regardless of whether they are banned, spammy, or overused.
They are actually going to take the time to show you search results that add to your Instagram's content, so that you can safely grow your profile without worrying about sabotaging your strategy in any way. You will see their hashtag generator tool on their website as soon as you visit, where you can put any hashtag in, and get lots of results.
They say that they provide their clients with around-the-clock support, as well as an easy setup, and the best part is that you can cancel their service at any time. They say that they ultimately want to help you get more followers for your Instagram profile, grow your business, and expand your audience.
With just one click, you can get hashtag analytics, more than 100 suggestions on everything you search, and you can even save your hashtags into sets, so that you have them ready to go when you upload a new piece of content. This also means that you can avoid using the same hashtags every time.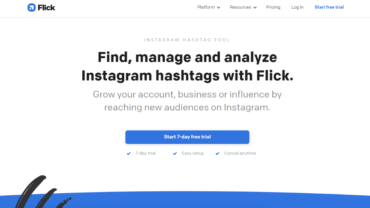 Flick.tech is one of those Ritetag alternatives that can help you find, manage, and analyze your Instagram hashtags. They say that they can also help you grow your account in general and expand your business's reach on Instagram.
Ultimately, they want to help their clients reach new audiences on Instagram, so they can make a real impact with their content. If you're someone who likes to trial a service before you commit to anything, they come with a free trial for seven days, and the setup process is really easy.
Additionally, if you decide to commit to something after this trial, and things don't work out, you can cancel your subscription without any strings attached.
Flick.tech says that it is only going to take a few minutes for you to find quality hashtags that matter. This is going to result in more profile views, more follows from the right audience, and more impressions that will have a positive impact on your profile's visibility.
They also make sure that they leave out flagged and banned hashtags, and with every hashtag that you search, you will get 40 search results. If you are located somewhere around the world outside of the states, they say that their features also work in more than 20 languages.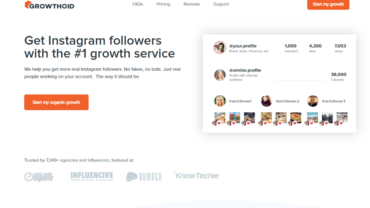 Growthoid is an excellent Ritetag alternative because it can help you get more Instagram followers and hashtags with their number one growth service.
They say that the way your growth should work is by getting real people to work on your account. They don't believe in using a bot, and they don't believe in sending their clients fake followers.
You probably already know that most companies in this industry have a point of difference that they can offer their clients to keep up with the competition. We believe that the point of difference here is the ability to target the audiences of your rival's Instagram profiles.
This way, you can not only get people over to your account checking it out that actually going to be interested in your content, but you can have a chance of getting ahead of the competition. Not every company out there is going to give you this option, so we definitely think it is going to give you an advantage.
Their packages revolve around speed, and the number of targets that you want. They also connect each and every one of their clients with an account manager, and they have a money-back guarantee.
Best for Features: Ingramer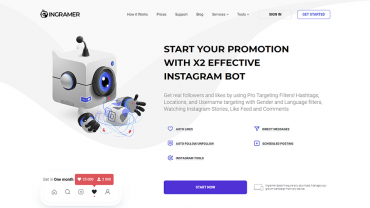 Ingramer is a Ritetag alternative that we consider an excellent marketing tool for Instagram. They say that they can help you adapt your Instagram account for business with advanced features, as well as Smart Tools.
These include the ability to plan content ahead of time, build your target audience, and engage with the right clients. In fact, they say that they can help you build brand loyalty and discover more customers to check out your products in just three steps.
This is the kind of company you want on your side if you don't have a lot of experience in the social media marketing industry yet, and you need someone to be able to hold your hand and help you learn about what it takes to sell your product on Instagram.
As well as being able to help with your content and hashtags, they can help you direct message new followers, and schedule your posts for later.
Best for Personability: Growthsilo
Growthsilo says that they are an organic and real Instagram growth service, and have a passion for helping their clients connect with targeted followers that aren't fake.
The last thing they want to do is grow your Instagram profile with a bot, and they stay well away from fake and ghost profiles. The bottom line with this Ritetag alternative is that they can help you with manual growth through their fully managed service.
They claim to be trusted by some of the most successful brands out there, and they make the process of choosing the right features for your Instagram profile super easy. They ask their new clients to choose between their 'launch' and 'accelerate' plans that are going to give you complete control over your growth campaign from day one.
Once you've done this, they will connect you to an account manager, who you can talk to about detailed targets that they can use to engage with the right people on your growth campaign.
Once you have chosen your plan and submitted your targeting details, your account manager can take the reins, and start to grow your Instagram profile for you.
Best for Being Simple: Upleap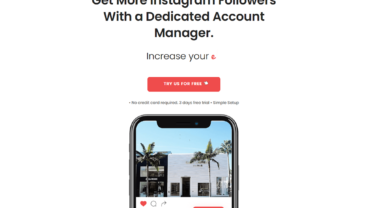 Sometimes, when it comes to finding a hashtag generator tool and growth service for Instagram that's going to take your account to the next level, you just need something simple. You need something without all the frills, that is committed to helping you with just a few basic features.
If this is something that you think you would like, then you definitely need to check out Upleap. Upleap is one of those Ritetag alternatives they can help you increase your engagement, your reach, and they don't use fake accounts or bots to do this.
They say the first thing that new clients do is sign up and follow a few very simple instructions so that you can get started within just a few minutes. Once you've done this, your account can pick up organic, real followers quicker that are going to actually engage with the content that you upload.
Lastly, they claim that their customers experience 300% faster growth with their services. They only engage with real accounts based on the information you give them around your target audience, so they can guarantee that your success is real, authentic, and going to last a long time.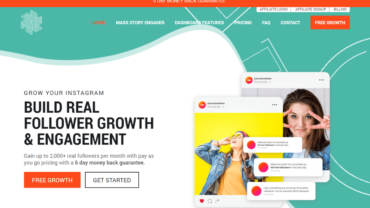 Stellation Media has a knack of being able to help its clients with all different types of social media engagement, but one of their main focuses is Instagram. Just like our reviewer said above, they have been in the Instagram growth game for a long time now and have learned a lot about what it takes to be successful.
Just like many of the other Ritetag alternatives on this list, they promise to not use fake followers or spam to grow your account; they only entertain pure organic growth, which is powered by their advanced software.
They also give their clients access to their social media dashboard, and if you scroll a little bit down their home page, you will discover all the positive reviews that existing clients have left over on Trustpilot, a third-party review website.
They say that their growth service is 100% fully automated and includes targeted exposure and followers, and the best part is that you don't need any existing technical knowledge to make the most of their features. If you do get stuck at any point, then you can get in touch with them straight away through their email address or live chat feature.
Best for Being Efficient: Kicksta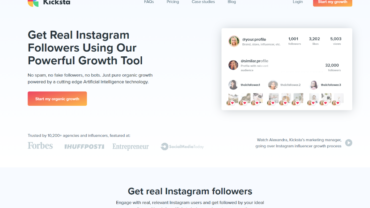 Kicksta is a Ritetag alternative that makes it really easy for its clients to get real Instagram followers using their powerful growth tool.
Again, like a lot of other companies on this list, they make sure to promise their clients that they don't mess around with fake followers, bots, or spam. They want you to know that they just use organic growth technology.
Through this, they can automatically engage with your target audience, find profiles similar to yours, and automatically engage with their followers. This is going to give you a much better chance of doing well and being followed back, so that you can leverage your content's quality.
They have two main packages, which revolve around how quickly you are wanting to grow your Instagram profile.
Our Review Process
When we review companies like the ones on the list above, we make sure to do our homework. We do this by looking at 153 Ritetag alternatives and reading through at least 214 customer reviews of the companies, that talk about both great and not so great things.
This way, we can recommend to you only the very best companies in the business, so that you never have to worry about working with an average company, or a company that's going to steal your information.
We also recommend that you make the most of any free trials that you see available, and good luck growing your Instagram profile!