If your business is growing, you may find yourself losing track of what each section of the company is doing.
Days sales outstanding may be starting to slip, invoices aren't being paid, and sales leads missed.
Keeping an eye on every department is not easy unless a proper system is put into place.
Visibility and real-time data capture are essential in today's business if a company is to maintain growth and run effectively.
You might have come across the phrase; 'enterprise resource planning' or you may have heard of ERP software or cloud ERP.
But, what is cloud ERP software? What does enterprise resource planning involve?
And, more importantly, how can it help with the issues surrounding your business?
What is ERP Exactly?
Investopedia defines this as being a process used to integrate and manage important aspects of a business.
Put another way, a good ERP solution allows control and visibility over all areas of a business in real-time.
It means being able to access sales and marketing data at the touch of a button, and being able to analyze where things are going wrong through real-time metrics.
One such ERP is NetSuite. Oracle's ERP solution has been around for over twenty years now and is considered one of the best. But, is it?
Below you can read how to implement an ERP, and why NetSuite may be the solution to suit your business.
How Do You Implement an ERP in Your Business?
If you are considering an ERP for your company, then the next question will be how does implementation happen?
You can look for certified consultants to help. If you are looking for a particular ERP then look for an associate.
For example, look for Oracle NetSuite consulting services if you want to know how to implement and install this ERP solution. 
5 Reasons to use Oracle NetSuite as your ERP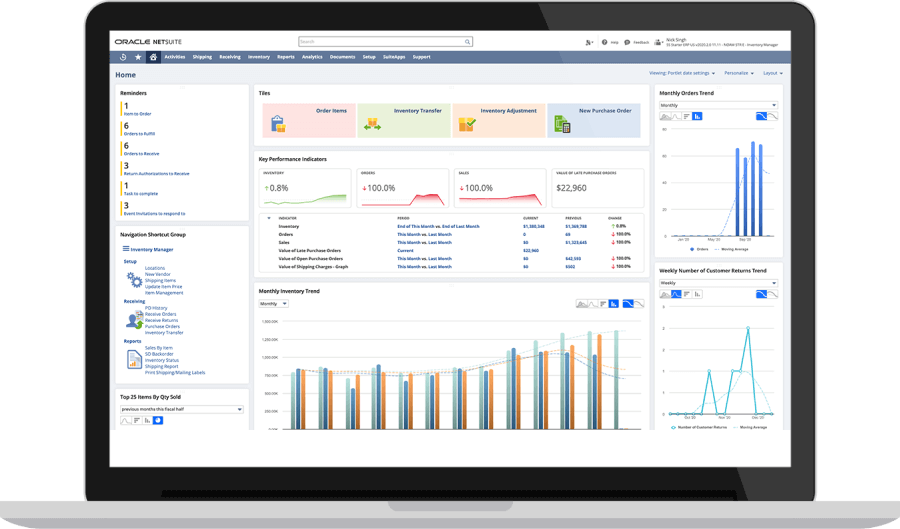 Here are just a few of the reasons why NetSuite is still popular after 20 years, and a few downsides to the software also.
Support During and After Implementation
One area that users of NetSuite often point out is that there is very good support for the software. There are convenient ways to contact NetSuite support from anywhere in the world.
One other way to get help for NetSuite is through one of their certified consultants.
These experts usually help with planning and installing ERPs, but they can also provide support for existing users.
The media company, Forbes, reports that NetSuite is considered one of the top 5 ERPs in the world. One reason for this may be the customer support that is in place. 
NetSuite is Scalable
Scalability has been a buzzword for quite a while now across many industries. Previously, it was normal for businesses to purchase new systems as they expanded.
This often left a business with many different non-integrated systems and hefty costs.
NetSuite is designed to be scalable and grow with your business. Any ERP solution worth its salt should help your business to grow, and be able to keep up with it.
Fully Integrated to Save on Costs
CRMs are another important area in business today. Investopedia explains customer relationship management here, but it basically refers to improving the customer UX.
Installing one of these systems can be a costly business, but NetSuite has a fully integrated CRM of its own.
And, if you already have a CRM, never mind because NetSuite can work alongside it.
Speed up The Way Your Business Works
A good ERP can assist in reducing DSO, or days sales outstanding. NetSuite has apps to handle e-commerce and multiple currencies.
It will also help to improve productivity. Time-consuming tasks such as compiling data can be done instantly.
Real-Time Visibility Anywhere
Reports are easy to access, and data is at hand instantly. Regardless of where your employees or customers are, data will be at hand through mobile ERP.
Does NetSuite Have Any Downsides?

Of course, nothing is perfect. Some users complain that the help feature could be better so that they didn't have to resort to customer support.
While customer support is rated highly, there can also be difficulties with time zones.
Customizing reports can be a little tiresome, and could be made easier. The implementation process was also commented on by some users.
Implementing an ERP can be a complicated process, and some felt it could be made easier. However, certified ERP consultants are available for this exact role.
Summary
When it comes to finding the easiest to learn CRM software products, and ERP solutions, NetSuite is in the top group.
While some areas could be improved on, the support and training available mean it can be integrated smoothly.
If you are considering an ERP, it is worthwhile letting a consultant discuss your needs and make a strategy.
Not every business needs NetSuite, and yours may require a different approach.
However, an ERP, in general, is a good shout for any business today that is looking to grow.