Proxy-Seller Review 2023
Are you tired of dealing with limited access, restricted content, or even security threats due to your geographical location?
Then it's time to explore the world of proxy servers.
In this article, we dive into a comprehensive review of Proxy-Seller, a popular service provider that could be the solution to your digital woes.
Uncover the ins and outs of their offerings, and determine if they're the key to unlocking a seamless, secure, unrestricted internet experience.
Proxy-Seller Coupons / Promo Codes
Want a Proxy-Seller coupon?
Luckily we were able to secure a Proxy-Seller promo code for 20% off for our readers:
What Is Proxy-Seller?
Proxy-Seller is a proxy provider that offers a variety of residential and data center proxies to its customers.
When users connect to the internet through a proxy, their internet traffic is routed through the proxy server.
It can help mask their IP address and location, provide anonymity and privacy, and bypass restrictions or censorship.
Proxy-Seller provides proxy solutions to businesses, individuals, and developers who require proxies for various purposes, such as:
Online marketing
Social media management
Ad verification
Browsing
Streaming
Gaming
Online transactions.
Features Of Proxy-Seller
Now, let's explore the key features of Proxy-Seller and explain their importance.
Types Of Proxies Offered
Proxy-Seller offers a range of proxy types, including residential, data center, and mobile proxies.
Residential proxies are IP addresses assigned to real residential devices, while data center proxies are IP addresses generated from data centers.
However, each proxy type has advantages and disadvantages, and the choice of proxy type depends on the specific use case.
Geo-Targeting Options
Proxy-Seller offers geo-targeting options that allow users to choose proxies from specific countries, regions, or cities.
This is beneficial for businesses and individuals requiring proxies from specific locations for online activities.
For example, businesses that target customers in a particular region may need proxies from that region to test their websites or check their rankings in search engines.
Protocol Support
Proxy-Seller supports protocols, including HTTP, HTTPS, and SOCKS.
This allows users to choose the protocol that best suits their needs.
For example, HTTPS proxies are suitable for browsing and web scraping, while SOCKS proxies are suitable for gaming and torrenting.
Authentication Methods
Proxy-Seller supports various authentication methods, including IP authentication, username and password authentication, and whitelisted IP authentication.
This provides users with different levels of security and access control.
Numerous IP Addresses
Proxy-Seller claims to have over 5 million residential proxies and 200,000 data center proxies in its network.
The number of IP addresses available is important for users who require many proxies for their activities.
Speed And Reliability
Proxy-Seller offers fast and reliable proxy solutions to customers.
Speed and reliability are critical for businesses and individuals who require proxies for time-sensitive activities such as web scraping, online marketing, and social media management.
Easy Sign-up Process
The sign-up process for Proxy-Seller is relatively straightforward to navigate.
Users need to visit the website and select their preferred proxy plan and make a payment.
After completing the payment process, users are redirected to the Proxy-Seller dashboard to access their purchased proxies.
However, users may face some challenges during the registration process if they fail to provide the correct information or make an error in their payment details.
In such cases, users can contact customer support for assistance, and the Proxy-Seller team is prompt in resolving any issues.
Integration with Software or Tools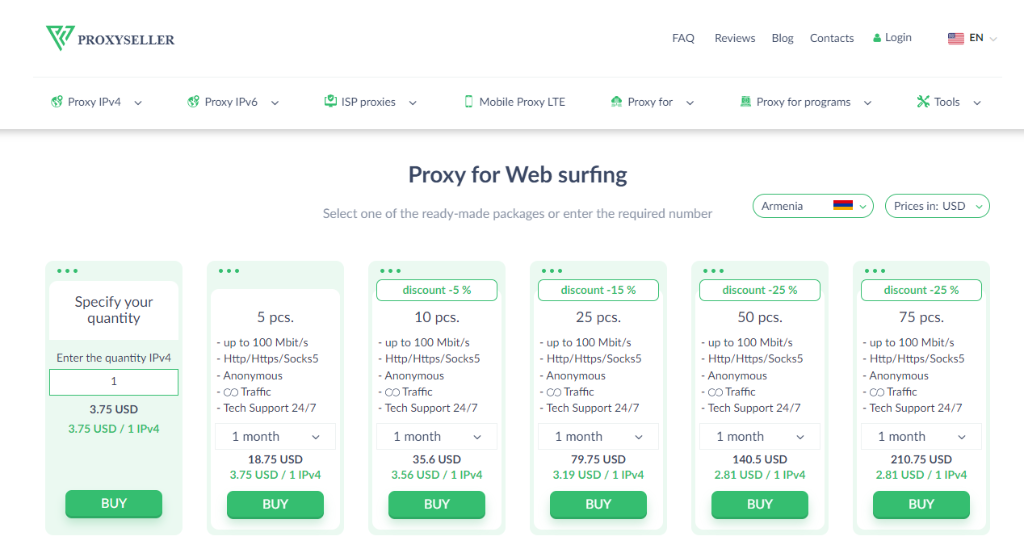 Proxy-Seller integrates various software and tools, including web browsers, SEO tools, and social media automation software.
The integration process is simple; users can find the relevant configuration settings in the dashboard.
The service provider also offers an API that developers can use to integrate the proxies with their applications.
User Interface and Dashboard
Proxy-Seller's interface and dashboard are intuitive and user-friendly.
The dashboard provides users with all the necessary information and tools to manage their proxies effectively.
Users can access their proxies, view their usage statistics, monitor their data transfer, and renew their subscriptions from the dashboard.
Customer Support Options
Proxy-Seller offers several customer support options, including a knowledge base, email, and live chat support.
The knowledge base contains detailed information on various topics related to Proxy-Seller's services topics, including setup guides, troubleshooting tips, and frequently asked questions.
The email support team is highly responsive; users can expect a reply within a few hours of sending a query.
The live chat support team is available 24/7 and is highly knowledgeable and helpful.
Challenges or Issues Encountered
Most users encountered no significant challenges or issues while using Proxy-Seller's services.
However, some users may face challenges during registration or integration with software or tools.
In such cases, users can contact customer support for assistance, and the Proxy-Seller team is prompt in resolving any issues.
Pricing Plans Of Proxy-Seller
Proxy-Seller offers several pricing plans for their proxy services, designed to meet the needs of different users with different requirements.
Available Plans
Proxy-Seller offers three plans: residential, data center, and mobile.
Each plan has different pricing and features to suit the needs of different users.
Proxy-Seller offers different pricing tiers within each plan based on the required proxies and the subscription duration.
Price Range And Discounts For Each Plan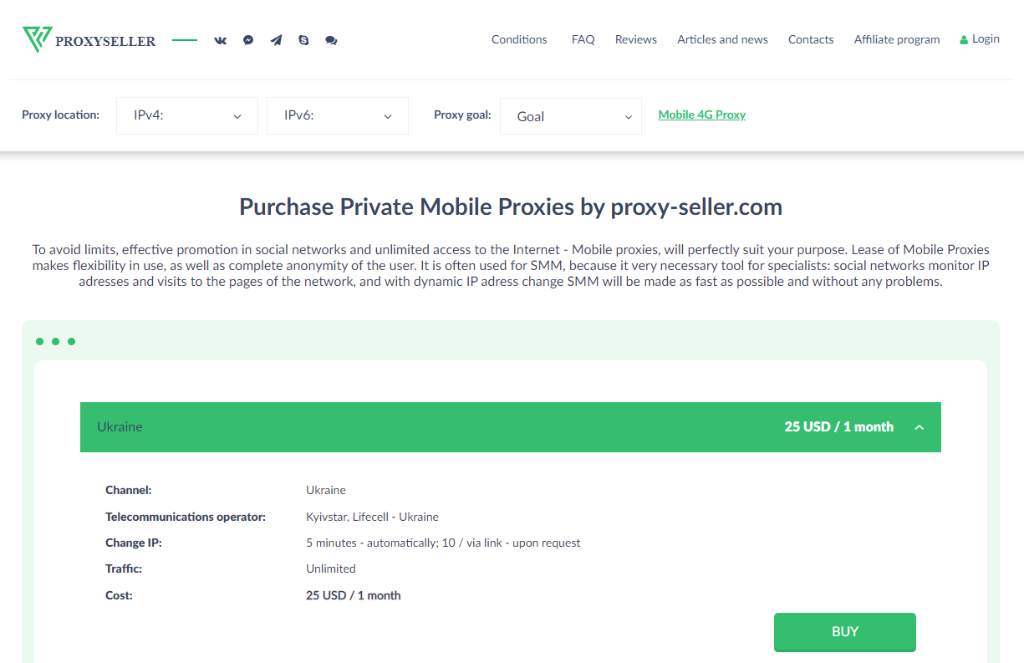 The price of Proxy-Seller's plans varies depending on the proxy type and the number of proxies required.
The prices range from $5 monthly for an Apify Free Plan proxy with fewer IP addresses to $99 monthly for a data center proxy with multiple IP addresses.
The mobile proxies are priced differently, starting from $30 per day with a minimum order of 10 IP addresses.
Proxy-Seller also offers discounts for users who subscribe for longer periods.
For example, users who subscribe to a plan for three months or more can get up to a 15% discount on their subscription.
Proxy-Seller occasionally runs promotional discounts on their plans, ranging from 5% to 50% off the regular price.
Payment Methods Accepted
Proxy-Seller accepts various payment methods, including credit cards (Visa, MasterCard, American Express), PayPal, WebMoney, Yandex.Money, and Bitcoin.
This variety of payment methods makes it easier for users to pay for their subscriptions regardless of location and preferred payment method.
A Thorough Analysis Of Proxy-Seller's Performance
It's crucial to test the Proxy-Seller's performance in real-world scenarios to identify any bottlenecks or latency issues and ensure it can handle the client's needs without causing delays or getting blocked.
Let's explore how to test a Proxy-Seller's performance in different use cases and analyze their speed, stability, and success rate.
Browsing Websites
One of the essential functions of a proxy server is to allow users to browse the internet anonymously without revealing their IP addresses.
Testing a Proxy-Seller's performance in browsing websites involves checking the speed, stability, and success rate of accessing different websites.
The speed test measures the time it takes to load web pages, while stability testing involves monitoring the proxy server's uptime and availability.
Success rate testing involves checking the proxy server's ability to bypass website blocks and access restricted content.
Accessing Geo-Restricted Content
Another crucial use case for proxy servers is bypassing geolocation restrictions and accessing content unavailable in a specific region.
Testing a Proxy-Seller's performance in accessing geo-restricted content involves checking its ability to change IP addresses and simulate different locations to access restricted content.
Scraping Data
Proxy servers are also widely used for data scraping and crawling.
Web scraping tools use multiple IP addresses to avoid detection and scrape data from websites without getting blocked.
Testing a Proxy-Seller's performance in data scraping involves checking its speed, stability, and success rate in scraping data from different websites.
This includes checking its ability to rotate IP addresses and avoid getting blocked by anti-scraping measures.
Running Automated Tasks
Proxy servers are often used to run automated tasks such as social media automation, SEO tools, and automated bots.
Testing a Proxy-Seller's performance in running automated tasks.
It involves checking its speed, stability, and success rate in running these tasks without getting blocked or causing delays.
This includes testing its ability to handle large volumes of requests and rotating IP addresses to avoid detection.
Community Forums or User Groups
Unfortunately, Proxy-Seller does not offer community forums or user groups for customers to discuss their experiences or ask for help.
This is a potential area for improvement, as such forums can be a valuable resource for customers looking for advice or guidance.
Review Verdict
Proxy-Seller is a reliable and efficient proxy provider that offers a variety of proxy types, geo-targeting options, protocol support, authentication methods, and many IP addresses.
As our review has discussed, their pricing plans are flexible and affordable, with discounts and promotions available for longer subscriptions.
The ease of use and customer support make it a great option for those requiring reliable proxy solutions for online activities.
Overall, Proxy-Seller is highly recommended!
Review Summary
Proxy-Seller Review
In this article, we dive into a comprehensive review of Proxy-Seller, a popular service provider that could be the solution to your digital woes. 
Price: 3.75
Price Currency: USD
Operating System: All
Application Category: Privacy
Pros
Proxy-Seller Coupons Available
Flexible Payment Option
Good Location Coverage
High-speed connection and Response Time
Easy To Use
Good Customer Support
SOCKS5 and HTTPS protocols supported
Refund Policy