Have you ever been in a predicament where you absolutely needed to keep tabs on someone else's mobile device without their knowledge or permission?
Without the owner's knowledge or consent, phone tracking software can be useful for keeping tabs on your kid's online activities, tracking your employees' smartphone use, or recovering a lost or stolen phone.
If you're concerned about the safety and security of a loved one, you can use one of these apps to monitor their phone without them knowing.
Among the plethora of options, we have identified the 6 best phone tracker app without permission that stand out from the rest, and we will talk about their features here.
6 Best Phone Tracker App Without Permission in 2023
Here are some of the most reliable hidden phone tracking tools.
Phonsee provides remote monitoring capabilities and offers unmatched access to phone data and activities, whether it's an Android or iPhone device. 
It allows for easy browser activity monitoring and comprehensive tracking of incoming and outgoing messages, calls, and other communications.
In particular, the tool excels at preserving undetectability on the target phone, ensuring covert monitoring without arousing suspicion.
The installation process for the app takes no longer than 5 minutes.
The setup is also effortless. The process is made even more straightforward by the remarkable fact that it operates without jailbreaking or rooting.
Every five minutes, the app automatically updates the user's cell phone information, ensuring they are always up to date with all relevant information and never miss out.
Additionally, Phonsee prioritizes security, protecting the data on the targeted phone and allowing authorized users to be the only ones with access.
The stealthiness with whichPhonsee operates, leaving no evidence of its presence on the target device, is commendable.
Users can also count on their committed, multilingual customer support team, available around the clock.
In addition to offering immediate access to the monitored phone's most recent GPS location and routes, Phonsee goes beyond simple tracking features.
Users can keep an eye on browsing history, social media interactions, and other online activities with the help of this extensive internet monitoring feature.
Discover EyeZy, the ultimate phone tracking app for those on a budget and those looking for comprehensive features.
What distinguishes EyeZy is its ability to install itself invisibly on a target device, ensuring that the person being tracked is unaware of its presence.
Their hidden operation mode allows users to monitor without raising suspicion.
It has a robust set of features, including easily tracking incoming and outgoing calls. Keep up with the target's communication patterns to gain valuable insights into their interactions and relationships.
Another notable feature is real-time location tracking. Determine the precise location of the person you're tracking, whether for the safety of loved ones or to keep an eye on employees during work hours.
With instant updates, EyeZy's dependable geolocation feature provides peace of mind.
The tool delves into the digital realm to provide insight into the target's online activities. Discover their search history to learn about their interests, concerns, and browsing habits.
Understanding someone's digital footprint can seriously affect personal or professional relationships.
It is backed by 24-hour customer support, ensuring help is available whenever needed.
EyeZy also has a website-blocking feature for parents concerned about their children's online safety.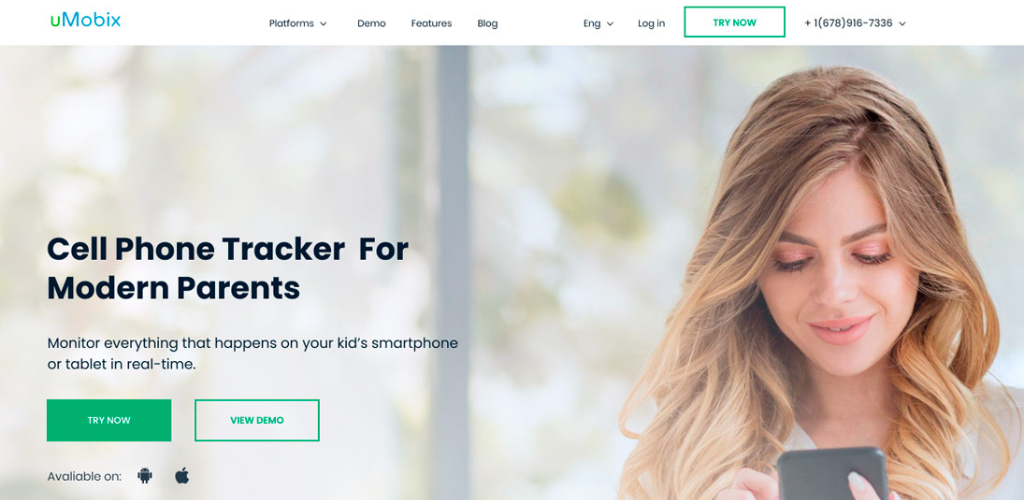 uMobix is an innovative mobile monitoring solution that revolutionizes how parents and employers stay informed about their child's or employees' smartphone activities.
This cutting-edge tool offers access to phone data, enabling effective monitoring and management of online interactions.
With its intuitive interface and features, uMobix has quickly become an indispensable resource for individuals seeking to ensure the safety and productivity of their loved ones or workforce.
Regarding GPS location tracking, uMobix excels at providing up-to-the-minute updates on the whereabouts of the monitored device.
Whether it's your child exploring the neighborhood or an employee on a business trip, you can easily stay connected and ensure their safety.
With uMobix, you can gain valuable insights into communication patterns through detailed call logs and recording capabilities.
Every incoming and outgoing call is meticulously logged, providing essential information such as contact details and call duration.
Text message monitoring takes a step further here, granting access to both sent and received messages, even those deleted.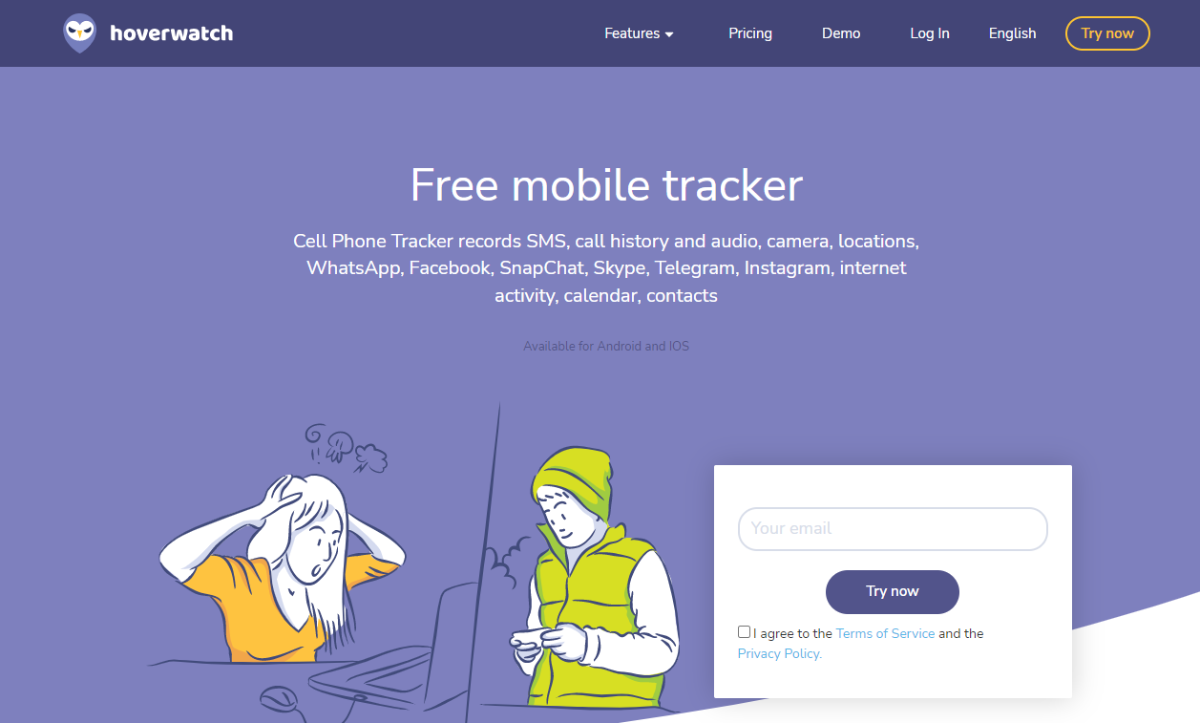 The cutting-edge phone tracker app Hoverwatch works with both iOS and Android devices.
It operates covertly without requesting authorization and offers users complete monitoring capabilities.
Users of Hoverwatch can easily follow the target device's GPS location in real-time.
The app also enables remote monitoring with access to the phone's internet history, screenshots, camera (for rooted versions), and call recording.
Additional features include geofencing, receiving alerts for SIM card changes, and taking front camera pictures when the targeted phone is unlocked.
Hoverwatch recognizes changes in SIM cards, enhancing security.
The app allows for an undetectable installation on the target device. Users can also watch popular social media and instant messaging services.
It offers geolocation tracking and a user-friendly interface. It provides a complete answer for phone tracking without jailbreaking and enables users to view all information sent and received by the device user.
Unveiling an innovative solution for phone tracking without permission, Cocospy stands out as a great and trustworthy parental control app compatible with iOS and Android devices.
This exceptional application offers many precise features, allowing users to discreetly monitor various aspects, such as incoming and outgoing calls, location history, social media accounts, call logs, browsing history, and even GPS location tracking.
One of the standout features of Cocospy is its ability to operate covertly on the targeted device, remaining undetectable at all times.
This stealthy functionality makes it an ideal choice for parents who wish to monitor their children's activities and keep tabs on their whereabouts.
They offer a demonstration on their website, showcasing how the tool gets data from the targeted phone and shows it through an intuitive dashboard.
Additionally, Cocospy caters to business needs with a comprehensive package that allows the monitoring of up to 25 devices simultaneously.
Moreover, Cocospy goes beyond basic tracking functionalities by providing a web history tracker with timestamps, bookmarks, and site descriptions.
This comprehensive approach enables users to delve deeper into the target's online activities, facilitating a better understanding of their interests and online behavior.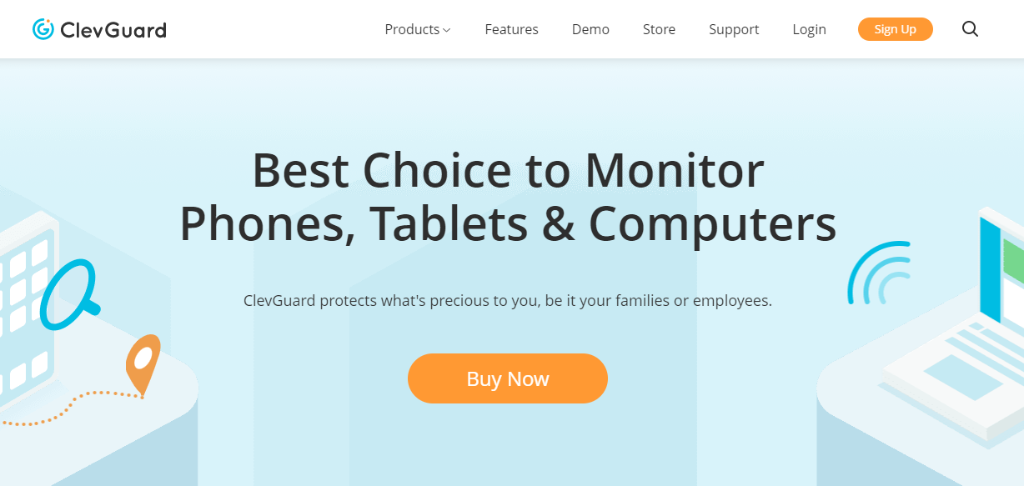 ClevGuard is an exceptional phone tracker app that offers seamless and remote tracking of your children's activities.
With Clevguard, you can effortlessly monitor their phone usage and access their files from anywhere you are.
It provides a reliable solution for parents concerned about their children's safety and online behavior.
It lets you set up a geo-boundary, creating a virtual fence that alerts you whenever your child steps outside the designated area.
This feature ensures that you stay informed about their movements and can take necessary action.
Capturing screenshots remotely is another standout feature, and it allows you to gather evidence and gain insights into the target phone's activities without arousing suspicion.
Additionally, the app will enable you to record phone calls, providing a comprehensive view of your child's communication.
One of the notable advantages is its multi-language support, making it accessible to users worldwide. Moreover, the app offers reliable customer support via chat or email, ensuring that users receive prompt assistance whenever required.
The tool is compatible with Android, iOS, and Windows devices, providing versatility and convenience for users across different platforms.
Importance of Phone Tracker Apps
Here are some key reasons why phone tracker apps are essential:
Personal Safety
Phone tracker apps provide peace of mind to individuals concerned about the safety of their loved ones, especially children, elderly family members, or individuals with special needs.
Lost or Stolen Phone Recovery
If your phone is lost or stolen, a phone tracker app can help you track its location, increasing the chances of recovering it.
Employee Monitoring
Employers can use phone tracker apps to monitor the location and activities of their employees, particularly those in field jobs or remote work.
Parental Control
Parents can utilize phone tracker apps to ensure their children's safety, monitor their online activities, and keep track of their location.
Frequently Asked Questions
Can I Track a Phone without Permission?
Yes, you can track a phone without permission by using certain phone tracker apps that operate discreetly in the background. 
The six apps mentioned in this article are excellent options for tracking a phone without the device user's knowledge.
Are Phone Tracker Apps Legal?
Phone tracker apps are legal to use as long as you comply with local laws and regulations regarding privacy. 
It is essential to use phone tracker apps responsibly and for legitimate purposes, such as ensuring the safety of your loved ones or protecting your device.
How Can I Choose the Best Phone Tracker App without Permission?
When selecting a phone tracker app that you can use without permission, consider factors such as compatibility with the target device, tracking features, ease of use, and customer reviews. 
Can These Phone Spying Apps Be Detected?
The phone tracker apps in this article are designed to operate stealthily and remain undetectable on the target device. 
They use advanced techniques to hide their presence, ensuring the device user remains unaware of their monitoring activities.
Are These Phone Tracker Apps Free?
While some phone tracker apps offer free trials or limited functionality for free, the full range of features is often available through a paid subscription. 
Each app may have its pricing structure, so visiting their official websites for detailed information is recommended.
Conclusion
Phone tracker apps without permission provide a convenient way to track the location of a mobile device without requiring explicit consent from the user.
These apps offer personal safety, lost or stolen phone recovery, employee monitoring, and parental control benefits.
However, it is vital to select reliable tools with numerous features; our choice of the 6 best phone tracker app without permission ticks all the boxes.
You can find the right phone tracker app that meets your specific need by considering the features.