Oxylabs has established itself as a distinguished provider of top-tier proxies and web scraping tools.
With an extensive collection of data center and residential IPs, dependable services, and bespoke customer assistance, it has earned a prominent reputation in the industry.
Countless companies and proxy resellers have utilized Oxylabs' offerings, making it a popular choice for many.
However, if Oxylabs' pricing is beyond your budget or their services do not meet your requirements, fret not, as there are several trustworthy Oxylabs alternatives worth exploring.
These options are the best Oxylabs alternatives that can provide similar features and benefits, allowing you to find the perfect fit for your needs.
Best Oxylabs Alternatives in 2023
Here are some of the best alternatives for Oxylabs out there.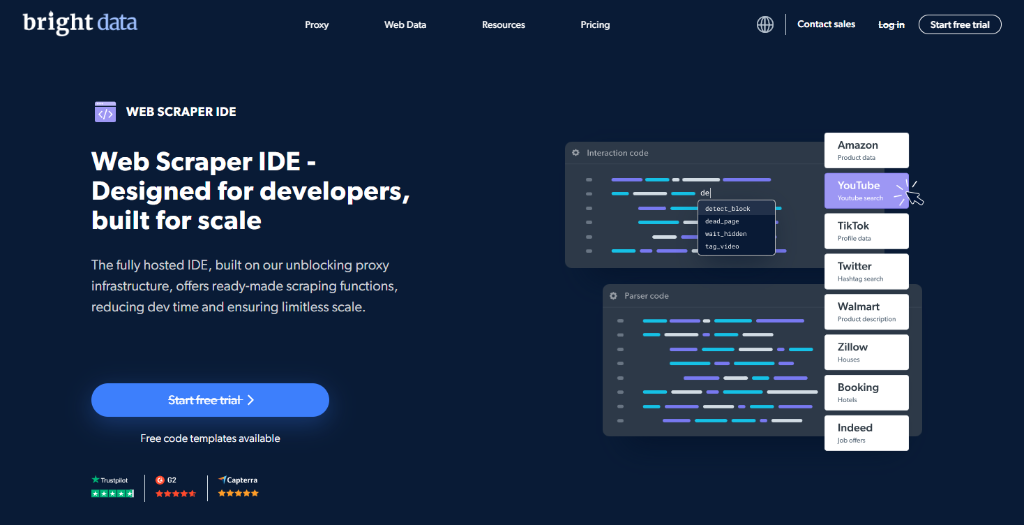 Bright Data is an Israeli company that was established in 2014.
The company provides access to various proxy servers, data collection APIs, pre-collected data sets, and a no-code web scraper.
Their services are considered premium and are priced above the market average, making them more suitable for enterprises and customers with significant needs.
However, they also offer a pay-as-you-go option for those who don't want to commit long-term.
Bright Data aims to serve every acceptable use case, including web scraping for price comparison, SEO, and even sneaker copping.
However, they are very strict regarding proxy providers and won't allow questionable uses.
From a technical perspective, Bright Data is a powerhouse with various features many competitors don't offer.
Their residential proxies have a success rate of over 99% and are much faster than most alternatives.
With few providers coming close to their performance or pool size, Bright Data is one of the best proxy providers in the market.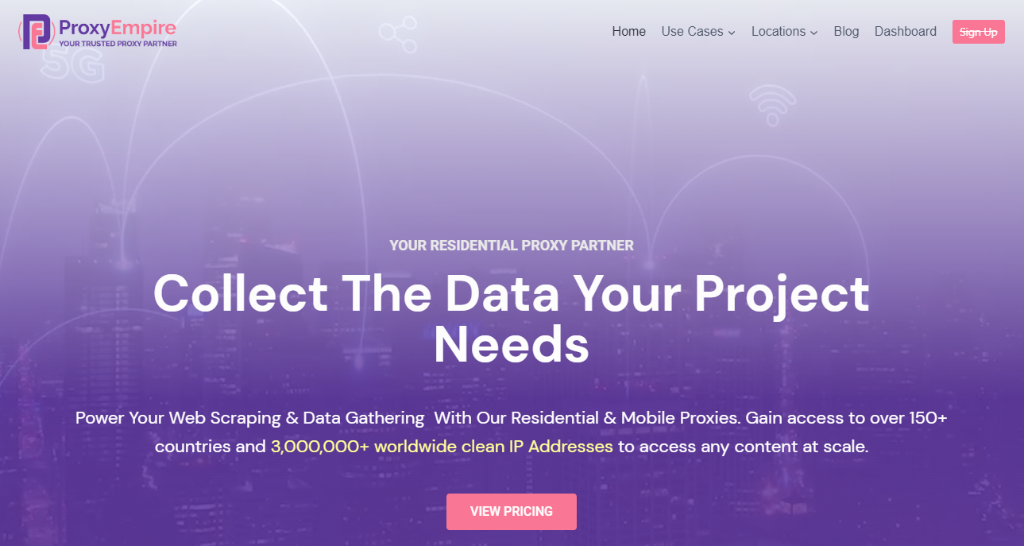 ProxyEmpire provides rotating residential proxies that offer a large selection of over 5.3 million ethically sourced proxies.
These proxies have advanced filtering capabilities that allow users to target specific countries, regions, cities, and ISPs.
Each residential proxy plan offered by ProxyEmpire comes with VIP integration support, which ensures that users can quickly and easily set up their proxies.
ProxyEmpire also supports use cases that other proxy providers may not.
ProxyEmpire's residential proxies are compatible with all standard proxy protocols, making them easy to integrate with any software stack.
In addition, ProxyEmpire offers static residential proxies, also known as ISP proxies, which allow users to use the same IP address for an extended period of time.
ProxyEmpire also offers mobile proxies designed for use cases involving mobile-only platforms.
These mobile proxies are available in over 170 countries and can be filtered down to the mobile carrier level.
Users can collect data innovatively with rotating mobile proxies that offer the best possible connection.
ProxyEmpire also offers dedicated mobile proxies with unlimited bandwidth, giving users complete control over IP changes and allowing them to enjoy the highest possible proxy speeds.
Proxy-Seller is a reputable data center proxy service top-rated among small-scale Internet marketers for many reasons.
The company, based in Cyprus, is renowned for offering affordable and dependable proxy services that are extremely user-friendly.
One aspect that sets Proxy-Seller apart from other proxy providers is their support for both SOCKS5 and HTTPS protocols, ensuring that their services are compatible with a diverse range of devices and offer top-notch security.
Furthermore, they are one of the few proxy providers that offer IPv6 proxies to their users.
These are relatively new types of proxy with unique applications and are also more affordable than IPv4.
Another standout feature of Proxy-Seller is the flexibility they offer regarding payment options.
Their users have various subscription plans, including weekly, monthly, quarterly, biannually, and annual options.
Moreover, Proxy-Seller is one of the few proxy providers that accept various payment methods, including credit cards, PayPal, and even cryptocurrencies such as Bitcoin.
All in all, Proxy-Seller's unique features, affordable pricing, and flexible payment options make them a top choice for small-scale Internet marketers needing a reliable and easy-to-use data center proxy service.
Rayobyte is a proxy provider situated in the United States that was founded in 2015 and is part of the Sprious company, which provides services like website scraping, data analysis, and hosting.
The firm primarily provides specialized data center proxies but has lately expanded into ISP, residential, or mobile proxies.
Rayobyte offers a web scraping API for Amazon and Google that includes data processing capabilities.
Rayobyte, formerly known as Blazing SEO, primarily targeted web search marketers and has proven successful because of its fast 1 Gbps lines, quick IP delivery and replacement, and low cost ranging from $0.65 – $1.2 per IP.
The firm currently claims to be the "biggest American proxy service," with a network of 300,000 IPs scattered across nine ASNs with self-owned data centers.
Rayobyte's home IP pool is similarly built using Cash Raven, a bandwidth-sharing program.
Rayobyte just relaunched in July 2022, with the goal of fostering transparency and ethics while remaining more enterprise-friendly.
The company's goal is to serve clients that want a dependable and reliable provider of proxy infrastructure, sometimes known as a "proxy partner."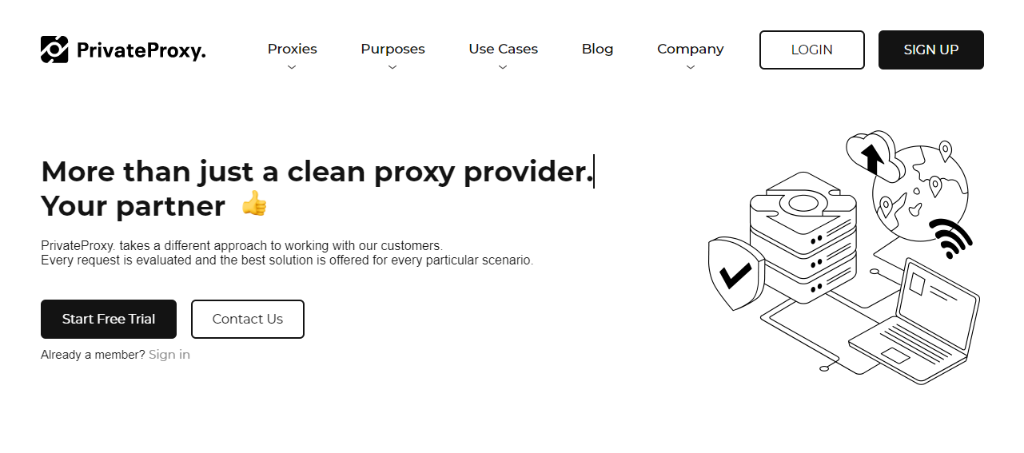 PrivateProxy.me offers fully anonymous proxies that work with any browser or program that supports HTTPS/HTTP proxies.
Users may either log in using their username and password or permit their IP address to create a proxy connection.
Both techniques have pros and cons, therefore providing people with both alternatives is a smart idea.
Although PrivateProxy.me offers limited configuration options, consumers can request that proxies be shuffled to a certain location after completing their purchase by contacting customer service.
Users can also choose whether they want all proxies within a single area or proxies from other areas.
PrivateProxy.me allows consumers to try up to 3 proxies for 7 days, giving them ample time to assess whether or not the service is exceptional.
But, in order to subscribe to the trial, consumers must enter their credit card information, which is not favored by most.
Furthermore, customers may change their IP addresses once a month for free in order to access a fresh set of proxies if their prior IP addresses fail.
Users should update their proxies before canceling their membership or requesting a refund to see whether the proxies are creating performance difficulties.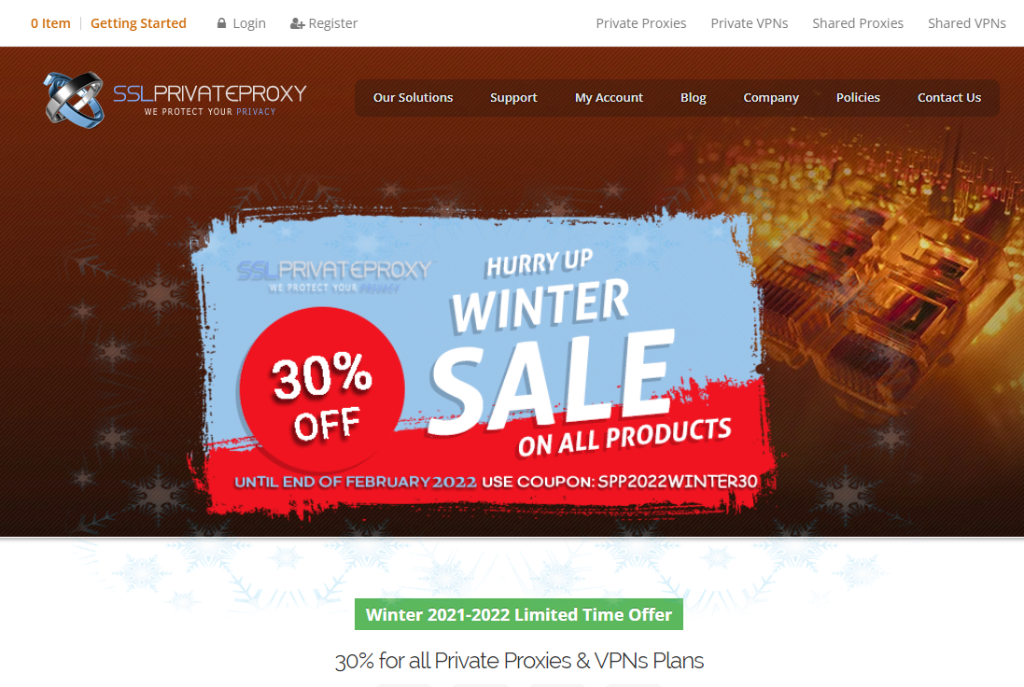 SSLPrivateProxy is a reputable provider of premium proxy services that cater to dedicated usage.
They offer a range of specialized proxy packages to suit different needs, including shopping, advertising, social media, gaming, and general usage proxies.
Although their pricing may be higher than some competitors, their premium service more than justifies the cost.
Since its inception in 2012, SSLPrivateProxy.com has built a strong reputation in the proxy service industry thanks to its high-quality anonymous proxy and VPN service.
Businesses that require specific tasks can benefit from SSLPrivateProxy's specialized packages, which ensure virgin proxies and 100% functional proxies for all their requirements.
While SSLPrivateProxy also offers shared proxies that are more affordable than private proxies, this article does not delve into them in detail.
SSLPrivateProxy provides private proxy packages tailored to meet the needs of different customers, including gaming, shopping, ticketing, social media, and more.
They offer an impressive range of specialized private proxy packages for various purposes.
What is the Competitive Advantage of Oxylabs
Oxylabs is a company that boasts the largest residential and Datacenter proxy pool in the market.
Their IP pool is considered to be the largest in the industry.
Their proxy pool is a comprehensive collection of residential and data center proxies that offer customers access to millions of IP addresses from all over the world.
This allows customers to bypass website blocks and geo-restrictions.
In addition to that, Oxylabs provides web scraping solutions that are based on AI and ML.
They have a group of professionals in artificial intelligence, machine learning, and data science that advise on the creation and implementation of these solutions.
Their online scraping solutions, based on AI and ML, are intended to be more effective, accurate, and scalable than traditional web scraping approaches.
In addition, the Real-Time Crawler tool offered by Oxylabs guarantees a delivery rate of one hundred percent from both search engines and online shopping sites.
Clients are only required to pay for successfully loaded pages, which implies that they will not be charged for any requests that are unable to load.
This ensures that customers receive accurate and complete data for their web scraping needs.
Conclusion
Oxylabs is a company that specializes in offering quality proxies and data scraping solutions on a wide scale.
Because of this, they are a popular choice for a Proxy Service in the domain of security and privacy.
They have earned the reputation of being one of the finest in the industry thanks to their position as a top supplier on a worldwide scale.
But, for those who are interested in finding the best Oxylabs alternatives, there is a wide range of choices accessible.
You may select from the top Oxylabs alternatives for cheaper proxies that are compatible with several operating systems, including SaaS, Windows, Online/Web-based, Linux, and Mac.
Every one of these choices offers a different range of benefits, some of which may be more suited to your requirements than others.
You must select the best proxy service for your requirements to increase the anonymity and protection afforded to your online activity.
So, it is necessary to thoughtfully consider all available options and pick the one that works best for you.