The Internet may have opened up for us an entirely new world of entertainment, but without the best no lag VPN, your experience might be incomplete.
Gaming and streaming have grown into billion-dollar industries over the past few years.
Whether you turn to console games for entertainment or prefer streaming services like Hulu, Netflix, BBC iPlayer, etc., to watch your desired show, lag can definitely be a problem.
No gamer would like to be blindsided by the lags in between a match or get dropped off right in the middle.
It's quite annoying even when you skip all around the place due to a slow connection.
Similarly, streamers find it extremely inconvenient when they have to experience buffering during a live event that they'd hate to miss.
What is a single solution to all of these problems?
A fast, lag-free VPN is your best bet! And this post will introduce you to some of those in a while.
Best No Lag VPN 2023
It may seem strange that increasing encryption might decrease lag, but the key to it is routing.
Premium VPN servers often offer the fastest pathways to your desired game server or the region you want to stream in.
In this manner, you can achieve higher speeds to avoid irritating pings during games and buffering delays during streaming sessions.
The best No lag VPN won't only offer the best technologies for fast and stable connections but will also offer fantastic anonymity online to protect your connection against any throttling by ISP.
This also plays a huge role in improving speeds and reducing lag.
But you may find yourself asking which VPN provider will uphold its claims and provide as good of a performance as it promises.
To answer that question simply, we would like to put forth the following list:
NordVPN – 🏆 Winner!

As the world continues to change and evolve, so do the sources of joy.
Many people have turned to online streaming as their primary source of entertainment.
While gaming or streaming, you may often need to use a VPN because you prefer to view the content from a different library.
While plenty of amazing VPNs can help you do that, you ought to choose one that also offers excellent connection speeds to complement that online freedom.
NordVPN has always been our top recommendation for anyone who requires the best mix of all; speed, freedom, privacy, and security.
NordVPN is one of the leading service providers, providing access to over 5400 high-speed servers globally.
It covers a staggering 60 countries to enable its users to unblock any desired service or content.
So, regional blocks and restrictions are never a problem.
Considering such a large number of high-quality servers, overcrowding and connection failures are also out of the way.
However, these are not all the factors making NordVPN the best No lag VPN.
There are other ways, too, through which the service provider ensures the best connection speeds and quality.
For instance, instead of using Wireguard, the VPN protocol used by all industry-leading VPN providers, NordVPN took the game up a notch and developed its unique (and faster) Nordlynx technology.
This service provider is quite popular among privacy-conscious users too.
With its headquarters in Panama, NordVPN is free of any obligations to store any user data. So, its zero-logs claims are all true.
But, to fulfill its primary duty of giving its users complete online privacy, the provider still uses the standard 256-bit AES encryption to conceal all data and web traffic from snoopers.
NordVPN also gives users the option to enable its DoubleVPN feature for an added layer of encryption and increased privacy/security.
However, for a lag-free experience, it may not be a great idea.
Rest assured that even without enabling it, you'll remain secure and anonymous with NordVPN's comprehensive leak protection system and an automatic internet kill switch for unforeseen connection failures.
As a result, your ISP will never be able to track you or throttle your connection.
You will be able to retain your ultra-fast connections for gaming and streaming too.
NordVPN has launched native apps for all common mobile and desktop devices, making compatibility and configuration a piece of cake for anyone with or without a technical background.
With its Threat Protection feature recently integrated into all the apps, you can protect all the connected devices against all kinds of viruses and adware as well.
Moreover, you can connect up to six devices with every subscription so that users can enjoy quantity alongside quality.

When the entire family has different choices regarding the shows they want to watch, what can ensure the best streaming speeds on all devices?
When you plan a multiplayer game with your friends using separate devices, how to keep speed and connectivity issues from killing the excitement?
The best no-lag VPN can certainly solve your problems. But how many subscriptions would you require?
By recommending Surfshark here, we are suggesting that you buy only one subscription for all those devices.
While it may sound unreal, Surfshark is widely-known for offering unlimited device support.
But that barely scratches the surface of what this provider actually has to offer.
Their fleet of servers is vast, with more than 3200 units dispersed around 65 different countries.
This suggests that one of the best unblocking talents belongs to Surfshark.
With such power at their disposal, users can get around various types of regional barriers and access the content of their choice on streaming websites and games.
Not only does it help to give you the online freedom that you have always wanted, but this expansive network also allows you to play your favorite game and stream your favorite shows while traveling.
While this is quite a valuable offering, Surfshark realizes that accessibility would mean nothing to a user if he doesn't get the optimal speeds for it.
Lags during their gaming and streaming sessions could dampen their moods.
Therefore, it offers state-of-the-art Wireguard VPN protocol for users to enjoy the best speeds.
Also, Surfshark guarantees your safety.
You are protected from all types of cybercrimes by the service provider, thanks to a plethora of wonderful features.
It uses military-grade AES encryption in addition to a strict policy prohibiting the tracking of any user data to ensure that nobody gets unauthorized access to any sensitive data.
Users can also activate its well-known Multihop feature, which double-encrypts communication as it is routed through different servers, to add an extra degree of security.
But, this is rarely recommended for data-intensive tasks requiring high speeds without lag.
There is an extremely trustworthy internet kill switch provided in all Surfshark apps to protect your traffic in the event of unexpected connection failures.
All these features increase user privacy and anonymity to the point where you are virtually unbeatable online.
As a result, you will be protected against DDoS attacks and ISP throttling.
This will give you a completely lag-free online experience, which very few VPN providers can provide.
So, we believe Surfshark undoubtedly offers the best no-lag VPN providing the best value for the price users pay.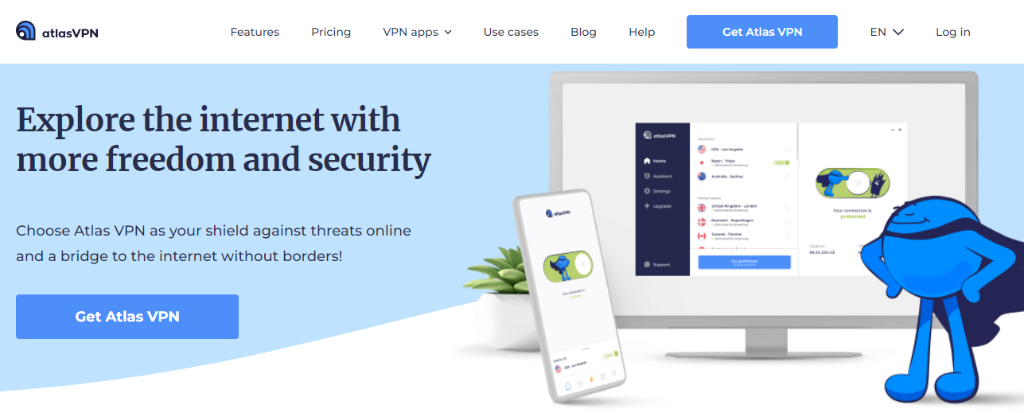 In contrast to our previous two suggestions, Atlas VPN is a relatively unknown VPN service provider.
But, given how quickly it is expanding, it won't remain in the shadows for very long.
Atlas VPN was only recently introduced to internet users in the year 2019.
But, it stands among the best-performing newbies in the market ever since.
The quality of its performance can be estimated from the fact that Nord Security, the owner of NordVPN, acquired it soon after it was launched.
We are aware that gamers are constantly seeking to enhance their online freedom and gaming experience.
Yet, they might not always have the money to pay for premium VPN subscriptions.
And that is the first reason we have chosen Atlas VPN as the best no-lag VPN.
The service is quite affordable, which means reducing lags does not necessarily have to be heavy on your pocket.
Atlas VPN uses the best VPN protocol prevalent in the industry, called Wireguard.
Using this technology ensures users get a lag-free experience regardless of their online activities.
While the provider is quite famous for the free VPN service it offers, that free version of Atlas VPN is not a fine choice for streamers and gamers.
There are only three server locations offered by the free Atlas VPN, which is why they are always overcrowded, causing speed and connectivity issues.
If you want a truly no-lag VPN, you ought to go for the paid premium version, which has more than 750 servers covering approximately 38 countries.
The larger number of high-speed servers means users are very unlikely to experience lags due to overcrowding.
Even if it's not your primary concern, this sizable server network can empower you to access any gaming and streaming content that may otherwise be restricted in your region.
Moreover, Atlas VPN takes exceptional measures for the security and privacy of its users.
Like any credible VPN, Atlas VPN is quite strict about upholding the no-logging policy.
It uses the strongest encryption available to protect user data from hackers and prying eyes.
If you think it isn't secure or private enough, you are welcome to activate the Multihop option and double the encryption.
Atlas VPN offers extremely thorough protection against all types of leaks because it is unwilling to jeopardize its consumers' privacy.
Moreover, a kill switch for the internet exists to stop unintended leaks.
Unlike most of its competitors, Atlas VPN also has a reliable data breach detection mechanism in place to promptly notify its users if something goes wrong despite all these precautions.
Why should you value all these privacy features?
It's because they keep you anonymous and protect you against speed throttling by your ISP.
Collectively, all of these features make it the best no-lag VPN.
Just when we thought the offered bundle couldn't get any better, it did!
Atlas VPN allows for unlimited device connections to each of its subscribers.
This is fantastic for large groups of gamers and large families where everyone is equally fond of steaming.
Everyone can enjoy a lag-free internet experience on their respective devices without having to pay extra.
FAQs
What are the Ways in Which VPNs Reduce Streaming or Gaming Lag?
There are a number of ways in which VPNs can reduce lags successfully:
• They make high-speed servers available in several locations.
• Their large and robust networks prevent connection failures while streaming or gaming.
• Their dependable military-grade encryption safeguards user privacy to protect against speed throttling.
How Does the Size of the Server Network Affect the Connection Speeds?
The size of the server network does have an impact on connection stability and speed.
The closer the server you connect to, the better the quality of that connection is.
Therefore, a larger number of server locations would mean there are greater odds of finding a nearby server for ultra-fast and lag-free connection.
Can Free VPNs Offer a lag-free Experience?
Unfortunately, the majority of free VPNs are too slow to utilize for game and streaming.
Free VPNs typically have a high user density on a small number of servers, which slows them down.
This means that while streaming or gaming, you'll have a lot of lag and high ping.
Conclusion
When playing online games, a sudden spike in ping can utterly ruin your game and knock you out of the rankings.
Similarly, buffers tend to ruin the live streaming experiences.
A trustworthy and dependable VPN service providing fast-speed connections, reliable servers, easy access to geo-restricted content, and a strong defense against cyber-attacks is all you need.
These features of a credible VPN can assist you in playing your preferred games and watching your favorite shows safely and without lag.
While all three VPNs listed have been carefully evaluated for their capability before making the recommendation, we believe NordVPN is the best no-lag VPN of all, offering everything you seek.