Mobile proxies allow users to bypass geographical restrictions and access blocked web pages.
They also provide security while surfing the internet.
With the rise of mobile devices, mobile proxies have become popular among companies.
However, with various options, such as 4G, 5G, and LTE, selecting a suitable mobile proxy can be overwhelming.
To assist in the decision-making process, we have created a guide for the best mobile proxies, highlighting their advantages and disadvantages.
Whether trying to keep up with your friends' Facebook profiles or looking for a nearby restaurant for dinner, mobile proxies can help you access any website you want, wherever you are, while keeping you safe and secure online.
Best Mobile Proxies 2023
1. Oxylabs – The Most Flexible System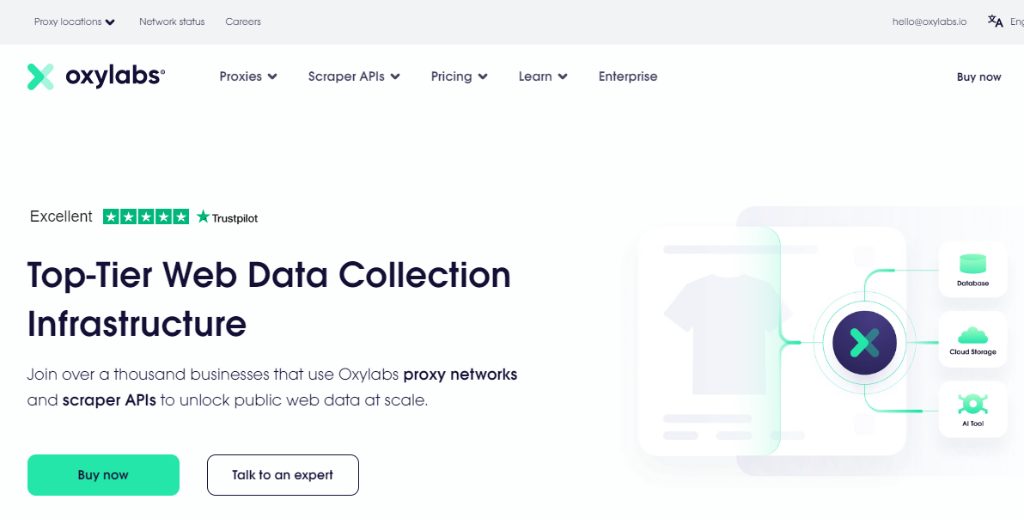 Oxylabs is a top-tier provider of enterprise-grade proxy services constantly updated to align with the latest technological advancements.
Their reputation in the industry is built on their vast network of 3G and 4G mobile proxies, which is among the largest in the market.
Oxylabs is known for providing a stable proxy pool, and its professional support team is always available to assist customers.
Integration with Oxylabs is seamless and hassle-free, thanks to their single endpoint system that eliminates the need for manual work and allows customers to start using the proxies immediately.
The mobile IP feature guarantees fewer blocks and a high success rate for the tasks that employ the proxies.
Furthermore, the country-level and ASN targeting ensure that you have worldwide access to everything, making Oxylabs a comprehensive solution for all your proxy needs.
Features
Innovative control panel with in-depth usage analytics and proxy management capabilities
Expansive proxy selection catering to diverse customer requirements
Unrestricted access and unlimited usage
Round-the-clock customer assistance is readily available
2. Bright Data – The First Company to Offer Mobile Proxies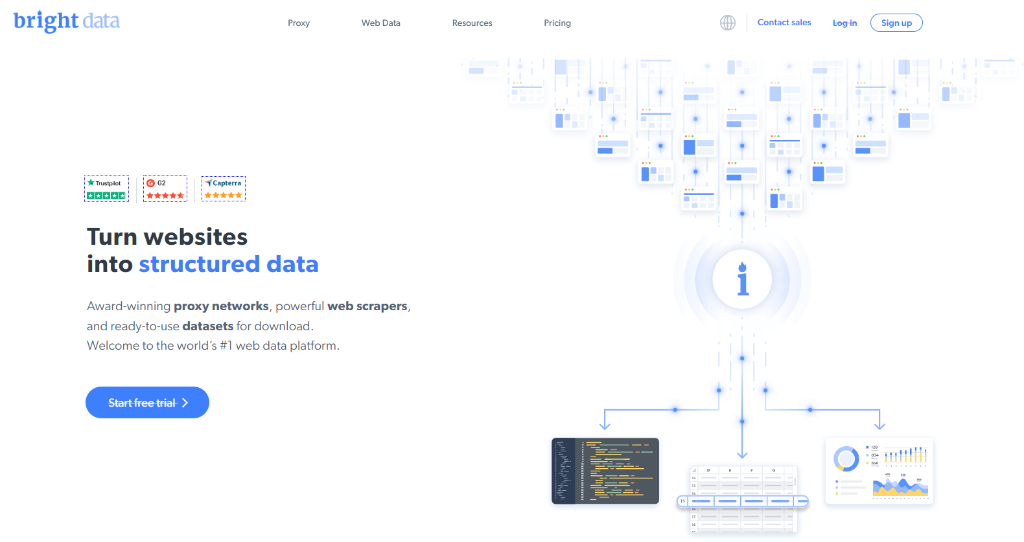 Bright Data is a leading provider of mobile proxy services for various reasons. One of the main reasons is their vast selection of both 5G and 4G IP addresses.
With so many IP addresses in the database, they can customize the IP address that you receive when turning on the proxy.
They offer a wide range of regions and networks, ensuring a smooth and seamless customer experience.
For a starting price of $30 per 1GB, users can access premium IPs that rotate automatically for added online privacy.
In addition to its extensive selection of IPs, Bright Data also offers exclusive features such as the ability to choose an IP from a specific region, unlimited bandwidth, and unlimited users per account.
Their IP gathering process is also unique, allowing users to opt-in to their network in exchange for an ad-free experience.
By agreeing to join the network, users allow their IP to be shared, and in return, the app developer will receive a fee.
Features
Industry-leading mobile proxy network with 3G/4G options for unparalleled speed
Guaranteed uptime of 99.99% for reliable access
Customizable options with various carriers, cities, and ASNs
Unlimited connections and unrestricted traffic and data usage
Advanced API integration for seamless integration with your systems
3. ProxyEmpire – Big Selection of IP Addresses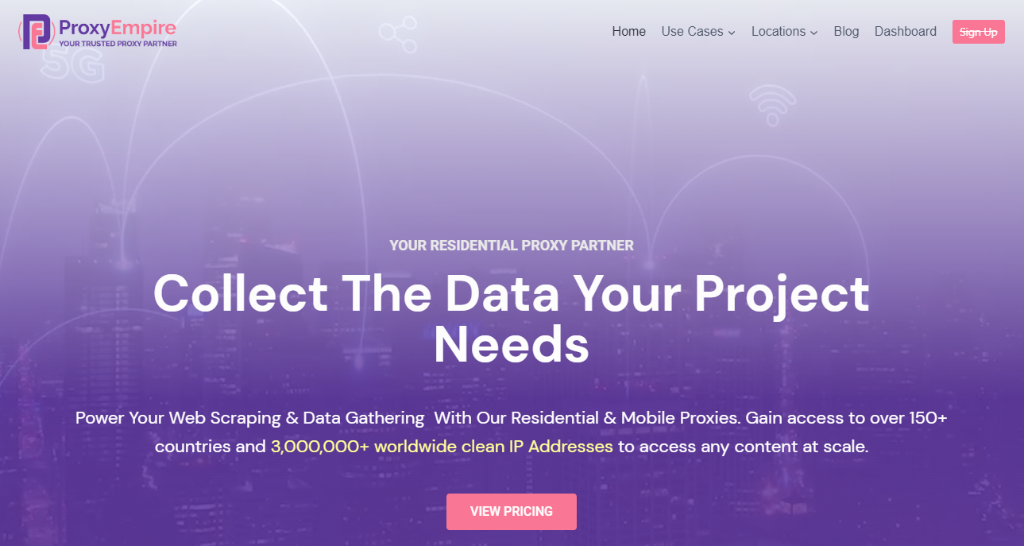 ProxyEmpire offers a comprehensive solution for all your proxy needs, making it your one-stop shop.
One of the best features is that they rotate their proxies automatically, eliminating the need for manual rotation on your end.
They source their proxies ethically and provide access to proxies in over 150 countries, making it perfect for those looking to gather data from various parts of the world.
Their subtle and discreet service is matched by transparent pricing, with options starting at $45 and going up to $4000.
Whether trying to bypass geoblocks on your mobile phone or scrape the web, Proxy Empire's extensive selection of over 3 million IP addresses and mobile and residential proxies will help you do it successfully and without any hidden costs.
Features
One-stop shop for all proxy needs
Ethically sourced proxies
Access to proxies in over 150 countries
4. Proxy-Seller – The Most Cost-Effective Service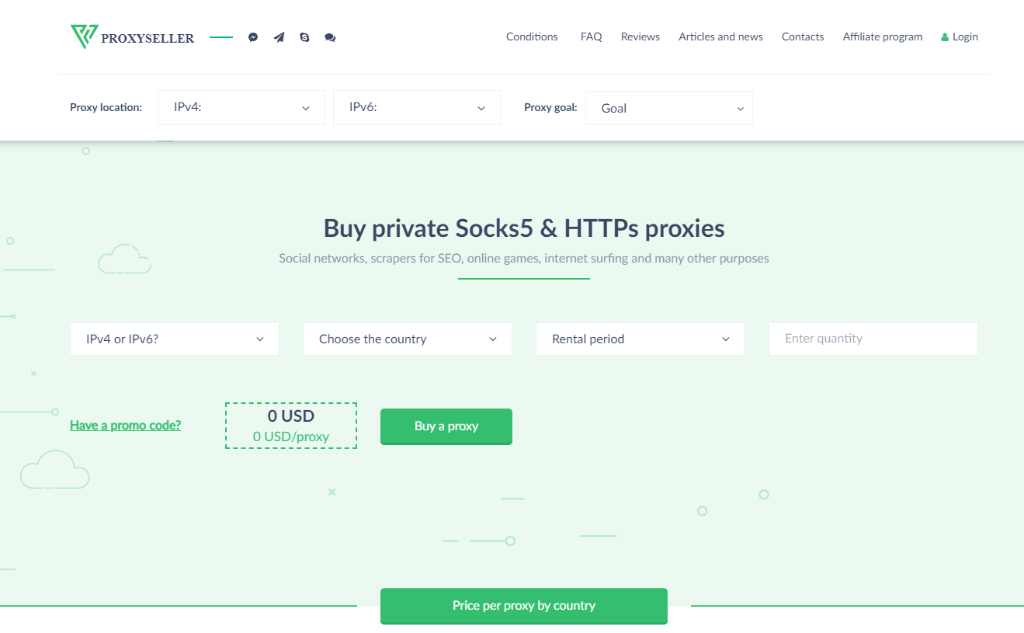 Proxy-Seller is an excellent option for those looking for a cost-effective and customized proxy service.
They offer various options at budget-friendly prices, making them a perfect solution for those looking to launch their business online without breaking the bank. 
Not only do they keep the clients anonymous, but they also provide detailed information on the importance of using a proxy.
They cater to individual needs by offering a range of proxy options, including mobile and private options, ensuring that clients have a personalized and secure experience.
Features
Commitment to keeping clients anonymous
Personalized and customized experience
Detailed information was provided on the importance of using a proxy
Suitable for individuals and businesses looking to launch online
5. The Social Proxy – Leading Provider in 3G and 4G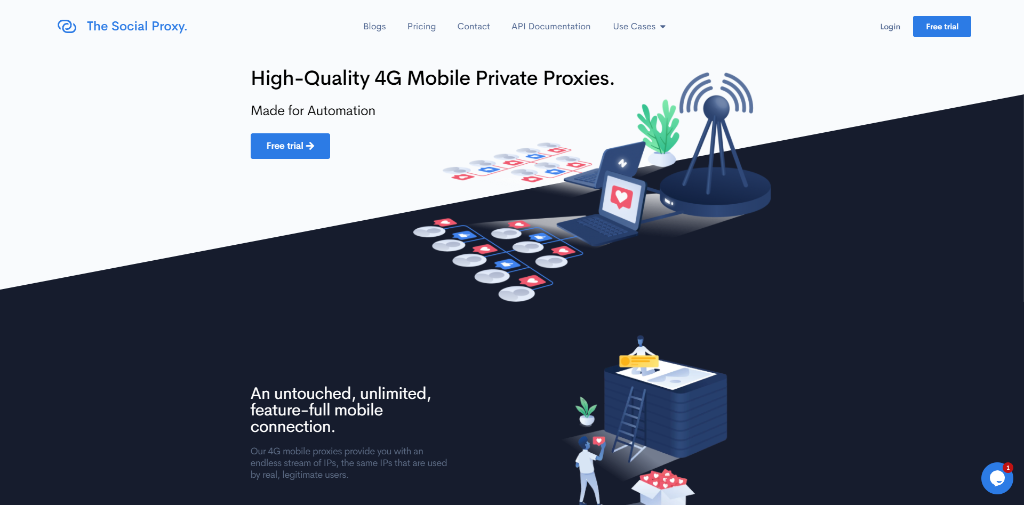 The Social Proxy is a worldwide provider of mobile proxies specializing in 3G and 4G networks.
With a network of 130 operators in more than 45 countries, the company offers a wide range of services, including testing for direct carrier billing, mobile campaigns, and SMS delivery.
One of its unique features is that it uses SIM cards and not ISPs, making it unlikely to get banned or blocked by any website.
The company also offers API access, Chrome integration, and a variety of packages to suit different needs and budgets.
Some of their packages include access to proxies from multiple countries and mobile operators, with the option to request a custom quote for access to their entire network.
The company is based in Israel, the United Kingdom, and Austria and provides static proxies that rotate frequently.
They also offer a free trial so customers can assess the quality of their services before committing.
Features
Worldwide operation with a network spanning over 130 mobile operators in 45+ countries
Specializes in 3G and 4G mobile proxies
It uses real SIM cards instead of ISPs, making it unlikely to get blocked or banned by any websites
Offers API access and Chrome integration
A variety of packages are available to suit different needs and budgets, including access to proxies from multiple countries and mobile operators
6. SmartProxy – Leading Provider of 4G and 5G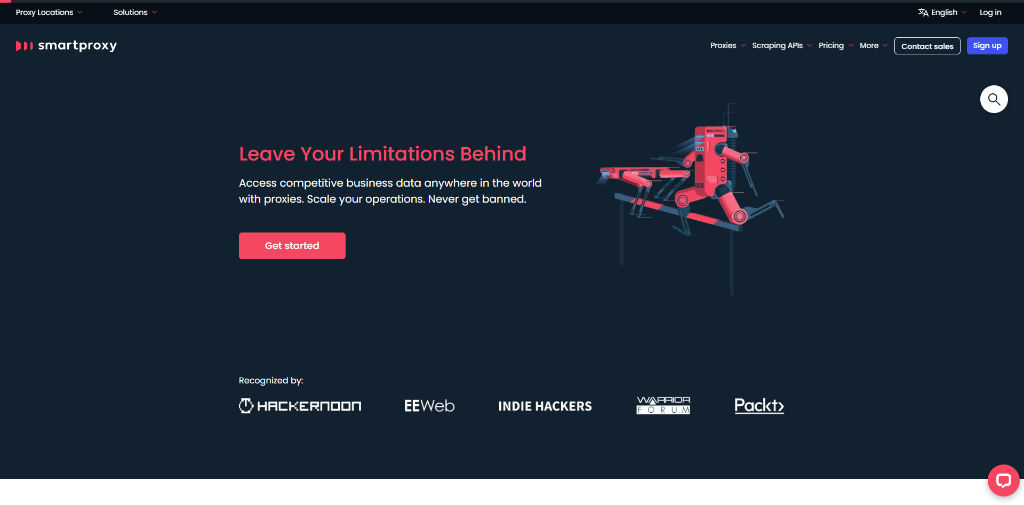 SmartProxy is a leading provider of 4G and 5G mobile proxies. Boasting a massive network of over 40 million IPs spread across 195 countries.
They have a server in almost every city, making it easier for you to access data from any location.
With Smartproxy, scraping the web is a breeze. Their fastly changing IP addresses can keep the scraper safe from detection.
At the same time, their free tools allow you to access data quickly.
And, if you're looking for even more advanced features, their premium services offer dedicated servers and various proxy options.
Whether you're an individual looking to gather data for personal use or a company looking to access and collect data in bulk quantities, Smartproxy is a perfect choice.
With an automatic system that keeps rotating the proxies, you can focus on your work while they handle the rest.
You can even pick any location that is supported by the server, and they will provide you with the IPs located in the area you select.
In addition to their free services, Smartproxy also offers a starter plan with IPv4 IPs.
Their excellent customer service is available 24/7, so you can contact them anytime and have your queries answered immediately.
Plus, if unsatisfied with the service, you can ask for a refund within the first three days of the subscription.
Features
Over 40 million IPs in 195 countries
Servers in almost every major city
Support across countries
Ideal for web scraping with rapidly changing IP addresses
How We Made This List
We selected these specific brands for our proxy service by evaluating various vital factors for a proxy provider.
These factors include the company's reputation within the industry, the number of IP addresses they can provide, the proxies' geographical location, the proxies' cost, and the additional features they offer.
We took all of these considerations into account to determine which brands would be the best fit for our service.
Things to Consider When Choosing Mobile Proxies
When selecting a mobile proxy provider, it is important to evaluate several key factors to ensure that the service is suitable for your needs.
Number of IP addresses available
This is important because the more IP addresses a provider has, the more options you have for accessing different websites and services.
It can be beneficial if you need to access a large number of sites or if you need to rotate your IP addresses frequently to avoid detection.
Location of The Proxies
The proxies' location can affect your connection's speed and reliability.
If the proxies are located in a different country than you, your connection may be slower or less reliable.
Additionally, if you need to access a website or service only available in certain countries, you must choose a provider that offers proxies in those locations.
Cost of The Proxies
The cost of the proxies can vary widely between providers, so it's preferable to compare prices and ensure you are getting a good deal.
Keep in mind that more features or more IP addresses may cost more, so you should weigh the cost against the value of the service.
Features Offered by The Provider
Some providers offer additional features, such as rotating IP addresses automatically or using proxies on multiple devices.
Consider which features are important to you and look for a provider that offers those features.
Frequently Asked Questions
What Is a Mobile Proxy?
A mobile proxy is a tool that allows users to remain anonymous while browsing the internet.
These proxies are created by combining multiple SIM cards and a modem.
By using a 5G or 4G connection, the proxy changes its IP address every few minutes, ensuring that the user's online activity cannot be tracked. 
This method of changing IP addresses is more convenient than rebooting a mobile router.
When using a mobile proxy, internet requests are routed through a cellular data connection, giving users access to websites that may be blocked on their original IP address.
How Does a Mobile Network Work?
Mobile networks rely on a system of assigning IP addresses to their users.
However, with millions of customers and a limited pool of IPs, carriers often recycle the same IP subnet among multiple users. 
This is where mobile proxies come in, as they will advantage this dynamic by ensuring that their IPs are rarely blocked. Most websites are indeed hesitant to blacklist an entire subnet, fearing it may also block legitimate users. 
Mobile proxies provide a solution for those who need to maintain anonymity or access blocked websites by exploiting the way mobile networks assign IP addresses.
What Are Mobile Proxies Mainly Used For?
When it comes to mobile proxies, it's essential to consider the specific tasks for which they are needed.
While they can be handy for particular applications, such as Instagram automation, using them for unrelated purposes is unnecessary. 
If you want to expand your reach on Instagram and use automation services, then a mobile proxy is a valuable tool in your arsenal.
However, it is important to remember to use them only if it is relevant to your task.
Are Mobile Proxies Unblockable?
The question of whether mobile proxies are unblockable is a common one.
Unfortunately, the answer is no, as no proxy service can guarantee complete unblockability. 
However, mobile proxies possess a unique advantage over other IP addresses.
Mobile proxies are dynamically assigned to mobile devices, allowing the IP address to be changed up to three times per day. 
This feature makes mobile proxies particularly useful for those facing IP blocks, as the IP address will be changed quickly, rendering the block ineffective.
Are Mobile Proxies Worth It?
The use of mobile proxies largely depends on the purpose for which they are employed.
Many individuals utilize proxy services to generate revenue in another form.
If mobile proxies yield significant financial gains, investing in a premium service is justifiable.
However, if the return on investment is minimal, it may be more cost-effective to opt for a free or cheaper proxy service.
Conclusion
Mobile proxies offer a wide range of benefits, from allowing users to browse the internet anonymously to testing ads and making many accounts on social media without the fear of getting banned.
While some services can be costly, getting a feel for how mobile proxies work is recommended.
Once you have experience, you can have many excellent services that you can choose from that'll provide good value for the money you invest in the long run.
Remember that each specializes in different areas when selecting the best mobile proxies.
Some may only target specific places, others may optimize for particular activities, and some may invest in performance and large IP pools to attract customers.
Ultimately, it all comes down to what you are looking for in a mobile proxy and what you hope to achieve when using it.