Kicksta Review
Kicksta promises that they can help get you real followers for your Instagram – but we have a sneaky suspicion that this isn't the whole story.
In fact, there's a very real chance that these guys aren't much more than just your average Instagram bot, which would be disappointing for most. Instagram doesn't like bots like Kicksta that much these days – in fact, they have such disdain for them that they are currently trying to wipe them out.
There has been a crusade over the past couple of years led by Instagram to try and cut out bots and fake engagement as much as possible.
Needless to say, they are always looking out for it, and the first thing that they will do is red flag your account. Next, if they think there is a scam associated with it, they will suspend it. Lastly, if they think you are associated with a bot that's not legit, they might even ban you.
This is obviously the last thing you need, which is why it's good to avoid companies like Kicksta, and head for greener pasture. Don't worry, though – we've got some alternatives that you can use in place of Kicksta, so you can keep growing your Instagram. Let's take a look.
Kicksta Features
One you've chosen a plan with Kicksta, they will begin to engage with people who they claim are relevant to your niche. They say that this is their biggest selling point, and through this they can help you find people within your audience so that you can grow your community with people who are going to interact with your content.
While this is all well and good, we question the legitimacy of this growth system, and don't like that this is the only thing they are offering. If they were serious about helping their clients, they would offer a range of different services to increase your likelihood of doing really well.
Kicksta Pricing
So, how much is Kicksta charging for its features, then? Their standard service is going to cost you $49 a month, and it comes with 10 targets, which isn't all that much. We don't think that this is going to be enough to grow your account sufficiently.
Their next package is their premium package, which is going to cost you $99 a month, and this comes with all of the features that you get in their standard package, as well as email and chat support. They also say that you get advanced targeting, but we're not sure what this entails considering their oversimplified features.
Review Conclusion
Kicksta is alright, but personally, we think that you could do better.
Let's continue with some of the best Kicksta alternatives in the industry so that you can set yourself up for success.
First Look
1. Best of the Best: Growthoid
"If you are looking for a down to earth company that puts their customers before anything else, you'll want to check out Growthoid. Since I first signed with them, Growthoid has made me feel like a part of the family, which isn't something you're going to get out of too many Instagram growth companies."
2. Second Best of the Best: Growthsilo
"Growthsilo is a rare breed out there. Not only can they help you with your Instagram growth, but they can also help you with other aspects of your brand as well. I love Growthsilo for my brand because they've taken the helm and helped me significantly increase my brand awareness."
3. Third Best: Nitreo
"I like Nitreo because they work to win me over by talking about things that they don't do – like mess with fake engagement. It's taken me a long time being in this industry to find a company that doesn't use fake engagement to grow my account, so I'm forever grateful for this."
4. Best for Efficiency: Kenji
"The thing that I like about Kenji is that it's efficient. It says that it is one of the best growth services for my Instagram, and judging by what their reviewers say, I'm inclined to believe them. They have certainly been efficient enough for me so far."
5. Best for Simplicity: Upleap
"At first I was a little skeptical of Upleap because I thought that they were nothing more than your generic Instagram bot. However, when I dug a little deeper, I found that they were so much more than this. You need to check these guys out if you want simple, yet effective."
6. Best for Your Margins: Follow Adder
"I know how important it is that I stick to my marketing budget, so there must be many other people out there who feel the same way. This can make it difficult to find the right Instagram growth company, but I knew I could stop my search when I signed up for Follow Adder."
7. Best for Safety Reasons: Task Ant
"When you've spent years building up a brand on Instagram as I have, you feel pretty strongly about protecting your account. The last thing I want is to sign up for a company that isn't going to put safety first. Task Ant does, though, which puts my mind at ease."
8. Best Old Company: Jarvee
"Jarvee is one of those companies that have been around since this industry first started gaining momentum. This means that I've got both expertise and experience on my side, which significantly helps when it comes to my Instagram growth. I couldn't ask for a better service."
Top Kicksta Alternatives
1. Best of the Best: Growthoid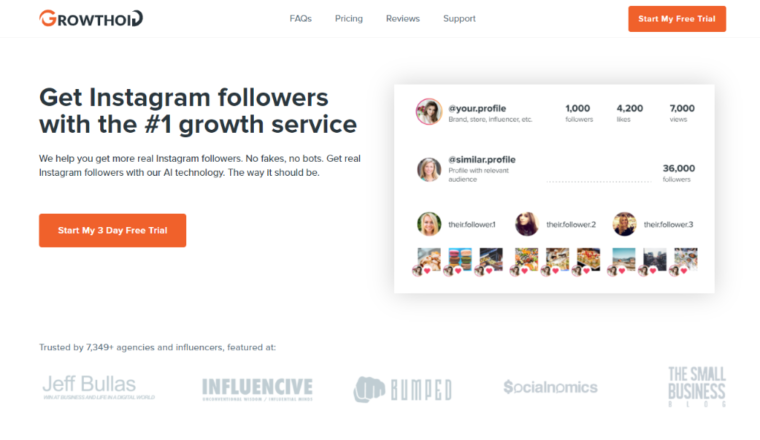 Our review of Growthoid revealed that they have come up with a new and improved way to grow their clients' Instagram engagement.
You can throw out the old follow/unfollowing bot feature because this just doesn't work anymore.
Instead, they will help you put views on your profile through their manual service, which is going to entice them to check out your content.
This type of strategy is simple, yet effective – and it's keeping you up with the times.
In fact, Growthoid promises that they can help their clients twice as effectively as other companies we've reviewed out there before, which is saying a lot considering how difficult this climate can be.
We also love that this legit Kicksta alternative offers all types of different features, so their clients are spoiled for choice. They offer direct messaging, scheduling, commenting, liking, and analytics, as well as help with your hashtags.
Honestly, if you go for a company like Growthoid, you won't really have to go for anything else. This is the ultimate Kicksta alternative, and they stay away from scams so you can feel confident that they're safe.
2. Second Best of the Best: Growthsilo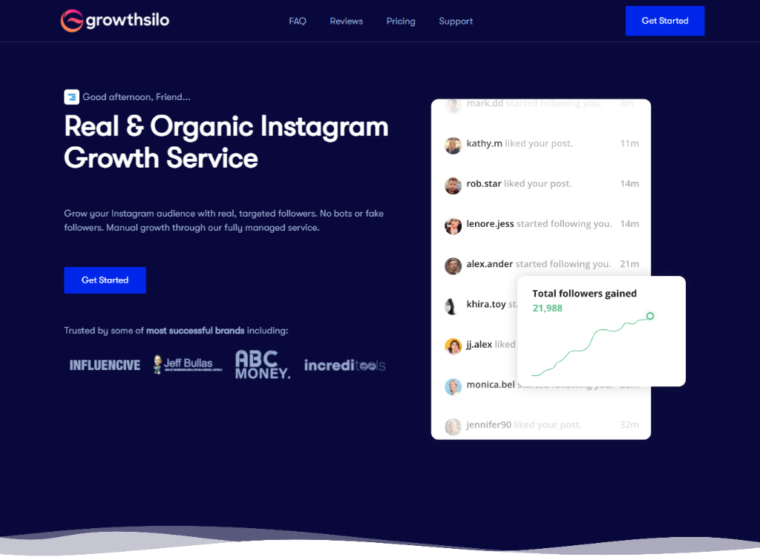 When we reviewed Growthsilo as a Kicksta alternative, we discovered that they have so much more to offer than we could imagine.
From their website building services to their social media management and email campaign opportunities, there really isn't anything that Growthsilo can't do for your brand online. They understand that it takes many little steps to create one great brand strategy, and they're here to help you with each one.
The thing that stands out to us the most about Growthsilo is that they're always adjusting their features to fit in with what Instagram is doing. As you know, Instagram is a platform that's always changing. This means that what worked with your engagement strategy yesterday, might not work today.
Growthsilo is aware of this, and has overhauled their features to be more legit for their clients. They can now help you through their mass story engager, which can take your engagement to the next level. This is a company you can trust.
3. Third Best: Nitreo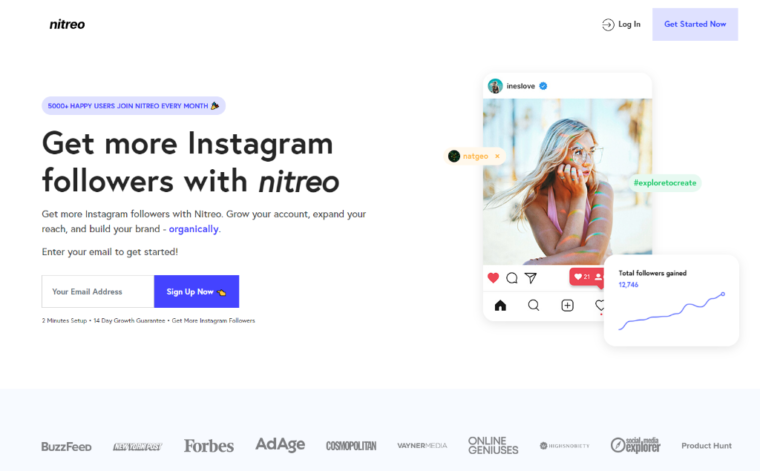 It's going to be difficult to go wrong with a company like Nitreo. This company is one of the best when it comes to your Instagram growth, mainly because they are transparent not only about their own great features, but they talk about the things that they don't offer as well, just like our reviewer said.
They say that they don't use fake engagement or bots to grow your account. They only want to make sure that you're getting everything you need in a growth service, and they continue to use the word 'organic' on their website, which indicates that they are completely natural and authentic.
We also love that they take just two minutes to get set up with you, and they have a growth guarantee of two weeks. This means that if your account doesn't grow as quick as you'd like in those two weeks, you get your money back. Ultimately, they want to help you get more Instagram followers, and we think what they offer is pretty great.
4. Best for Efficiency: Kenji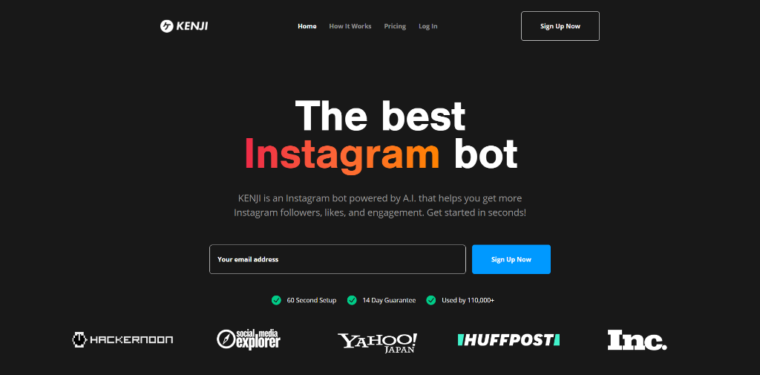 Kenji is pretty bold and brazen about what they offer – but in this situation, we think that it's a really good thing. They offer one of the most powerful Instagram growth services on the market, and we think that if you're used to dealing with low quality services out there, they're going to be a refreshing change.
Kenji says that it takes just 60 seconds to get started with them, and just like Nitreo they have a two week guarantee, so there's no love lost if something goes wrong in that time and you don't think things are going to work out. They also claim that they have helped over 100K people so far with their Instagram growth, which is a great rap sheet to have.
As well as offering automatic liking services, they offer live reactions as well as an Instagram story viewer. This means that you're keeping up with the times and making sure that you're using all of Instagram's latest features to your advantage.
5. Best for Simplicity: Upleap
Just like our reviewer said, when we first came across Upleap we thought that we were dealing with just another generic Instagram bot company. However, they have since proven us wrong, and they couldn't be more of the opposite. They say that they can help you with a dedicated account manager which is always nice, and they have a free trial that you can use for three days.
This is a great way to get to know any company out there, and we love that they don't ask for your credit card details. We also love that they have made the setup process nice and easy, and that they have real reviews on their website so that you can see how others have found their services.
Upleap ultimately wants to help you power your Instagram growth in the best ways possible, and we think that they're a solid contender, and a great Kicksta alternative.
6. Best for Your Margins: Follow Adder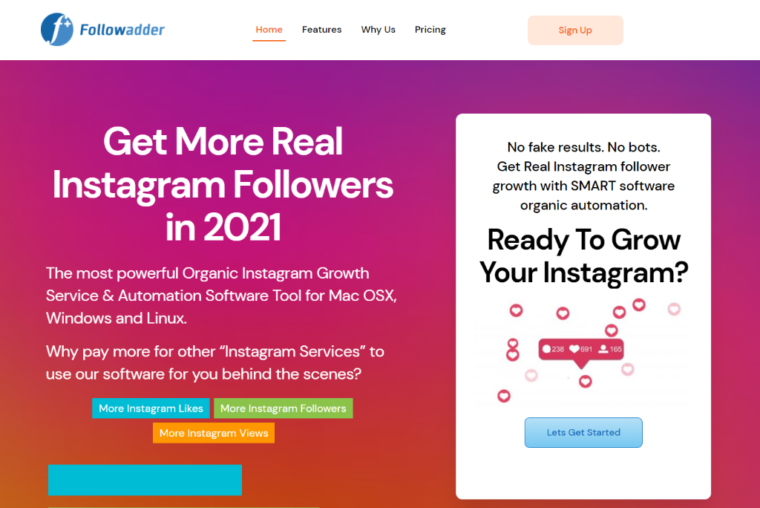 If you're worried about how much money you've got to spend on a replacement for Kicksta, Follow Adder can make you feel a little bit more secure.
This is because they have kept their prices the same since they first started out, and they're not about to change them. They also have a dashboard that you can download if you have Mac, Linux, and Windows, which keeps you in the loop and lets you customize features.
Follow Adder is all about giving power back to the customer. They know that you've got your niche and industry nailed down, and you know it better than anyone else. This means that you can figure out what kind of audience you need to target – you just need someone with the features.
When you download Follow Adder's dashboard, you get to tweak their features so that they suit your personal needs. There aren't too many companies out there that are legit like this, so we definitely recommend making the most of it.
7. Best for Safety Reasons: Task Ant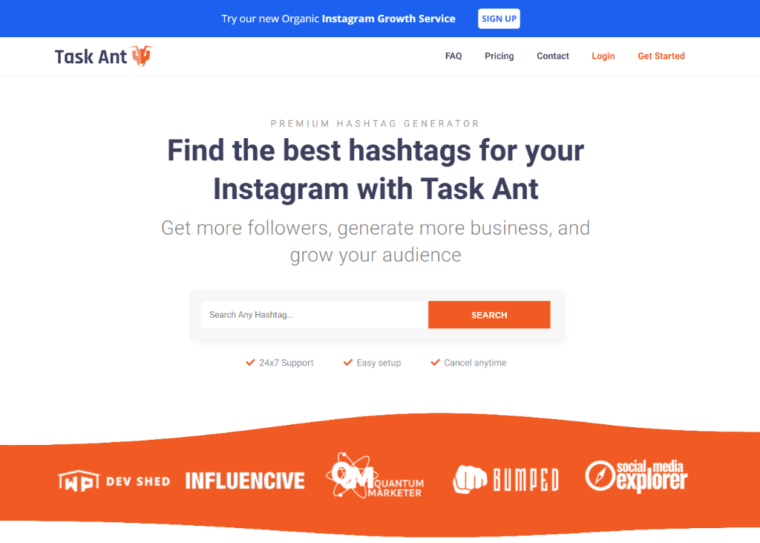 If your priority is safety, we recommend checking out Task Ant. Our review even showed that they bring a point of difference to the table that makes them really stand out.
Unlike Kicksta – they have a search engine where you can look up any hashtag you've used and get important data, which is ultimately going to help you shape that Instagram strategy. This is what you need if you're serious about growing your gram.
Task Ant is one of our personal favorites, and they're so far from a scam it's almost scary. Task Ant has their ultimate hashtag generator which we talked about already, but they can also help you with the rest of your engagement strategy as well.
This is because they have a growth plan that can help you find real, active followers for your account.
Talk about being an all-rounder. They have excellent customer support, and their prices are definitely worth mentioning. Honestly, it's hard to find fault with a company like this. They are personable and affordable – what more could you want?
8. Best Old Company: Jarvee
Every now and then you should check out a new company, but it's also wise to keep the tried and true list in mind as well.
Similar to Follow Adder, Jarvee has been a company for a long time now, and certainly know what they're doing when it comes to their customers Instagram growth.
If you have Windows, you can download their dashboard and adjust their features accordingly. Compared to Kicksta, it does pretty well in terms of growth.
Did You Know?
Did you know that America, in general, is a pretty big fan of the gram?
In fact, as many as 63% of Americans get on the gram every day. 63%! That's a truly impressive number when you consider just how many people live in the states.
What's more, 35% of teenagers in the U.S. say that Instagram is their favorite social media platform.
This fact, however, hardly surprises us – Instagram definitely belongs to the younger generation, as they get better and better with technology.
This means that there's a good chance a few of your followers are Americans.
Our Review Process
When we write up your list of the best Kicksta alternatives, we make sure to cover as many as possible.
This is why we look at upwards of 295 Instagram growth services, and as many as 4500 customer testimonials where they talk about both good and bad things.
This way, we can make a well-informed decision about who makes it to the top list. This list is not to be taken lightly – all the hard work we've done has resulted in these Kicksta alternatives that we highly, highly recommend.
Because each site like Kicksta offers something different, we suggest checking out their free trials for more info!