Searching for the best IPTV service you can get in 2023? If that's the case, this is your last stop.
Why?
Because we have what you need.
If you're looking for the best IPTV service provider currently available, we're more than glad to point you in the right direction.
After a detailed inquiry by our experts, we have boiled down the choice to a selection of the finest IPTV service providers.
Best IPTV Service Providers & Subscriptions in 2023
Ready for the best IPTV subscriptions the industry has to offer in 2023? Let's start our reviews!
The top position is a no-brainer, really.
By putting friendly customer service and high quality standards first, Voco TV delivers top-tier streamed content with superb service.
With a huge offer of more than 12,000 channels from USA, UK, Canada, Central and South America, as well as international channels, VocoTV comes as rather affordable.
The standard package hosts five connections and gives a meaningful choice between various IPTV subscription plans, depending on your needs.
Not convinced in our judgment? Make use of their 24-hour free trial and see for yourself!
Users that opt for VocoTV get all the major sports packages, the opportunity to pay with credit cards, debit cards, and even cryptocurrency, and ultimately even VPN support and external player compatibility.
Enjoy VocoTV with Android, iOS, web players, Roku, and FireStick, or whatever you find most comfortable at the moment.
You can even enjoy VocoTV on the go, since all you need to access its content is your username and password.
VocoTV has our vocal support!
Krooz TV really is one of the best services out there in 2023.
With more than 12,000 live channels to choose from, Krooz TV offers an impressive choice of content, meaning you will never get tired of what it has to offer!
Among other features, you can count on HD quality and Full Premium, all the major sports packages, and a regular update on the available channels and VODs.
Check out all that they offer in a 24-hour free trial, after which you get to enjoy it all for as low as $10 per month.
The standard package offers a single connection, but you can opt for more if you need it.
When it comes to duration of the subscription, you have 3, 6, and 12-month-long plans in stock, with greater discount the longer you choose to subscribe for.
The service supports payments via credit cards, debit cards, and PayPal, and supports most popular IPTV players as well as VPNs.
BestBuyIPT comes with an integrated electronic program guide.
Oh, and did we mention that it supports most devices that you can find in your average household?
Kudos, Krooz TV!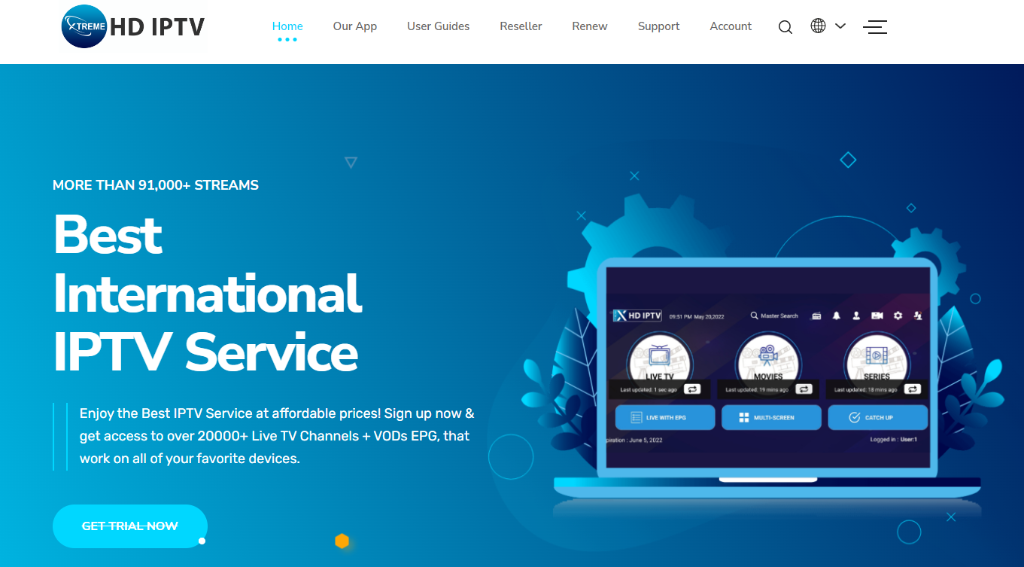 Many agree that XtremeHD IPTV is one of the best IPTV service providers that you can get. We certainly can't deny that.
How come? Well, where do we start?
XtremeHD IPTV is a global IPTV subscription service which provides 21,000+ live TV channels to users around the world.
This comes with an integrated anti-freezing technology that maintains the stability of your streams. No hiccups!
When it comes to videos-on-demand (VODs), the gigantic library is refreshed and updated on a weekly basis.
From sports to entertainment and news, hundreds of channels from numerous different categories ensure that you have a pleasant time with XtremeHD IPTV.
Top the offer with friendly customer support available around the clock and you've got yourself a winning deal.
Did we mention it is very affordable?
When compared with the competition, the subscription fee almost comes down as cheap.
You can make the purchase with PayPal and credit cards, as well as use it along your favorite VPN for IPTV.
As for device compatibility, XtremeHD IPTV goes along well with Mac, Windows, iOS, Android, FireStick, you name it.
Like we said – XtremeHD IPTV is a no-brainer. Stick with it for zero mistakes.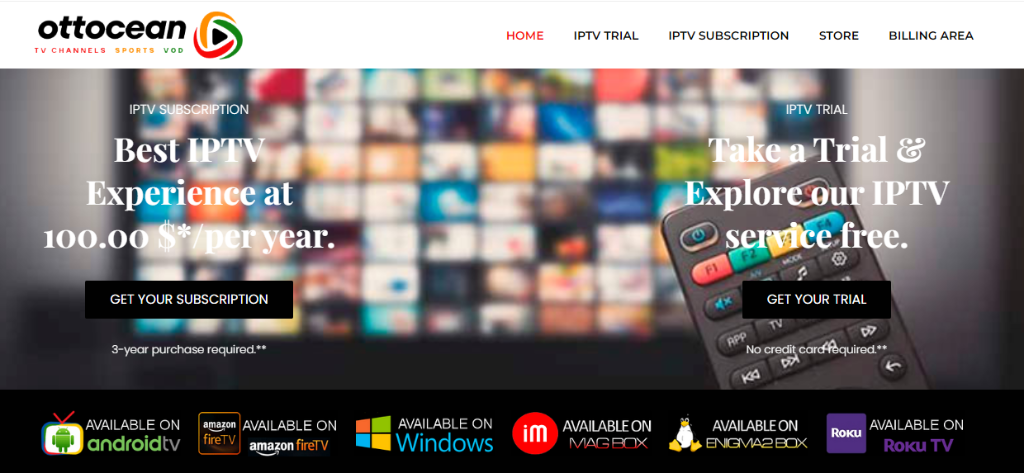 OTT Ocean is a perfect entry point into the world of IPTV.
You can watch movies, TV shows, and live channels on your PC or mobile device with ease and improved utility.
HD quality on all content guaranteed!
What makes OTT Ocean one of the top IPTV service providers is the technology that they employ, which allows fast streaming with the least amount of lag possible or none at all, even on slower Internet connections.
With more than 20,000 TV channels available, its users can consider their investment worthwhile.
Would you consider watching premium content for as little as $6.67 per month good bang for your bucks?
We most definitely believe so.
Especially when it comes with 24/7 live chat, support for all types of devices, antifreeze technology, and an uptime of 99.99%.
VODs, Movies, TV shows, sports, news, adult content, you name it.
There is an ocean of it with an OTT Ocean IPTV subscription!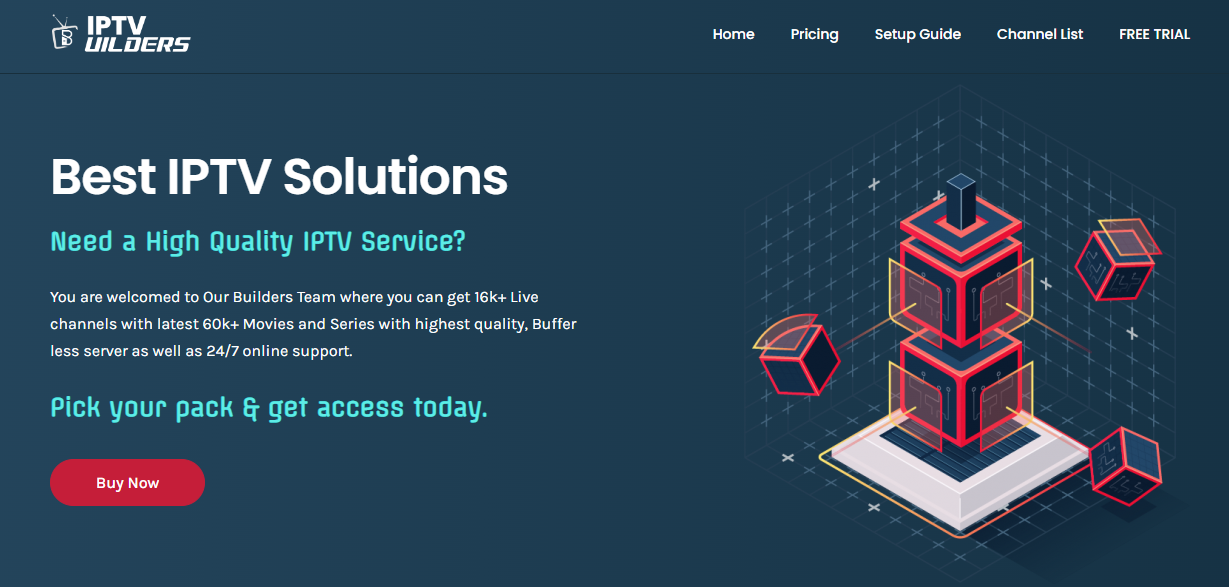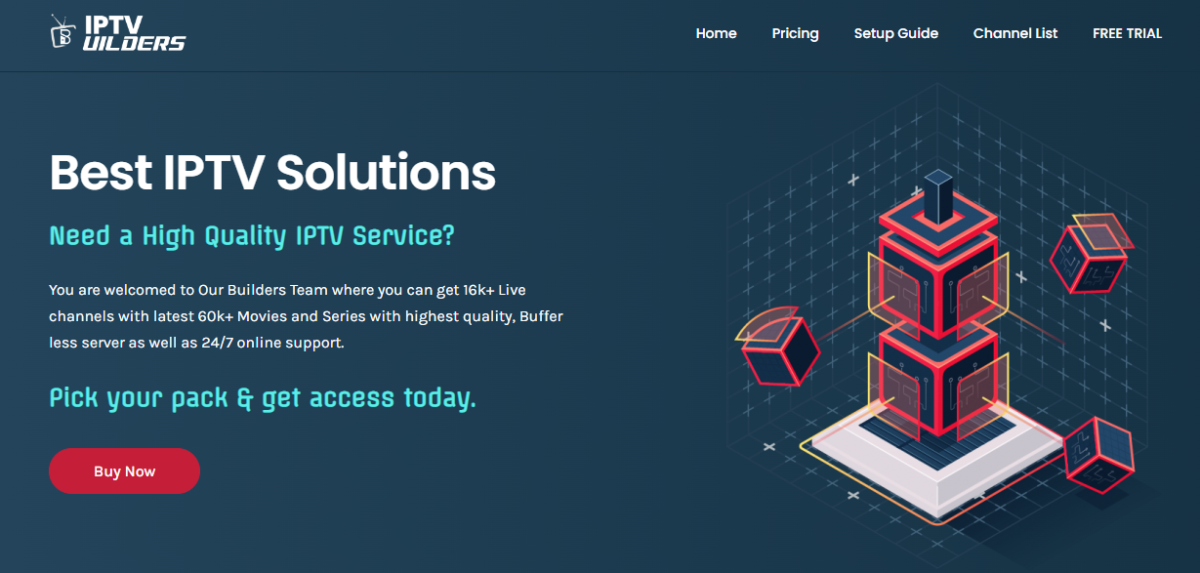 IPTV Builders is an IPTV service subscription provider that has been a blast in the broader North America region.
A host to more than 16,000 live TV channels and over 60,000 popular TV shows, movies, and other VODs, this service is almost guaranteed to host something to your liking.
IPTV Builders comes with content streamed in Full HD, with nearly zero buffering and extremely solid stability.
This makes watching live content an especially pleasant experience.
Watching sports no longer means fearing spikes and glitches when push comes to shove on the playing field.
IPTV Builders comes with compatibility to all commonly used devices, has friendly, around-the-clock customer support.
They even go to such lengths to provide a money-back guarantee in case of issues, which fosters trust between them and their users.
Without a doubt, IPTV Builders has deserved a place on our list. Congrats, IPTV Builders!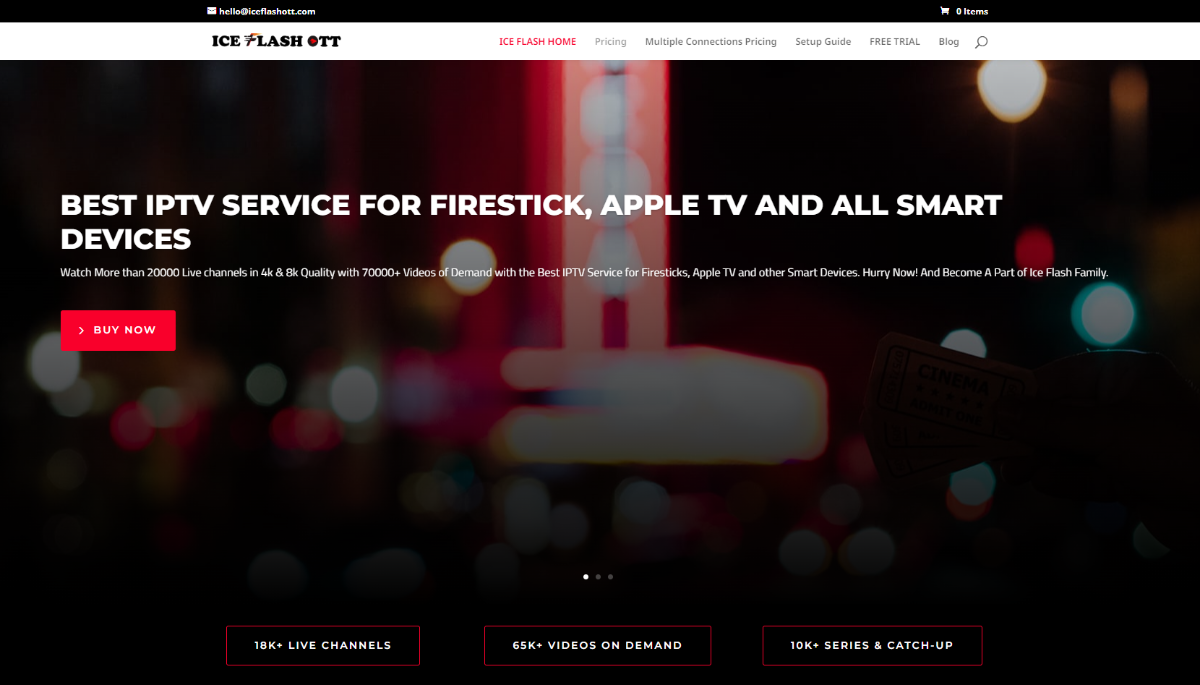 Ice Flash soars the skies of our IPTV list, and not without a reason.
It is an affordable IPTV service provider that offers more than 20,000 live IPTV channels, with prices going just slightly above the $10 per month mark.
Sounds interesting?
When it comes to the width of their offer, you can pick from a large selection of international channels, including all the major sports channels, news, movies, entertainment, and popular TV series.
Ice Flash subscription can be obtained via credit cards, debit cards, PayPal and crypto alike.
All the popular devices are supported, as well as commonly used IPTV players.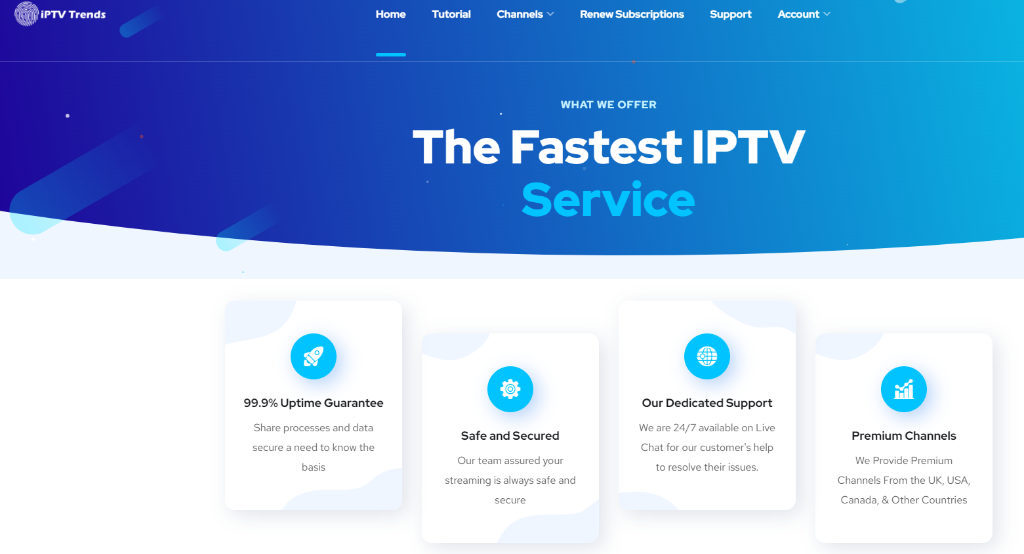 Speaking of trends in IPTV this year, IPTV Trends is still trending!
This neat piece of Internet television claims to be the one of the fastest IPTV services out of all that you can get.
So, what separates IPTV Trends from the rest? For one, its uptime of 99.99%, especially when combined with its blazing fast streaming speeds.
Both stable and quick? Where do we sign?
But it's more than that. What about more than 20,000 live channels and approximately 60,000 VODs for all its users?
Quite a feat, especially when compared with traditional, obsolete modes of television.
For people who don't tend to stick to a single place, IPTV Trends is one of the best IPTV providers as it allows watching content on the go, rather than binding its services to a single home IP address.
It's compatible with virtually any device, and delivers content from Americas, Canada, UK, and a dozen more countries and regions from all over the globe.
You'll have more than enough time to explore the best that this IPTV service can offer in a 24-hour free trial.
Nicely done, IPTV Trends!
The sixth spot here belongs to 6IPTV, a German contender.
The key to their booming success is the fact that they listen to customer feedback and appreciate their opinion.
This has led 6IPTV to incorporate more than 10,000 channels into their offer!
In spite of hailing from Germany, they specialized in English-speaking content as well as premium channels from all around the world.
As a result of their keen ear for some of their customers' complaints about the current data privacy concerns, they have made their services downloadable via APK, which boosts the protection of private data.
Furthermore, 6IPTV offers a 100% guarantee on satisfaction with their services.
Their servers are hosted on dedicated hardware to enhance loading speeds, eliminate buffering, and ensure the best possible uptime of streams.
Being almost error-proof, there is little need for responsive customer service, but they include that also.
We have nothing to add here. Flawlessly done, 6IPTV!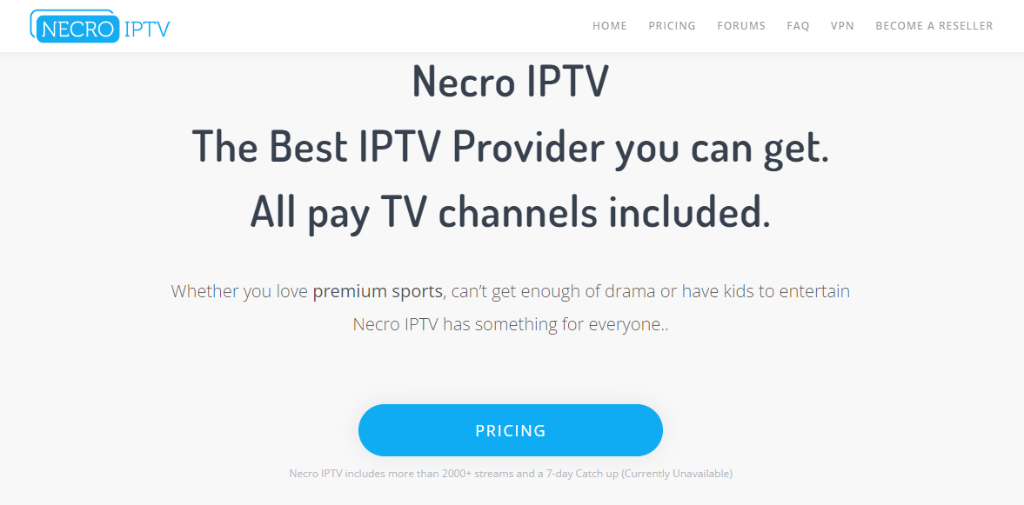 Bored to death with your traditional cable or satellite TV? Necro IPTV is here to resurrect you!
High-quality streaming service with virtually zero loading time?
That's a piece of Necro IPTV here and now!
Compatible with all common devices today, mobile phones included, Necro IPTV delivers more than 2,000 live channels from English-speaking countries such as the UK, USA, Australia, and Canada.
Of course, some of the best multilanguage and international channels get included as well!
Besides these, you gain access to a ginormous pile of VODs and an integrated RPG guide with two connections.
All that in the standard plan! This also comes with professional customer support.
Payment options include Bitcoin, credit cards, debit cards, and PayPal, which comes quite handy for tech-savvy users.
But wait! Before you commit, feel free to take Necro IPTV for a test drive – for 72 hours.
Yeah, you read that right, it's a three-days free trial!
Get amazed with Necro IPTV like we were and you'll become a loyal customer for a long time.
10. IPTV Smarters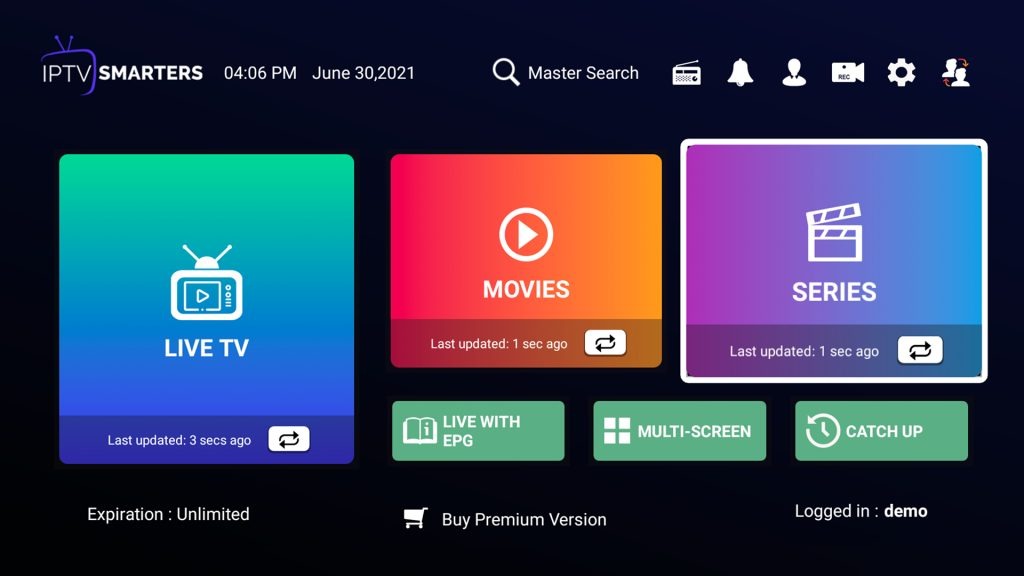 IPTV Smarters is big enough in its field to offer its services to both end users and other platforms alike.
Suffice to say, both are pleased with the level of quality they receive.
Their level of dedication is reflected in the fact that IPTV Smarters created their own eye-candy of an IPTV player.
And it is a sight to behold! Second-hand service providers rely on it to boost aesthetics and provide a simple solution for their user interface.
These services are compatible with most systems, including iOS, Mac, Smart TVs, Windows, FireStick, etc.
On top of this, IPTV Smarters boasts very high stability and uptime which hinders glitching out, freezing pictures, and breaking the immersion of your entertainment due to technical problems.
The service supports high quality streams and a wide selection of live channels and VODs, for more affordable fees than most of competition.
Add to this parental controls, EPGs, VPN support, master search, picture-in-picture support, and a bunch of other stuff, and you'll begin to get the picture of just how good IPTV Smarters is.
Perhaps even the best IPTV service you can get? You'll be the judge of that.
11. Philo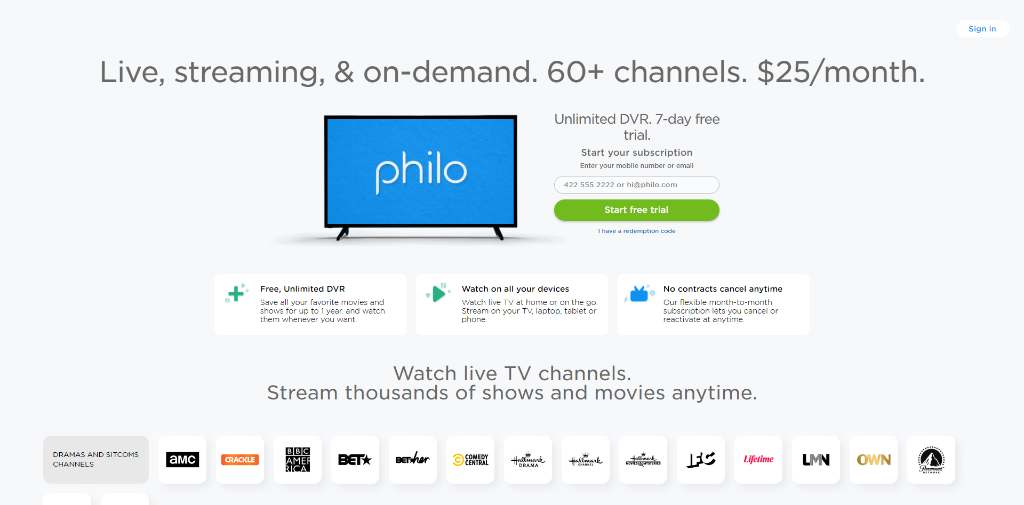 The first USA-exclusive on our list, Philo is (at least for now) limited to this North American country.
On the other hand, the amount of stuff that it has to offer, with the price it charges for its subscription, has ensured that Philo remains a hot contender.
Based in San Francisco, CA, Philo offers a short but sweet list of more than 60 live channels of American origin.
Besides these, they host an enviable library of VODs of extremely high quality.
The limiting factor being, well, the limited amount of content, is balanced by the quality of the picture which is astounding.
Streaming is breath-takingly fast, loading times are bare minimum, and a simple yet pervasive IPTV player is added on top of the bundle.
Philo subscription works on a monthly-basis only, which ensures you do not have to bind yourself for months or even years in order to watch their IPTV streams.
That said, you even have access to a 7-day free trial before you have to give them a cent!
Another neat feature is the ability to record videos and have them available in memory for as long as up to a month.
So yeah, you have all these VODs, but you can make some of your own, too.
If you're living in the USA, Philo is an obvious choice. We recommend it!
12. The Amazing TV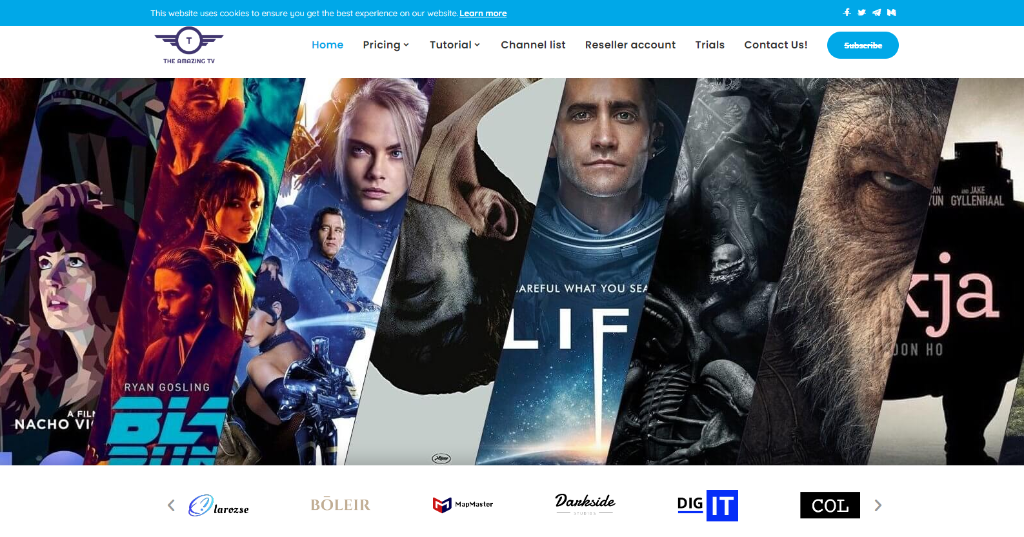 Besides being amazing, this IPTV service really is The Amazing TV. Not in name only, but in practice as well!
What can you expect from The Amazing TV?
More than 10,000 live channels, which we all can agree is huge, but on top of that over 24,000 movies and 2,500 popular TV shows remain available at your disposal.
This huge number doesn't imply that these guys amass stale products: the offer is updated on a daily basis with fresh content being uploaded to their servers.
Expect nothing less than a fluid rate of 60 FPS and Full HD quality from The Amazing TV. Otherwise it wouldn't be so amazing, right?
This comes with a seamless service, load-balancing, and support for smart-routing. In other words – an even stabler image and even faster streams.
A pretty user interface comes in the package to make the whole experience more pleasurable.
In that player, you as a user are permitted to hide, add, reorganize stuff, and add/remove content as you want.
The Amazing TV sure is one of the best IPTV providers in 2023.
13. Typhoon Labs TV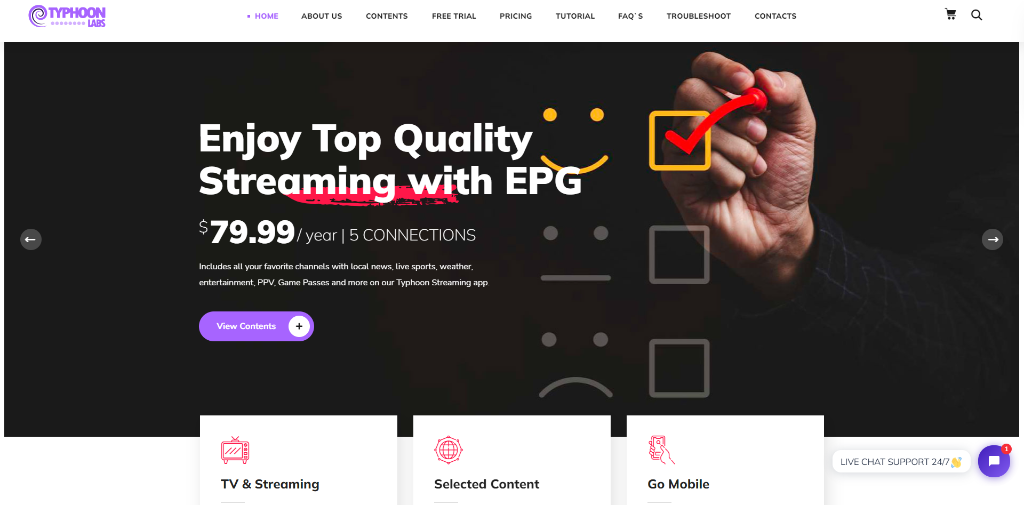 One subscription for five simultaneous logins? That's Typhoon Labs TV for you!
This IPTV service provides a powerful streaming site with a wealth of live channels and VODs that include movies, TV shows, sports channels, and video gaming channels with USA-native content included into the offer.
Short loading times, nearly non-existent buffering times, and customer service that is available around the clock is a standard for Typhoon Labs TV.
What makes Typhoon Labs a contender for the top IPTV service provider is the fact that you can also plug in your favorite VPN into the service and keep your location and private data secure and out of reach.
Typhoon Labs TV accepts payment via credit cards and debit cards only, however, but they do support all devices to balance this out.
Before committing, though, feel free to explore their free trial!
14. Falcon TV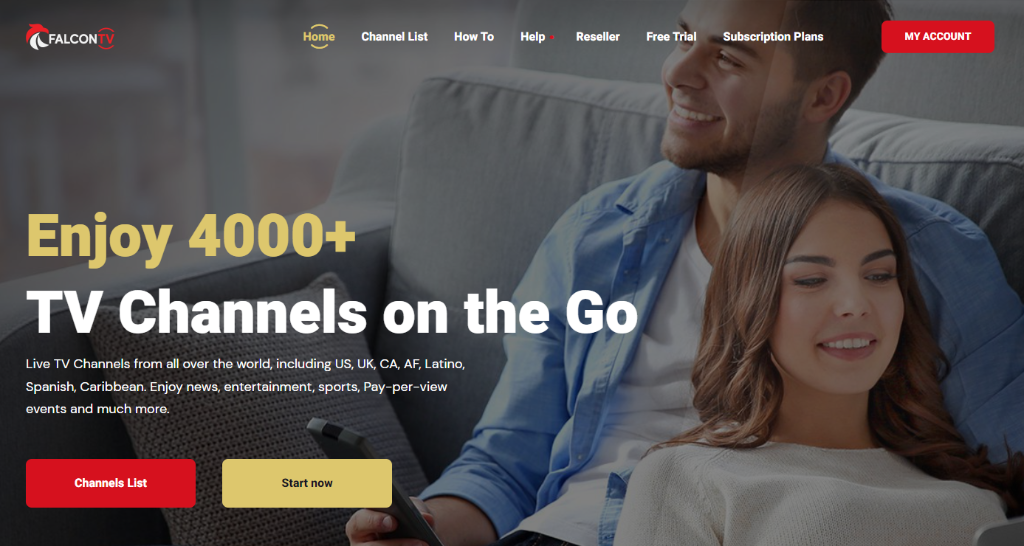 An ideal source for British and American TV channels and VODs like TV shows and movies, Falcon TV provides premium IPTV services, regardless of the fact you use it on static devices like PCs or mobile devices like Android phones.
Speaking of devices, it supports virtually all, including Amazon FireTV, FireStick, and NVIDIA Shield.
A broad selection of content is available in various categories, including International, Entertainment, Movies, Sports, and more.
You can choose from more than 4,500 live TV channels, 30,000 movies, and over 3,000 various VODs. These will never get stale with regular daily updates!
Their services are available worldwide, so never worry about content exclusivity. A welcoming customer service is there to ease the transition for you and fix whatever may pop up.
In other words, Falcon TV has a service of such fine quality that it deserves to be included in the best IPTV service providers list of 2023, easy as a breeze!
15. Kemo IPTV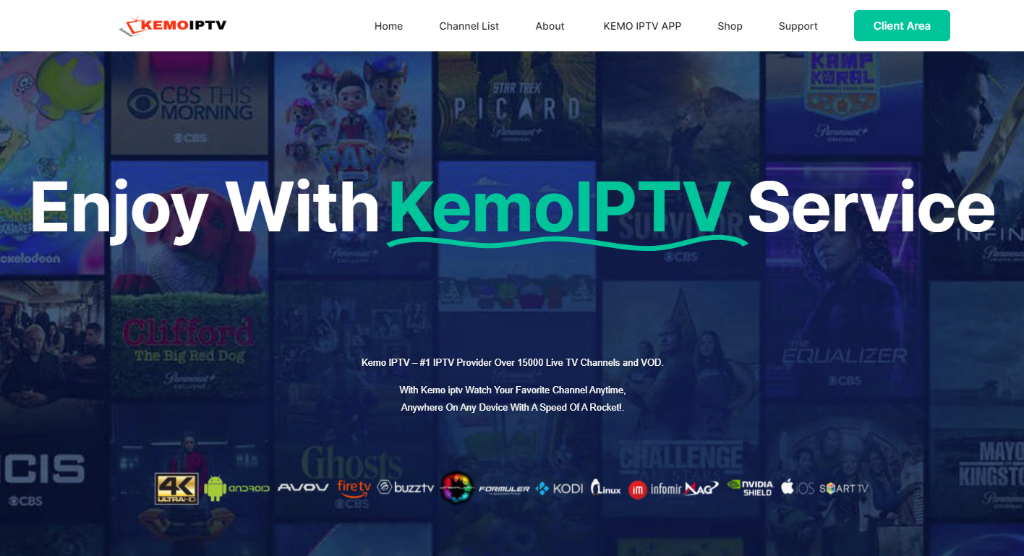 Another great alternative to traditional television, Kemo IPTV offers a superb selection of over 16,000 live TV channels, including those from the UK, US, and Canada, with HD quality movies, TV shows, sports, PPV, news, and so on.
You also get to choose more than one subscription option and customize your streaming experience down to minute details.
You are entitled to a 24-hours free trial before committing, so give your best to see as much as Kemo IPTV has to offer.
These guys accept payments with credit cards and Bitcoin. And they're very affordable!
Kemo TV is compatible with many popular IPTV players and devices, including FireSticks, Android TV, Google TV, Tablet, Windows, Mac, and others, and it even offers the standard package of 24/7 friendly and expert customer support.
Congrats, Kemo IPTV!
16. RocketStreams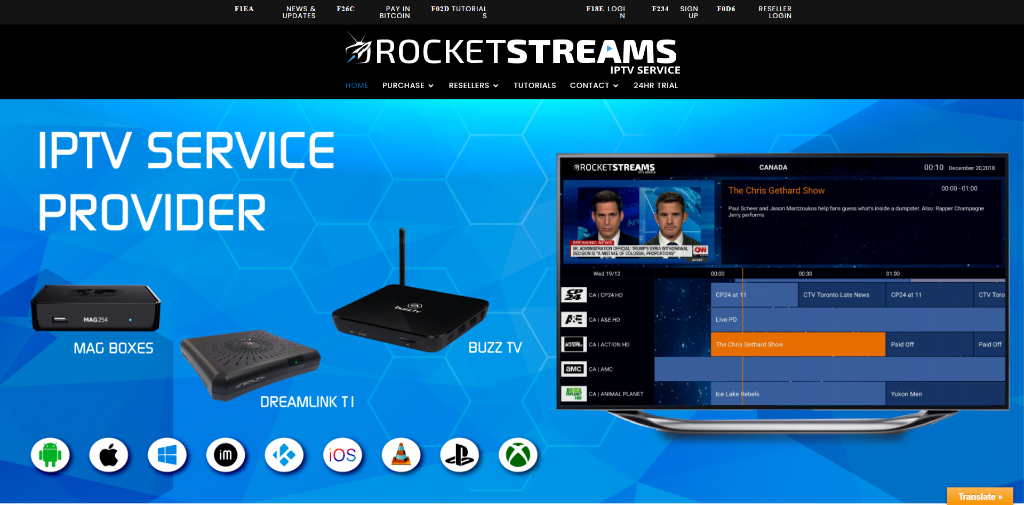 RocketStreams is an IPTV service provider that will launch your TV experience into space!
It provides mega fast streaming and access to HD quality content, from live TV channels to movies and various other VODs. Instantly!
These guys claim to have limitless live HD access to virtually every relevant sports channel in existence, from all around the world, including all popular sports!
Besides sports channels, more than 3,000 channels of other types from around the globe stand at your disposal as well.
RocketStreams IPTV supports fun, fast streams, and high stability, but it doesn't support freezing, buffering, and issues such as long loading times.
Couple this with several subscription plans, VPN compatibility, and a 24-hour free trial, and you get the premium service that you expect from an entry to the best IPTV service providers in 2023 list.
17. Comstar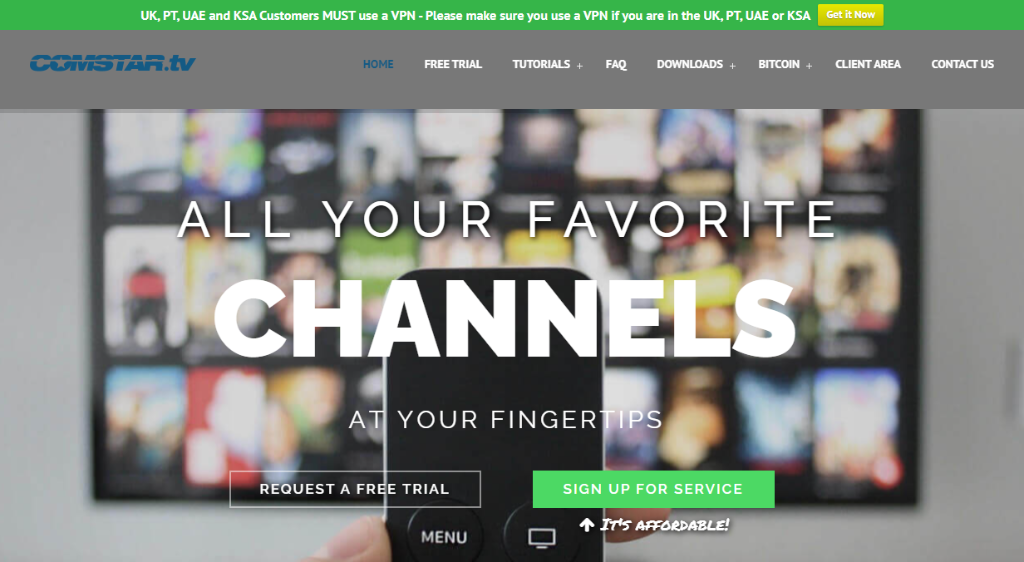 Comstar is the star of the list, as it gives you access to some of the favorite channels and TV shows from around the world.
You can easily navigate its huge libraries of content to reach something that will quickly grow on you.
Their client is pretty stable and filled to the brim with high-quality content. Feel free to plug in your favorite VPN to protect your privacy!
Comstar IPTV accepts payments in Bitcoin, credit, and debit cards, and they maintain compatibility with several devices such as Mac, Windows, iOS, Apple TV, Android, Linux, etc.
You can explore and manage the integrated EPG TV guide while customer support remains available to deal with any potential issues or problems with the service.
Embark on a 2-day free trial and make sure that you don't overlook the fantastic offer of Comstar IPTV!
18. DirecTV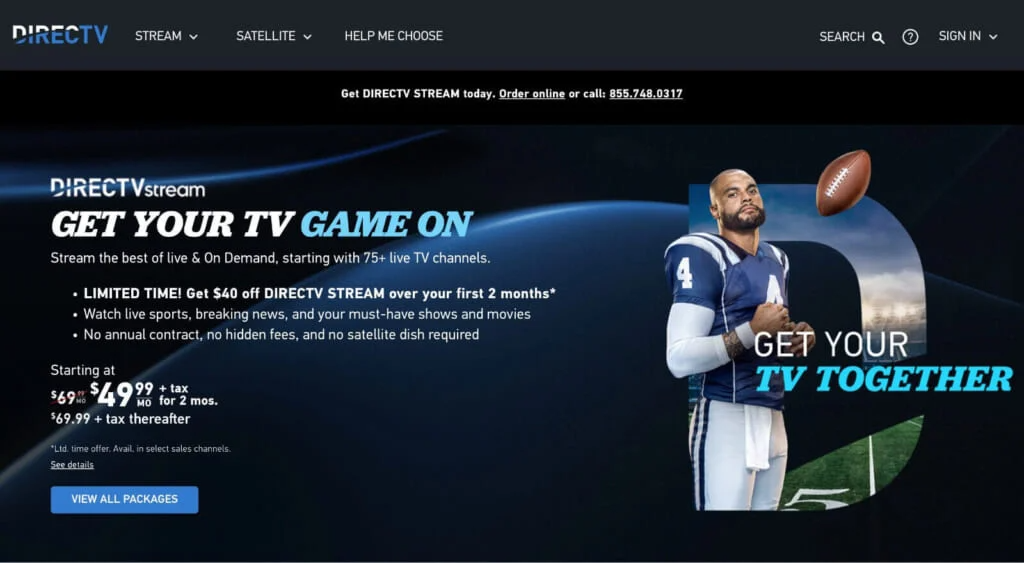 An IPTV service that provides its users with HD live TV channels and on-demand videos, DirecTV is a capable IPTV service provider that definitely deserves to be mentioned in our list.
DirecTV supports the use of three devices simultaneously, which can mean a lot in a big household or shared living spaces.
With this comes the parental control option, as well as the opportunity to swap the live TV stream with apps in a single mouse click.
With DirecTV, you get free premium channels for a three-months period, which is a free trial in a sense so feel free to explore a bit of what this IPTV service is capable of.
This service has a plethora of sports channels, including live Fox sports and a significant number of live NBA TV channels.
For all you sports fans, give DirecTV a go!
19. IPTVGang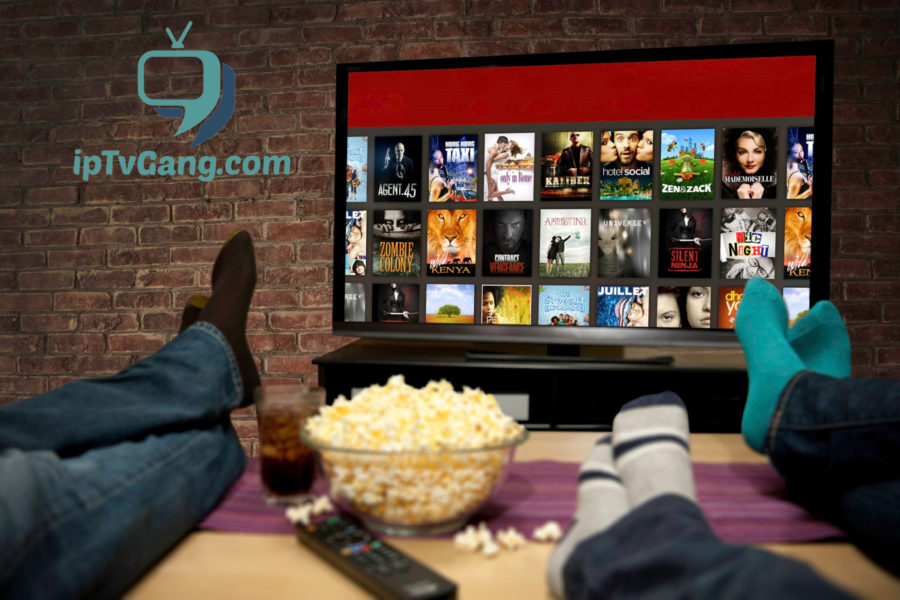 IPTVGang's got a huge gang of live TV channels with a selection of more than 30,000, both free and premium.
It provides streams of content from all over the world in HD, Full HD, and even 4K, with some of your favorite movies, TV shows, and streams from any location and on any device.
The choice is updated regularly so you always get the most fresh content, from worldwide premium sports channels (no additional pay-per-view) to channels and trending movies dedicated to kids.
IPTVGang boasts an uptime of >99.99% and a solid, stable stream with no freezing or excessive buffering.
For the most die-hard fans, discounts are offered if you opt for quarterly, half-year, or full-year plans.
Plug in your VPN service on your iPhone, Android, Windows, iPad, or whatever it is that you're using and you're good to go!
Nice job, IPTVGang.
20. Bunny Stream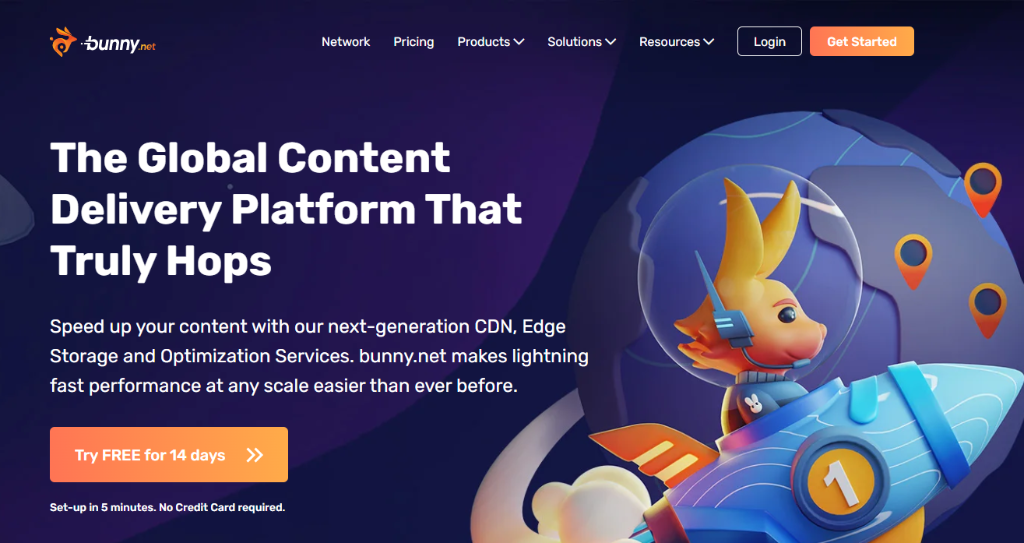 Last but not least, Bunny Stream is the final entry on our list, but don't let this deceive you, they're just as good as other IPTV service providers here!
If Bunny Stream becomes your IPTV of choice, you can watch movies, sports, TV shows, live events, and movies on-demand, but also observe from more than 15,000 live TV channels that are readily available to all users.
Bunny Stream boasts an uptime of well over 99.99%, which implies stable picture and quick loading times coupled with a stable picture from streaming.
When it comes to compatibility, pretty much any device that you can think of supports Bunny Stream, from Windows and Mac to Android and Chrome TV.
You can always take Bunny Stream for a test drive with a free trial in which you will see exactly what it's able to provide, so no need to tie the know with them until you get to see what IPTV entertainment they provide.
Conclusion
Now you have it, the list of 20 best IPTV service providers in 2023.
Our vote goes for all the candidates on the list, so whatever you opt for from here will surely bring something to the table.
Not the table, the TV, but you get the idea.
Phase out of obsolete modes of television. Embrace IPTV.
Pick a safe and professional candidate from what we presented to you.
And enjoy the best possible TV experience that you can get in 2023. Have fun!