Instarazzo Review2022
For as long as anyone in the younger generation can remember, Instagram has been a hallmark of social media. It is one of the best places to share videos and images with friends and family, and recently is has become a place where you can expand the reach of your brand and get more people filtering through to your website where you sell your product or service.
The bottom line with Instagram right now is that if you aren't using it to try and grow your brand's reach, then you are definitely missing out. The thing is that there are lots of companies out there that can help you with your Instagram growth – you've just got to know where to look for them, because they are plenty that don't have any interest in keeping you safe and make sure that you aren't violating Instagram's terms and conditions.
Let's take a look at one, and decide if they are well-suited to your growth or not, and then lets list some alternatives that you can try instead.
What is Instarazzo?
Instarazzo is a company that says that they have marketing tools that can help you gain real followers for your Instagram profile. They say that they are good for helping you market your Instagram profile organically and they also say that they are really good if you are hoping to market your Instagram in a way that is fast and secure.
They believe that they have all the necessary features to help you with this, but honestly we think that they are just another Instagram bot that doesn't want to help you beyond the basic requirements. They talk about on their website how they have a free trial that you can try out for three days, and while this is helpful it's not going to give you a good idea of what you can expect from them.
You also need to be careful with free trials that they don't need your credit card information, because if they do they could use it afterwards to rip you off.
Instarazzo Features
Instarazzo say that they can help their clients out with automatic likes, automatic follows, and automatic comments. They say that they can automatically like the content of the people that you are wanting to follow you, so that they can draw their attention and get them interacting with your content as a result.
They say that this method applies to all of their engagement, but again we believe that their features are generic and basic, the kind of features that you can literally get with every other company out there, so there is nothing that is making them special, and there is no reason to believe that they are going to help you beyond some basic interactions.
They have information on their homepage about how to grow your Instagram in general, but this doesn't really relate to their features in any way. If you go down their homepage a little bit, you will see that they also offer a comments manager, automatic direct messages, and a post scheduler too.
They believe that their customer support is some of the best in the industry, and they also claim to have maximum security, so you don't ever have to worry about whether your Instagram reputation is in jeopardy or not.
Instarazzo Pricing
What's really interesting is that they have a lot of information about their features and how they work, but if you really get down to it you will realise that there is no evidence of pricing anywhere on their website.
This is concerning because you need to know how much you're going to pay for something before you sign up for it, and we think that they are hiding behind the information that they are sharing which is somewhat pointless.
We think that it's risky to go with a company where you can't see the pricing before you sign anything, because it means that you will probably get hit with further costs down the road, and ultimately pay much more for their features than you would like.
How Did Instarazzo Do in Tests?
Instarazzo was put to the test by our team to make sure that they were what they claim to be. Even though we couldn't see how much it was going to cost us, we signed up for their Instagram growth bot. We are obviously concerned that they are so blatant about it being a bot, but at this point it's hardly surprising.
The bot got to work for us straight away, but we were disappointed with the results. They were hardly relevant to our niche and industry, and we thought that a lot of their engagement dropped off again after just a few days.
What About Their Team?
One last thing to think about with Instarazzo when reviewing them is whether they have a lot of information about their team or not.
As we have mentioned multiple times, there is no end to the information that you can find on their website about their features, but we couldn't find anything about the people that are behind their service development.
This means that they could be hiding other things, and don't really want you to know who is responsible for coming up with their feature list. It's better to find companies that can be more open about this kind of thing.
Are There Sites Like Instarazzo?
Instarazzo comes with a free three-day trial, as well as the promise of being able to grow your Instagram account organically. While this sounds promising, we always recommend having a few options as backups in case anything were to happen.
Instagram has been pretty prolific lately in their mission to cut out anyone who is offering their users help with their engagement growth, which means that you need to be prepared.
Luckily, we've done the research so that you can have some options which we think are the best out there. Let's take a look at some legitimate Instarazzo alternatives.
First Look
1. Best of the Best: Growthsilo
"I think that Growthsilo is one of the best Instagram growth companies out there, and since I first discovered it, they haven't let me down once. I think the best part about them is that I can get them to help me with all the different aspects of my brand – not just the engagement itself. Check them out for some brand new features, too."
2. Second Best of the Best: Growthoid
"I think that Growthoid knows what it takes to develop a successful profile on Instagram. What's more, from the very beginning, they made me feel valued as a customer. They don't just want to make a quick buck out of you, they want to develop a long-term relationship so that they can stick around for a long time."
3. Best for Your Budget Margins: Follow Adder
"I think that one of the biggest struggles I've had since I've been looking for an Instagram growth service is finding one that caters to my budget. There aren't a lot of options out there where they truly care that I've got a budget limit. Follow Adder does, however, and they haven't changed their prices since."
4. Best for the Security of Your Account: Task Ant
"I recommend Task Ant because they are a company that is up with the times, but they have and old school mentality when it comes to the security of your account. They know that this is still an important part of running an Instagram account, which is why they always put it first."
5. Best for an Old-Timer: Jarvee
"I like Jarvee because they are a simple yet effective Instagram growth service. They offer their customers consistency, great prices, and features that you'll struggle to beat. They also have experience in the industry and know what it takes to be successful on Instagram."
Instarazzo Alternatives
1. Best of the Best: Growthsilo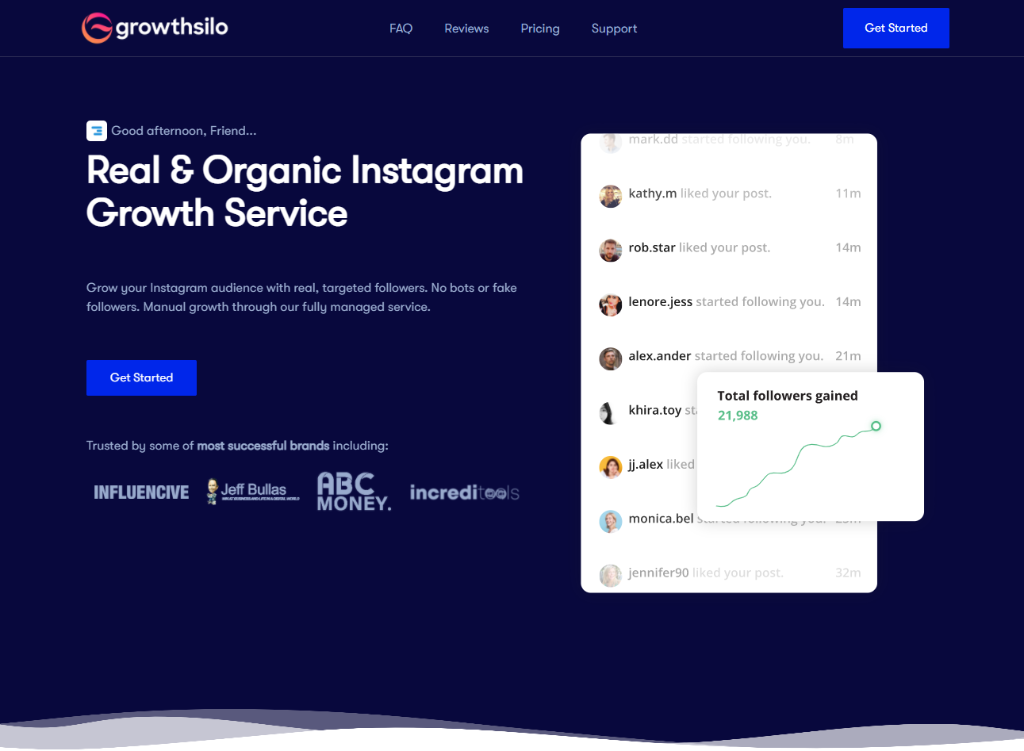 When we reviewed Growthsilo, we discovered that not only can they help you with your Instagram growth, but they can help you with other parts of your online branding as well.
This is because they know that it takes more than just having a good Instagram profile to build an online brand. From email marketing to website building, Growthsilo can do it all.
2. Second Best of the Best: Growthoid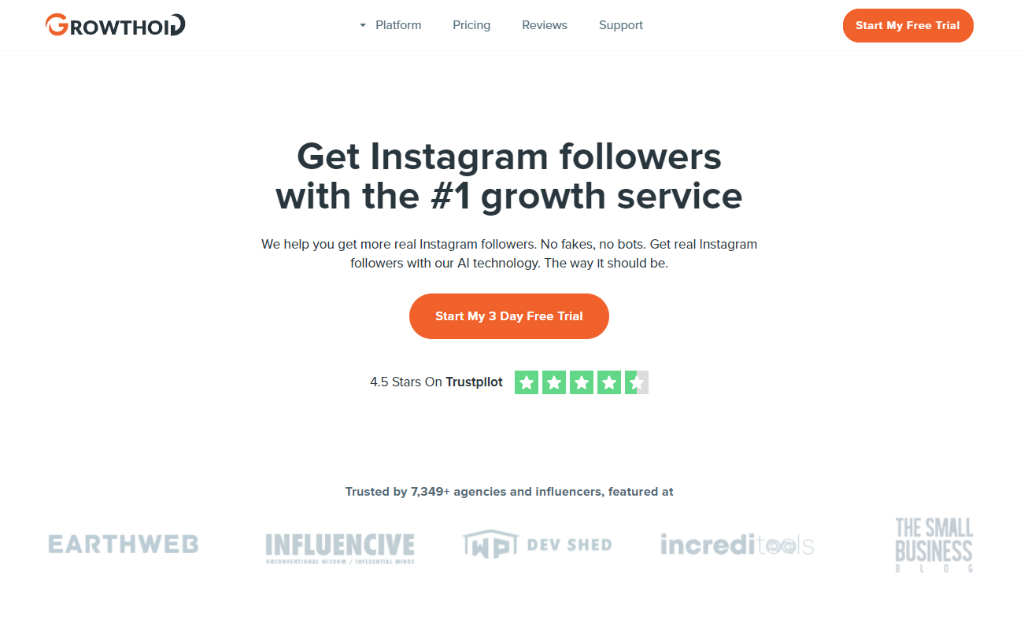 When we reviewed Growthoid, we found out that along with Growthsilo, they have just come out with a brand new feature that is going to boost your Instagram engagement and put it ahead of others.
You can forget about the old, outdated way of following and then unfollowing people again. Growthoid and Growthsilo can help you view other people's stories, which is going to attract them to check out your content.
3. Best Your Budget Margins: Follow Adder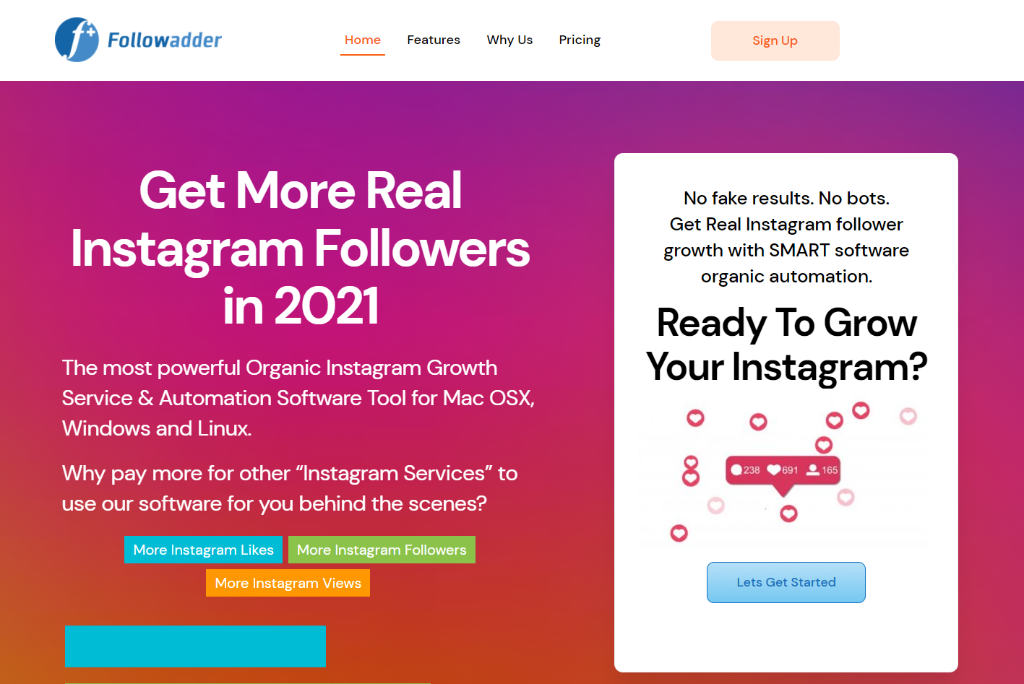 We all know that budget is one of the biggest things people are worried about when turning to a third-party company to help with their Instagram growth. There are very little options out there that have the perfect balance between affordable prices and great features.
Most of the time, the companies that are affordable don't come with very good options. Follow Adder solves this problem. They have amazing features and they haven't change their prices since they first started.
4. Best for the Security of Your Account: Task Ant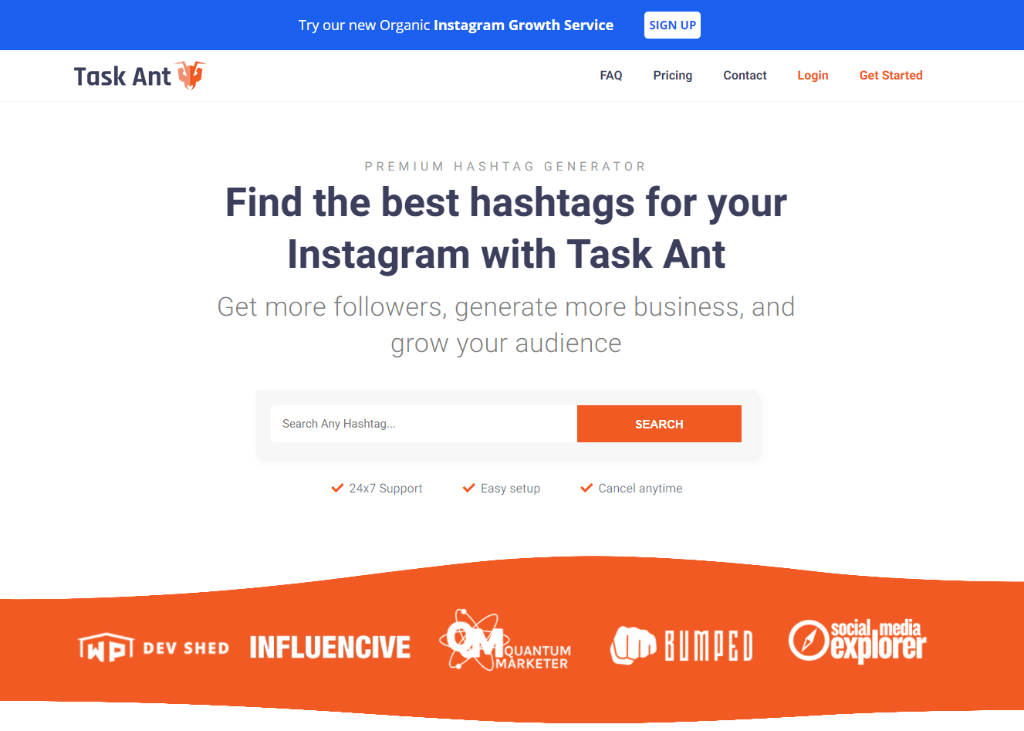 Our review of Task Ant showed that not only do they have great security measures in place, but they also can help you discover a completely new way to grow your Instagram.
There are many ways to do this, and Task Ant has capitalized on one of these ways. As we all know, hashtags are pretty important for growing your account. Their search feature lets you find out exclusive data on your hashtags, so you can know whether to use them for your growth or not.
5. Best for an Old-Timer: Jarvee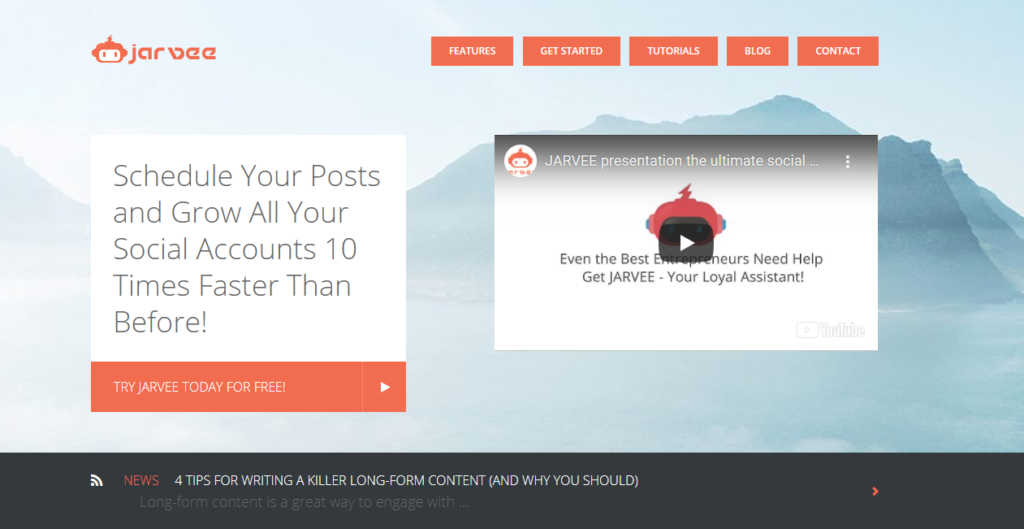 Most people's attention is focused on the future, which means that everyone is usually on the lookout for the next best Instagram growth company.
However, we think that there are some older companies who are still just as great, and sometimes even better. Jarvee is one of these companies. If you've got Windows, you can download their dashboard and customize their features.
Did You Know?
So, how many influencers do you think there are on Instagram right now? It feels like everyone is trying to get a piece of the Instagram pie these days. In fact, there are 500,000 current active influencers on the gram, all vying for your attention.
While this may not seem like a lot, it's still a lot of people to be competing with. This being said, if you can become one of them, you've got a good chance of selling your brand. This is because there are 130 million Instagram accounts that click on a shopping post every month to find out more.
Our Review Process
When we do our review process, we make sure to do the research first. We do this by checking out at least 121 Instagram growth companies, and as many as 320 customer reviews that say both good and bad things.
This way, we can make an informed, critical decision about which companies should make our list. Check out their free trials today and see which one is best for you.