Instagram Bot Follower Review 2022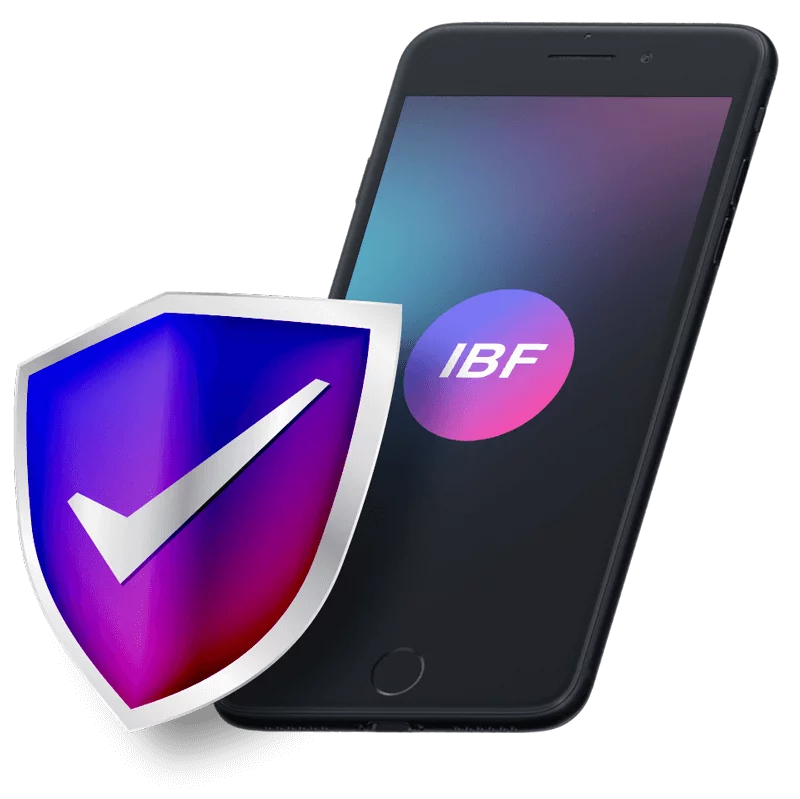 It's no secret that Instagram is notoriously difficult to grow, especially if you're doing everything yourself. The last thing you want to do is bog yourself down with having to carry the burden all alone, especially if you plan on being around on Instagram for years to come.
The good news is that you don't have to because there are tons of companies out there that can help you with your Instagram growth. You've got to be careful though, because a lot of them claim to be something when they're not. A lot of them claim to be legit, when at the end of the day, they are just a scam.
To avoid companies like these, you've got to look at reviews like the one that we have below for a particular site, so that you can determine whether they are trustworthy or not. Let's check them out.
What is Instagram Bot Follower?
Instagram Bot Follower claim to be next level Instagram automation, and it would be nice if they were, but we think that they are just offering their clients fake engagement, as well as automation is going to get you in trouble. They say that they are so much more than just another Instagram automation service, but we don't think that they are.
One thing that they do claim to be able to help you with is your Instagram stories, which is still a relatively new feature on Instagram. They have a nice, bright website, but at the end of the day, it's not about their website, it's about whether their features are legit or not.
What are Instagram Bot Follower's Features?
Instagram Bot Follower say that they offer their clients all of the necessary features that they are going to need to do really well, including a direct message manager, and the ability to automatically follow and unfollow people.
They say that this is one of the most effective methods to being able to grow your Instagram profile, and make sure that you are only interacting with people who are genuinely interested in your content. They also claim that they have a mass voting feature, which is going to put your Instagram stories in front of millions of users every day.
Again, all of these things point to what you would assume to be a great service for Instagram, but we don't think that they are all they claim to be.
What is Instagram Bot Follower's Pricing?
Instagram Bot Follower begins their pricing at $9.99 a month, and they say that they can help you manage one Instagram account for this price. They state they can also help you hypervote, but this comes with limited targets, and they also have a repost feature, which we assume means that they can help you post Instagram content ahead of time.
Their next package is going to cost you $25 a month, and this can help you manage three Instagram accounts, and comes with what they claim to be a direct message manager. $49.99 a month is going to get you management for 10 Instagram accounts, as well as a direct message manager and a profile scraper. They say that you will also benefit from their priority support.
How Did They Do in Tests?
Instagram Bot Follower was put to the test by our team, because we want to make sure that we are giving you the best advice when it comes to growing your Instagram profile. We decided to sign up for their basic package, which as you know helps you manage one Instagram account, and we are sad to say that we were disappointed with the results.
All of their engagement came through in a timely manner, but as soon as it came through, it was evident that it was fake, and not the kind of engagement that was going to increase our engagement rate in any way.
Additionally, we decided to check out their Trustpilot reviews, and they are pretty terrible. People have complained that their automation doesn't even work, and it is a complete scam, because they are notoriously difficult to get in touch with.
What About Their Team?
If Instagram Bot Follower cared about you in any way, they would have a lot of information on their website about their team. They are more than happy to show off what we believe to be fake reviews about their services, and they're also more than happy to talk about the services themselves.
However, when it comes to talking about the people behind the features, they are completely silent. This tells us that they are hiding things from their clients and they don't have the type of reputation that is going to make sure that you stay safe and secure while using them.
For all intents and purposes, InstagramBotFollower doesn't come across as a company that has its priorities straight. It says that it can help you manage more than one Instagram account at once, and can help with photos, videos, and stories – but we think they're a scam.
It doesn't hurt to add other companies to your arsenal so that you can mix it up every now and then and forget about terrible options like this.
Let's take a look at a list of InstagramBotFollower alternatives, and discuss why we think they're worth it.
First Look
"Growthoid changed the game for me. This company is not only great at what they do, but they're effective – there aren't that many companies out there that can say this. They have the right features for my growth, and have followed through on their promises."
"I liked Growthsilo from the get-go because they were able to help me through the good times and the bad. They were also able to keep up with the ever-changing landscape of Instagram and make sure that I was able to reach my community in different ways."
"At first, I was a little hesitant to try Upleap, just because they look so plain and simple on the outside. However, when you get to know them, you realize that they're anything but. These guys are hard workers, and they have some of the best features in the industry."
"I love Task Ant because they're the only hashtag generator I've found that has the right amount of stats and analytics to get my hashtag strategy to where it needs to be. They can help me work out which hashtags to use, and which ones to avoid, too."
Best for Protection: Ektor.io
"My favorite Instagram growth service is Ektor.io. Why? Because they have managed to not only help my Instagram account take on a new level of growth, but they have done it while maintaining my safety. Safety is important to me, and I feel confident with Ektor.io."
Best for Being Original: Trusy Social
"Trusy Social might be one of the best Instagram growth services out there, in my opinion. This is because they charge outlandish prices, but they make it totally worth your time. You might pay less elsewhere, but you're not going to get the growth you need."
Best for Variety: Combin
"I needed an Instagram growth company that was going to grow my Instagram fast, no matter what. Combin is that company. They can also help me put up content for later so that I don't even have to think about it until I see it already loaded onto my page."
Our Reviews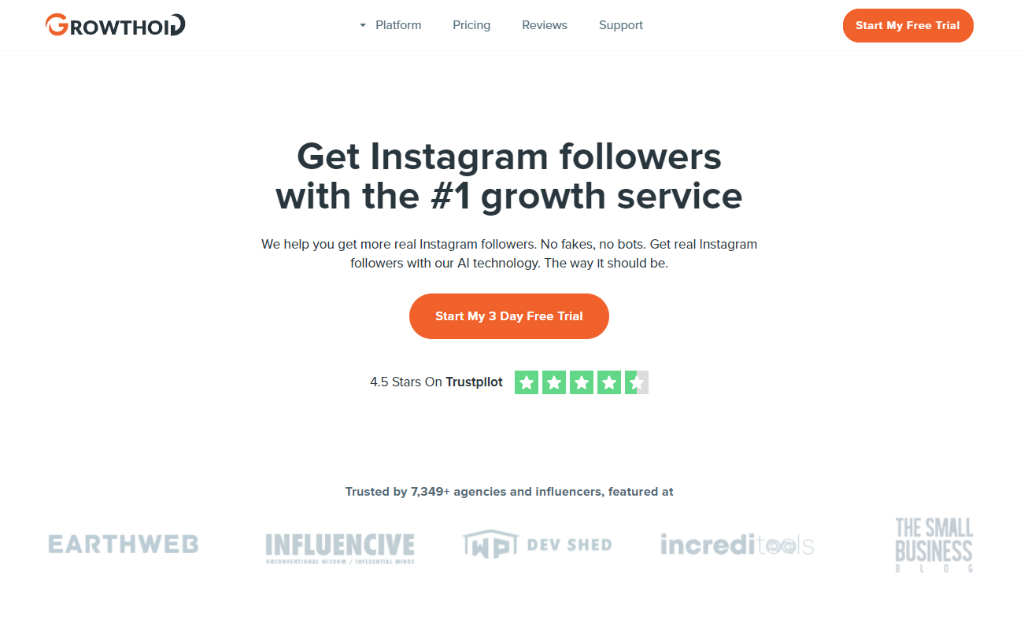 Tired of grappling with companies that make all kinds of promises before letting you down again and again? Well, you don't need to do this anymore with Growthoid. Growthoid is the kind of company that can help you not only with your Instagram growth, but they can take the speed up, too – all the while making sure that your account is safe from being banned.
They are safe, but they are effective, and this kind of combination is pretty hard to find in an industry like this. We highly recommend these guys and think that they will serve your growth well.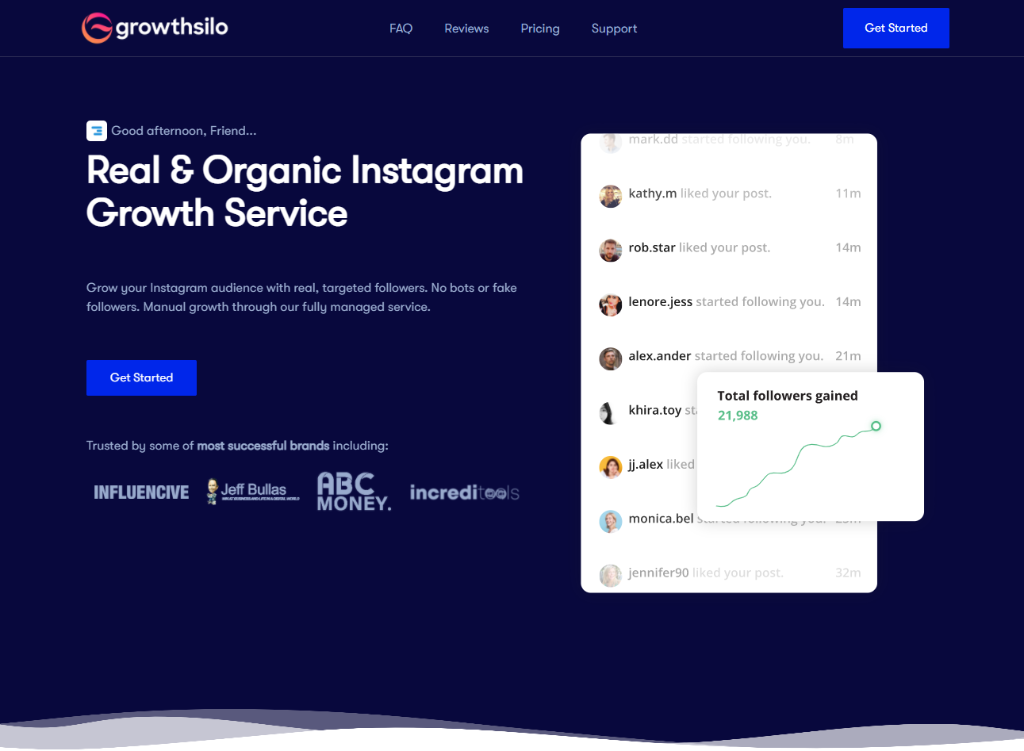 You might have noticed what our reviewer said about Growthsilo above. These guys have been through it all, and yet they show no signs of slowing down. They are one of those rare companies that have been through everything since the beginning, and yet somehow is still standing.
They have updated their features many times over the years to make sure that they're still aligning with Instagram, and we love that their main feature is now a mass story viewer. Try Growthsilo for all of your Instagram growth needs.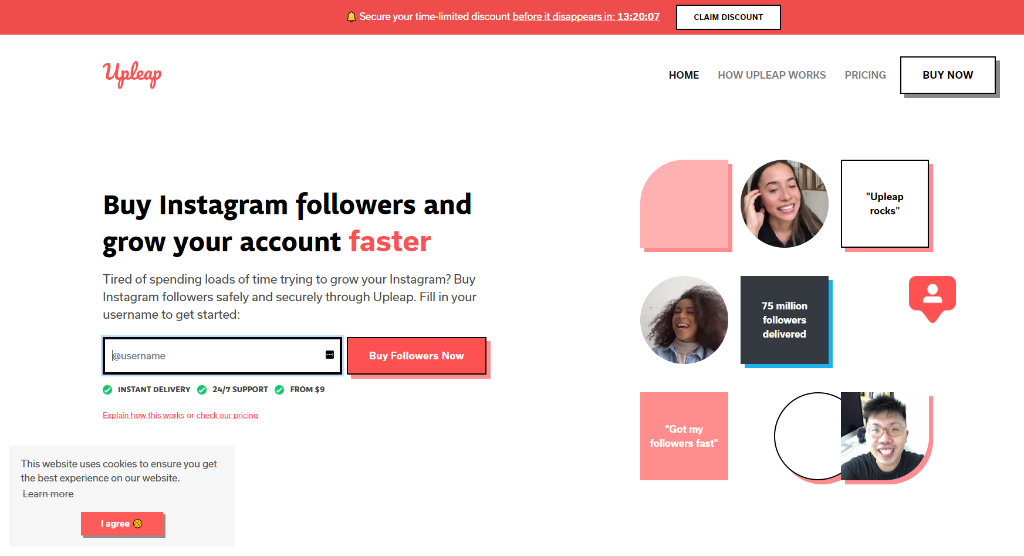 You read what our reviewer said above – you could very easily misunderstand what Upleap has to offer. In fact, there must be quite a few companies out there that get overlooked because they are judged by their appearance.
What we love so much about Upleap is that they're the opposite of what most people think, so they're always pleasantly surprised. We also like that you can try Upleap for free before you commit – and there's no need to share your password, or credit card to do so. Get on Upleaps level, and take your account to new heights.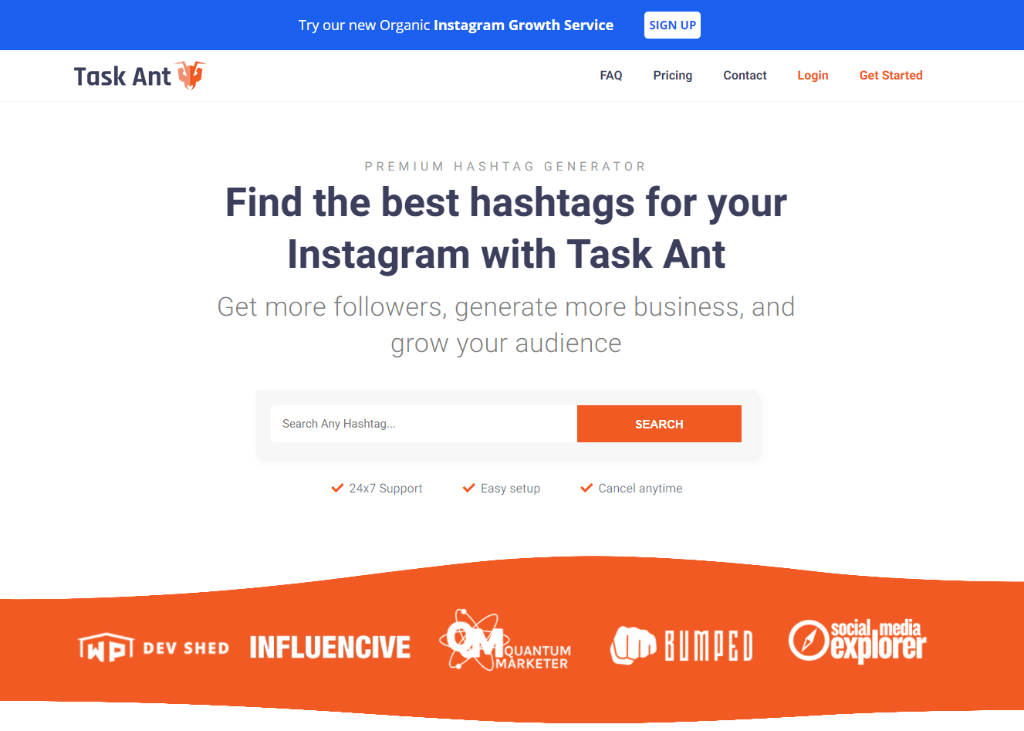 If you're someone who needs a lot of help getting their hashtag strategy in line, then you're going to love what Task Ant is offering. This company was actually one of the first to implement a hashtag generator into their services, and we honestly think that because of this, they're one of the best.
There isn't that much that they've changed about it, which we love, and it comes with all the stats and analytics that you need to make an informed decision about the hashtags that you use. They offer an Instagram growth service as well, making them an excellent all-rounder.
Best for Protection: Ektor.io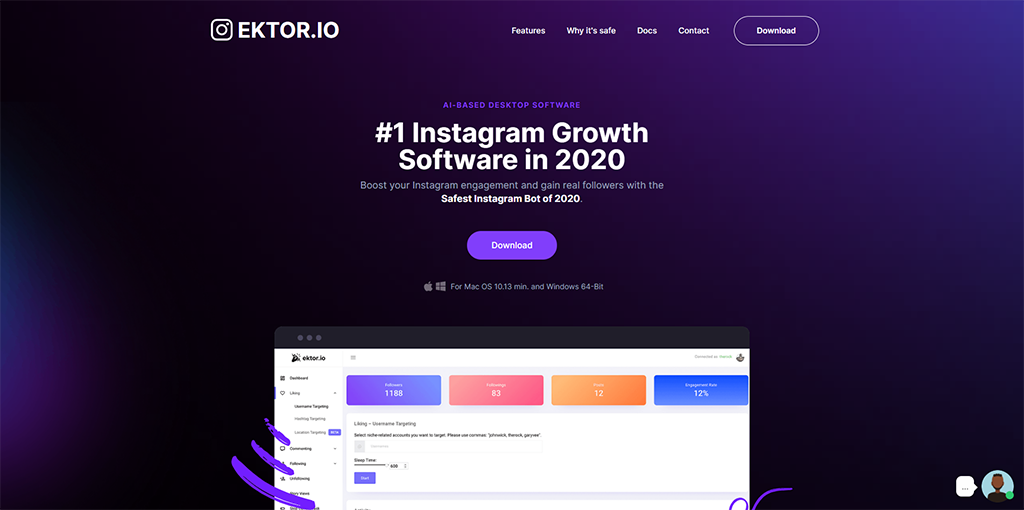 Security is probably one of the biggest issues in this industry when it comes to Instagram growth services. Instagram itself has a list of things that it allows and doesn't allow when you're using a third party to help grow your account, which is why it's so important to find a brand that is in alignment with this.
Luckily, there are companies like Ektor.io, who take safety and security to a whole other level. They not only have undetectable software, but they use proxies so that you can remain completely anonymous when you're online. We honestly don't know of a better company for your Instagram growth needs.
Best for Being Original: Trusy Social
When you first visit the Trusy website, you could be forgiven for thinking that they're too high brow for most people. While they might come across that way, if you dig a little deeper, you will get a much better understanding of them – one that will help you see what they're really all about.
Trusy Social only ever wants to help their clients get to the next level on Instagram, and they can do this through their amazing features. They have expensive price points, but we can promise that they're worth how much you pay for them.
Best for Variety: Combin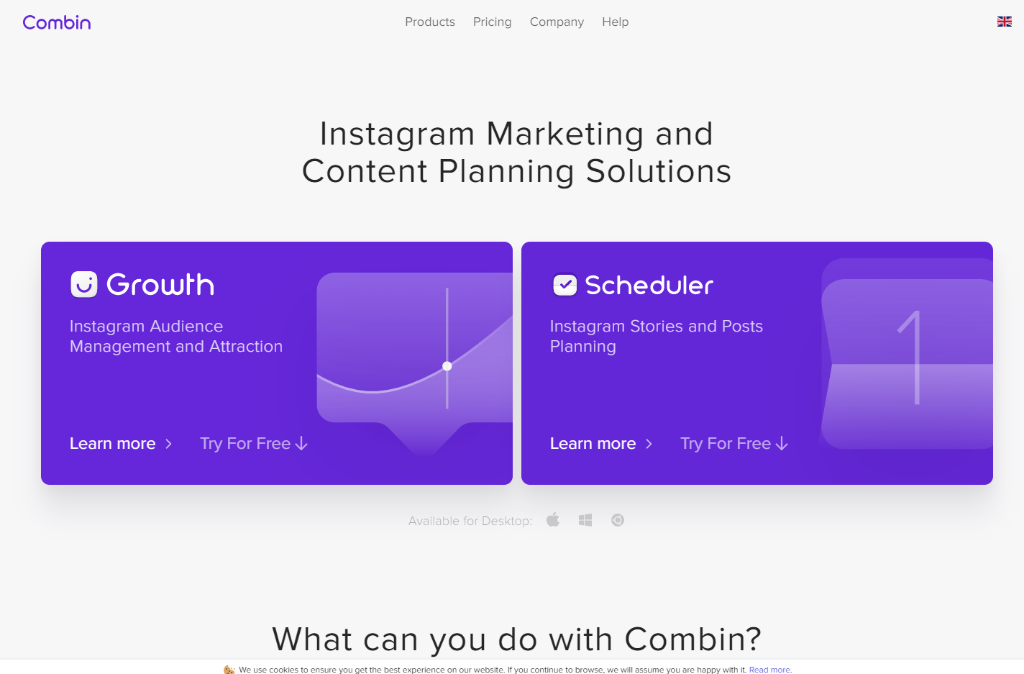 Not only can you focus on growing your Instagram account fast with Combin, but you can also benefit from their content scheduler, which you might have noticed our reviewer talking about above. We love that they have both on offer so that you can cover everything when it comes to your Instagram profile.
If you're someone who likes to set and forget content so that you can move on to the next idea, Combin is the perfect approach. If you're also someone who needs serious help with your Instagram growth, they can do this as well. In fact, there's not a lot that they can't do.
Did You Know?
There's a lot of things that you probably don't know about Instagram and how it has impacted the social media world since it first came out all those years ago. How much time do you spend on Instagram every day? It might feel like a lot, but did you know that the average Instagram user spends 28 minutes a day on the platform.
While this might not sound like much, it's still more than enough time for you to have an impact on your brand and what it stands for. Try to align your brand with the right community, and you'll achieve the right kind of growth.
Our Review Process
There are many different ways to approach the list above that we've made, but one thing's for sure that you can't come to a conclusion about the best InstagramBotFollower without doing a bit of research. We made sure to look at 214 Instagram growth services and read through at least 288 customer reviews, to make sure that we were getting the bigger picture.
This way, we could make an informed decision about which companies are worth your time and which aren't. Make the most of any free trials you see above and watch your Instagram reach new heights with the best in the market.