The blockchain and cryptocurrency industry is a male-led world. In the beginning, almost 100% of participants were male, and the situation hadn't changed much, with 91% of the players being men in 2018.
But in recent years, the situation has changed. The number of female investors increased by 198% in 2021 alone. The concentration of the fairer sex among the industry employees has reached over 43%. In this article, we will talk about the five women who have made significant contributions to the growth of the industry.
Fang Yu
Fang Yu is best known in China, as she is the co-founder and COO of BitKan. She started her career in cryptocurrency as an executive at Fortune 500 company, and later teamed up with her colleague Leon Liu and founded BitKan.
As a result, BitKan has grown from a startup with four employees in 2013 to a $100 million giant in 2018 with a leading position in the Chinese market. Fang Yu is considered one of the pioneers of the cryptocurrency market.
Laura Shin
Laura Shin is one of the top journalists in the blockchain and cryptocurrency space. She has worked for well-known news outlets such as The New York Times, The Wall Street Journal, and Forbes. Born in Ohio in 1975, she received her education at Stanford University. In 2008, Shin graduated from Colombia's School of Journalism with a Master's degree.
Shin began her journalism career writing about climate change. While working at The New York Times, she began covering issues related to the real estate market. When she worked at Forbes, she moved into the emerging industry of blockchain and cryptocurrencies. Her outstanding skills earned her the post of Senior Editor, heading the cryptocurrencies section.
This made Shin one of the most influential people in the industry. Currently, Laura Shin is a freelance writer on cryptocurrencies. She also runs two podcasts called "Unchained" and "Unconfirmed." Besides, the community is awaiting the release of her book on cryptocurrencies.
Elizabeth Stark
Elizabeth Stark originates from Brooklyn, New York. She has also lived and worked in San Francisco, Berlin, Paris, and other cities worldwide. Like many members of the cryptocurrency community, Stark is a convert. She received a BA from Brown University in International Business and a J.D. from Harvard University Law School. She then went on to advocate for human rights as part of Harvard Advocates.
While working to protect human rights, she switched to studying Internet technologies. The issue of rights infringement is still relevant in the context of the World Wide Web. This led Stark to blockchain and cryptocurrencies.
Her best known contribution to this industry is her work at Lightning Labs as CEO and co-founder. The Lightning Network is a solution to speed up the Bitcoin blockchain and solve its scalability problem. She also works with the Coin Center, an organization dedicated to policy challenges regarding cryptocurrencies, and advises the Chia startup on the blockchain. Stark also contributed to the community as an educator and lecturer in computer science at Yale and Stanford University.
Since 2020, Elizabeth Stark has been keeping silent in the media realm. It is obvious that she focused on her work at Lightning Labs instead. The company has been showing outstanding performance, including the successful $10 million fundraising round for building a "Visa" network for bitcoin.
Preethi Kasireddy
Preethi Kasireddy graduated from the University of Southern California with a Bachelor of Science in Industrial Engineering & Systems Engineering. She also had a minor in Business.
Kasireddy started her career as an analyst for Goldman Sachs. In this position, she was able to develop her enthusiasm for participating in the community. After leaving Goldman Sachs, Kasireddy became a partner at Andreessen Horowitz for one year. She left this position as she decided to learn programming.
This knowledge came in handy for Kasireddy when she worked as a software engineer at crypto giant Coinbase. This position prompted her to learn more about blockchain and cryptocurrencies. Thus, she became a professional blockchain developer.
Kasireddy quit Coinbase in 2017. Afterwards, she founded TruStory, a tokenized social network for productive debates. The platform became popular not only with users but also with regulators. Authorities use it to track down cryptocurrency fraudsters around the world. Currently, it is becoming an effective research and verification tool.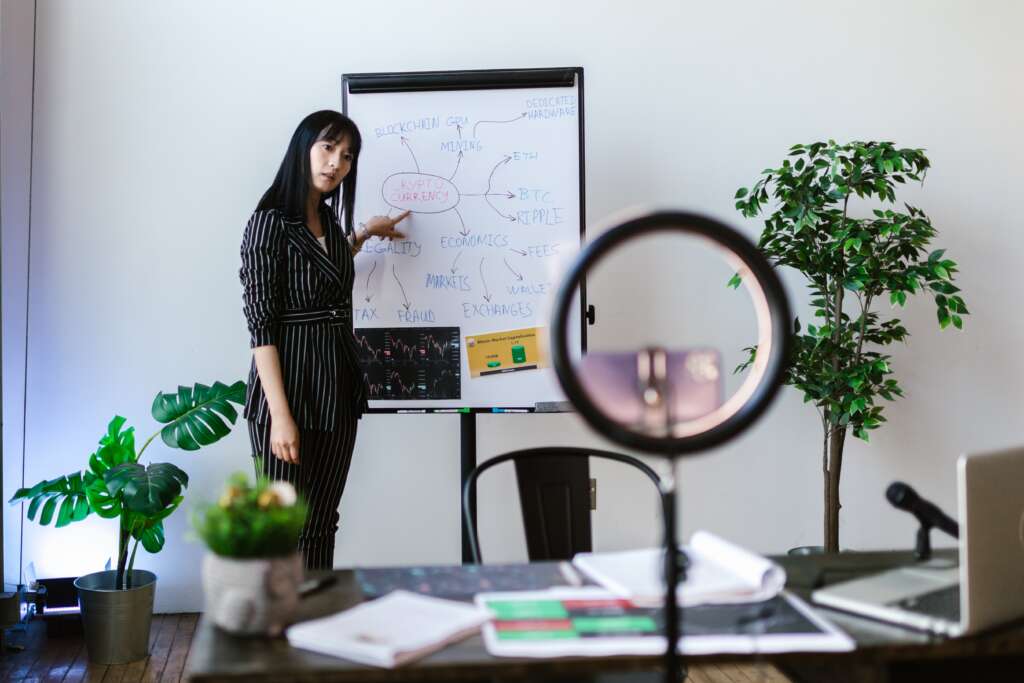 Meltem Demirors
It is difficult to overestimate the contribution of this Turkish-born entrepreneur. Born in the Netherlands in 1987, Meltem moved to Michigan, US, at the age of 10.
In 2009, she earned a bachelor's degree at Rice University. In 2015, the woman earned a Master of Business Administration at MIT Sloan School of Management.
Meltem Demirors became interested in Bitcoin in 2013. She was a strategy consultant at Deloitte then. The final decision to get involved in the industry was made during her MIT education. At that time, she was introduced to Barry Silbert from Digital Currency Group.
Demirors has worked as a member of the Blockchain Council and as co-chair of the Cryptocurrency Council for the World Economic Forum. She is also known to be the co-organizer of the Crypto Springs Conference.
Since 2018 and to date, Meltem Demirors has worked as the Chief Strategy Officer for CoinShares, a digital currency investment company. As part of her duties, she manages portfolios of more than 120 companies. In addition to this regular job, Meltem runs her own weekly podcasts.
Currently, Meltem is one of the biggest blockchain and cryptocurrency enthusiasts. She believes that "Bitcoin is an antidote to economic dysfunction." For this reason, she promotes the growth of the industry through investments. She has invested in many blockchain and cryptocurrency startups. Among them are Chia, Anchorage, Compass Mining, Eco, etc.
To Sum Up
Blockchain and cryptocurrencies are complex concepts, but nothing women can't handle. As the industry develops, we will surely see more women in the headlines of crypto articles, as well as the chair positions of blockchain startups.