WhatsApp has become a widely used messaging application, allowing for accessible communication between individuals and groups without consuming large amounts of data.
This platform offers a variety of features, including the ability to send different types of media, such as photos, videos, and documents.
To ensure your child's online safety, it may be necessary to monitor their WhatsApp activity.
However, it's important to note that the app also poses potential risks.
Children may be vulnerable to online predators, and sensitive information at your company could be shared with competitors through WhatsApp.
If you have doubts about a person's honesty, it may be helpful to know how to track their WhatsApp messages remotely.
Keep reading to learn how to read someone's WhatsApp messages without their phone.
How to Read Someone's WhatsApp Messages Without Their Phone
Here are the top 3 apps to read someone's WhatsApp messages.


uMobix offers a powerful solution for monitoring WhatsApp activity, allowing you to keep track of all incoming, outgoing, and deleted messages and attachments.
Gain insight into private conversations, group chats, and broadcast messages.
The software retrieves data from the target WhatsApp account and sends detailed reports to your account, enabling you to save any vital evidence.
You can access crucial information such as WhatsApp contact details, including display names, contact IDs, status, phone numbers, timestamps, and any other information available in the user's account.
Additionally, you will have access to evidentiary files such as photos, videos, voice notes, location information, links, and documents of any type.
The real-time screenshot feature of uMobix allows you to closely track the user's WhatsApp activity.
You can even check the user's online status, even if it's hidden. The green status icon indicates that the person is currently using the app.
Getting started with uMobix is a simple process that can be completed in as little as 10 minutes.
Technical expertise is optional to begin using the app.
The software automatically updates data reports every 5 minutes, ensuring you never miss a single detail.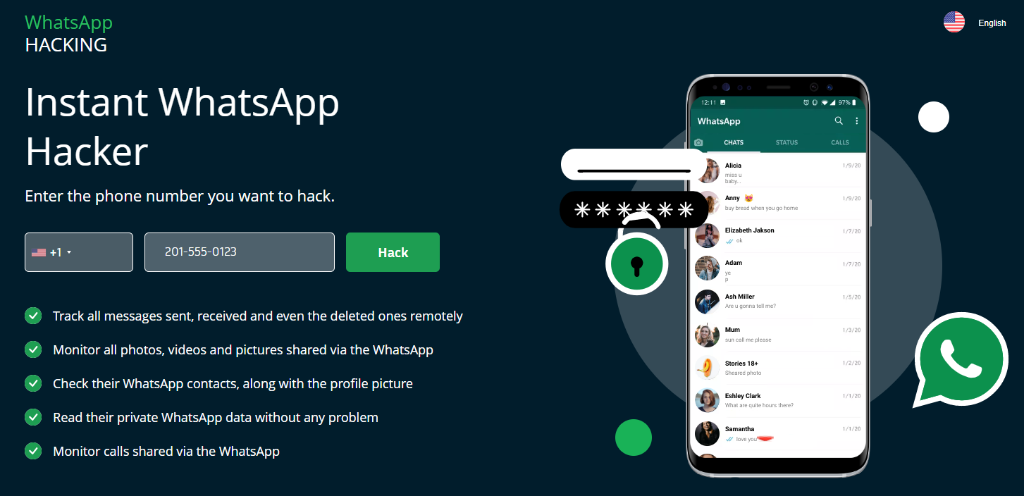 This WhatsApp hacking app is designed to make accessing an account as easy as possible for our users.
There is no need for any prior experience in information technology or hacking to use this tool, as the team of specialists has done all the work for you.
Unlike other hacking methods, this tool works remotely, eliminating the need to download software or connect to the target device.
Advanced encryption technologies and multi-level data protection systems ensure complete confidentiality when hacking WhatsApp accounts, ensuring that the target is none the wiser.
With this tool, you can remotely track all messages sent and received, even deleted ones, monitor shared photos, videos, and pictures, check WhatsApp contacts and profile pictures, read private WhatsApp data and monitor calls made through the app.
The team has dedicated thousands of hours to perfecting the algorithm and optimizing server configurations to create the market's most efficient WhatsApp hack tool.
The expertise of developers ensures that you will have access to the information you need to hack into any account in as little as 10 minutes.
This tool stands out among similar solutions in the market due to the time and effort they have invested in its development.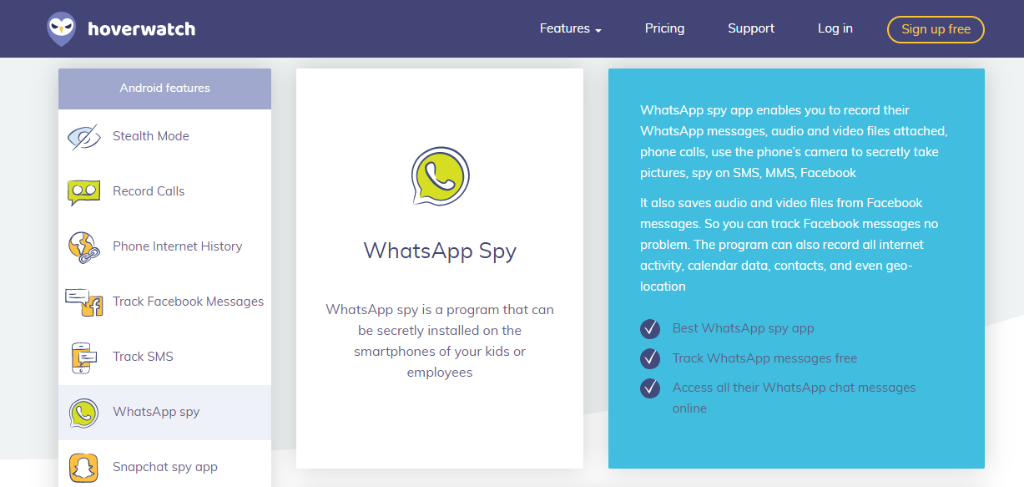 Are you looking for a way to monitor all WhatsApp activity on a targeted device? Look no further than the Hoverwatch WhatsApp spy app.
This powerful tool enables you to access and record all messages, audio and video files, and even use the phone's camera to take pictures secretly.
Not only can you spy on WhatsApp, but you can also monitor SMS, MMS, and Facebook.
Additionally, this program saves audio and video files from Facebook messages, allowing you to track Facebook messages with ease.
This WhatsApp spy app goes above and beyond just monitoring WhatsApp activity. It also allows you to record all internet activity, calendar data, and contacts.
You can even use it to track the device's location, making it easy always to know where the device is.
The app is designed to be energy-efficient, preventing the GPS function from draining the device's battery too quickly.
All information is sent to your online account, where you can access it anytime.
One of the best features of the Hoverwatch is its ability to be hidden on an unrooted device.
Unless the user knows what to look for, they will be unaware that the app is installed on their device.
This allows you to monitor activity without the user ever knowing.
Why Should You Use WhatsApp Spy Apps?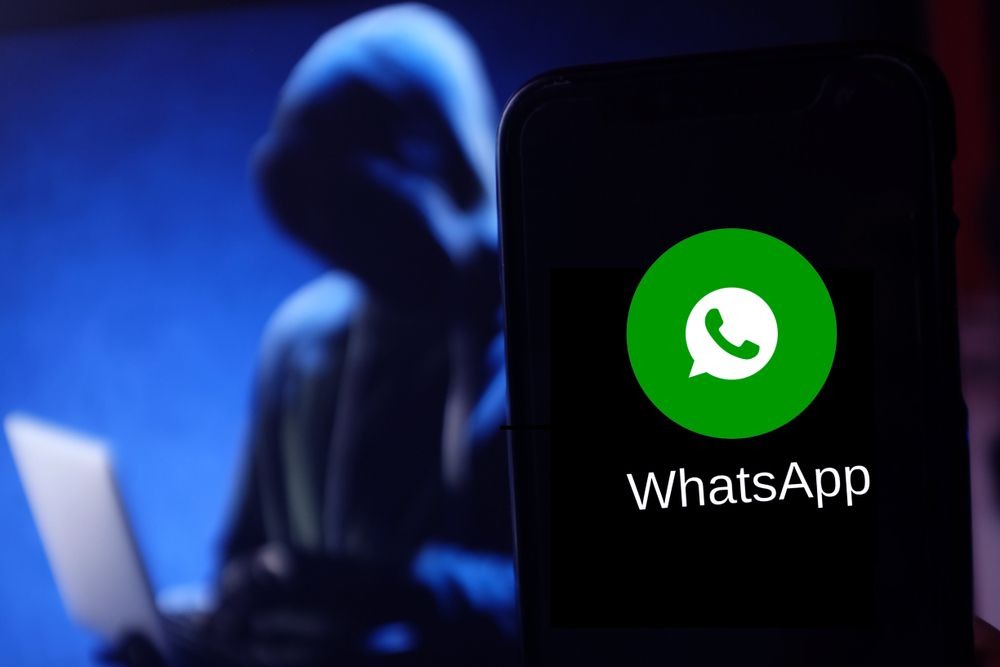 The use of spy apps to access someone's WhatsApp messages raises critical ethical questions about privacy and the invasion of someone's personal space.
It's natural to feel guilty or uncertain about using such an app, especially if you're considering spying on someone close to you.
However, it's essential to consider the potential reasons for needing to access someone's WhatsApp chat history.
Here are a few scenarios where the use of a spy app may be justified:
Child Safety
As a parent, your top priority is ensuring your children's well-being, including online protection.
By monitoring their WhatsApp messages, you can protect them from potential harm or harassment.
You can ensure that they are not in contact with strangers or people who might try to exploit them.
You can also ensure they are not being cyberbullied or exposed to harmful content.
Relationship Trust
If you suspect your partner may be unfaithful, monitoring their WhatsApp messages can give you peace of mind or confirm your suspicions.
It's not easy to admit that there might be a problem in your relationship, but it's better to know the truth and deal with it head-on rather than live in uncertainty.
Corporate Security
In today's digital age, corporate espionage is a real threat.
By monitoring the WhatsApp messages of employees or associates, you can protect your company's secrets from being shared with competitors.
This can prevent loss of business and legal issues and protect sensitive data from being transferred.
It's essential to weigh the potential benefits and drawbacks of using a spy app.
You should consider if the information you may gain is worth the invasion of someone's privacy.
It's also important to consider the legal implications of using such an app. And if you do decide to use one, use it responsibly and ethically.
Remember that the information you gain should be used to better the people or situations involved, not to hurt them.
Frequently Asked Questions
Can Someone See My WhatsApp Messages without My Phone?
If you're concerned about the potential for someone to access your WhatsApp messages from another phone, it's essential to know that it is indeed possible. 
However, it's also important to note that you can monitor another person's WhatsApp activity remotely.
Multiple methods are available for this, and the choice ultimately depends on your specific needs and preferences.
One popular method for monitoring WhatsApp activity remotely is using parental control apps.
These apps provide a convenient and easy way to view another person's WhatsApp messages from your smartphone. 
You can also use spy apps, which are designed to track the WhatsApp activity of a targeted device without the user's knowledge.
It's important to remember that while these methods allow you to access someone's WhatsApp messages, it's also essential to consider the ethical implications of doing so.
You should always weigh the benefits and drawbacks of using such an app and use it responsibly and ethically.
Are WhatsApp Spying Apps Safe to Use?
The use of WhatsApp spying apps raises essential safety and security concerns.
These apps are designed to access and monitor private WhatsApp activity without the user's knowledge, which raises questions about the ethics and legality of using such apps.
One of the main safety concerns with WhatsApp spying apps is the risk of data breaches and hacking.
These apps often require users to provide sensitive information, such as login credentials, which can be vulnerable to cyber-attacks.
Additionally, the app's servers may need adequate security measures to protect user data from unauthorized access.
Another concern is the risk of malware and viruses that can be unknowingly installed on a device when downloading or using a WhatsApp spying app.
This malicious software can cause damage to the device or steal personal information.
Conclusion
Proactive protection is vital in ensuring the safety of your loved ones.
Sometimes, learning how to read someone's WhatsApp messages without their phone may be necessary to detect potential dangers before it's too late.
However, it's understandable that your loved one may not be comfortable with sharing their private messages with you.
A parental control app provides a solution that allows you to monitor their online activity without invading their privacy.
With a parental control app, you can easily view another person's WhatsApp messages remotely.
This allows you to stay informed about their problems and potential dangers. It also allows you to watch their online activity and ensure that they are safe.
If safety is a top priority for you and you want a deeper understanding of someone's WhatsApp activity, a parental control app may be the perfect solution.
It allows you to protect your loved ones without invading their privacy or disturbing their personal life.