Snapchat is widely recognized as one of the most popular social media platforms.
While it may not surpass Facebook in terms of sheer numbers, it consistently ranks among the top choices for users seeking to connect with friends and strangers. 
Boasting features like instant messaging and a variety of captivating image filters, it's no surprise that Snapchat captures the attention of young individuals.
However, parents need to be aware that Snapchat carries certain risks, such as exposure to harmful content and potential addiction.
Consequently, as a responsible parent, it becomes crucial to consider monitoring your child's Snapchat activity. This article explores how to monitor your kids' Snapchat as a parent.
How to Monitor Your Kids' Snapchat as a Parent
Here are the best ways to monitor your child's Snapchat.
1. Spying App – EyeZy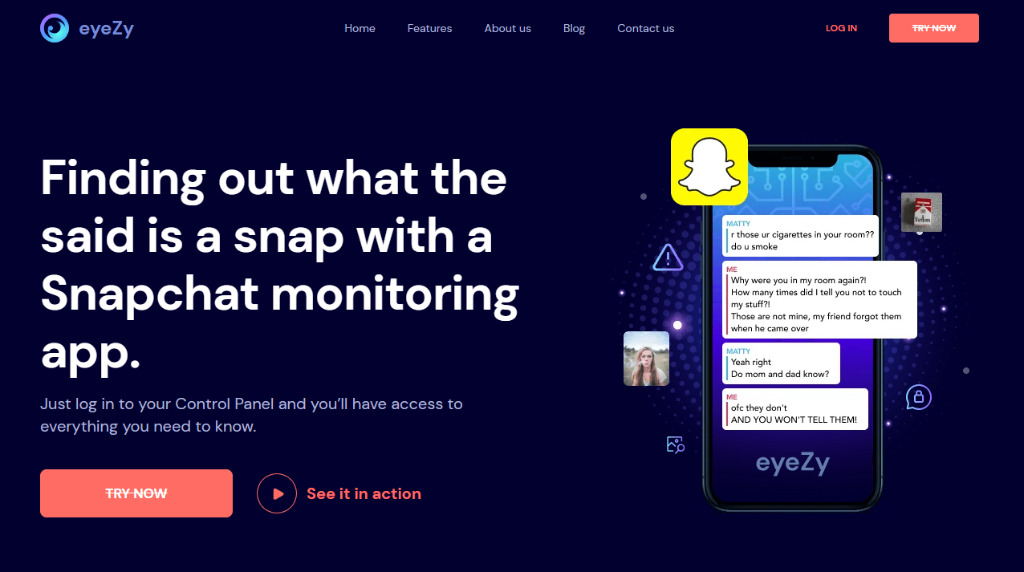 Eyezy provides a convenient solution for parents to monitor their children's Snapchat conversations effectively.
By acquiring an Eyezy subscription, parents can access comprehensive monitoring capabilities.
Once the Eyezy app is installed on their child's mobile device, parents can conveniently log in to their personalized Control Panel and begin monitoring their child's Snapchat activities.
With Eyezy, parents can delve into various aspects of their child's Snapchat usage. This includes examining sent messages, received messages, photos, videos, texts, and virtually any other form of communication within the platform.
Even deleted messages can be retrieved and examined through Eyezy's advanced functionalities.
Moreover, in the rare event that parents miss out on any Snapchat activity, Eyezy's built-in screen recorder feature is a valuable tool, capturing essential moments and ensuring nothing goes unnoticed.
By offering robust monitoring features, Eyezy empowers parents to maintain a deeper understanding of their child's interactions on Snapchat.
This comprehensive insight enables parents to foster a safer and more secure online environment for their children, ensuring their digital well-being and providing appropriate guidance when necessary.
Key Features of Using EyeZy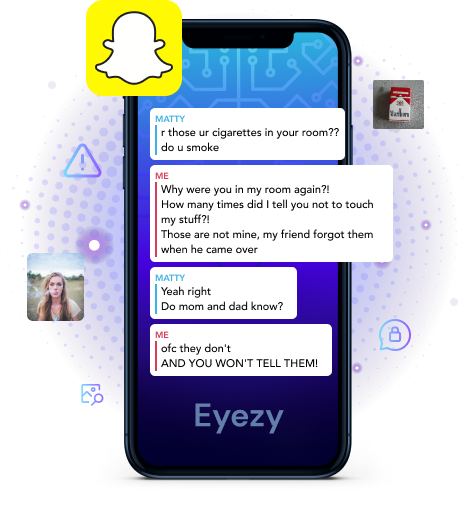 Easy and convenient monitoring of a child's Snapchat messages
Requires purchasing an Eyezy subscription
Installation of the Eyezy app on the child's phone
Access to a personalized Control Panel for monitoring
Comprehensive monitoring of sent and received messages, pictures, videos, and texts on Snapchat
Ability to retrieve and examine deleted messages
Built-in screen recorder feature captures important moments
Enhances parental understanding of their child's interactions on Snapchat
Promotes a safer and more secure online environment for children
Enables parents to provide appropriate guidance and support when needed
2. Restore Cache Files
Snapchat's unique feature automatically deletes pictures from a user's story. Therefore, exploring alternative methods for accessing Snapchat media on your child's phone is essential.
This approach demonstrates how to monitor your child's Snapchat activities by recovering Snapchat data through cache files.
Here's a step-by-step guide:
Begin by downloading a File Manager app on your device
Open the app and navigate to the Android folder
Within the Android folder, locate the Data folder. Among the list of app data, search for the com.snapchat.android folder and open it
Inside this folder, you'll find several subfolders. Click on the cache folder
If you wish to view Snapchat photos, specifically, access the received_image_snaps folder to retrieve them
3. Use iCloud Backup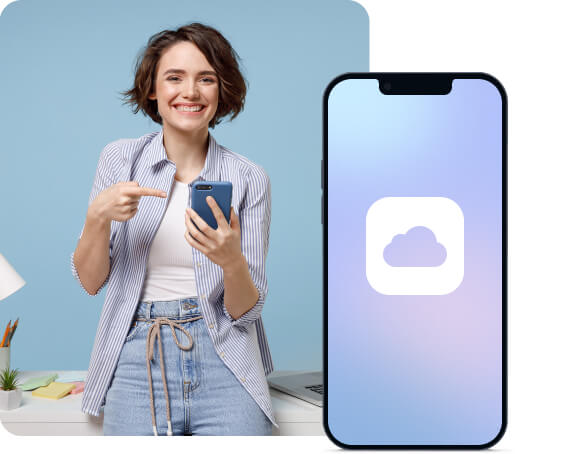 As mentioned earlier, Snapchat has a feature that automatically deletes old posts. However, there is a way to retrieve and access these deleted media files on an iPhone.
By utilizing the iCloud backup feature, you may be able to recover your child's Snapchat media. Here are the steps to restore the iCloud backup and retrieve your child's Snapchat content:
Select an iPhone device to restore the iCloud backup for your child. If you have already set up the iPhone, you will need to erase all its content by navigating to Settings, then General, and finally selecting the option to transfer or reset the device
Follow the instructions provided to reach the Apps & Data screen, and tap on the option to restore from an iCloud backup
Proceed by logging into your child's iCloud account on the iPhone and selecting a backup to restore from
Exploring Snapchat: A Detailed Analysis and Child Safety Considerations
In the vast landscape of social media and messaging platforms, Snapchat is a popular chatting app among kids.
Its unique features and a user-friendly interface allow children to send pictures and texts to their peers.
In this part of the article, we delve into the intricacies of Snapchat, comparing it to similar chat apps and shedding light on its defining characteristic: the automatic deletion of messages, including photographs, after viewing them.
Understanding Snapchat's Functionality
Snapchat, much like other well-known chat apps such as Skype, WhatsApp, or Facebook Messenger, facilitates user communication.
However, what sets Snapchat apart is its temporary nature. When sending messages on Snapchat, children have the assurance that their content will disappear shortly after being seen by the recipient.
This temporary quality adds an element of privacy and spontaneity to the platform, appealing to the younger demographic.
Features and Unique Aspects of Snapchat
Photo Sharing with Limited Lifespan
Snapchat allows users to capture and share photos that vanish within a set timeframe. This ephemeral characteristic encourages spontaneous and genuine expression, as users feel less concerned about their content being permanently recorded.
Text Messaging and Video Chats
In addition to photo sharing, Snapchat supports text-based conversations and video chats. These features facilitate real-time communication and further enhance the interactive experience for its users.
Filters, Stickers, and Augmented Reality
Snapchat provides various creative tools, such as filters, stickers, and augmented reality effects, allowing kids to personalize their content and add fun to their messages.
Evaluating Child Safety on Snapchat
Content Control and Privacy Settings
Snapchat offers various privacy settings that allow users to control who can contact them, view their content, and send them messages.
Users can customize their preferences to ensure a safer online environment.
Disappearing Messages and Privacy Concerns
While the automatic deletion of messages may initially seem like a privacy advantage, it also raises concerns regarding the potential for sharing inappropriate or harmful content and quickly disappearing before proper intervention occurs.
Parents should educate their children about responsible online behavior and the importance of reporting any concerning content encountered on the platform.
Discover and Public Content
Snapchat's Discover feature provides access to various curated content from publishers, including news articles, videos, and entertainment.
Parents should be aware of the potential exposure to unsuitable content and take appropriate measures to restrict access to such content based on their child's age and maturity level.
Parental Involvement and Open Communication
To ensure the safety of children using Snapchat, active parental involvement and open communication are crucial.
Parents should familiarize themselves with the platform's features, privacy settings, and potential risks.
Engaging in ongoing conversations about online safety, responsible digital citizenship, and reporting inappropriate behavior can help create a secure online environment for children.
Conclusion
It is beneficial and essential to monitor your child's Snapchat activity actively. The platform is rife with controversy, ranging from inappropriate image sharing to potentially harmful conversations.
The inherent risks on Snapchat make it crucial for parents to invest in a reliable parental monitoring solution specifically designed for Snapchat.
Doing so can ensure your child's safety and well-being in the digital world. The best way to learn how to monitor your kids' Snapchat as a parent is by using EyeZy.