Social media is truly the staple of our century. It has drastically changed the way we interact and communicate with one another. In a world that is now so digitized, it's important to have an online presence – and that's where social media comes in.
For businesses, large or small, social media platforms provide an opportunity to reach out to potential customers and create a branding identity. It allows you to connect with consumers on a more personal level, which in turn fosters loyalty and customer retention rates.
Creating a strong brand presence and quality social media content requires strategy and consistency.
Business Branding On Social Media – What Is It?
As digital marketing has become more and more essential to a company's success, social media branding has become an integral part of building a strong online presence.
So, what is social media branding? Building a brand on social media is the process of creating an identity and presence for a company or product on social media platforms. This involves creating compelling content, engaging with consumers, and using social media tools to create a recognizable brand.
​​There are many different ways to approach social media branding, but some common elements include:
Creating Compelling Content: In order to stand out from the noise on social media, businesses need to create content that is interesting, informative, and visually appealing. This could include blog posts, infographics, videos, or even just well-written tweets.
Engaging With Consumers: It's not enough to just create great content; businesses also need to interact with their target audience. This means responding to comments and questions, sharing other relevant content, and connecting with consumers on a personal level.
Using Social Media Tools: Social media platforms offer a variety of features and tools that businesses can use to improve their branding efforts. This could include using hashtags, creating branded images, or running social media ads.
By following these tips, businesses can create a strong social media brand that will engage and connect with consumers.
How Social Media Planning Can Make You Stress Less And Actually Help
No matter how small or large your business is, if you don't plan your social media branding in advance, you're more likely to make mistakes that could cost you, customers.
When it comes to social media, businesses need to be proactive and not reactive. This means having a plan and strategy in place before anything happens. By creating a social media calendar, businesses can avoid the stress that comes with trying to brand on the fly. Moreover, a well-thought-out plan can actually help improve your branding.
Why Do You Need A Social Media Content Plan?
There are several reasons why your business needs a social media content plan.
For one, social media is 24/7. This means that if you're not careful, your brand could be active on social media at all hours of the day and night. This can lead to some serious mistakes, such as accidentally tweeting something offensive or insensitive.
Another reason why you need a social media calendar for content is that social media moves quickly. What's popular today might be old news tomorrow. If you don't have a plan, it's easy to get left behind.
Finally, social media is public. This means that anything and everything you post can be seen by anyone in the world. This can be good for business if you're posting great content, but it can also be bad for business if you're posting controversial or offensive content.
Tips And Tricks For Building A Brand On Social Media
Of course, there is no universal solution for building a brand on social media. Every business is different, and what works for one company might not work for another. However, there are some points you might want to pay attention to. There are a few things to keep in mind when planning your social media branding strategy: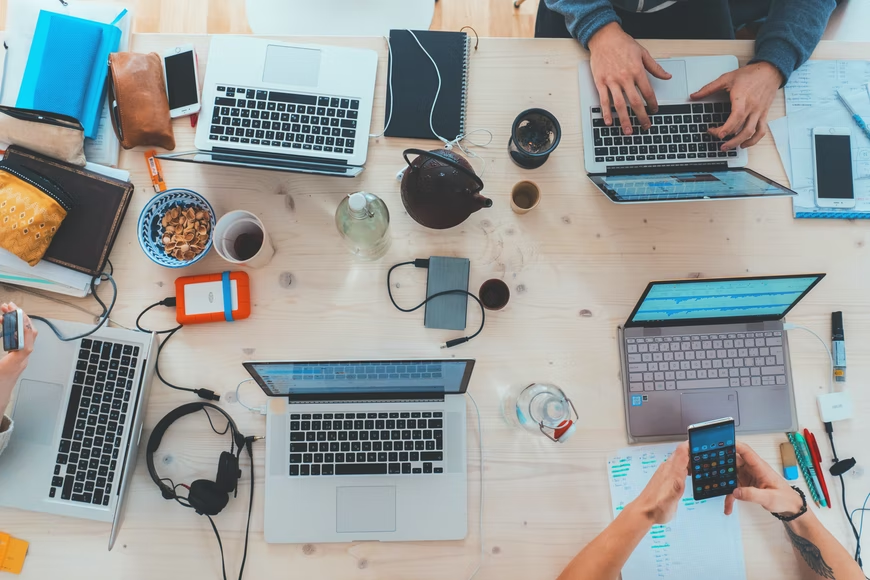 Know your audience: It's important to know who you're trying to reach with your social media branding. This will help determine the tone, voice, and message you need to use.
Set goals: What do you want to achieve with your social media branding? Do you want to increase brand awareness, build customer loyalty, or boost sales? Once you know your goals, you can create content and strategies that will help you reach them.
Be consistent: Consistency is key when it comes to social media branding. Make sure your branding is consistent across all of your channels, and that your messaging is on point. This will help create a strong, recognizable brand that people will remember.
Try using premade templates: Templates can be a great way to stay consistent with your social media branding. You can use templates for everything from your profile pictures to your posts and even your advertisements. This will help ensure that your brand always looks its best.
Stand out: With so much noise on social media, it's important to make sure your brand stands out. Find ways to be unique, whether it's through your visuals, voice, or message. This will help you cut through the clutter and get noticed by your target audience.
Tell a story: Stories are a powerful way to connect with people and build an emotional connection with your brand. Share stories about your product, customers, or company culture to give people a behind-the-scenes look at what you're all about.
Engage with your audience: Social media is all about two-way communication. Engage with your audience by responding to comments, answering questions, and sharing relevant content. This will help you build a strong relationship with your followers and create a loyal fan base.
Measure your results: Keep track of your social media activity and measure the results against your goals. This will help you see what's working well and what needs to be improved. Use social media analytics tools to track your progress and get insights into your audience.
By following these tips, you can create great social media content and a strong social media presence for your business and connect with your customers on a deeper level. Good luck with that!