How much do people make on OnlyFans in 2023?
This is the topic of the day.
We will provide you with well-researched, recent, and the most accurate data we can find on this topic. First, we will get more familiar with OnlyFans.
If you've landed here, but you don't know what OnlyFans is all about, you will soon know.
OnlyFans is a social media platform that is less than six years old in the social media world.
It was launched in November 2016, so it has entered its sixth year. Tim Stockley, a British businessperson, is the founder and the CEO of OnlyFans.
OnlyFans is most focused on adult content, although you will find a few fitness gurus, foodies, and workout influencers on the platform.
OnlyFans is made up of content creators and fans (followers/subscribers). This was the main reason it was founded.
Content creators are OnlyFans users who earn money by offering one-time tips or a subscription-based content solution.
The subscriptions are for exclusive content you cannot get anywhere else.
Followers, or fans are the subscribers of the adult content found on the platform.
Now that you have an idea of what OnlyFans is and how it works, we will discuss the article topic and answer how much do people make on OnlyFans.
How Much Do People Make On OnlyFans in 2023?
The average content creator on OnlyFans makes only $151 to $180 per month, which requires a lot of work for little compensation.
However, there are some who make six figures or more.
Due to an increase in content creators and competition, people who used to make $200 per month are making closer to the new OnlyFans average monthly income.
Naturally, the content creators earning bigger money are the most popular creators with the most subscribers.
We have the latest data on the estimates of how much some of the most popular OnlyFans creators made last year.
We will discuss the top earners on OnlyFans next.
Who Are the Top Earners On OnlyFans?
How much do people make on OnlyFans in 2023? The average person on the platform may not make much, but this platform has it higher earners.
Top OnlyFans performers can rake in between $5,000 and $100,000 per month, though that's not typical.
As we mentioned, the average earnings on OnlyFans is only about $180 per month.
In these next few paragraphs, we will address five of the top earners on the platform.
It's worth mentioning that most creators (88%) keep their subscriber numbers and earnings hidden.
Therefore, some of this is estimated, but some top performers have publicly admitted to their OnlyFans earnings.
1. Blac Chyna – 33 Years Old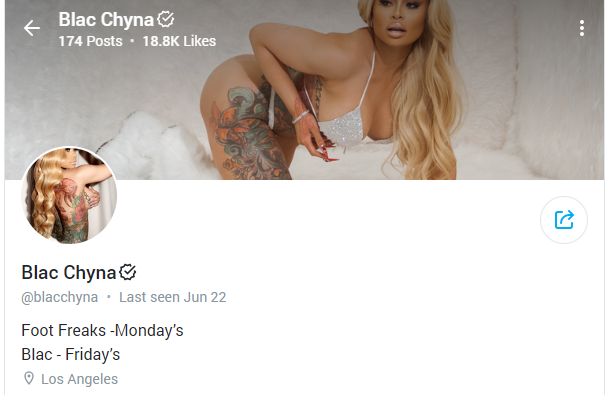 Her real name is Anglea Renée White, but under her pseudonym, she is an influencer, model, socialite, and reality star who charges $19.99 per month for her subscriptions for exclusive foot fetish and other adult content videos and photos..
Initially, her subscription rate was beyond the top tier due to her affiliation with Rob Kardashian, and Tyga, but she lowered it to a more reasonable fee. Her current estimated earnings are about $20 million per month.
2. Bella Thorne – 23 Years Old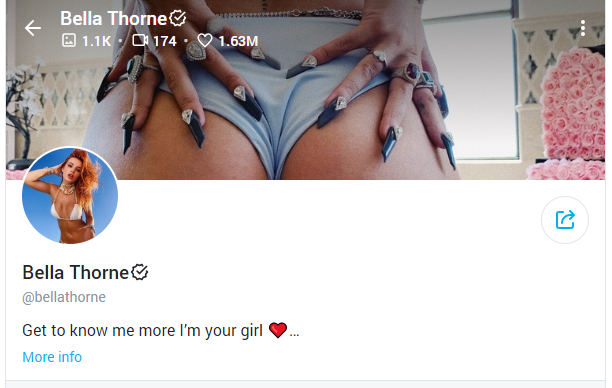 Bella Thorne is an influencer, actress, singer, and model from Sherman Oaks, California. She doesn't charge a subscription fee for her content.
However, she offers her most revealing content at premium prices that make her an estimated $11 million per month.
3. Cardi B – 28 Years Old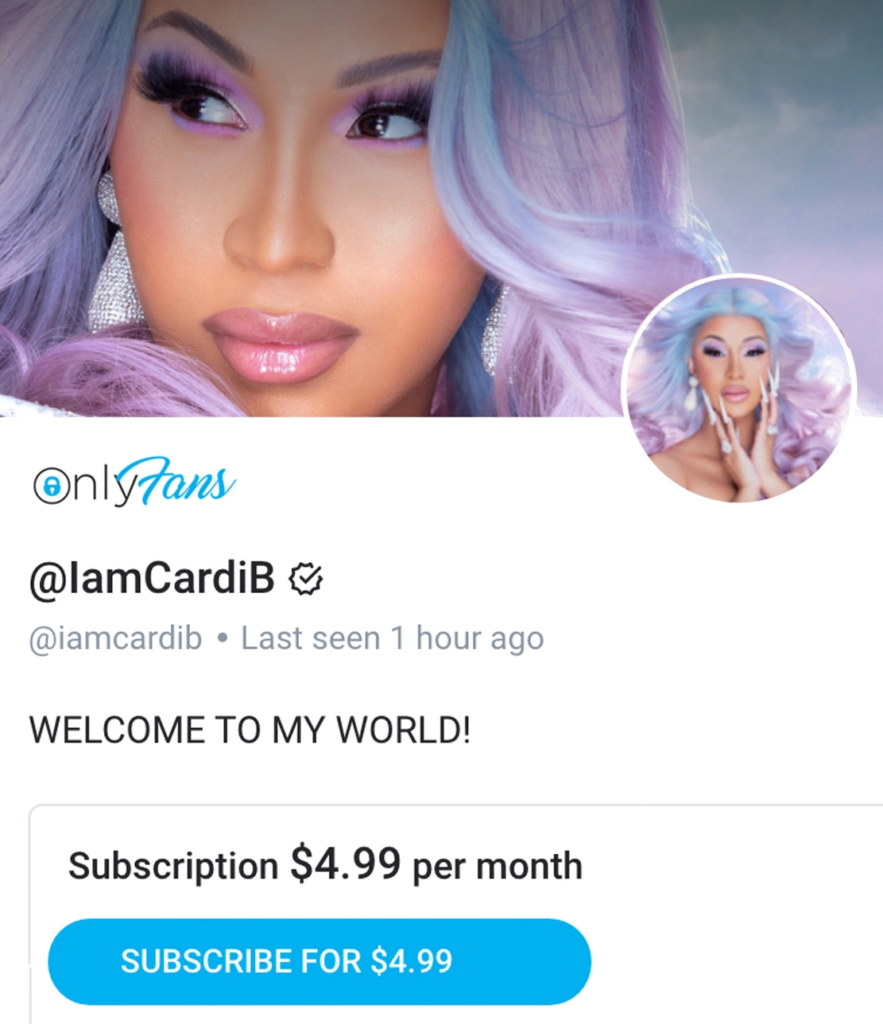 Cardi B is a well-known hip hop artist from Atlanta, Georgia, with a whopping 101 million Instagram followers, so it shouldn't come as a surprise that she's a top earner on OnlyFans.
Even with only six posts, she's earning an estimated $9.34 million each month. She charges only $4.99 per month for her content.
4. Tyga – 31 Years Old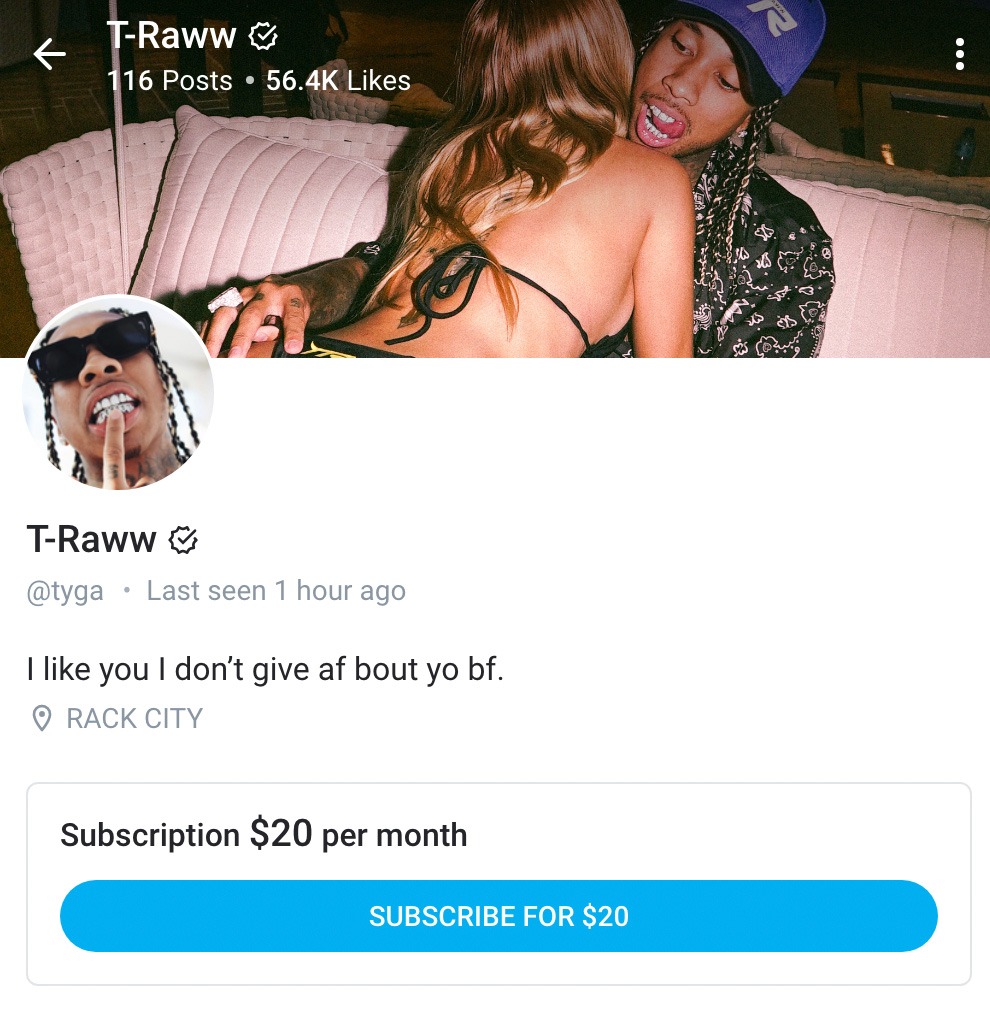 Tyga is a show-all OnlyFans kinda guy, who is making an estimated $7.69 million per month with his content.
He's a hip hop artist and television personality from Bel-Air, California.
He charges $20 per month for a subscription to his content, which is reportedly mostly images of scantily-clad women.
5. Safaree Samuels – 40 Years Old
Safaree Samuels, formerly Nicki Manaj's partner (professionally and personally), is a businessman, hip hop artist, and television personality from New York, New York making an estimated $1.91 million each month with his $15 per month subscription-based content.
He is 8th on the list of top earners.
There are five of OnlyFans top earners. The first four are in order of earnings, but the last one is 8th among those who earn the most on the platform.
No matter how you slice it, each one of these top performers is making a boatload of money each month.
It's worth repeating that these are estimated earnings.
How Many Creators and Fans Use OnlyFans?
According to OnlyFans CEO, Tim Stockely, OnlyFans has over 170 million registered users.
That's a very massive figure, since out of these global users, there are only 1.5 million creators.
So, the biggest part of the platform's user base is made up of followers who may also be subscribers to at least one content creator.
How else could creators make money? You need fans and subscribers, right?
With 170 million plus and growing global users on OnlyFans, there is plenty of earning potential with fewer than 2 million creators on the platform.
How much do people make on OnlyFans? Right now, just around $180 on average, but as this platform grows, that number could go either way.
Conclusion
After reading this article, you should have a good grasp of its content and its user base, both content creators, and fans.
How much do people make on OnlyFans in 2023? As we mentioned, the average OnlyFans creator makes about $180 per month at the most.
However, we did mention some top earners making millions each month.
There is money to be made, but your content needs to fall within a popular category and be unique and competitive.
As you might imagine, adult content is the most popular on OnlyFans, but it's not the only content.
There is also content in the categories of fitness training, modeling, cosplay, gaming, travel, cooking and recipes, and beauty tutorials.
Are you a content creator on OnlyFans? Would you consider creating content on the platform?
Would you join OnlyFans to subscribe to a personality or a specific category of content?
Sources