Software engineering, being one of the highly designated services, chances are high that at least once in life, you've wondered, "how many software engineers in the world are there?"
Well, luckily, we've got your answer. Walkthrough the write-up to get your queries solved.
A software engineer is an individual who applies software engineering principles to develop, design, test, maintain, and evaluate computer software.
They're the ones who create the programs which turn mobiles, computers, and other devices into useful machines that can search the world wide web (www), run industrial robots, send an email, make video calls, and many more.
They play an essential part in the ongoing digital revolution (Obviously, they make the software that tells smartphones and computers what to do) and thus mark the beginning of the Information Age, transforming human civilization.
Software engineers are rapidly becoming important to almost all industries in a progressively tech-oriented workforce.
From making sure your salary credits your bank account on time to connect you with your loved ones, from letting you order something online to tracking your daily step count, software engineering has turned our world 360 degrees.
Recent stats show that they make handsome money, have a wider range of opportunities, and most importantly, most software engineers like their jobs.
In fact, 85% of them said that they're happy choosing to pursue a career in software engineering. Sounds awesome, right?
In this write-up, we'll be answering one of the most vital questions that aspiring software engineers ask, "how many software engineers in the world are there" and mention some latest software engineering statistics.
So, you better not skip it.
Key Software Engineering Statistics
There are over 329,559 software engineers in the United States
Around 1,95 million software engineers currently work in Europe
Ukraine has over 200K software engineers
There are around 6,540,000 Asian software engineers
Over 104,000 software engineers are there in Australia
Google, as of 2021, has around 27,169 software engineers
Around 12,000 software engineers work for Apple in 2021
There are currently 8850 software engineers working at Facebook
Nearly 65% of the software engineers worldwide use JavaScript
Around 48.24% of software engineers prefer to work on Python
How Many Software Engineers in The World Are There?
When selecting a professional to step into, competition is something considerable. If you're curious about software engineering, you're probably wondering, how many software engineers in the world are there?
Currently, the rapid growth in advanced technology needs highly-skilled engineers to power it.
In fact, many companies are facing difficulties in hiring these professionals as they're limited however and are in high demand.
The total number of professionals interested in working in this field is increasing primarily because of the rapid expansion in the IT industry.
The number of software engineers worldwide is constantly increasing and is expected to beat the 28,7 million mark by 2024.
Okay, if the numbers are increasing, how many software engineers are currently working? Around 26,9 million, as per some trusted sources.
No surprise, the IT industry is one of the highest-earning industries across different countries worldwide.
This sector offers a range of benefits to its employees and captivates them with the potential for creating products that could change the world for good reasons, obviously.
The tech field has various directions that specialists can follow and fulfill their potential. So let's have a closer view of how many software engineers in the world were there and will be there.
Based on various statistics, it's seen that there were 23 million software engineers in 2018 and that number increased by 900 thousand software engineers worldwide by the year 2019.
Moreover, as of 2020, there were more than 24,5 million IT professionals worldwide. Talking about the future numbers, experts, as per their research, say that the numbers will reach 27,7 million in 2023.
And as we've already mentioned, there will be approximately 28,7 million software engineers in the world as a result of the continuous increase in the growth rate of software engineers.
Software Engineering Statistics: Based on Location
1. There Are Over 687,276 Software Engineers in The United States
When we speak of how many software engineers in the world are there, it's imperative to consider the stats of software engineers based in the US.
The United States has a massive number of tech hubs and provides endless opportunities for advancement in this field.
Moreover, the country even glorifies a fast software engineer growth rate. No doubt, the United States, with 687,276 computer specialists, has the maximum number of software engineers worldwide.
Let's now study the United States more in detail.
When it comes to the best state in the US for software engineers to work, Washington secured the top position, followed by California and the District of Columbia.
Besides having the most number of software engineers, Washington offers a lower cost of living for these highly-skilled professionals compared to other states.
Let's break down how many software engineers in the world are there, based on specific areas.
2. Around 1,95 Million Software Engineers Currently Work in Europe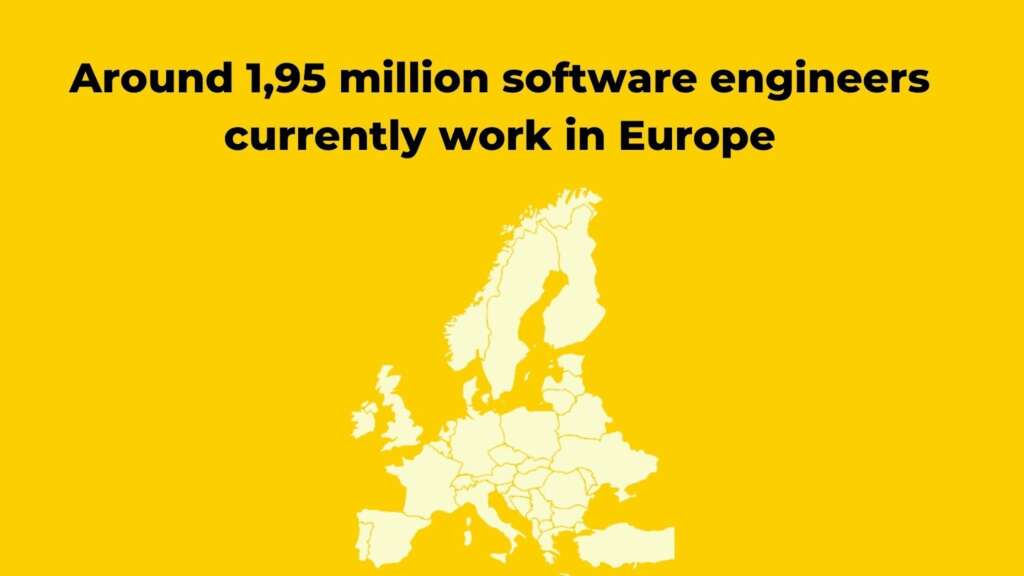 While researching how many software engineers in the world are there, we found that most of these software engineers are from Europe.
There are approximately 1,95 million computer specialists in Europe.
Moreover, when it comes to countries, Germany has the most number of tech specialists with 901,000 software engineers, followed by the United Kingdom with 408,000 engineers and Poland with 250,000 software engineers.
Although Sweden and Ukraine have fewer professionals with 180,000 and 212,500 software engineers, they play an important role in the global IT industry.
3. Ukraine Has Over 200 K Software Engineers
The tech industry in Ukraine clearly shows an accelerating growth rate year after year.
If you ask how many software engineers in the world are currently working in Ukraine, the answer is 212,500, and it's currently the 9th European country for software engineers.
Among the 212,500 Ukrainian software engineers, over 110K work in R&D centers, 4K in tech companies, and 1K in tech events.
Thanks to the booming tech environment, the country is becoming a more and more popular program development stop for foreign companies.
4. There Are Around 6,540,000 Asian Software Engineers
With around 6,540,000 software engineers, Asia has a significant number of highly-skilled professionals.
However, these skilled professionals earn several times lower than what they earned if they lived somewhere else. And that's why it has successfully been attracting lots of foreign companies to the region.
India ranks number one among the region with around 5,800,000 software engineers, followed by Vietnam with 350,000, Singapore with 200,000, and the Philippines with 190,000 software engineers.
5. Over 104,000 Software Engineers Are There in Australia
The software engineering industry in Australia is one of the fastest-growing industries worldwide, with a considerable scope of nearshore and offshore software engineering outsourced to foreign companies.
But, how many software engineers in the world are there that are specifically from Australia?
All the Australian software engineering companies contribute to their domestic economy and help in boosting their country's economy.
According to various research, software engineers' demand in Australia is quite significant as they currently have 104 000 software engineers.
Software Engineer Statistics: By Companies
6. Google, as Of 2021, Has Around 27,169 Software Engineers
Launched in 1998 by Sergey Brin and Larry Page, Google is a multinational information and technology company based in the United States. The company is also ranked the 6th best place to work in 2021.
Moreover, the $300+ billion worth company currently has over 130,000 employees worldwide. The multinational company Google is the standard landing site for young, ambitious, and talented software engineers.
They're a huge institution in modern-day life, and the popularity of working there reflects the same.
Speaking of how many software engineers in the world are there currently working in Google, the number as of 2021 is around 27,169.
The annual income of a software engineer at Google ranges from $350,000 to $1.20 million based on their level of expertise. In fact, their starting salary for a software engineer amounts to $180,000 annually.
A newly graduated student would have a hard time finding a better starting salary, no matter their field.
The good salary payroll is not the only thing; Google even provides an equity stake and a fairly large benefits package, covering all the things one needs and even more.
The company also offers other perquisites such as a lunch buffet and rides to work. In short, Google is best-known for its employee-friendly ideology and is the most-desired landing place for new grads.
7. Around 12,000 Software Engineers Work for Apple in 2021
Apple, founded by Steve Jobs, Ronald Wayne, and Steve Wozniak, is one of the leading American companies worldwide that has been involved in the information and technology industry since 1976.
The company has a widely diversified group of employees, and its inclusion rate is also higher, making it the best technology company in the United States.
The company is another landing place for new grad software engineers when talking about software engineers. Being the vanguard of culture, the company was founded in the early twenty-first century.
Apple deals in different types of electronics ranging from smartphones to watches, AirPods to AirTags; however, the smartphone department is one for which the majority of users know Apple.
The company is the juggernaut of the tech industry, and honestly, a job at Apple can pave one's future career path.
Compared to how many software engineers in the world are currently working at Google, the software engineers working at Apple are pretty low, with only 12,000 professionals.
However, they can expect a six-figure salary payroll. A new software engineer at Apple can expect an annual package of $75,000.
Moreover, an Apple employee, on average, earns salary packages ranging from $175,000 to $600,000, depending on their level of experience as a software engineer.
Similar to Google, Apple also treats its employees quite well. The company even offers an equity stake to its employees, and they also have incentive-laden contracts.
8. There Are Currently 8850 Software Engineers Working at Facebook
Facebook is undoubtedly the most popular social media platform, led by founder Mark Zuckerberg. Everyone is obsessed with Facebook.
In fact, it's the most influential name on the internet after Google. Being the number one social media platform, it has big future expectations. It has an annual income of nearly $10 billion, which is quite massive.
Headquartered at Menlo Park, California, Facebook is great for high-skilled software engineers searching for trademark status and good future opportunities.
When it comes to how many software engineers in the world are there currently working at Facebook, the answer is 8850. These professionals generally earn six figures off the hop.
Despite that, former employees at Facebook have lots of complaints regarding their jobs, more than the employees at other big brands.
Former software engineers at Facebook complain about the lack of bonuses given to them and also about the lack of career advancement opportunities. They even said that their incentive at Facebook was pretty low.
There's a general saying about the company that it's hard to move up the ladder at Facebook.
With that being said, the company is still one of the greatest tech industries, and a new software engineering graduate can comfortably work at the company.
9. Amazon Currently Employs Approximately 36,000 Software Engineers
Amazon, based in Seattle, Washington, is an American multinational company. As per data available, the company hires nearly 20,000 new software engineers each year from all over the world.
But exactly how many software engineers in the world are there that work at Amazon?
Currently, approximately 36,000 software engineers are working at Amazon. However, the company has a slightly negative reputation when it comes to how it treats its employees.
There is a popular belief that Amazon's factory workers are underserved and overworked.
Talking about software engineers, the company treats them differently from other workers' classes. Having said that, Amazon is a whooping landing place for employees across the world.
It has its branches in different types of pots, diversifying its brand and expanding its network, and moving into media ventures.
Headed by one of the richest men in the world, Jeff Bezos, being a part of the fastest-growing brands across the world, is quite prestigious.
Amazon's software engineers can earn a bit over one hundred thousand dollars, more precisely around 110,000 dollars.
That's a good starting salary compared to some of the other brands. Moreover, the company even offers vacation time and many benefits packages to software engineers as well.
10. Microsoft Has 100,000 Software Engineers as Of 2021
Founded by Paul Allen and Bill Gates in 1975, Microsoft generates more than $40 billion yearly revenue. It's currently one of the oldest prestigious companies across the world but still among the best landing spots for most of the grads.
Microsoft is also one of the juggernauts of the information and technology sector. It is a reputed landing place for newly graduated software engineers searching for ways to make a name for themselves.
Microsoft's software engineers make nearly $90,000 per annum, or just under six-figures salaries a year. Even though its software engineers get average incentives and benefits, most of the software engineering grads find it a suitable option.
Now, do you know how many software engineers in the world are there currently working for Microsoft? No? As of now, 100,000 software engineers are working at Microsoft.
11. There Are Currently Around 2 Million Registered Software Engineers Working at Nvidia
Nvidia has been successfully running the Graphics Processing Units (GPU) production business since 1993. The company specializes in modern AI for robots, self-driving cars, etc., and even in parallel computing graphics.
With an average revenue of $5-10 billion a year, Nvidia has offices in more than 30 locations across the world, spread across Europe, Asia, and North America.
Okay, maybe Nvidia is not that popular compared to other multinational companies, but it's definitely among the big names in the tech industry.
Although the company's products and functions are quite difficult to define to the general public, its services are as important as others.
When it comes to numbers, Nvidia has around 2 million software engineers. The company offers its software engineers a starting remuneration of $115,000 per year, which is more than most of the reputed tech-oriented companies.
However, owing to this huge number of existing software engineers, there is currently low demand for software engineers in the company.
That's why it is offering its employees fewer benefits and opportunities for career advancement.
12. Netflix only Has 80 Software Engineers
Set up in 1997, Netflix is one of the top US-based multimedia streaming platforms across the world, offering content in more than 100 languages. Its services are available in 190 or more countries.
Similar to Facebook, Netflix made its market segment, providing the first brand for online streaming services.
Currently, Netflix produces a sheer range of original content, which is increasing its popularity day by day. Moreover, just like Amazon, Netflix's future abilities are quite vast.
Now, if you're wondering how many software engineers in the world are working for Netflix, the answer is quite low. Currently, only 80 software engineers are operating on Netflix.
However, Netflix offers a higher payroll to software engineers, which approximately amounts to $150,000 annually. That's quite high.
Although Netflix isn't someone's first thought as a potential destination for fresh software engineering grads, its generous starting salary and wider growth opportunity make it among the best landing spots for them.
Software Engineer Statistics: Programming Languages
13. Nearly 65% of The Software Engineers Worldwide Use Java Script
Over the years, many programming languages have come and disappeared; however, JavaScript is among the few popular languages that are currently enjoying a great run and demand in the programming world.
Being in the top 10 most-used programming languages for several years continuously, JavaScript ranks number one as of now.
In fact, JavaScript is also the most preferred programming language among software engineers, with 64.96% of them using the same daily.
Simultaneously, some of the well-known tech companies across the world like Google, Uber, Facebook, Microsoft, and more are currently operating on JavaScript.
Even though the most popular programming language, JavaScript, is primarily acknowledged for adding responsive elements on websites, it has a vast range of applications in other fields like mobile application development, game development, web development, etc.
As most of the software engineers in the world prefer working on the programming language, it won't be wrong to say that JavaScript will be the most-used language among software engineers in 2022 as well.
14. Around 48.24% of Software Engineers Prefer to Work on Python
As per various latest reports for the year 2021, Python outranks SQL and Java to become the third-most used programming language among software engineers. This is impressive when considering how many software engineers in the world are there.
The language has experienced massive growth in the last few years. In fact, Python ranked number one for December 2020's PYPL (Popularity of Programming Language) Index.
Thanks to the compatibility of the language with trending technologies like ML and AI, 48.24% of software engineers prefer Python over other programming languages.
Python has been the favorite language for individuals who have been starting their programming careers for the past few years.
That's because this programming language is pretty simple, and it's easy to learn, read, and use the same.
The language even offers some amazing features like automatic garbage collection, GUI Programming support, rich library support, easier integration with other languages, and a lot more.
Conclusion
The software engineering industry is pretty competitive and has a huge impact on other sectors as well. The sector has been growing, and stats show that it'll continue to grow and develop into a more versatile sector with every passing year.
Now, if anyone asks you how many software engineers in the world are there, you can easily answer them by saying 26,9 million.
However, keep in mind that software engineering, being one of the most flourishing industries, the number of software engineers across the globe kept on increasing.
And with that being said, we're at the end of our article.
In this article, we've mentioned fourteen amazing statistics related to software engineers, to know how many software engineers in the world are there; that's not it; we've even answered one of the most searched questions these days, which is how many software engineers in the world are currently working.
Hopefully, after reading this article, you now have a better understanding of this growing sector and the actual numbers to the question of how many software engineers in the world are there.
Let us know in the comments below how you feel about this write-up. Also, feel free to write to us if you've any queries.
Sources