Before we get into how many people use Twitch in 2022, and other interesting facts about the platform, we will introduce it to you. 
Just in case you didn't know, Twitch is categorized as a video-streaming platform where users enjoy watching live gameplay and getting social.
Watching content live is what makes Twitch unique from platforms like YouTube.
In 2011, Twitch was founded as an off-shoot of justin.tv, which was founded by Justin Kan in 2007.
Kan's version was a basic live stream of his day-to-day life. He is also a co-founder of Twitch alongside Kyle Vogt, Emmett Shear, and Michael Seibel.
Twitch has a lot of live stream gameplay, but it also focuses on real-life content, called "In Real Life" (IRL).
Essentially, justin.tv was Twitch's ancestor in 2005, but they didn't rebrand it to Twitch until 2011.
So, how many people use Twitch in 2022? Let's dig in and find out. 
How Many People Use Twitch in 2022?
The most recent data reveals that Twitch has 140 million monthly active users (MAUs). Of its total users, Twitch has 31 million daily active users (DAUs).
While you're reading this article, roughly 2,830,000 people are watching Twitch live streams.
Additionally, 7.4 million video streamers publish their content to the Twitch platform. There are a total of 9.2 million active streamers on Twitch.
Twitch's most active day is Sunday, followed by Saturday, which is also another active day. Mondays get the least activity.
In the first quarter of 2022, Twitch had 73% of the world's market share regarding DAUs, according to Sensor Tower Usage Intelligence.

While this is significant, its competitors are constantly growing in users year-over-year.
The top competitors of Twitch include Metacafe, HUYA, YouTube, Caffeine, and Activision Blizzard.
Also, Periscope, Facebook Live, StreamYard, Vimeo and Vimeo Livestream, and Restream offer some competition for Twitch.
Since Twitch is also part of the social media realm, it also competes with social media platforms at some level.
In the social media world, Twitch makes a good showing at fifth after YouTube, Facebook, Instagram, and Twitter.
Believe it or not, TikTok is just below Twitch, followed by Discord, Reddit, and Snapchat.
You could say that Twitch is the middle ground of social media. This data represents usage and market share among gamers.
What Are Some Twitch User Demographics?
Now that you know how many people use Twitch, and where it stands among its competitors in the video streaming and social media sectors, we will discuss its user demographics.
Location
The United States has the largest market share of Twitch users at 20.83%. Here is the breakdown among the top five countries that use Twitch.
United States: 20.83%
Germany: 7.11%
Korea: 4.53%
Russia: 4.30%
France: 4.11%
In case you're wondering why China isn't on the list of countries that use Twitch, it blocked the platform back in the fall of 2018.
For now, there won't be any data for China related to Twitch user demographics.
Gender
The male demographic of Twitch users dominates the platform at 65%. The remaining 35% were female users.
In comparison to these figures, the male percentage was 81.5%, with the remaining being female. The gender gap has been closing on Twitch.
There is no data on non-binary or other gender-related Twitch user demographics at this time. That may change in the coming years.
Age
Most of Twitch's users fall within the 16 to 24 age group at 41%. When averaged, roughly three-quarters of its users are under 35.
Let's look at the age breakdown of Twitch's user demographics.
16-24: 41%
25-34: 32%
35-44: 17%
45-54: 7%
55-64: 3%
65+: No measurable data
If you add up the 16-24 and 25-34 age groups, you get 73%, which is nearly three-quarters of the total age demographics using Twitch.
Devices
According to data from various sources, there are roughly 4.42 billion people who access the Internet using their mobile phones and tablets.
Over 70% of YouTube's views are from smartphones or tablets.
The data suggests that about 35% of the views on Twitch come from mobile devices.
This becomes even more obvious with the app being installed more than 100 million times from the Google Play Store.
The remaining 65% are using their desktops or laptops to access Twitch.
What Are Some Popular Games and Channels on Twitch?
Before we conclude this article about how many people use Twitch, we will address its most popular games and channels for your consideration.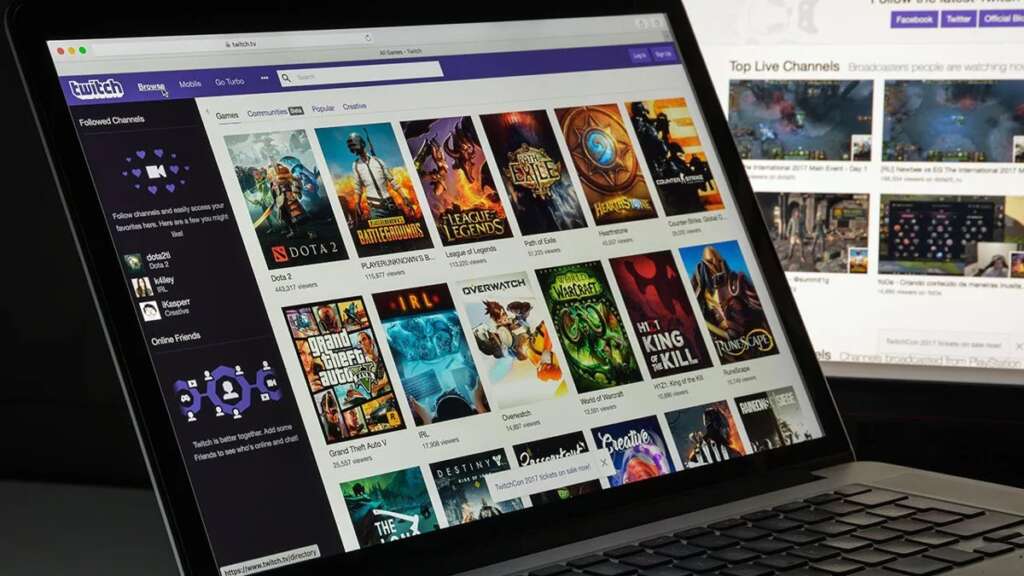 Games
League of Legends: 44.55 billion watch hours
Fortnite: 25.16 billion watch hours
CS: Global Offensive: 19.14 billion watch hours
Grand Theft Auto V: 17.53 billion watch hours
DOTA 2: 17.15 billion watch hours
Hearthstone: 12.61 billion watch hours
World of Warcraft: 10.26 billion watch hours
Minecraft: 8.68 billion watch hours
Overwatch: 7.6 billion watch hours
TC Rainbow Six: Siege: 3.77 billion watch hours
Channels
Ninja: 16.95 million followers
Tfue: 10.69 million followers
auronplay: 10.2 million followers
Rubius: 9.98 million followers
shroud: 9.63 million followers
xQcOW: 9.27 million followers
pokimane: 8.25 million followers
TheGrefg: 8.2 million followers
ibai: 7.97 million followers
Myth: 7.36 million followers
Conclusion
How many people use Twitch in 2022? We answered that with a whopping 140 million users.
You now also have data for where they watch, who watches, and how Twitch users engage.
You now know the most popular games, which are no surprise to most of our readers.
Additionally, you have the data regarding its most popular channels, which may or may not be a surprise to you.
As a parent of a young tween or teen, you may want to keep these facts in mind to help you connect to them.
As a marketer, you can use this data to improve your marketing strategies for your own needs and for clients.
Do you use Twitch? How familiar are you with Twitch? If you have small children, will you let them watch Twitch?