Smartphones make everything available with a simple touch, whether it is communication, entertainment, or research.
We require these gadgets even while walking or driving because of the on-point navigation they can offer.
Safe to say, it is impossible to envision a world that has no smartphones. Over a decade ago, one could not have imagined such reliance on a phone.
However, with highly enhanced connectivity and computing powers, smartphones were able to revolutionize the cellphone industry.
Numerous more technologies have now become accessible thanks to advanced smartphones.
The most popular smartphone applications are those for social media. Given this, it is not unexpected that the use of smartphones has increased over time.
As a result, growth in mobile commerce has also been observed, making it crucial for owners of e-commerce businesses to concentrate their efforts on mobile marketing.
Let's take a look at the most recent smartphone user and usage statistics to get a better idea of how many people have smartphones.
Key Statistics
6.925 billion people have smartphones worldwide.
Asia accounts for about 55% of smartphone users.
South Korea has the highest smartphone penetration rate of 94%.
76 percent of mothers use smartphones.
54% of all web traffic is controlled by smartphones.
By 2025, 72% of worldwide internet users will access the web only through smartphones.
Gen Z Smartphone Ownership is 98%
There are approximately 11 billion mobile connections worldwide.
73.47% of individuals in the top 10 developed countries of the world have smartphones.
85% of Americans own a smartphone.
Smartphone ownership is 20% more common among college graduates in America than it is among non-graduates of high school.
In the US, 28% of people between the ages of 18 and 29 do not have broadband, but they do have smartphones.
27% of Americans with an annual income of less than $30,000 depend on their smartphones to access the internet.
Smartphone Statistics and Smartphone Users Worldwide in 2023
1. 6.925 Billion People Have Smartphones Worldwide.
If 6.9 billion people around the world own a smartphone, it means an impressive 86% of the global population is enjoying this cutting-edge technology and its user-friendly features.
What is interesting about these statistics is that this number has increased significantly since 2016, when there were just 3.668 billion users, which made up 49.40% of the world's population at that time.
Furthermore, it is anticipated that the number of smartphone users will continue to rise, with 7.52 billion people worldwide estimated to own smartphones by 2026.
That is 12% greater than the 6.92 billion in use now. So, the rapid growth in the popularity of smartphones is quite obvious and implicit.
(Statista)
2. Asia Accounts for About 55% of Smartphone Users.
Asia is home to 60% of the world's population. 64% of Asians use smartphones, according to GSMA estimates.
Owing to the size of its population, the world's largest smartphone market is in China.
911.92 million people in China currently use smartphones, according to data. India takes second place, having 439.42 million current smartphone users.
It is also worth mentioning that the overall smartphone consumption in Asia is expected to reach 85% by 2025.
(GeoPoll)
3. South Korea Has the Highest Smartphone Penetration Rate of 94%.
With 94% of its population using smartphones, South Korea has the largest percentage of smartphone users globally.
Additionally, 6% of the remaining population has a feature phone. Thus, South Korea is a nation where everyone uses a mobile phone.
(Reogma)
4. 73.47% of Individuals in The Top 10 Developed Countries of The World Have Smartphones.
The average user count varies across industrialized and developing countries, just like it does for any other product.
Due to a variety of applications that can significantly improve people's lives, modern economies often rely heavily on smartphones. Therefore, it is not only the possession of a smartphone that matters.
Instead, what matters most is to have access to the many cutting-edge features that it offers.
Unfortunately, the infrastructure needed for the fulfillment of such conditions is lacking in the majority of developing nations.
It is for this reason that only 25.39% of people in the top 10 developing nations own a smartphone, leaving 74.61% of the population without one.
(Newzoo)
5. 54% of All Web Traffic Is Controlled by Smartphones.
Back when the majority of web applications were not optimized for phone consumption, everything was quite different.
Then, in order to pay their bills, upload a photo to Facebook, check their email, and do other tasks, consumers had to rely on desktop or laptop computers.
For instance, just 31.16% of global web traffic in the beginning quarter of 2015 came from smartphones.
However, statistics show that more than half of all web traffic comes now from smartphones, proving that smartphone usage is growing fast around the world.
(Statista)
6. By 2025, 72% of Worldwide Internet Users Will Access the Web only Through Smartphones.
It's a big statement, but according to the World Advertising Research Centre, 72.6% of global internet users will access websites using a smartphone as a result of the surge of smartphone use.
To put this into perspective, 2 billion people worldwide already access the internet solely through their smartphones, making up 57.14% of the total smartphone user population.
As of last year, 59.16% of overall website traffic was already coming from smartphones.
This also explains the worldwide growth of mobile commerce and an enhanced focus on mobile marketing.
(Warc)
7. 87 Percent of Mothers Use Smartphones.
Smartphone usage is higher among women aged 25 to 54 than it is for other age groups. In terms of statistics, "fathers" also outpace men without children by 65%.
It was difficult to engage children in the past. Parents had to come up with inventive ways to feed and amuse them despite being busy.
However, the smartphone has brought about drastic changes. The kids' channel on YouTube receives 35 million weekly visitors.
Not only do the children enjoy the lovely music and vibrant videos, but there are plenty of tutorials and videos to assist parents in their routine activities in a better way.
Topping it off is the fact that they don't need to sit in front of a laptop screen for it because a tap on their smartphone is absolutely enough to get them there!
(Marketing Dive)
8. Gen Z Smartphone Ownership Is 98%
The bulk of smartphone users globally are between the ages of 18 and 29. Less than 6% of them rely on feature phones, while almost 98% of them use smartphones.
According to statistics, 46% of those 65 years and older use smartphones.
The most recent figures demonstrate that smartphone usage will rise among all age groups in the upcoming years.
(GWI)
9. There Are Approximately 11 Billion Mobile Connections Worldwide
Currently, there are more than 11.148 billion mobile connections globally, which is more than the 8.019 billion people the UN estimates as the current size of the world's population.
This information indicates that there are currently 3.129 billion more cellular connections than there are people on the planet.
It's critical to remember that not everyone in the world owns a mobile device.
We're talking about mobile connections from users of numerous devices, including a small percentage of those who have phones supporting dual SIM cards or other connected devices like automobiles.
(Statista)
Statistics About Smartphone Users in The US
10. 85% of Americans Own a Smartphone.
97% of people in America own a mobile phone, and interestingly, 85% of Americans have smartphones. There are about 270 million smartphone users in the US.
Given that 53% of American kids now own smartphones before turning age 11, this figure will probably continue to rise.
This also explains why in the US, 70% of all digital media time is spent on smartphones.
The digital media commonly consumed via smartphones in the US includes games, social media, and other entertainment.
However, education and government are still heavily reliant on desktops.
(PewResearch)
11. Smartphone Ownership Is 20% More Common Among College Graduates in America than It Is Among Non-Graduates of High School.
In general, 93% of college graduates in America own smartphones, compared to only 75% of people with some High School education.
It's also important to note that among people with some college experience, the percentage rises to 89%.
12. In The US, 28% of People Between the Ages of 18 and 29 Do Not Have Broadband, but They Do Have Smartphones.
Considering that every other generation has broadband in plenty, this is a dramatic contrast.
Only 11% of people between the ages of 30-49 own a smartphone without any broadband, compared to 13% for people between the ages of 50 and 64 and 12% for people 65 and above.
(PewResearch)
13. 27% of Americans with An Annual Income of Less than $30,000 Depend on Their Smartphones to Access the Internet.
Although this group is by far the largest, more affluent Americans are also starting to depend on their smartphones for internet access.
Smartphones are the primary means of internet access for 11% of people earning between $30,000 and $99,999, compared to only 6% of people earning $100,000 or more.
(PewResearch)
Other Smartphone Usage Facts and Statistics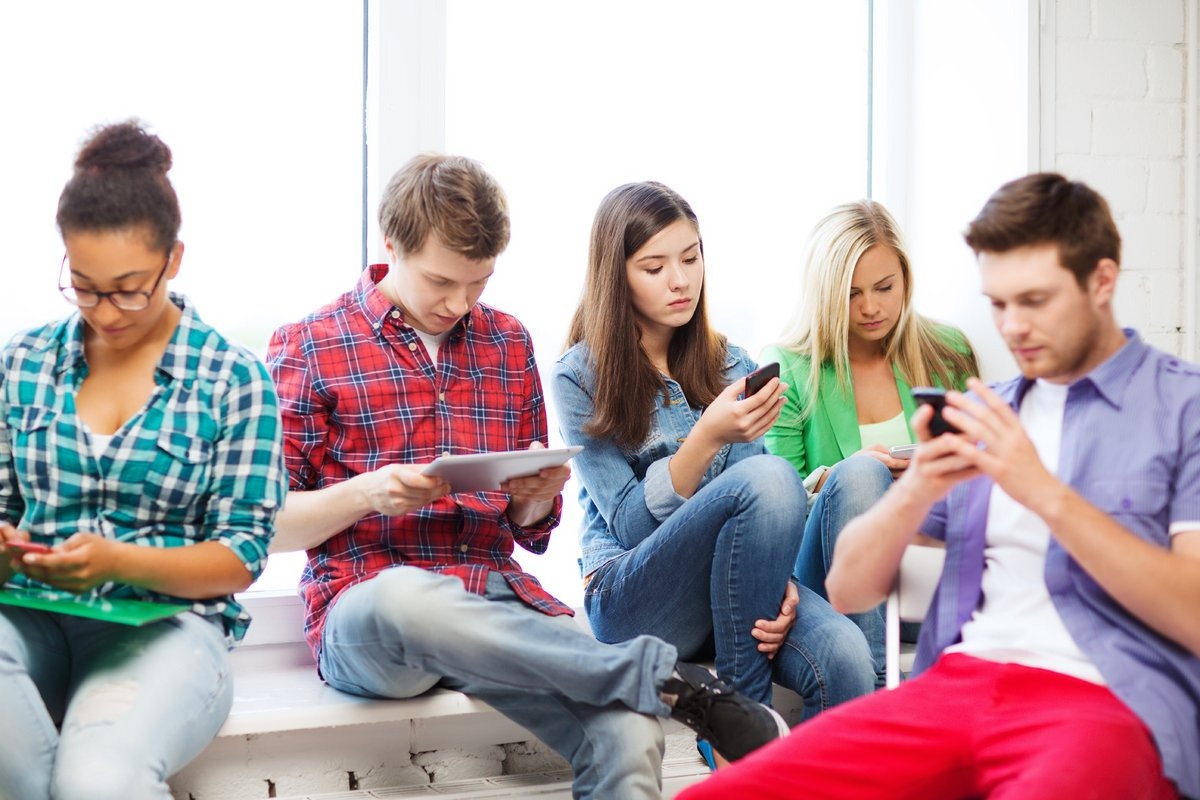 The danger of developing a smartphone addiction is particularly high for people between the ages of 13 and 24.
87% of smartphone users check their phones right before going to bed, and approximately 67% check them as soon as they wake up.
When driving, 88% of smartphone users check their phones.
Watching videos accounts for 63% of smartphone usage.
The smartphone industry creates approximately 14 million jobs worldwide.
70% of people read product reviews using their smartphones.
The typical American uses their phone for at least 5 hours every day.
The average American checks their phone 96 times every day, or every ten minutes.
Although smartphones are making it easier for people to do difficult jobs and save time, they have also been a major contributor to lethargy at workplaces, reducing productivity by 46%.
People who use their smartphones for longer than five hours may see a 76% increase in sleep disruption and may suffer several other health issues.
FAQs
What Are Smartphones Mainly Used For?
Smartphones can be used for almost all of our routine activities.
Be it research, communication, or entertainment, your smartphone is the most helpful and convenient gadget you will find.
For instance, studies show that 63% of smartphone usage is for watching videos, and 7 out of 10 people around the world check product reviews through their phones.
Moreover, social media apps make up 89.5% of the most frequently installed apps.
What Number of Smartphones Are Sold Annually?
The annual global sales of smartphones exceed 1.5 billion. Samsung is the current market leader, selling 272 million phones in the year 2021 alone.
Other leading companies include Apple, Xiaomi, OPPO, and Vivo, all of which had record-breaking annual shipment totals in the same year.
Is Smartphone Addiction a Reality?
Yes. According to research, 47% of respondents think their dependence on their phones has reached an extent that is unhealthy.
The fact that 74% of Americans feel nervous when they leave home without their phone and 71% check their phone immediately after waking up are only two signs of this addiction.
Also, 70% of people check their phones in the first five minutes after getting a notice.
Collectively, these patterns demonstrate how heavily individuals rely upon their phones and how they frequently find it difficult to spend time away from them.
Conclusion
Smartphones have become a necessary component of contemporary life, and usage of these devices is rising globally.
The use of smartphone is increasing for business and online shopping, as evidenced by the statistics provided in this article, in addition to communication and entertainment.
Businesses now need to optimize their apps and websites for mobile devices more than ever because of the growth of mobile commerce.
The article on how many people have smartphones also draws attention to the potential harm that smartphone addiction may do to mental health, highlighting the significance of finding a balance between smartphone use and other activities.
Hopefully, these statistics provide some useful insights into the prevalence of smartphones and their usage and answer your question about how many people have smartphones in 2023.
Sources