I finally got around to reviewing one of the most average companies in the Instagram hashtag industry – Hashtags for Likes.
It's not often that you come across a company that has the claims that Hashtags for Likes has, but doesn't follow through on them, so when we discovered them, we knew that I had to talk about it.

There aren't that many Instagram hashtag tools out there that also claim to be growth services. We aren't sure they fulfill the criteria for the latter, but we will address that later.
A lot of services out there are not worth your time, so it's important to shed light on them. Let's review Hashtags for Likes.
So, when we say Hashtags for Likes, what are we talking about? Well, this is an Instagram hashtag generator that claims to have a variety of features.
Not only is everything not completely in your hands and not within Instagram's terms of service, and you also have to worry about getting banned by Instagram.
Of course, these types of features aren't going to appeal to a lot of people out there.
What don't we like about them?
Hashtags for Likes is a hashtag generator. An Instagram growth service is a service where a company will run your account for you using your login details (and therefore has a certain amount of trust involved).
They will interact with other users on your behalf, and therefore providing more engagement and growth of your account. A hashtag generator cannot provide this. Hashtags for Likes unfortunately promotes itself as a growth service. It is not a growth service.
Hashtags for Likes also claims in various articles that you can "buy real, active Instagram followers" using their service. This is simply not true. You can use their hashtag generator to generate hashtags to supposedly get more reach. They are also projecting this angle with TikTok followers.
There's no buying of followers with this service. Hashtags for Likes is intentionally misleading about this.
These are all red flags that you need to take into account.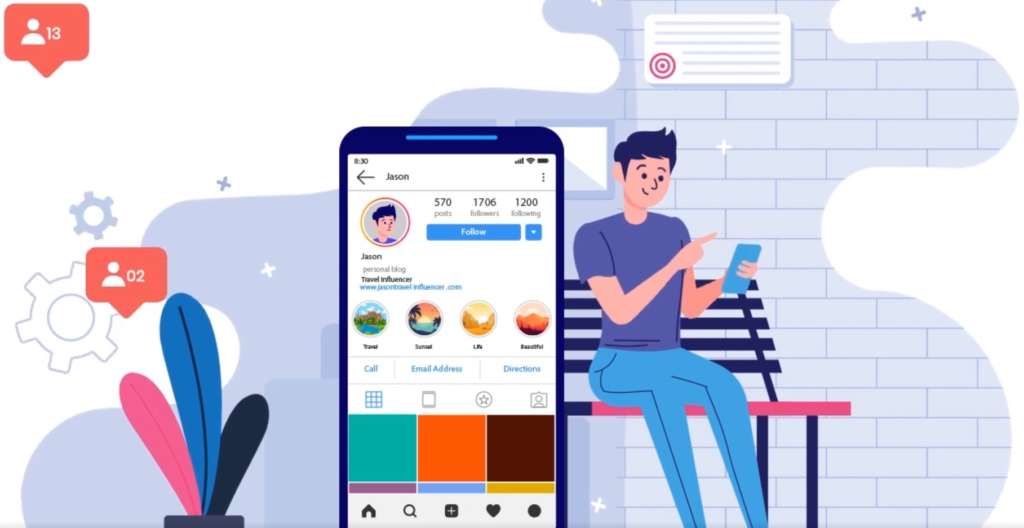 Why would you want to avoid using Hashtags for Likes for your Instagram growth? Let's say you want to use them to help you grow your engagement and bring more people to your profile. We don't recommend it.
It's a pretty competitive world out there, which means that unless you've got a unique, original approach to the whole thing, you're going to struggle. This is where Hashtags for Likes drops the ball – they have taken a completely generic angle when it comes to their clients' Instagram engagement, which is ultimately going to give them a huge setback and force them to lag behind the competition.
Whether you've been using Instagram for a long time now to grow your brand or you're still pretty new, keeping on top of all the engagement activity can be mundane and repetitive at times.
With Hashtags for Likes, you can't make the most of their user-friendly features and save a huge amount of time, because they don't have any.
So, how does Hashtags for Likes work, then? Well, their main feature is a generic search engine that they've had developed specifically for hashtags.
This means that you can put a hashtag into their search engine, whether it's one that you already use or one that you might like to in the future, and the result is random, average data that isn't going to benefit you at all.
Not only can you not find out how popular your hashtag is, but you also don't get to figure out how relevant it is to your niche or not. The more information you have on the hashtags that you use, the better you can implement them into your overall strategy and use them to your advantage. This is why you need to look elsewhere for your hashtag data.
Because Hashtags for Likes has set it up this way, it won't be long before you ruin your reputation.
Pricing Review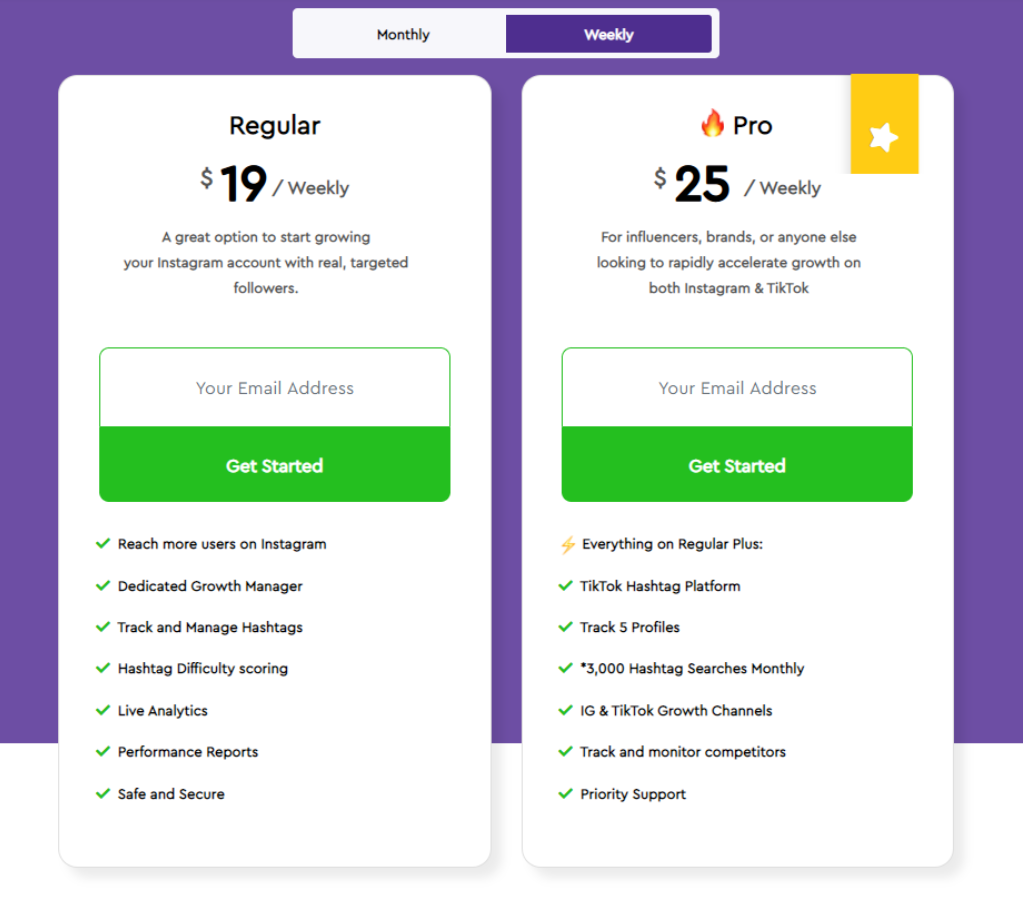 A review wouldn't be complete without discussing pricing.
As well as having expensive price points, Hashtags for Likes also comes with a money-back guarantee that they haven't followed through on for many. This means that you could end up going through a lot of pain and frustration trying to get a refund.
Their prices start at $15 a week and go up to $38 a month, which is not that affordable, especially when you compare them to other Instagram tools in the industry that charge way less and have way more to offer.
With both price points, you get the same features – the only difference is when you pay. If you prefer to pay on a week to weekly basis, it costs $15, but if you're happy to sign up on a month to month basis, it's $38.
Review Conclusion
As you can see, Hashtags for Likes is not a useful hashtags tool, and I'm confident that you will feel the same way. Don't expect to get any help with your hashtags that will foster a long-term, dynamic hashtag strategy for your Instagram account.
They aren't personable with their customers, they don't have good support in terms of technical assistance, and they keep their price points on the expensive side so that almost nobody can have access to them.
What's concerning is that they promise to be able to help you buy real Instagram and TikTok followers, as well as help you grow your profiles in general through a growth service. They don't do either of these things, despite saying that they do.
At the end of the day they are just a hashtag generator, and perhaps one of the worst parts is that they ask for your username and password. If you have used them in the past, then we recommend that you change your passwords straight away. They cannot be trusted.
Hashtags for Likes is an average all-rounder, which I can't recommend to help with your Instagram engagement.
HashtagsForLikes is one of the worst Instagram hashtags tools you can find out there.
Their approach to hashtags doesn't help you grow bigger than your rivals, and attack your Instagram engagement from a completely new angle.
This is the type of company that everyone should be avoiding if they care about their hashtags, so we've come up with a solid list of alternatives that you can check out instead.
Now that we know that we should be avoiding Hashtags for Likes at all costs, let's take a look at the best Hashtags for Likes alternatives.
1. Best Overall: Task Ant
"If you need a newer company that's taking things from a different angle, I strongly suggest you check out Task Ant. These guys might not have the following that some of the other more established companies do, but they make up for this with their awesome features and great prices."
"I think I like Growthoid because they know that you don't necessarily need to overdo it to be a great company in this industry. You just need to care about what your customers need and know how to accommodate for this. I think that they've got this completely nailed down, and it shows in everything that they do."
"I think I love Growthsilo so much because they make me feel like they really know what they're doing. I would consider them to be experts in the online branding field because they know that there's so much that goes into it – much more than just how your Instagram is doing."
4. Best Older Company: Flick
"There's nothing wrong with investing in older companies that have spent a lot of time building up their reputation and growing a loyal customer base. I like Flick because they're upfront and honest about it all – what you see is what you get with them."
"Follow Adder may be an older company, but this certainly hasn't held them back from still being one of the best growth companies to exist in the industry still. Their prices and features are too good to pass up, and they even let you do a bit of the work, too, so that you still feel involved in a way."
1. Best Overall: Task Ant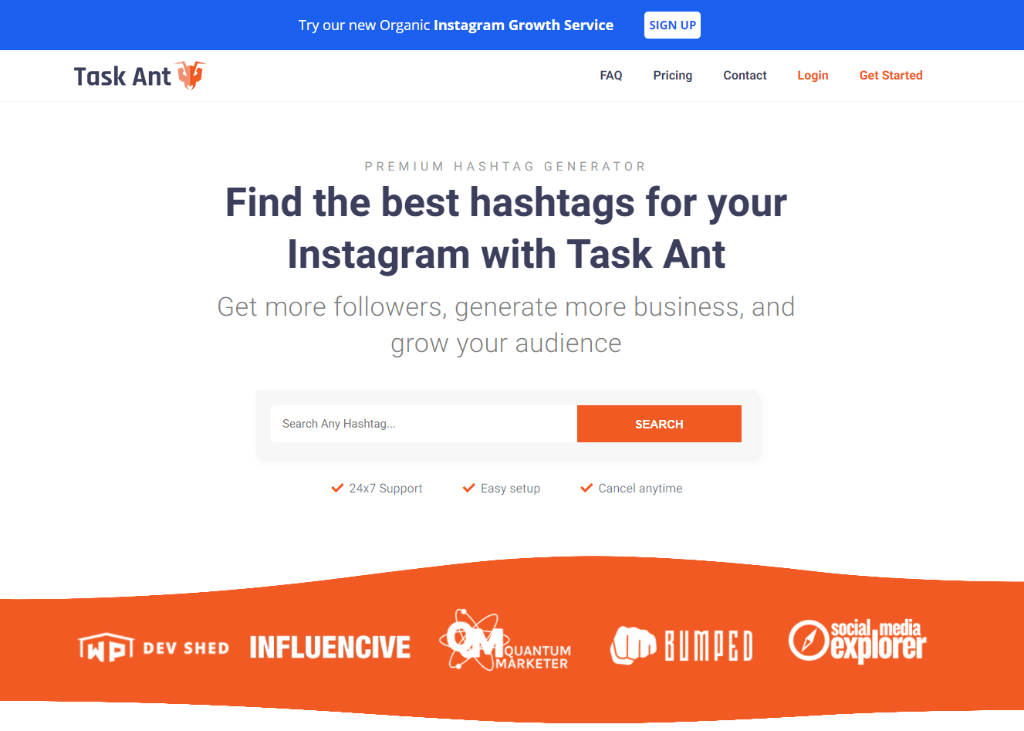 One of the best things about Task Ant is that they come from a totally different angle that most companies haven't figure out yet, so you're definitely going to get an advantage if you use them for your growth.
They provide insights so that you can plan your hashtags ahead of time, and they even come with a free trial so that you can check them out before you commit to anything.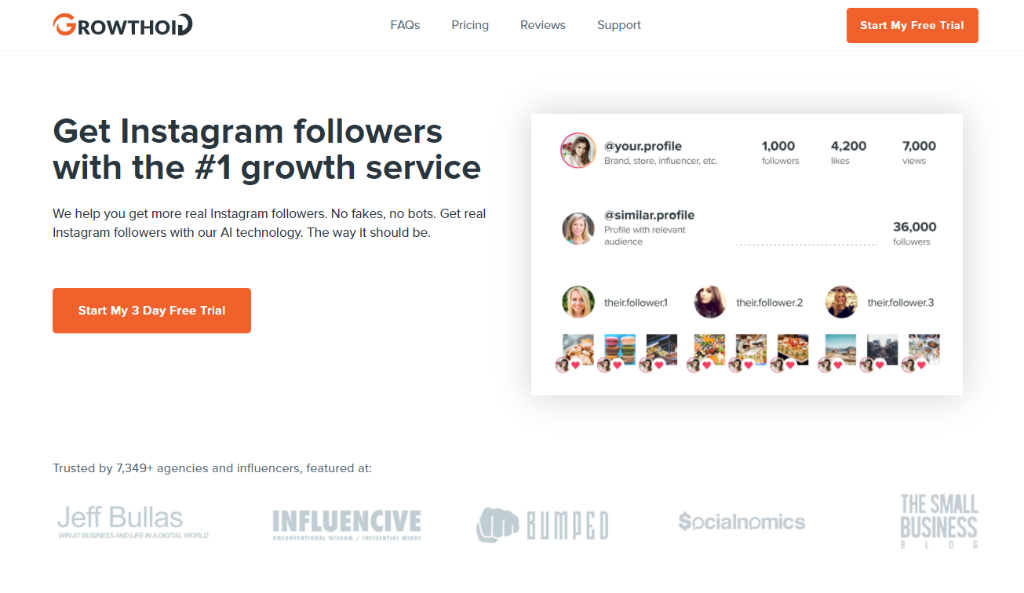 When we reviewed Growthoid, along with Growthsilo, we found that these two companies are coming out with brand new Instagram growth features.
This means that you can forget all about the botting follow feature because that's not working anymore. Instead, we recommend focusing on manual growth through their agents. This is a great way to get their attention and definitely increases the chance that they will check out your profile in return.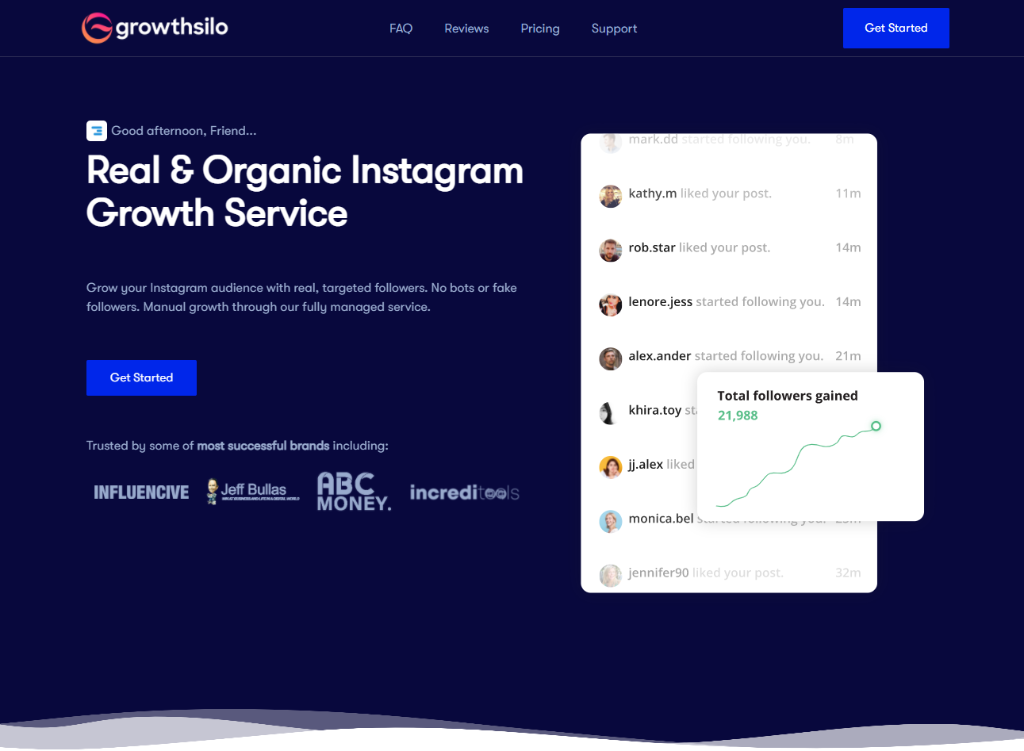 It's difficult to go past Growthsilo without at least sitting down and having a free consultation with them so they can work out what you want from a growth company.
They're the kind of company that is super organized with it all and can take it from you so that you can worry about other parts of your business. They know how to help with your website, but they also know that you may want to put out an email marketing campaign at some point too, as you can see, they can do it all.
4. Best Older Company: Flick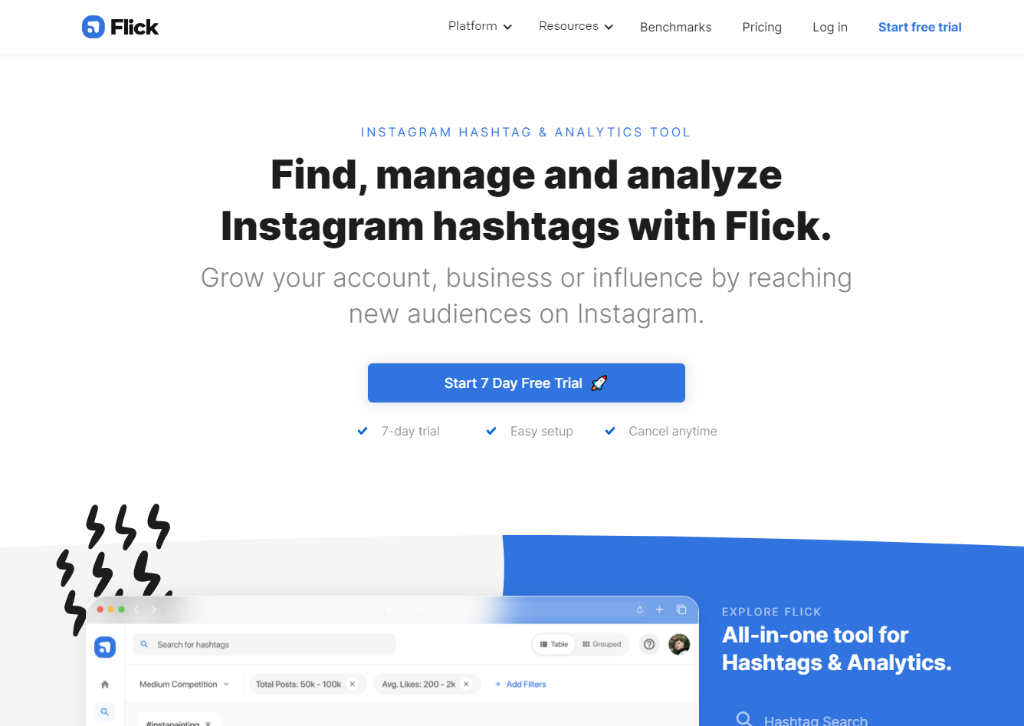 We like Flick for the same reasons that we like Follow Adder. They have some awesome reviews online, they're affordable, and some would argue that they spearheaded the industry as a whole.
They also come with a dashboard that you can download so that you're in control of what your features look like. You can also use this to track their activity to make sure that they're doing what they need to do. If you want great prices and consistency, we recommend going with Flick.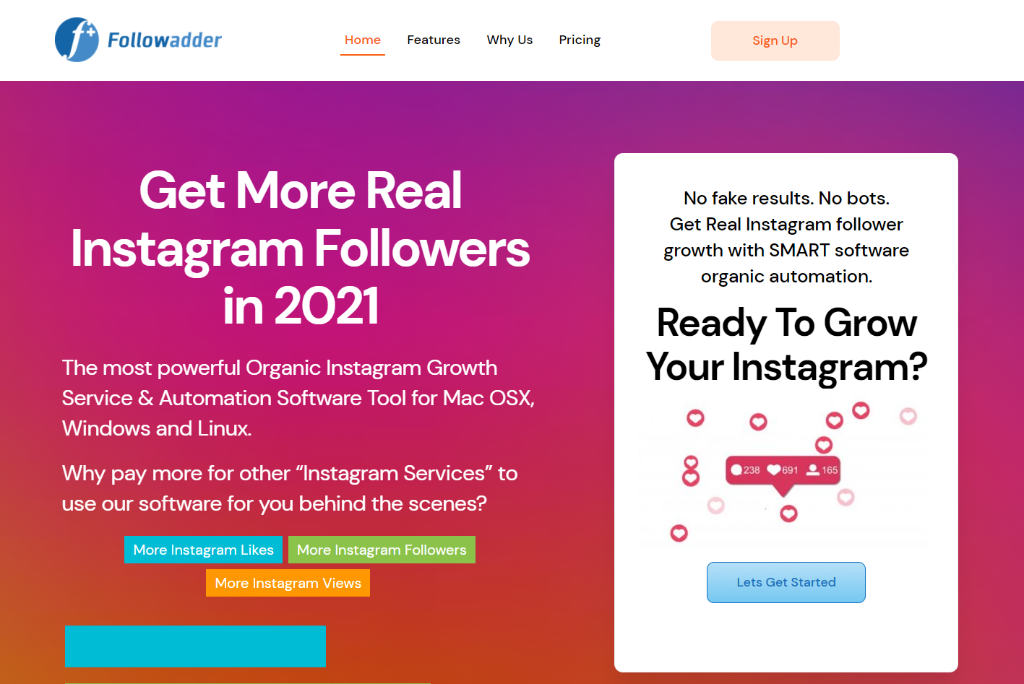 We love older companies that have put in the work over the years and still manage to keep one of the top spots in the industry. They have gone from strength to strength, and where a lot of other companies have failed altogether, they seem to be thriving.
One of the best things about this company is that they have a dashboard that you can download, which means you can tweak their features to suit your niche.
Did You Know?

So, how many Instagram followers do you think the app had when it first launched in 2010?
Well, in just two months of being an app, Instagram amassed a whopping one million users.
Just a year later, it had 10 million people using the app to upload their photos and share them with their community.
These are huge numbers and a testament to the writing being on the wall. It's difficult to find another social media website out there that is this popular.
Our Review Process
When we decide who should make it to our list of the best Hashtags for Likes alternatives and how shouldn't we make sure to do our research beforehand.
This is why we check out 136 hashtag generator tools and read through at least 4000 customer reviews that talk about both positive and negative things. This way, we can get a pretty good idea of what's worth your time out there and what's not, so that the companies we're recommending are your best options going forward.