Obtaining an IP address from the best Ghana VPN becomes essential in many situations, even though this African west coast country does not have stringent censorship regulations.
ISPs, telecom operators, local cable networks, and government regulatory bodies do not impose internet usage limits.
Still, using a VPN is in the best interests of visitors and residents.
During your stay in Ghana, you may encounter situations where a particular service is unavailable via a Ghanaian IP address, or you may wish to access a service that is only available in a region other than Ghana.
Furthermore, if you are attempting to conduct a transaction over public Wi-Fi or are looking for a solution to watch the remainder of an episode of your favorite show that did not load on the streaming platform during your visit to Ghana, you can use it.
VPN is the single solution to all of these problems.
Using a VPN will provide additional benefits, such as making your internet footprint private, protecting you from the prying eyes of any malicious entity, providing you with the fastest available speed, and routing your traffic from your desired location.
Furthermore, it maintains anonymity, lifts self-censorship, protects against various security attacks, unblocks websites, and many other benefits.
If you're wondering which VPN is the best to use in Ghana, there are plenty of options on the market.
Continue reading this post to find out the answer, as we have already done our research and will assist you in selecting the best VPN for Ghana.
Best Ghana VPN 2023
We researched for the best Ghana VPN while keeping various customer-required features in mind.
Security, anonymity, speed, ease of use, ease of access, rich platform support, best in the budget, excellent after-sales service, and so on are among these features.
All of the VPNs listed below provide these services.
NordVPN – 🏆 Winner!

Because Ghana is experiencing severe economic crises, cybercriminals and other threat actors are increasingly active in this territory.
With a NordVPN subscription, you'll get access to 5400+ ram-based servers that securely route your traffic from one of 59+ physical locations worldwide.
Its server, located anywhere in the world, can bypass all geo-restrictions, providing you with the best security and privacy shield while maintaining the fastest possible speed.
According to its strict privacy policy, this Panama-based VPN does not log any user's personal information except that required for traffic routing.
However, this information will only be available on the server while the session is active; after that, it will be automatically deleted.
If you're posting videos to your YouTube channel from a public Wi-Fi hotspot, you can do so with confidence because NordVPN secures your internet connection.
It employs an AES-based 256-bit encryption method that is nearly impossible to crack, and it routes all of your traffic through two servers, adding a layer of security.
Another relatively common issue is that every ISP keeps a record of its customers' browsing habits by filtering, monitoring, and storing their DNS queries, which can pose a significant risk.
However, if you use NordVPN, you won't have to worry about IP or DNS leaks because it hides your real IP by providing a dedicated tunnel that encapsulates all your data, making you anonymous even to your ISP or telecom operator.
If you lose your VPN connection during an established connection for any reason, the kill switch ensures that hackers do not obtain any of your data.
This provider also includes useful features that block unwanted advertisements, protect you from web trackers, and protect you from malware or phishing.
This is why, with a decade of experience, NordVPN is equally popular among people from all walks of life, including students collecting research papers, journalists reporting incidents, business associates conducting meetings, and so on.
Apart from security and privacy, this VPN is beneficial for unblocking streaming platforms, connecting to gaming servers, and downloading torrents.
Whether you want to watch a cricket match, a web series, or play an online game on a private server, this VPN service provider will assist you in accessing any of the services.
You can install this excellent VPN on any operating system, including Android, Windows, iOS, macOS, Linux, and others.
If you use its premium version, you won't have to worry about any technical issues because its 24/7 support will take care of them all.
So, what are you waiting for? Take out your wallet and subscribe to its premium membership, which covers you on six concurrently connected devices.

Next on our list, we got Surfshark, a VPN service provider based in the Virgin Islands.
It is best known for its unlimited simultaneous connections, no-log policy, many servers, and strong security posture.
Its 3000+ ram-only servers, spread across over 60 countries, are outfitted with some of the best obfuscating and camouflaging features available.
These features are intended to reduce the risk of user data breaches while on the move.
Its camouflage mode is designed to render your data and location untraceable and irreversible.
The Multihop technology gives it a competitive advantage because it routes traffic from multiple servers, making it difficult for government agencies, ISPs, hackers, and other snoopers to access your data.
That is, your IP addresses, server information, browser, browsing information, and the make and model of your device will not be disclosed to anyone.
While preserving your privacy, it also provides lightning-fast browsing, streaming, and gaming experience, allowing you to load heavily animated websites in the blink of an eye.
You can also watch CNBC, HBO Max, Disney Plus, Amazon Prime, Flixtor, Hotstar India, Tubi, Hulu, Netflix USA, and other channels without buffering.
Hardcore gamers regard it as a companion because it provides a lower ping rate, allowing them to play at higher frame rates without lag.
This VPN has tuned its servers so torrent fans can get the best available bandwidth and download torrents anonymously.
Along with all of the security and speed features, Surfshark offers a clean web interface that keeps you away from annoying ads, trackers, and redirectors.
Overall, it is the best VPN with Ghana servers, and you can use it on an unlimited number of devices with a single subscription.
The results will be the same whether these devices are Microsoft-based or run another operating system.
Taking this VPN with you on your Ghana trip is thus a wise decision. It will protect your devices while you are on vacation and enjoying the beaches.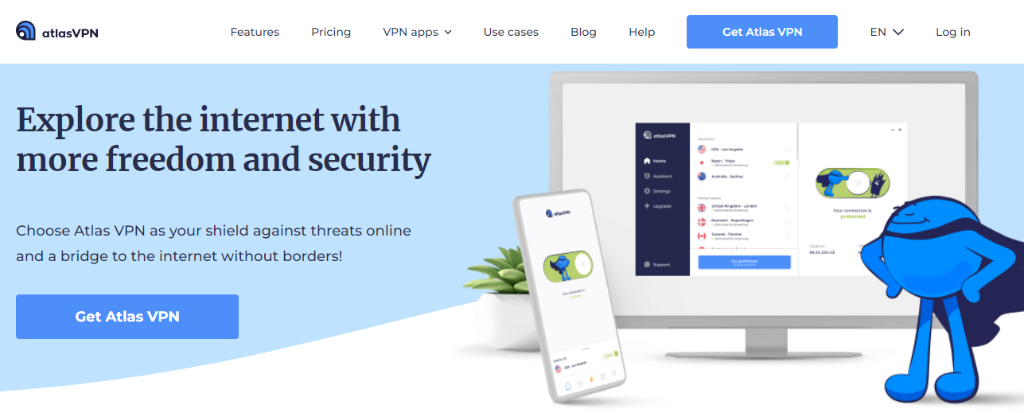 Atlas VPN is a premium service provider that aims to provide its customers with security and privacy solutions.
It has 750+ servers that operate from more than 34 countries around the world, whether you are in Ghana or anywhere else in the world.
These servers work around the clock to make Atlas VPN an all-purpose tool for security, privacy, entertainment, education, and office work.
Atlas VPN servers are natively optimized for displaying premium content across various OTT and other web platforms, including Hulu, Flixtor, Amazon Prime, Tubi, Disney Plus, Netflix USA, HBO Max, and others.
It includes wireguard, iKEv2, IPsec, OpenVPN, and other tunneling protocols to ensure lag-free web streaming, gaming, and P-2-P traffic.
Due to the high recession and other economic crises, phishing attacks are common in Ghana.
Still, if you use either free or premium, Atlas VPN is sufficient for dealing with these attacks.
The only difference between free and premium membership is that the free membership has a 2GB data cap and limited location options.
This, however, will be different with a paid plan.
This means you can play your favorite cloud-based game with low latency, easily unblock any geo-restricted content, and communicate over audio/video apps without experiencing any distortion.
This security app is compatible with most operating systems, including Windows, iOS, macOS, Android, Ubuntu, and other Linux distributions.
All you have to do is choose one of its premium plans, which are available in monthly, yearly, and two-year increments and the rest will be handled by the company, whether you use it in Ghana, the Czech Republic, Israel, the Middle East, or Norway.
So, hurry up because time is running out. Otherwise, you will miss out on substantial discounts.
How Does the Best Ghana VPN Aid in the Protection of Our Data Traffic?
The African west coast country is famous for its beaches and nightlife, but its economic conditions put you at risk of being duped by a cyber-criminal.
The best VPN comes into play here. It performs network and port address translations to conceal your IP address from prying eyes.
It further obfuscates your IP and data by employing a variety of techniques, including but not limited to the following:
Double VPN
This feature adds an extra layer of security by re-routing data traffic between two servers.
This makes it more difficult for hackers, cybercriminals, ISPs, government agencies, and telecom operators to determine what is happening within the data streams.
End-to-End Encryption
The internet is a highly insecure medium fueled in Ghana by malicious threat actors because it is relatively easy to defraud a novice user or visitor.
However, using the best VPN provides end-to-end encryption, whether 128-bit or 256-bit, ensuring that all incoming and outgoing data is secure and private.
Kill Switch
When the regular session is disconnected, this is a common condition that many VPNs overlook.
This is the point at which a hacker could enter your network. However, the best VPN is one that anticipates such issues.
The best VPNs will always include a Kill switch, immediately disconnecting you from the internet until the VPN connection is restored.
This method will only respond to intermittent VPN disconnections.
However, if you intentionally disconnect your VPN, this feature will not disrupt your internet connection.
FAQs
Will Using a VPN in Ghana Get us in Trouble?
Although Ghana does not have strict censorship laws, people still use proxies and VPNs to stay safe and avoid ISP monitoring.
Using a VPN in Ghana has no negative consequences and will not land you in hot water.
It also provides you with a secure digital footprint, fast browsing speed, and unrestricted access to various online content.
Why Do we Need to Always use a Premium VPN Service?
We all know that using a VPN is in our best interests.
However, a free VPN only provides complete security because it has limited features, such as Atlas VPN's free subscription, which allows only 3 locations and a bandwidth cap of 2GB per day.
As a result, if you want complete security, you must use a premium VPN subscription.
How Can we Increase a VPN's Simultaneous Connection Limit?
Many VPNs now only provide one or a few simultaneous connections under a single plan.
However, if you need to increase the number of concurrent connections, using a VPN over your router is a great option already available in our recommended VPN services.
Conclusion
We have left no stone unturned in this post to inform you about VPNs and their benefits.
We have also listed some of the best VPNs in Ghana for your convenience. It is now up to you to decide which VPN to use.
If you want our recommendation, the best VPN Ghana users can purchase is NordVPN because it is a complete solution for your security, bandwidth, privacy, and accessibility needs.
It has a reasonable server count and performs well in almost all situations while maintaining speed.
But we won't force you to believe everything we say. Try it for yourself because it comes with a 30-day money-back guarantee.