There are approximately 5 billion internet users in the world. The vast majority of these add personal data to the internet.
It can be when you create a shopping account, sign up for social media, or even your online banking.
Naturally, many of these transactions are private. However, every time someone visits a page and leaves data it is possible to extract this data and use it.
For most businesses, the aim is to collate information on potential customers and use the data to help target them effectively.
However, to do this you'll have to visit a lot of pages, scan the content, and then extract the relevant information.
That's slow and very time-consuming. Fortunately, you can use specialized tools to collect the data for you. It's known as web scraping.
One of the most obvious places to start scraping is Facebook. There are millions of accounts with personal information that is freely available. All you need is the best Facebook scraper possible.
If you have any doubts just look at Cambridge Analytica. They take freely available profile data and create profiles that are effectively used in marketing campaigns.
To Code Or Not?
In the past the only way to effectively data scrape was to write a code that could be used on the target website and would provide you with the data you needed, or wanted.
Fortunately, you no longer need to know how to code to get these results. Today, all you need is one of the following apps.
Best Facebook Scraper in 2024
Facebook is the perfect place to access data and then use it to create effective marketing campaigns.
You don't need to know code to use Phantombuster. You can even try them for free with a 14-day trial and no need to commit to more.
Phantombuster is designed to make it easy to automate a task on any social media app, especially Facebook.
You can use the tool to extract data from Facebook and create lead lists, formulate an outreach campaign, and seamlessly integrate the information with your CRM system.
Phantombuster has over 100 automations ready to use and you can create your own. It works from the cloud, you don't need to know how to code it, and it runs 24/7.
Best of all, they have an excellent customer support team to help you get the most from this tool.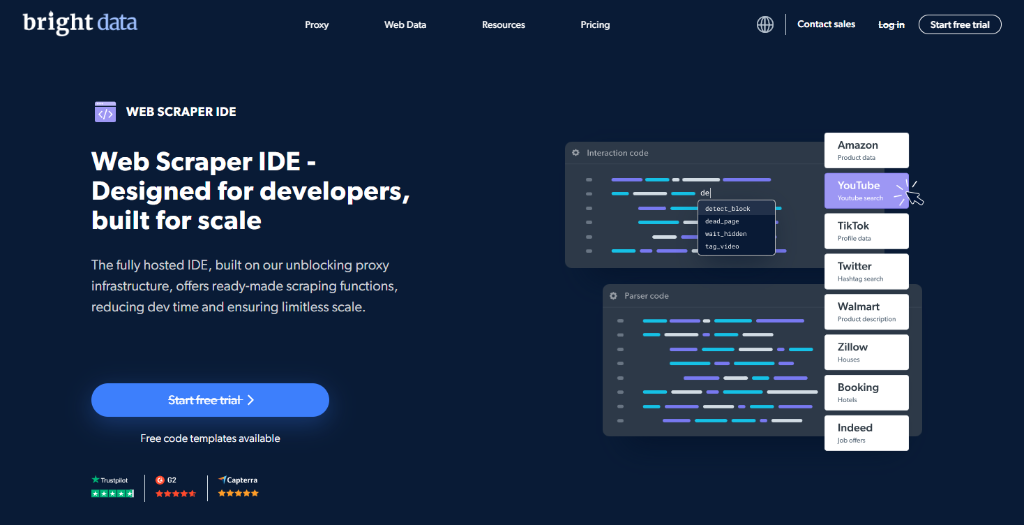 Bright Data is one of the best-known names in the business, and for good reason. The tool is aimed at developers but it can be used by anyone.
Again, you don't need to know how to code, just select one of the data collection templates on the tool and get it started. You'll start seeing data coming in straight away.
It's not possible to sign up for a free trial online. However, if you contact them you can request a free demo which is just as useful and allows you to assess their program.
Alongside helping with your web scraping needs you'll find Bright Data offers a variety of proxies, these will help to ensure your account stays secure while you collect the needed data.
It should be noted they offer residential, datacentre, and even mobile proxies, keeping you protected at all times.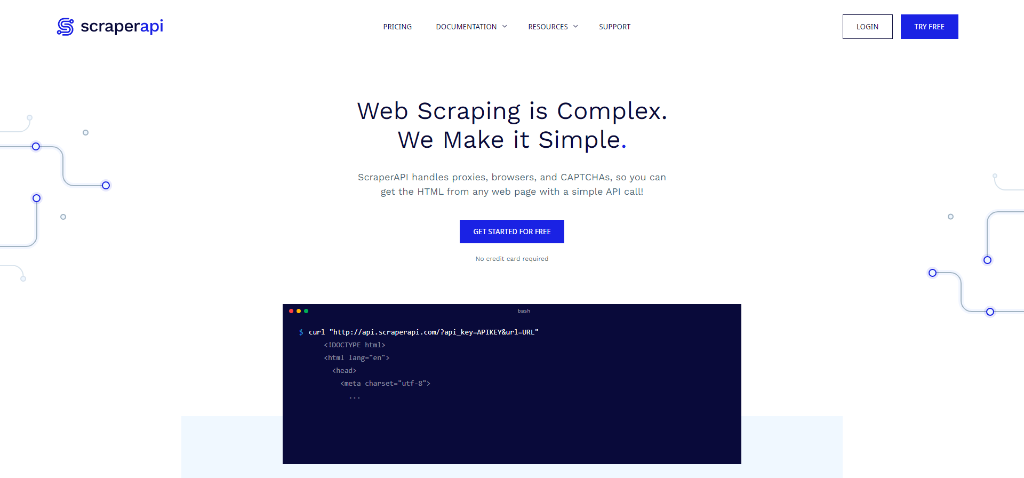 When you're concerned about your own privacy or have experienced issues with a specific IP address when scraping, then a proxy is the perfect answer.
If that's the case then choosing ScraperAPI is the perfect solution. It automatically generates and rotates your proxy IP address for each query you make. Don't forget, every data request is classed as a query.
Scraper API uses Javascript to ensure you have all the IP addresses you need, allowing you access to raw HTML pages and all the data you need.
In the process of collating data it is also capable of solving Captchas and has a built-in bot bypasser. In short, you won't get blocked because you're making too many requests.
This data scraper is also a good choice if you want to scrape Google Sheets or almost any other webpage.
Apify is another well-known scraping tool. They have dedicated time and resources to building a solid reputation for customer care and it shows. If you need any help one of their team will be ready and able to assist.
One of the biggest benefits of choosing Apify is that you can choose between using the tool it provides or you can host your own tool on the Apify platform.
Both approaches work well, allowing you to extract a variety of information from any Facebook page. That includes posts, comments, and publicly available personal information;
This app is one of the easiest to use, has an intuitive dashboard, and the pricing is attractive, starting at less than $50 per month.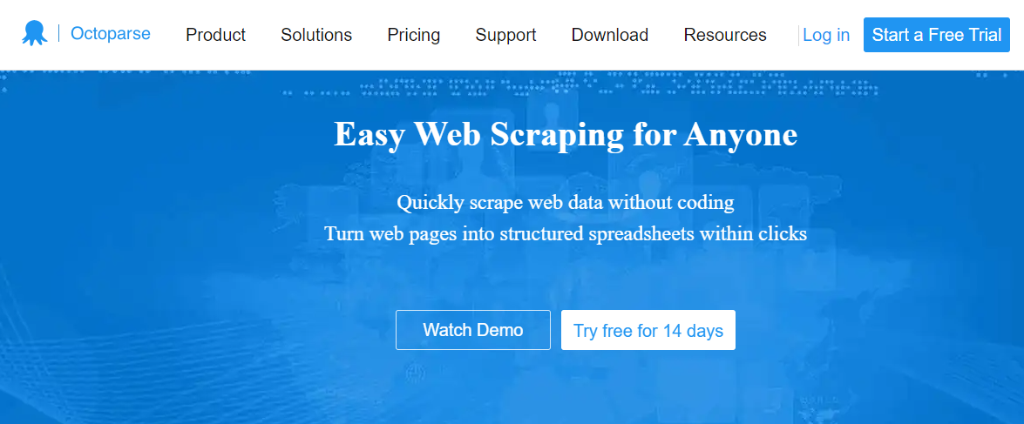 The final entry on the list and one worth looking at is Octoparse. In some ways it is the best out of all the Facebook data scrapers. 
In fact, Ocotparser is surprisingly effective at scraping almost any website you come across, even Facebook.
There are a several templates built into the program. You can select one and start searching or, if you prefer, it's possible to build your own profile and use it to scrape data at Facebook.
Octoparse gives you the option of downloading it to your computer, giving you access to the scraping tool whenever you want. If you prefer you can use it via the cloud. This gives you access anywhere and it's generally faster.
You can contact Octoparse for a free trial but you won't be able to scrape Facebook while using the free trial. The monthly fee is $75 which isn't the cheapest on the list but it is effective.
6. ProxyCrawl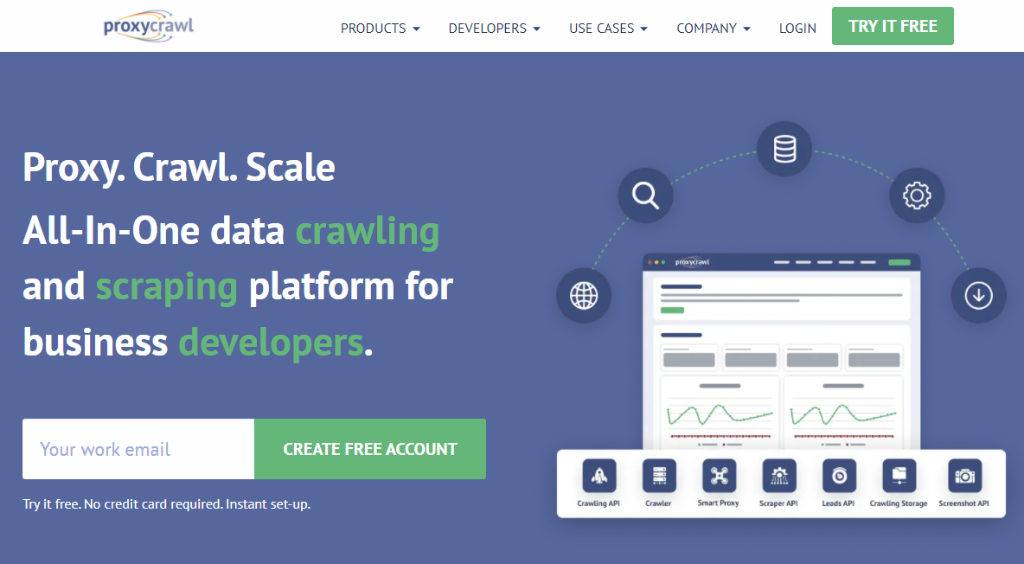 ProxyCrawl is also a good option. It's important to note this isn't software that can be downloaded to your computer or even used via the cloud. Instead, it's a predefined scraper. All you have to do is insert it into your code and it will go to work.
Naturally, this option is cheaper than a complete package but it's only really useful to developers. It's effective and easy to add to your code, but not something for someone without some scraping experience.
Proxycrawl does offer a free trial, you'll be allowed to make so many requests, usually around 1,000.
It also allows you to take screenshots, helping you to verify and collaborate your data.
7. Facebook Scraper
As the name suggests, this tool was made specifically to scrape Facebook pages. You can install this tool directly to your computer and get started within minutes.
The key is to input the webpage name or even the profile/ID of the target Facebook page. The Facebook Scraper will then start working and provide you with an analysis of all the data it finds.
The data is reported in your choice of file type. You can choose from pdf, excel, and even CVS.
It works with a myriad of different sites and is surprisingly affordable.
8. FaceDominator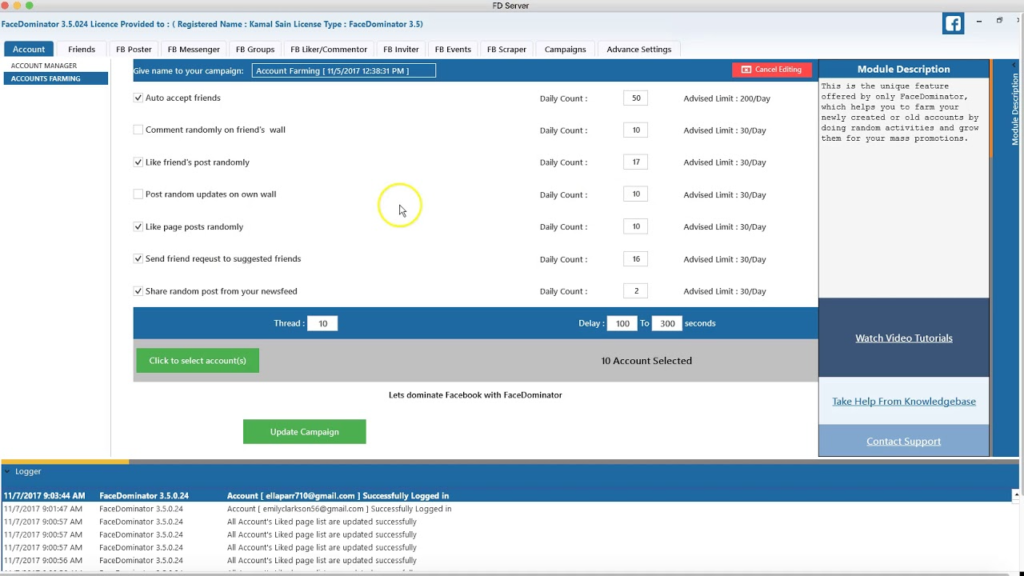 This is another scraper designed exclusively for use with Facebook, although it will work with other sites. Best of all, once installed you'll find that the dashboard is very easy to use.
You'll instinctively know where everything is. 
Everything you need is bundled together, allowing you to turn it on and leave it to work.
Alongside the main scraping function, there are several other tools that can be used by themselves.
They will make it easier to get all the information you need from Facebook and similar sites.  
9. ParseHub
One of the best things about Parsehub is that the dashboard is easy to access, easy to use, and comes with an array of graphics options. The subsequent visual display of data is extremely helpful.
Parsehub works extremely well with Facebook, allowing you to extract images, email addresses, phone numbers, and even pricing structures which can be relevant.
It's downloaded to your computer in minutes and runs locally. All you have to do is select what data you need and start the tool off.
At the end of the scraping process you'll get a file in your chosen format; excel, API, or JSON. Open it and you'll be able to see the collated information. This will allow you to set your next marketing strategy.
10. ScrapingBee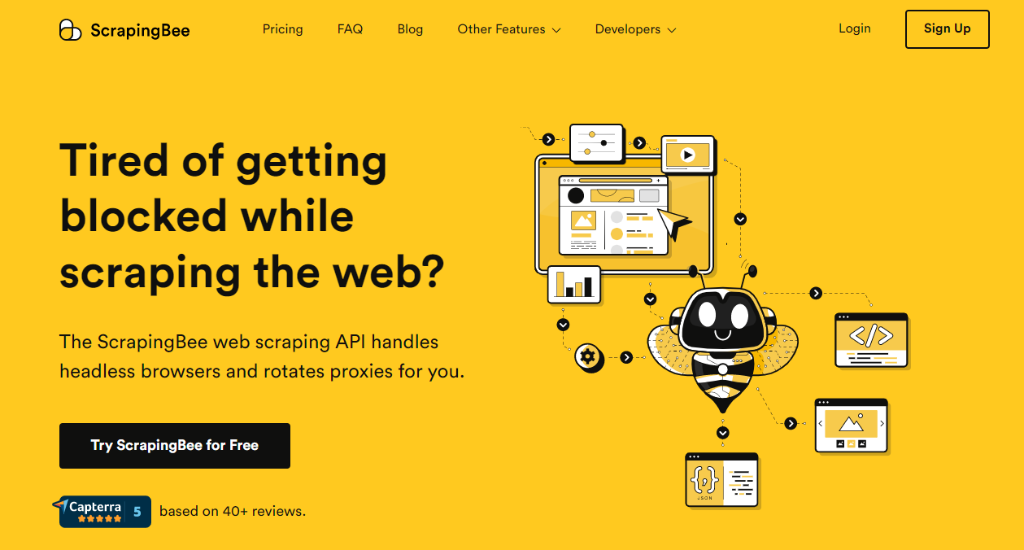 Scrapingbee allows you to do 4,000 searches for under $30 per month. There's even a free version of this tool that allows you to do 1,000 searches per month.
Every request will be validated as Scrapîng bee uses proxies which are automatically rotated. This convinces websites, such as Facebook, that the multiple requests are genuine, giving you the raw HTML feed.
Scrapingbee uses Java to ensure your IP is different every time you make a request. It's perfect for targeting Facebook, Google sheets, and a variety of other websites.
Alongside proxies and traditional data scraping methods you can use this tool to analyze search engine results pages and even take screenshots of relevant pages to check the data further later.
No coding skills are necessary to use this Facebook group scraper tool.
Using Your Web Scraper
For most of the above tools you'll need to register with your chosen tool provider and then subscribe to the relevant price band.
You'll then be able to download it to your desktop and log into your account. This gives you the option to download the scraper.
Once it's downloaded you'll be ready to check the parameters on your chosen scraper. This is to ensure it targets the right information. As part of this you'll need to know the Facebook URL.
Then, once you've got it started, you can leave the scraper to run and check the results when they are available.
Why You Need Facebook Scrapers
The modern world revolves around data. Some of the most influential people in the world are social media influencers. What they say can be heard by millions of people.
That's why so many businesses now target influencers and ask them to promote their brand.
Marketing
Of course, to do this properly you need to know the influencers target audience. If it matches yours then you're looking at the right influencer.
To assess this you will want to read their followers data. The easiest and most discreet way of doing this is to scrape the Facebook data.
Competition
Another reason to start Facebook scraping is to assess the competition. If you are doing really well or really badly, you need to know what your competitor is doing. It's the best way to boost your own profitability.
The simplest way to check out what the competition is doing is to scrape their Facebook data and use the information to make an even better campaign yourself.
Create Accurate Predictions
The best Facebook profile scraper will provide you with all the latest data and it can calculate what the Facebook users are likely to do next.
That's because it is programmed to understand human nature and predict the most likely responses.   
These predictions can be used to help boost the profitability of your business.
Summing Up
If you haven't already invested in a Facebook scrapper then you need to invest today. The above list will help you choose the best Facebook scraper.
You'll then find it is easy to install your chosen scraper and, in most cases, the tool will start working by itself. Of course, you can tweak the parameters, if you wish.
Remember, Facebook is one of the largest companies in the world. They have plenty of security and this can make data scraping difficult. That's why you need to choose the best Facebook scraper and let it do the hard work for you.
Just make sure your chosen tool is using Javascript to help prevent you from being targeted by Facebook.