Digital transformation is more than just a buzzword. It's a business strategy that enables organizations to thrive in the digital economy.
By definition, digital transformation is the process of using digital technologies to create new — or modify existing — business processes, culture, and customer experiences to drive value for the organization.
In other words, it's about using technology to do things better. As the world continues to digitize, those who don't embrace digital transformation will be left behind.
The following statistic supports the statement. The worldwide spending on digital transformation is at $1.8 trillion in 2022 and is predicted to reach $2.8 trillion by 2025.
This article discusses the tools for digital transformation categorized according to different verticals of the business. Let's dive right in.
Marketing Fool For Agency Businesses
With an increasing number of marketing agencies, driving substantial growth for clients is becoming challenging. An excellent agency will be able to attract and engage potential customers through various digital channels.
To improve efficiency of agencies, the tool HighLevel is the way to go. It's key features are as follows:
Building automation workflows


Ability to send out personalized messages


Advanced segmentation features


Email builder to autoresponder logic


A trial period of 14 days
To make a better decision about HighLevel, find out more about the tool's white label functionality and pricing. As an agency, the goal is to make processes as streamlined as possible to provide the best service to clients. HighLevel is one of the tools that will take your agency's performance to new heights.
Inbound Marketing And CRM Tool For Companies
HubSpot is the king when it comes to inbound marketing – attracting customers to your business through blog content and SEO.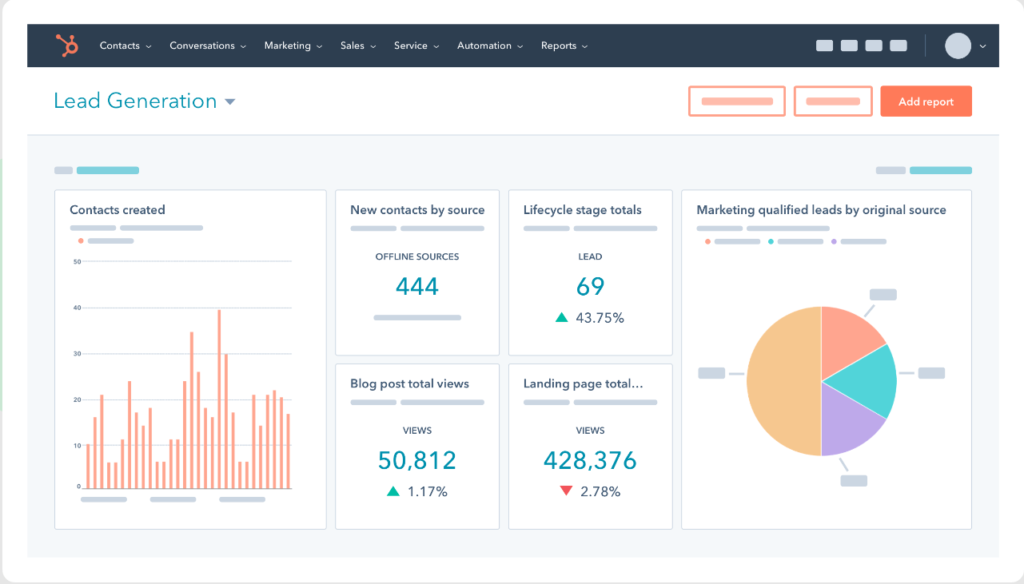 Content: The tool links with your website and has an option to publish your blog directly on the website. With its detailed analytics such as page views, click-through rate and bounce rate, gauge how well your content is performing.


Social media: The tool also allows scheduling posts on your company's social media accounts, saving you the hassle of posting manually.


Emails: For a more personal touch, you can also import your company's email list into HubSpot. Set up automation workflows to regularly send out marketing emails and newsletters.
HubSpot also offers a CRM (customer relationship management) tool. Build your sales pipeline by managing leads and customers effectively. Streamline your company's lead-generation and marketing through HubSpot and grow smartly.
What's great about HubSpot is that it offers an all-in-one solution for companies of all sizes. Small businesses can get started with the free version of the software, and then scale up to the paid versions as their needs grow.
Artificial Intelligence Tool For Different Departments
AI has brought a significant number of changes in the way businesses operate. Levity is designed to transform different departments such as marketing, sales, customer service, and human resources.
Levity's artificial intelligence business applications are as follows:
Customer service: The tool uses AI to automate repetitive tasks such as answering FAQs. This frees up your customer service team to handle more complex issues and improves customer service by giving a response faster.


Sales: The tool is also used in sales departments for demand forecasting and lead scoring. With demand forecasting, historical data is used to predict future demand for a product or service.

With lead scoring, a numeric score is assigned to each lead, which indicates the likelihood that the lead will convert into a paying customer.


Marketing: AI is being used to provide better customer experiences by personalizing web experience. The tool leverages AI to send out push notifications – according to the preferences of customers.

It is also used in the field of SEO. Machine learning algorithms are used to understand the intent behind search terms. In this way, you can produce targeted content accordingly.
Accounting Tool For Managing Finances
If you manage your finances well, your business will run like a well-oiled machine. Finances are one of the most important aspects of any business, yet they are often neglected.
QuickBooks is an accounting software that lets you track your income and expenses, create invoices and manage your bills. The software also has a payroll feature. By using the tool, pay your workers on time and keep them happy.
Take control of your finances with QuickBooks and run your business more efficiently.
With QuickBooks, you can see your financial picture in one place and make informed decisions about where to allocate your resources. The software syncs with popular apps such as Shopify and PayPal, so you can manage all your finances in one place.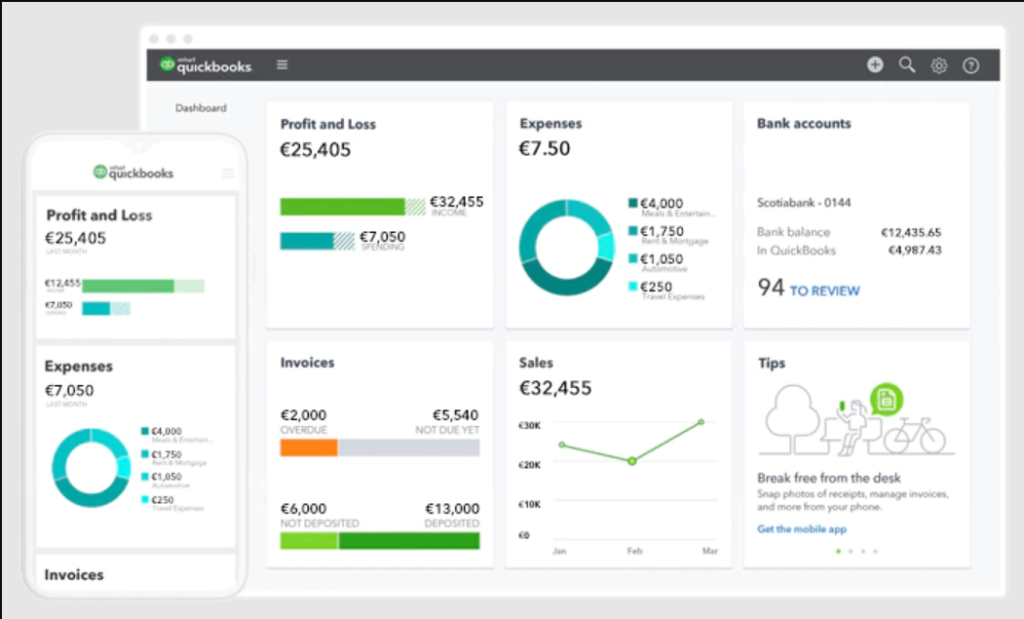 Managing finances effectively is especially necessary if you are in the startup space (Read: top tools for startups.) To secure funding from investors, you need to have a clear understanding of your financial situation.
QuickBooks can help you track your burn rate – the rate at which you are spending money. This is important because it lets you know how long you can continue operating before you run out of cash.
Communication Tool For Staying On The Same Page
Communication is the key to stay up-to-date with the latest trends in the digital world. Let's assume, you're working in SEO and there's a new update to the Google algorithms that will directly impact your work.
As an SEO manager, you're aware of the changes and understand that your team members will be at a disadvantage if they're not aware of them.
This is where communication tools come in handy. They help you connect with co-workers, clients, and others in your network quickly and easily.
Slack is one such example of a communication tool. It has the following features:
Real-time messaging – no need to write formal emails and wait for the response.


Keeping all your conversations in one place.


Making it easy to search for specific conversations or messages.


Integrating with a number of other applications. For instance, it integrates with project management tools such as Asana. This way you receive a notification on Slack when a team member performs an action on Asana.


Keeping conversations organized by using threads.
Another great thing about Slack is that it's available on desktop and mobile, so you can stay connected even when you're on the go.
As remote work is becoming a norm, communication tools are getting even more essential for all team members and stakeholders to stay on the same page.
Project Management For Organized Work
With project management software, you can organize and monitor your tasks in one central place. You'll be able to see what needs to be done by whom and when it's due.
As a team leader, having all the information about each task clearly displayed for easy access at any time is crucial.
Asana is an excellent project management tool that also includes features to help keep your tasks organized and dependent on one another. It's main features are:
Tasks can be prioritized so certain jobs get completed before others.


The ability to delegate tasks and set deadlines – to make sure that each team member is working on what they're supposed to be and that the project is moving along as planned.


Milestone: For tracking progress and to gauge success of individual projects.


Gantt chart: To see a graphical representation of the project and how each task is interconnected.


Integrations: To seamlessly transfer information between different tools. This makes it easy to use for businesses that have various departments working on a project simultaneously, but making use of different tools.


Time tracking: To monitor employee productivity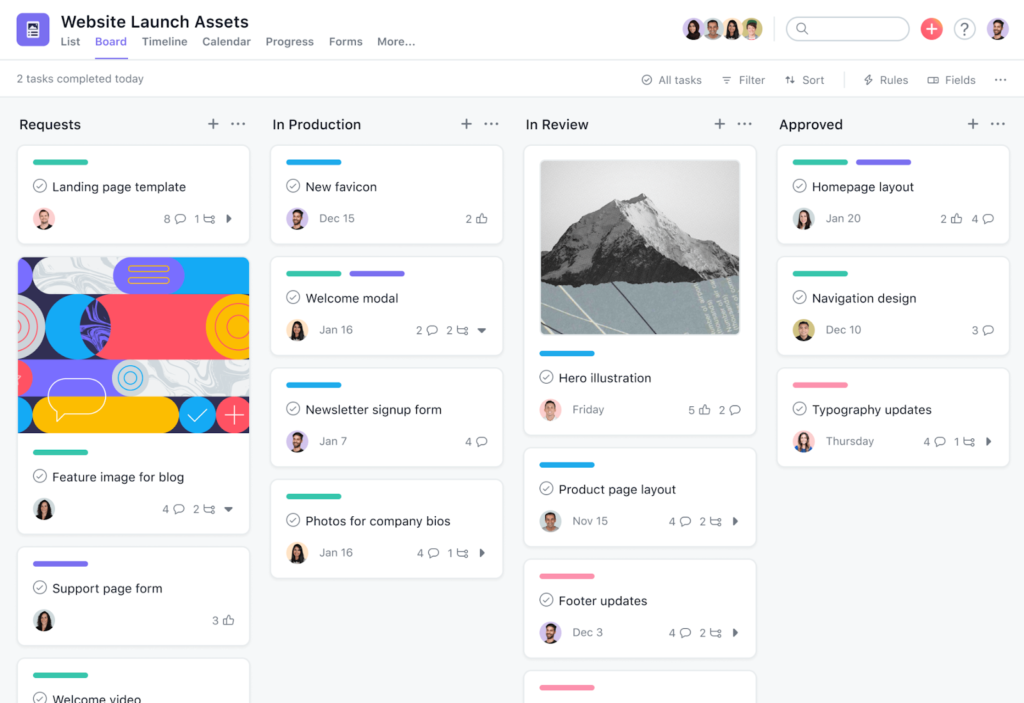 As the above image shows, Asana's dashboard makes it easy to keep track of work requests, tasks in review and tasks that have been approved by the relevant team leader – along with the deadlines of each task.
Wrapping up the tools to streamline business operations
The article discussed just a short list of digital transformation tools that can help you streamline your business operations and improve efficiency.
With so many different types of business tools out there, it's no wonder that most companies are ending up with an assortment for each function they need to run.
For example, there are endless possibilities only for AI business applications. To reap the benefits of each tool, be sure to do your research to find the right fit for your needs.
Start by implementing the free versions of tools. If it saves time or energy while also improving efficiency – then investing into that tool can pay off in the long run.