Virtual makeup try-on products have been thriving in multiple domains since the Covid-19 pandemic came into play. E-commerce, retail, cosmetics, social media, and beauty markets have digitized their business-customer communications by providing augmented reality-powered solutions.
They facilitate launching result-driven marketing and ads campaigns, growing user acquisition outcomes, reducing product return rates, and enabling brands to outperform competitors through technology-driven never-seen-before user experiences.
YouCam is a must-watch virtual makeup try-on example released back in 2014 to change the way users try and purchase beauty-related products. The app has successfully dominated the market, having over 1B of downloads around the globe, >50 million monthly active users, and 1.7+ billion virtual try-ons per month.
The solution's mission is to marry tech and beauty industries to individualize customer shopping experiences with AR-powered virtual-only try-on capabilities. The product's overwhelming business achievements and numbers stimulate dozens of technology-driven startups and large-scale brands to empower their market-ready or existing applications with built-in virtual try-on technologies.
Still, custom beauty app development is the first thing that comes to mind but it requires high and long-run engagement spending up to 12 months and $150,000 to launch a business-customer balanced solution that the audience will enjoy.
Fortunately, digital makeup SDKs and whit label software are great alternatives to custom app development for both SMBs and large-scale enterprises. They provide pre-made and ready-to-use modules filled with augmented reality-powered virtual try-on features that accelerate the go-to-market (GTM) strategy and enable brands to avoid spending fortunes on building tailor-made ML-based functionalities from scratch.
In case these solutions seem to be investment-worthy alternatives to tailor-made app development, the post will help you figure out whether SDK vs whitelabel software is a better option for your specific business model.
YouCam-Like Virtual Makeup Try-On Apps: Core Features
YouCam is a machine learning and computer vision-based market-thriving application designed to disrupt the beauty industry with cutting-edge face tracking technologies. The product was launched by PerfectCorp – a Taiwan-headquartered virtual try-on product vendor backed with over $100M funding and billion-valued deals.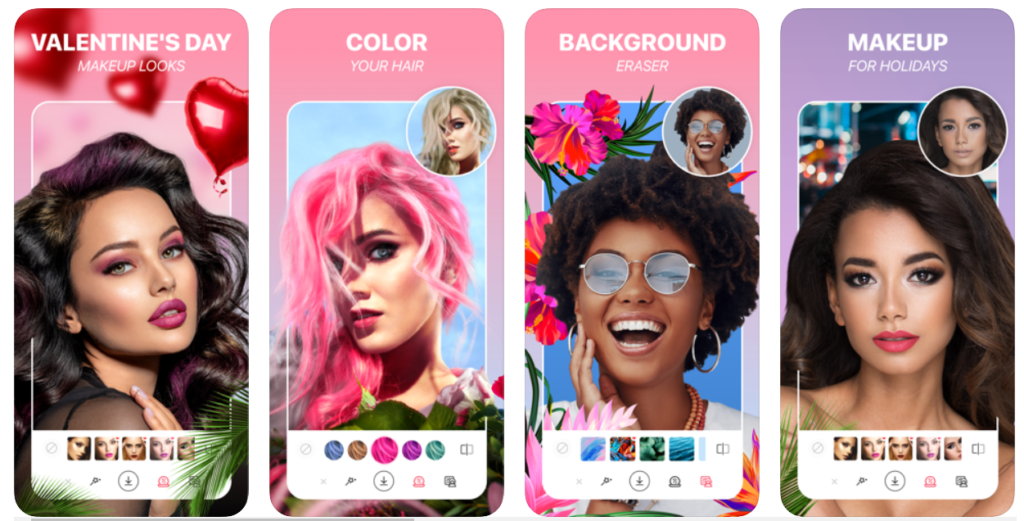 YouCam adopts facial tracking technologies that scan and locate users' camera face features to modify them by applying hair and eye coloring, background eraser, real-time makeup, and other pre-built effects.
YouCam's core features that trailblaze the modern makeup market include:
Virtual Makeup to test lipstick, eye shadow, foundation, etc.
Beauty Advisor 1-on-1 to get personalized product recommendations.
Hair Color Try On to test hair colors.
AI Skin Diagnostic to assess skin health.
Virtual Accessories to try on accessories in real-time.
The Taiwan-based virtual try-on provider had a mission to revolutionize business-to-customer relationships by digitizing and individualizing in-store customer shopping experiences. Users no longer need to face no-fit scenarios, and time-consuming home-to-store trips since YouCam's functionality facilitates real-time virtual makeup-related product try-ons that help it outperform competitors.
If you're planning to develop and launch a YouCam-like digital product with built-in augmented reality capabilities, custom app development may seem a single viable solution. However, it requires up to a 1-year active project delivery engagement and spending of over $100,000 on functionality design.
Fortunately, the current technology capabilities offer 2 alternatives – software development kits and whitelabel approaches, which accelerate the time-to-market period and help both small-to-medium-sized brands save money on pricey app development initiatives.
So, let's now discuss what option fits your business model best, diving into a feature-by-feature comparison.
Digital Makeup SDK vs Whitelabel: What Fits Your Business
SDKs are pre-made kits of ready-to-use functionality-based modules that include ready-made AR-powered capabilities that you can easily integrate into your market-ready or existing web or mobile application within days.
Makeup AR SDK by Banuba is a must-watch example of AI-driven and augmented reality-enabled toolkits based on facial detection and tracking technologies. It was designed to help both SMBs and large-scale companies avoid building tailor-made solutions and wasting months and tons of funds on app development.
This way, Banuba's Makeup AR SDK simplifies the way you can seize the niche-specific market by easily integrating ready-made augmented reality experiences right into your digital product.
The core YouCam-like app features of Banuba's SDK include (according to the company website):
Real-time makeover
Face beautification: skin smoothing, morphing
Acne removal
Eye bag removal
Virtual hair color try on
Portrait tools for photo and video editing
Face filters and AR effects.
When You Should Choose Virtual Makeup Try-On SDK
Digital virtual makeup software development kits are a must-have opportunity when you:
Have in-house technical resources, IT staff, or an outsourced technology partner to integrate pre-made modules and support them further.


Have your own 3D design departments or an outsourced team to create brand-customized in-app content like makeup looks and AR-powered filters.


Have an existing web or mobile application and want to avoid spending fortunes of time and funds on pricey and long-run custom app development initiatives.


Want to build a digital product from scratch.
4 Perks Of Whitelabel Virtual Makeup Try-On Software
Quick and error-free product launch


Tried & tested user retention strategies


No development and support costs as you no longer need to hire tech-savvy teams for development and support initiatives as it's handled on the vendor's side


Mitigated risks as a white label makeup app refer to a tried and tested market-ready functionality designed for tailor-made business needs.