There are many reasons to invest in proxies. The most obvious is to protect yourself from cybercriminals.
A proxy sits between your device and the internet. Without it, almost anyone can trace back your online activity to you using your IP address.
It's even possible to find out your real address from your IP address. That potentially gives people access to private financial details.
Whether you're an individual or a business, you're not going to want to give personal information away. You need a proxy.
You also need to know the best cheap datacenter proxies to buy.
Best Cheap Datacenter Proxies to Buy in 2023
The good news is that we've already searched for and tested the various datacenter proxies being offered on the market.
All you have to do is pick one of the following.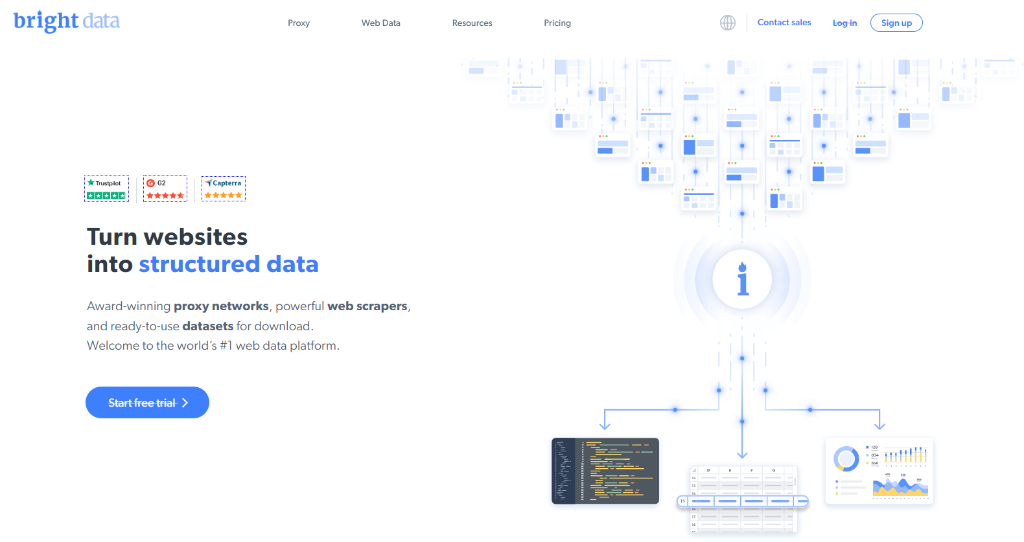 Bright Data is well-established and respected. They offer residential and datacenter proxies and you can get connected in minutes.
They have an impressive client list, including Fortune 500 companies.
Before you start, it's worth checking out the free trial.
All you have to do is complete your name, email address, and the size of your business.
Of course, once you get going you'll want to try the real thing. Signing up is surprisingly simple.
Simply select the 'sign me up' tab and enter the same details as for the trial.
Bright Data offers a flexible pricing structure and you can choose between monthly or annual payment plans.
The starter package is just $500 per month and you get access to thousands of datacenter connections.
If you're not sure about the price it is possible to choose the pay-as-you-go option and pay $3 per connection.
It's a good way to get started and see how much you will use the datacenter proxies.
If you need any help the customer support team is available 24/7 via email or live chat.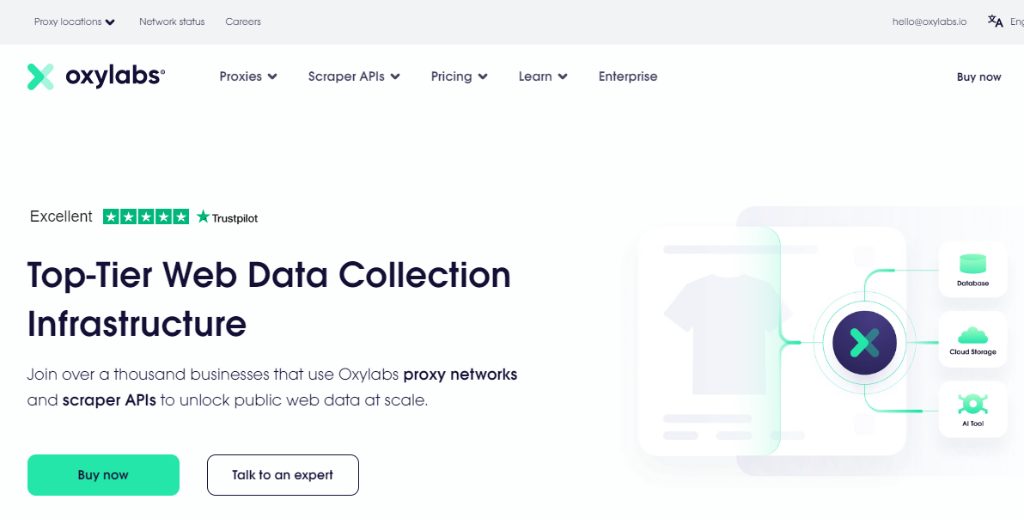 Oxylabs is also well established and has built an enviable reputation.
They have a very large pool of proxies, meaning you'll never run out of options.
You can use Oxylabs to access residential or datacenter proxies. They have a 99.95% success rate and a very attentive customer service team.
It's possible to call, email, or live chat with them at any time of the day or night.
Oxylabs also offers a pay-as-you-go option.
For $15 you can use a proxy with up to 50GB of internet traffic per month and you can designate the city you want your IP address to be in.
The starter package costs $300 but gives you an unlimited number of sessions, with up to 25GB of data per connection.
It's possible to end a session and instantly connect to a new one.
There is also an advanced and premium option costing $600 and $800 per month. You get to access a lot more traffic.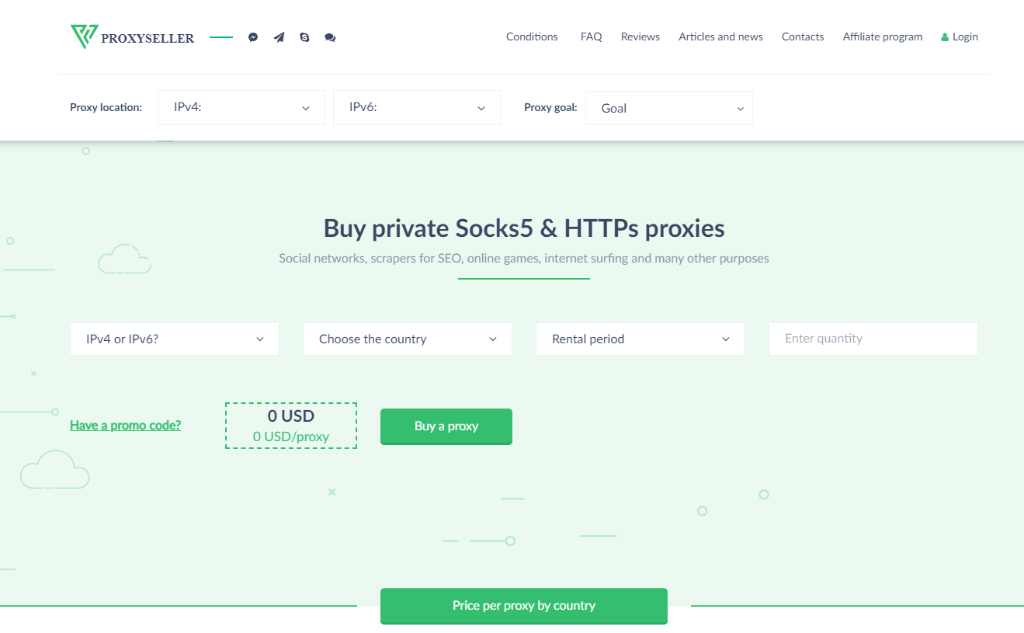 Proxy-Seller doesn't disclose how big their IP pool is but it offers proxies in 40 different countries and gives you unlimited bandwidth.
Best of all, prices start from as little as $1.77 per month for one proxy.
It can handle virtually any protocol, including HTTPS and SOCKS and the network is guaranteed to be fast.
Proxy-seller is confident in their service. They offer a full refund within 24-hours if you're not satisfied with the service.
You can contact their customer support team 24/7 via email, live chat, and even the phone.
Ordering from them is easy. Visit their website and choose from the dropdown boxes.
It will give you the price for what you need and one click on 'buy proxy' will allow you to make your payment and start using the service.
For example, one proxy will cost you $1.5, ten will cost you $14.60, and 100 will cost you $128.
That price is for a week, you can book them for up to 3 months.
The exact price will vary depending on what type of proxy you need and what location you want the IP address to be in.
You can experiment on the Proxy-seller website to find the right price and quantity for your needs.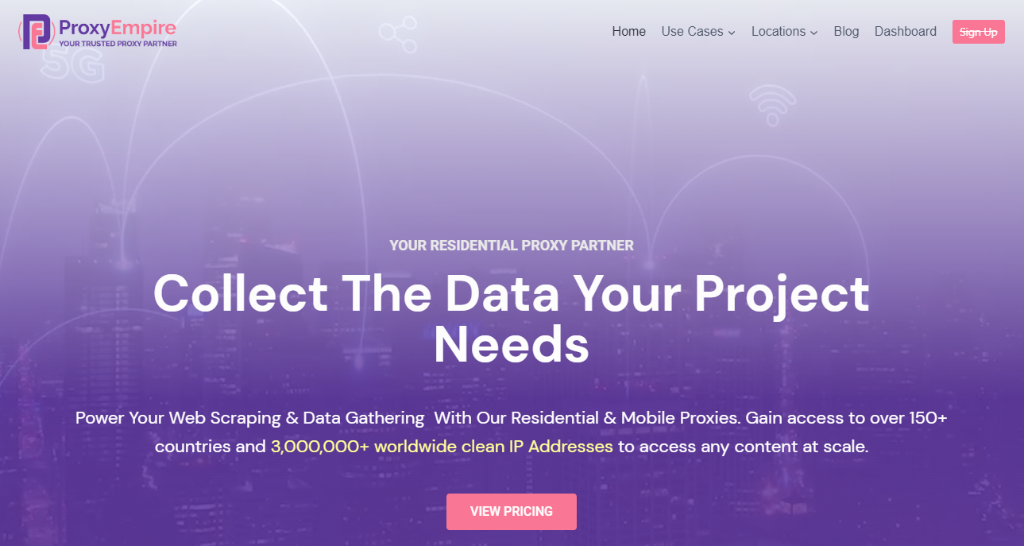 ProxyEmpire boasts over 9 million residential and datacenter IP addresses.
Proxies are available in 170 different countries. You can sign up and be using them in minutes.
As with most proxy providers, you'll be paying for an amount of data each month.
However, unlike most of them, Proxyempire will allow you to roll over any unused data.
This proxy service boasts an impressive 98.86% success rate, proxies are automatically rotated to keep your activities hidden.
The pay-as-you-go option starts at $15 for 1GB of connections.
You can access proxies anywhere on the globe and the proxy lasts until the GB has been used.
The starter pack gives you 3Gb of data per month for $40, while the hobby hits 15GB for $150 and the startup 40Gb for $300.
There are other options available. You'll find the customer support team easy to get hold of and very helpful.
They can be contacted by email or telephone but it's best to use the live chat option.
Rayobyte is a slightly smaller concern compared to the big 4 on this list. However, it's certainly worth considering.
They offer datacenter, residential, and ISP proxies. All of them can be easily ordered online and the process will be completed in minutes.
To get started simply choose the prices option and then select your proxy type.
You can even choose between dedicated proxies, rotating, and semi-rotating.
Choose the country you want the proxy in and how long you want the proxies for.
The longer you keep them the cheaper they become.
You'll also need to choose the number of proxies you need. Again, the greater the number the bigger the discount.
Five dedicated proxies for a month will cost you $12.50. One hundred proxies for the same period will cost you $213.
The proxies are reliable and offer fast connections.
They can accommodate HTTPS and SOCKS and can be instantly replaced if you encounter any issues.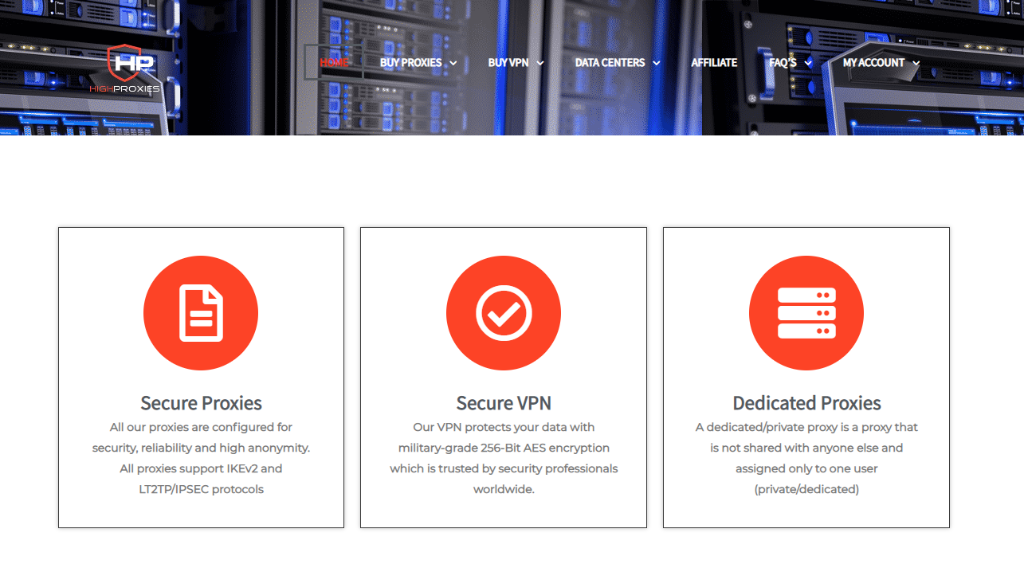 High Proxies adopted this name as they offer a high-speed proxy service.
They are reliable and highly secure. In fact, they use military-grade encryption.
Alongside residential and datacenter proxies, they also offer dedicated proxies.
High Proxies has a start-up package which is just $2.34 a month for one connection and you'll enjoy 99% up time.
If you're happy to share a proxy you can get it for as little as $0.57 a month.
They have datacenter IP addresses in 11 different countries and have thousands of happy users.
The company is comparatively young, having only started trading seven years ago. But, they offer a secure and accurate service.
If you have any queries or issues you'll find the customer support team is on standby to help.
You can contact them via email or live chat. The team is available 24/7.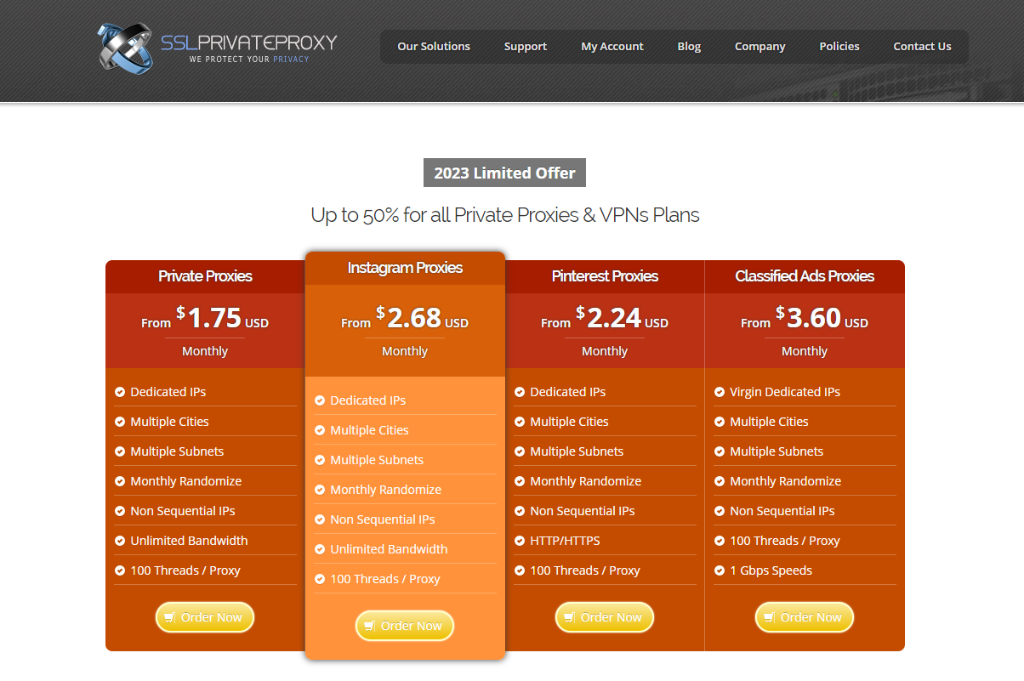 The final option on this list is SSLPrivateProxy.
They are also a smaller option but they have an excellent uptime rate and the company is slowly expanding.
At present they have multiple addresses in the US and five European locations, including The UK, France, Netherlands, Germany, and Spain.
They have several options to help you get started.
The cheapest appears to be $1.75 per month for dedicated IPs with unlimited bandwidth and completely random IP addresses.
Every proxy is guaranteed to be highly secure and anonymous whether you're using HTTP or HTTPS.
As usual, there is a first-class customer service team waiting to help you.
Simply contact them via email or live chat and discuss any issue you may have.
The Datacenter Proxy
Any connection to the internet uses an IP address. That means the connection can be traced to a physical address if necessary.
The two main types of proxies are residential and datacenter.
Residential
Residential IP addresses are registered to home addresses, just not yours. The companies that supply these use other people's IP addresses.
It's allowed for in the terms and conditions when providing an internet service.
This type of proxy is generally more expensive but difficult for any website to ban.
Datacenter
Datacenter proxies are cheaper. You can purchase them individually or in bulk and they do the same job as a residential proxy.
The difference is the IP address is registered to a business address, and there will be many IP addresses registered to the same address.
It's easier for website security to identify datacenter proxies, making it easier for them to block access.
To minimize the risk of this you need the best possible datacenter proxies without paying a fortune.
Why Choose A Datacenter Proxy Service
Residential proxies are highly reliable as it is hard for any web operator to see them as a proxy. Each IP is unique and random.
In contrast, datacenter proxies are significantly cheaper as they are available in bulk and are generally much faster than residential proxies.
However, datacenter proxies have multiple uses of the same IP address.
It's possible this will be detected by a site, causing them to block the IP getting access.
If you need to make sure you won't be caught using a proxy then the residential proxy is the safest option.
However, if your budget is limited then the datacenter proxies are very good at what they do.
All you have to do is choose one of the above and get started.

FAQs
Are Datacenter Proxies Legal?
A datacenter proxy isn't illegal. The problem is that sites see these proxies as being used by cybercriminals to retain anonymity.
That's why they have procedures in place to detect and eliminate them.
If you simply want to protect your personal information or you are hoping to access geo-sensitive information, a datacenter proxy can be beneficial.
Because you can choose what country to position your proxy in, you're effectively telling the web where you are, even if you're not.
That allows you to access content exclusive to that area. 
They can also be useful if you're undertaking market research and don't want potential customers to know it's you.
Proxies are also an excellent tool when scraping data from the web.
They allow you to make multiple requests to one site and extract the necessary information without alerting the site to what you're doing.
They are also useful if you want to make the most of online sales. 
A datacenter proxy allows you to order the latest clothes or shoes and then repeat the process to avoid security.
This can give you multiple versions of the same item which could be sold on for a profit.
Can I Use Free Proxies?
There are plenty of sites offering free proxies. However, these are of dubious quality.
Using the IP address is likely to raise a flag with the sites you visit and potentially get your account blocked. 
In addition, the proxy provider may inundate you with ads or even build your profile, allowing them to sell your data to third parties.
It's also possible that the free proxy provider will hide malware or spyware in your download link, allowing them to collect your data and potentially steal financial information. 
That's why it's better to use proxy providers which charge a monthly fee.
Summing Up
All the best cheap datacenter proxies to buy are on this list.
You just need to select one and then "buy datacenter proxies cheap" or use the free trial option.
The best proxy providers often have free trials or demos and you can easily convert this to a subscription.
Best of all, you can start small and scale up the proxies you're using as your demand increases.