There are about 1000 cryptocurrency exchanges in the crypto market today.
The numbers provide a great opportunity for traders to make the most out of crypto trading and take full advantage of crypto arbitrage.
If you are new to cryptocurrency trading and you wish to take advantage of the opportunities the market offers, especially for arbitrage trading bots, first, you'll have to understand what arbitrage trading is and how to execute this strategy.
Best Crypto Arbitrage Bots & Apps in 2023
If you are someone who wants to be able to dive into arbitrage trading straight away, then we've got the very best crypto arbitrage bots and apps on offer so that you can only associate with those that are going to really take care of you.
Let's take a look at them.
Pionex is by far one of the best crypto arbitrage bots out there, in fact, they are just one of the best cryptocurrency platforms and exchanges in the industry right now.
They can help you automatically trade Bitcoin and other cryptocurrencies, and they have more than 16 inbuilt trading bots for you to choose from.
Not all of them are going to be compatible with arbitrage trading, but a lot of them are, and the fact that they are specified for arbitrage trading obviously means that you're going to get a lot out of them for an affordable rate.
They encrypt every aspect of their website, and the best thing about this Bitcoin arbitrage bot is that they're completely free for you to use, so they are a great starting point if you're someone who doesn't have a lot of money right now to invest in arbitrage trading, but you know you want to get off the ground anyway.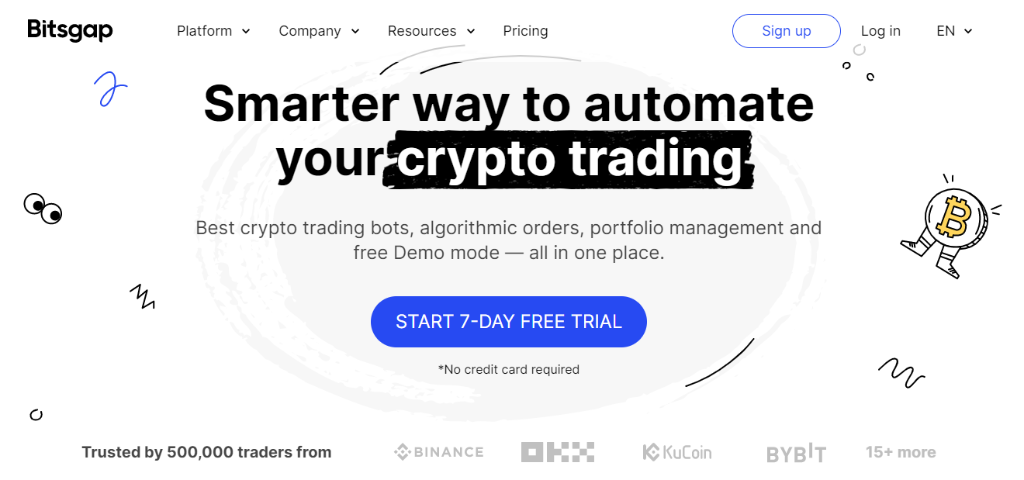 Bitsgap is a really good option as a crypto arbitrage trading bot, because they are considered an all-in-one trading platform that can help you not only with Bitcoin arbitrage but other cryptocurrencies as well.
They can help you with smart algorithmic orders and they believe that they've got everything that you need in one place for you to manage your assets.
You can get started for free, and you can watch their one-minute tutorial on how they work, so that you can get to know everything about their services, without feeling like you are diving into the deep end.
As well as offering their clients a variety of different features with their trading bots, they also have a trading terminal and let you view the real-time performances of your digital assets so that you don't have to be wondering about whether they're doing well or not.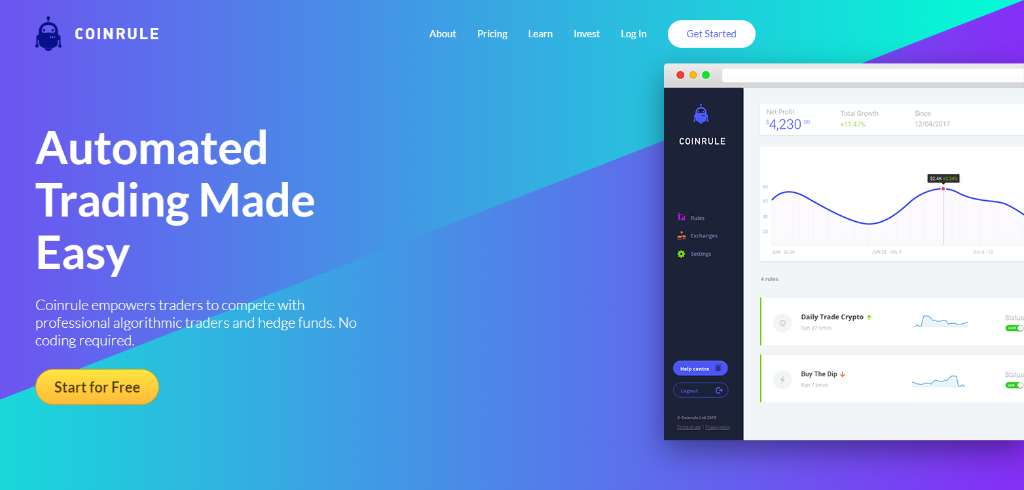 Coinrule is another great choice as a crypto arbitrage bot, because they can help you automate your trades, and make everything super easy.
They talk about how they love working with traders to help you compete with traders that are professional out there, as well as hedge funds, and the best part is that you don't need to know anything about coding in order to use their services.
Another excellent aspect of this crypto arbitrage trading platform is that you can get started with them for free, and they believe that their services work with the top ten exchanges.
They also secure everything about their website with military-grade encryption and they can help you create trading rules that are automated around the clock, so that you can implement the best trades for your crypto currency even when you are asleep.
You can look back on historical trends as well to determine which trades did really well and which trades didn't do so well.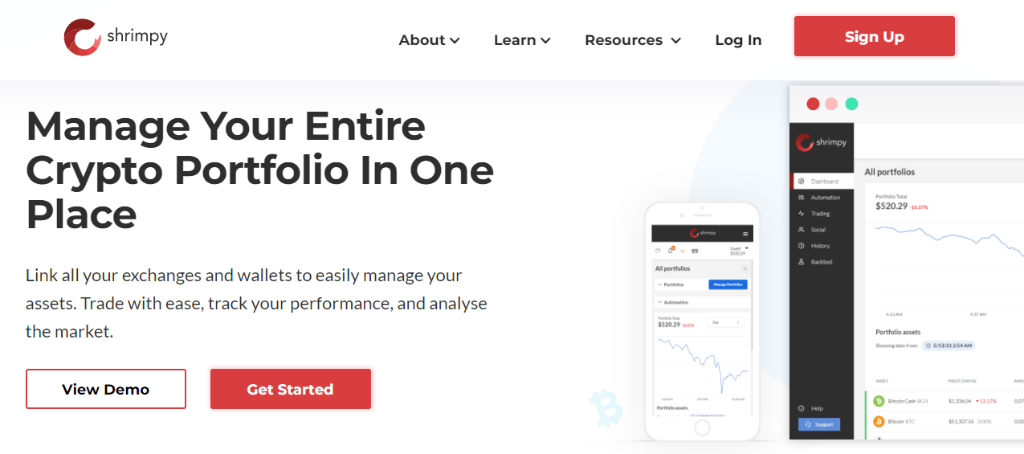 Shrimpy is a great choice if you are trying to find a way to implement arbitrage trading, but you don't want to have to do everything yourself.
In fact, this arbitrage bot has a way of being able to help you manage your crypto portfolio in their dashboard, so that you can link everything up to their dashboard and do it under one roof.
This includes exchanges and wallets, and you can see how your crypto assets are going, and see what's going on with the market as well.
Check out the demo on their website to get started, so that you can see what they are all about.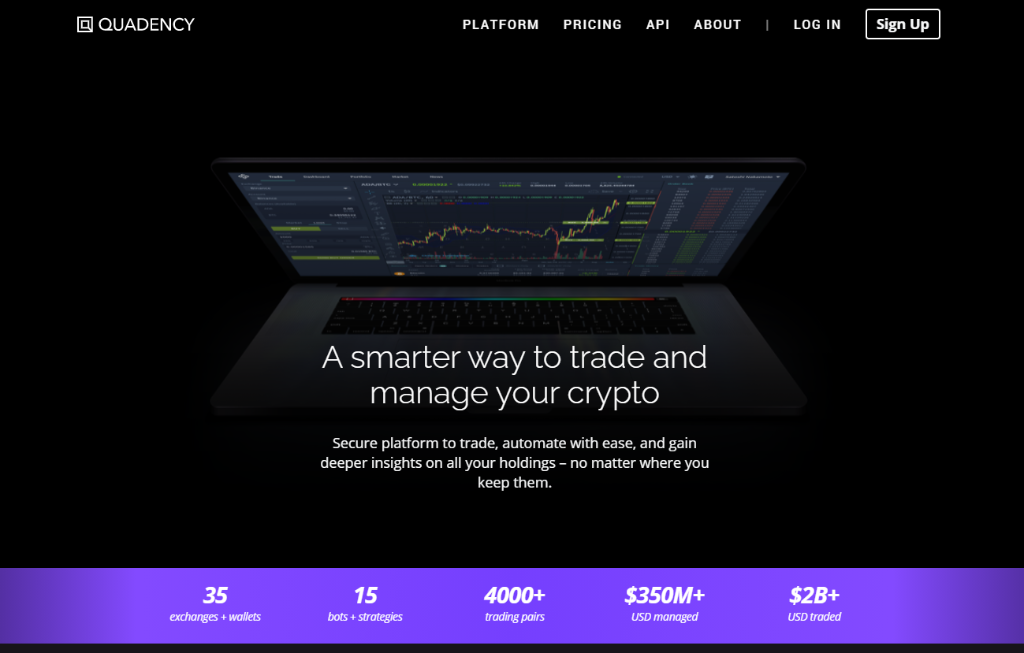 Quadency is going to take everything to another level as far as being a cryptocurrency arbitrage bot that you can benefit from, and one feature that we really love about this service is that it can help you trade on all of the top tier exchanges out there, and you can do so from a single interface.
This means that you don't have to switch between multiple interfaces in order to implement your cryptocurrency trades, and they provide different order types for every trader.
This means that you can have a customized, personalized experience when using their features, and you don't just get randomized features that are assigned to everybody.
They have spent enough time in this industry to develop their bots to a point where we will consider them to be expert level, and they can help you implement your trades so that you can go live within a few minutes of coming up with the right strategy.
6. Napbots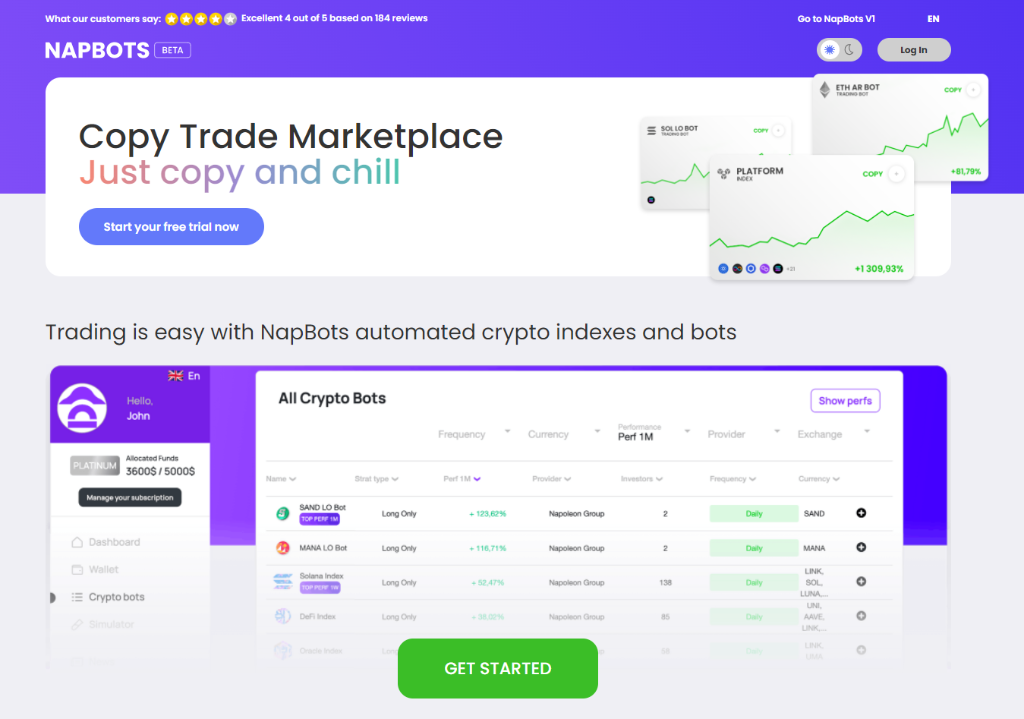 Napbots is another arbitrage bot that is really passionate about helping their clients improve their success rate, and it doesn't matter what the current market conditions are, they can turn things around for you, and make sure that you are taking profits in regards to your cryptocurrency investments.
One thing that stands out to us about this arbitrage bot platform is they can help you with a cryptocurrency trading bot for every kind of strategy preference out there, whether you are automatically rebalancing your portfolio, or your day trading.
They also make sure to keep all of your assets on your exchange account, which means that third parties and other potentially vulnerable protocols aren't going to be able to access them.
7. Trality
Trality is another cryptocurrency arbitrage bot that is really helpful, whether you are a casual trader right now, and you are interested in just dipping your toe in the water a little bit, or you are a veteran of the industry, and you have been relying on past platforms to get you through, but now you want something that is super reliable, and is going to offer you consistent assistance for a long time.
They know that providing their clients with an entry point into the world of cryptocurrency is really helpful, and while they aren't necessarily going to hold your hand the entire way, they definitely are going to show you the ropes, and leave you feeling confident that you're going to be able to do a lot of the work yourself.
However, just because you're going to do a lot of work yourself, doesn't mean that you're going to have to spend a ton of time sitting at your computer either.
8. Cryptohopper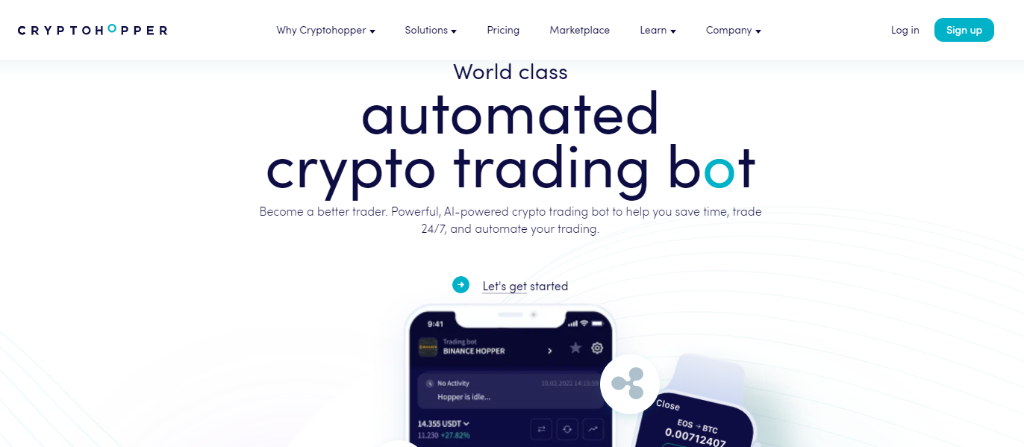 Cryptohopper is pegged as one of the most powerful trading bots, so they definitely can help you with arbitrage, as well as a host of other strategies.
They offer world class features, and they say that with their help, you can become a better trader in no time.
They offer trades that are available 24/7, and they also make sure that you know what you are getting into, because you can watch their tutorial video that is three minutes long on their website.
They have a free trial, as well as trailing features so that you can closely follow the market's movements.
9. HaasBot

HaasBot is a crypto arbitrage bot that is great if you want to make the most of some of the world's most advanced bots, but you don't want to have to do all of the coding yourself.
They are great if you are trying to develop your own bot, and you are wanting to backtest trade bots that are high frequency, so that you can see whether your strategy is going to work or not.
You can do all of this in a matter of minutes as well – something that can take hours elsewhere.
If you want to reduce risk as far as your trades go, these guys are a good choice.
10. Blackbird
If you want your crypto arbitrage trades to go really easy, then you need to check out Blackbird.
This trading bot is helpful if you want to make the most of the only trading signals you will ever need to use, and they are great if you want to team up with professional traders who have been in the business for long enough to know what they are doing, and how they can help their clients.
From crypto signals to portfolio management, you are going to find it all here with these guys.
11. Botsfolio
Botsfolio takes it up another level as far as being able to help you with arbitrage trading, because they say that they can help you trade your crypto like a pro.
This way, you can sit back, relax, and leave it up to the experts, all while making trades that are low risk and are going to really make you some money.
You can check past performances of their bots, and you can also get started straight away in a manner that is easy and practical.
You don't need to know anything about the crypto industry to get started.
12. Hummingbot
Hummingbot is helpful as an arbitrage bot if you want to get all of your ducks in a row, and you want to make the most of an open source toolbox that is going to make your trades simple and straightforward on all levels.
They say that they are great for helping you build arbitrage and market making bots, and you can run these on any exchange that you like, whether the exchange has been decentralized or not.
You can check out their latest release, and you can even earn liquidity rewards too.
13. GunBot
GunBot has it in the bag as far as being a community that you can help you with bots.
They say that they can help you get better when it comes to your trades in general, so that you can benefit from more consistent results all around.
They want to help you use strategies that have already worked for others, and they want to help you with a demo at the start, so that you can get an idea of how they work, and how they are going to be able to help you.
Not only is their trading bot powerful, but it is easy to use, and you can run it on your own computer.
14. CryptX Terminal
The next bot on our list is considered an all-in-one solution for traders, so that you can gain access to analytics that are personalised, and backtesting across a multitude of exchanges out there.
If you want to sign up straight away, you can make the most of a 30 day trial account and you don't have to share your credit card information.
They have features that are unbeatable, and they can help you with buying and selling automatically, so that you don't have to do any of the hard work on your end.
15. Coinigy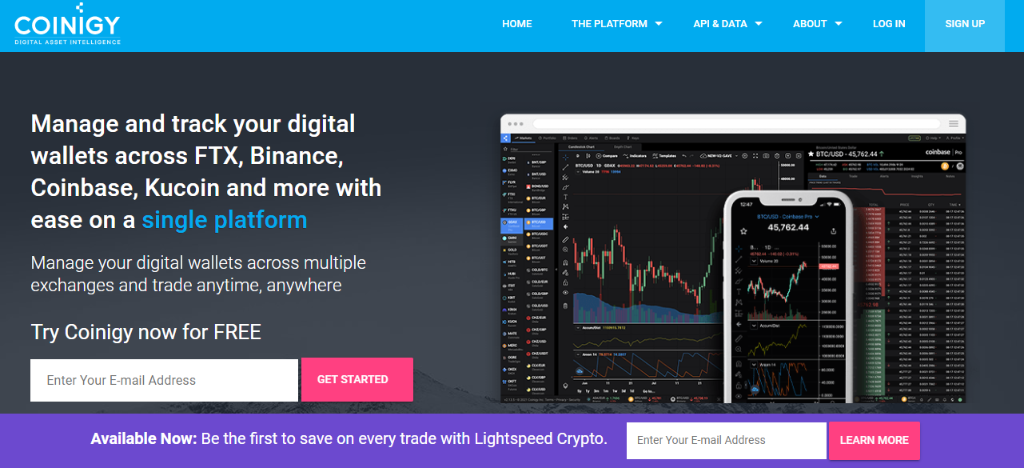 Making the most of a crypto arbitrage bot involves being able to do everything under one roof sometimes, and this is how you can make the most of Coinigy.
These guys can help you with a free trial, and all you need to do to make the most of their free trial is to share your email address with them.
They offer stability and security that you aren't going to be able to find with all exchanges out there, and they also have email support.
Their trial is going to last you 30 days, which we think is plenty of time to learn the ropes of a trading bot like this.
What is Crypto Arbitrage Trading?
Arbitrage trading is when a crypto trader buys a digital asset from one cryptocurrency exchange, then sells it in another exchange for profit due to a deviation in the price of the asset between markets.
For example, one BTC could be sold at 40,000 dollars on Binance but at 40,080 dollars on Kucoin.
What a crypto arbitrage trader does is to purchase BTC on Binance, then sell on Kucoin for the profit.
This helps many traders make a few dollars in the crypto market due to the discrepancies between exchanges.
It sounds like an easy thing to do; however, you need to understand the nitty-gritty of how it works and how it can be influenced or affected by the market.
Just like every investment and money-making vehicle available, crypto arbitrage also comes with its own risk.
Before going into arbitrage trading, it would be best to learn the technicalities involved to effectively and successfully trade crypto arbitrage.
This will help you consistently make good returns on your investment.
If you wish to dive into crypto arbitrage trading, here are some things to know.
Some Projects Have Almost the Same Name
The crypto world today has thousands of different cryptocurrency tokens, and the number keeps increasing daily.
Many of those tokens have similar names and symbols, making it easy to confuse one for the other.
For example, there is the project 'SIA' and the project 'SAI.' The project SIA is an application created for decentralized cloud storage solutions.
Its symbol is similar to the project SAI, and even the name almost sounds the same.
It is easy to confuse these tokens for one another, which could make it easy to make the wrong call on your investments. This could result in you losing your investment as well.
Although this seems like a basic thing in the world of cryptocurrency, it becomes significantly dangerous and more problematic when considering the number of crypto projects with identical ticker symbols.
Some other good examples can be seen with the project 'CyberMiles' and Binance with the ticker $CMT, $HNC (Huncoin), and $HNC (HellenicCoin), as well as ($BTCS) Bitcoin Silver and ($BTCS) Bitcoin Scrypt.
The list of these identical projects can go on for a while, making it a major cause for worry. If you are a new trader, you might find this challenging, and it might cost you a few bucks if you are not careful.
This is because crypto arbitrage trading deals with taking advantage of price differences, and it's easy to confuse one crypto token for another.
You might end up purchasing the wrong token which might be doing poorly in the market. The sad part is that you won't get a refund from the exchange if you erroneously send funds to the wrong wallet address.
To ensure such mistakes are avoided, before trading a particular currency, ensure you thoroughly compare the coin price on both exchanges.
If the price on one exchange is suspiciously lower than the price on the other exchange, you might just be investing in the wrong crypto token which you had in mind.
Run a final check using the contract address of the desired token to ensure you are on the right track.
Exchange Wallets Could be Offline or on a Different Blockchain
Have you ever had difficulties trading on one of the exchanges you use?
If not, then you are just getting started. On some occasions, exchanges can decide to disable the cryptocurrency wallets on the platform, or they can choose to do it individually.
There could be several reasons for this. It could be due to maintenance on the platform or due to security concerns. This could even occur when you are about to finalize a juicy trade.
Therefore, there is usually a fixed page where most cryptocurrency exchanges indicate if they are online or not. They might also go as far as informing users about the service distortion and when the service will be back.
Before consummating a trade transaction, always ensure you verify if the platform is offline or online.
Also, ensure that the token you want to trade on the exchange is provided by the exchange on the same blockchain.
This is because if your token is moved between different blockchains, your investment will get stuck, making it difficult to recover, and leading to financial loss.
High Deposit and Withdrawal Fees
When trading between crypto exchanges, you will have to pay some fees for withdrawals or deposits. This is how these exchanges make their profit.
The fees you pay may differ on each exchange. You might be paying extremely high fees for one of the exchanges and a cheaper fee for the other.
The cost of these fees could be due to the exchange's withdrawal or deposit rate and the network the token is built on.
Usually, the fees paid for a token built in the Ethereum blockchain are more expensive than those of other blockchains.
For this reason, it is important to read up on both exchanges' policies on withdrawal and deposit fees before you proceed to trade.
If this is not done, you might end up making a loss after the trade due to the cost of the fees paid between both exchanges.
Therefore, before making a trade, you can calculate the total fees to be made before carrying out an arbitrage trade.
Lack of Volume
The volume of the cryptocurrency token you wish to trade, which is available, is a major factor to consider before embarking on arbitrage trading.
It is paramount to carefully confirm if the volume to enable a successful and effective trade on both exchanges is enough.
One major reason is that the cryptocurrency you invest in today could be delisted tomorrow due to low trading volume.
This means that token A could be bought from Binance to be sold on Hotbit for profit. However, just a few people are buying on Hotbit.
Due to this low volume, token A could be delisted, leaving you with loads of coins that can't be sold.
This happens often and has seen hundreds of cryptocurrencies being delisted from different exchanges.
If you are new to arbitrage trading, you have to be careful to avoid this. You might make a lot of profit and lose all because of issues such as delisting due to volume.
So it is important to research whatever exchange you wish to trade on and the numbers the token you are trading has done before putting your investments there.
Pump and Dump Schemes
Today's cryptocurrency market is all about making a profit, and one means many crypto traders use to make a crazy profit is the pump and dump scheme.
This is an unfair way of making a profit in the crypto world, but since any government laws do not rule the crypto market, no one can fight this crime.
Pump and dump is a way many crypto developers scam traders. They inflate the price of their tokens, feed false information to the public, and spread fake positive news about the volume and price of the token.
The goal is to get traders to invest in these tokens, and once the price in the market rises to the needed value, these developers pull out the large percentage of the tokens they have.
With this, they made huge profits, while the traders ran at a loss.
To effectively carry out this scheme, developers of these tokens engage lots of groups on social media to help with publicity, and when they have gained what they desire, they pull out of the project.
Before buying into any cryptocurrency project, ensure it's not a pump and dump.
Do a little technical analysis of the token, run a background check on the developers, and also study the use cases of the token.
This can help you prevent being a victim of a pump and dump, but it is not guaranteed that you can't be a victim of one of such schemes.
Your Account Can be Blocked, or Your Deposit Gets Stuck
Crypto exchanges can decide to upgrade or carry out maintenance on their platform at any time. This ends up disturbing transactions on the platform and could even lead to traders' deposits getting stuck.
Your account could also be blocked due to one reason or the other, without prior notice or hacked when there is a cyber attack on these exchanges.
This is a regular occurrence in the crypto trading world. It can be frustrating to experience such issues, especially when it stops you from making those juicy trades which leads to you missing out on golden opportunities.
The sad truth about this is that such occurrences on these exchanges could take days to resolve. In a case where your funds get stuck, you might have to provide a proof-of-funds document to initiate the unlocking of your funds.
The result of this is that you lose valuable trading time, which means you are losing money.
Unfortunately, there's little traders can do about it, and it is a discouraging factor to consider. This is because most cryptocurrency exchanges are not regulated.
One way to avoid getting stranded due to such blocks and network fluctuations by crypto exchanges is to ensure that your funds are kept in a cold wallet.
As a trader, this is one precautionary measure and habit you have to key into.
This gives you full control over your funds and also saves you from cyber attacks by hackers.
Changing Trading Fees
Something to be aware of is that exchanges are in the habit of adjusting their trading fees. This implies that one could enjoy low fees for a transaction today and pay more the next day.
A good example of this can be drawn from the Coinbase event in 2019. In 2019, the trading fees were hiked by 200% by Coinbase Pro for traders who had low volume.
This led to traders getting frustrated and even running at a loss on their trades. To avoid such unfavorable fee hikes, you have to constantly check the fee structure of the exchanges you are dealing with.
This will help you not get caught unawares, but it is not a solution because you don't have control over regulating the fees these exchanges choose to charge.
Timing
Timing is key to taking advantage of the crypto market for arbitrage trading. There are always opportunities to get good trade deals and make good money, but the timing has to be right.
This is because the prices of crypto tokens fluctuate, and these fluctuations can't be easily predicted.
If you invest at the wrong time, you will end up losing all your investment.
As a new trader, before investing in arbitrage trading, ensure you study the market properly and lookout for the best time to invest. Taking advantage of time is the best way to gain and make a profit.
Crypto Arbitrage Trading is Not a Sure Bet
Looking at all the factors discussed above, it is certain that crypto arbitrage trading is not 100% guaranteed. It comes with its positives and pitfalls, which new traders in the crypto world have to be aware of.
If you are new to crypto arbitrage trading, you might question the success of such means of investment or might want to stay away from it.
It is good to be cautious of the kind of investment you are getting into, but also be aware that many traders have been successful in arbitrage trades.
However, this is not also a guarantee that you'll make a profit with arbitrage trading, as many traders have lost top dollars through crypto arbitrage trading.
Therefore, before investing in arbitrage trading, ensure you have done proper research and analysis of the market and how arbitrage trading works.
Consistently check out the price of tokens you are investing in on a wide range of trading exchanges to get the best deal. Also, have it in mind that you can lose out if this goes wrong.
What are the Alternatives to Trade Effectively?
Creating a strategy that works for you could be the best alternative to make the most out of crypto arbitrage trading.
One sure thing is you can never predict everything about the crypto market and will also miss out on opportunities due to daily human activities like sleeping and eating.
However, if you have a strategy in place to help you cover for those lapses, you can trade effectively.
You can choose to install a crypto trading bot that would run all your trading activities 24/7.
This helps you effectively execute all trades even when you are not online, or you are sleeping. If you are going for a trading bot, choosing the right bot is very key.
This is because just as there are many tokens and exchanges out there, there are also many crypto arbitrage bots. Choosing a tested and trusted hot is the surest way to get value for your money.
FAQs
Is Arbitrage Trading Profitable?
Yes, arbitrage trading can be profitable, but you need to make sure that you choose a good volatile trading pair for it to end up being successful.
The more you learn about arbitrage trading in general, the better you are going to do – with or without a bot.
Are There Any Issues with Arbitrage Transactions?
One thing to look out for when implementing arbitrage trades is that the verification of the transaction can take a little while.
The issue with this is that sometimes the price of the cryptocurrency can change during this period.
This is going to be frustrating, especially if you are trading big amounts of cryptocurrency.
Will I Have to Pay an Exchange Fee when Using Arbitrage Trading?
Yes, you usually have to pay an exchange fee, and sometimes companies charge an exchange fee that is so expensive that you don't end up making a profit at all.
This is something to consider, and it's also why it's worth trading enough money so that you do make a profit, despite the exchange fee.
Is It Worth Opting for A Cheap Arbitrage Platform?
While it might be tempting to go for an arbitrage trading platform that offers its clients low prices, this could end up sabotaging your investment efforts, because a lot of the time services that offer their clients low prices have trust and security issues.
Final Thoughts
So, there you have it – what we believe to be the best arbitrage trading platforms and bots for you to use right now.
We have talked about the best in the business, and we have also talked in-depth about how to trade your cryptocurrency using arbitrage, so at this point, you should have a good idea of what you're in for.
Experiment with this strategy a little bit so that you can feel confident that it's right for your needs.
Good luck!