Continue everyday life while being bombed is extremely hard, but our people, including developers, can adjust to any circumstances. The IT industry in Ukraine keeps on developing and building strong business relationships with foreign companies. To prove words with facts, let's have a look at some numbers and statistics:
In March Ukrainian labor market went through a significant decrease which caused more responses and fewer new job opportunities. As a result, people were craving new job opportunities and projects to work on. Most of the developers were ready to work full-time as before the war.
In April, the situation visibly improved: the number of vacancies for coders increased significantly: from 92 vacancies in March to 155 vacancies in April (70% of the number of vacancies published in January 2022). The highest demand among technical languages is Python developers, C+, JavaScript, Ruby developers, .NET, and React.
More than 80% of Ukrainian developers are still working full-time, although 61% had to leave their houses and move to safer places like Kyiv and Western Ukraine.
What do they feel working in such difficult circumstances? More than 53% of IT developers feel hopeful. Moreover, 91% of specialists are actively helping the country by transferring money to the army and volunteers.
In March 2022, around 84% of software developers returned to full-time work, and only 7% – were part-time. So approximately 93% of all the IT developers work full-time like before the war.
Nearly 6% of Ukrainian developers have mentioned that they have become busier than before, and the number of responsibilities massively increased. Nevertheless, business in Ukraine is slightly adapting to new conditions, and foreign companies are not afraid to cooperate with Ukraine as they know that the software engineers are safe and have all the essentials for successful work.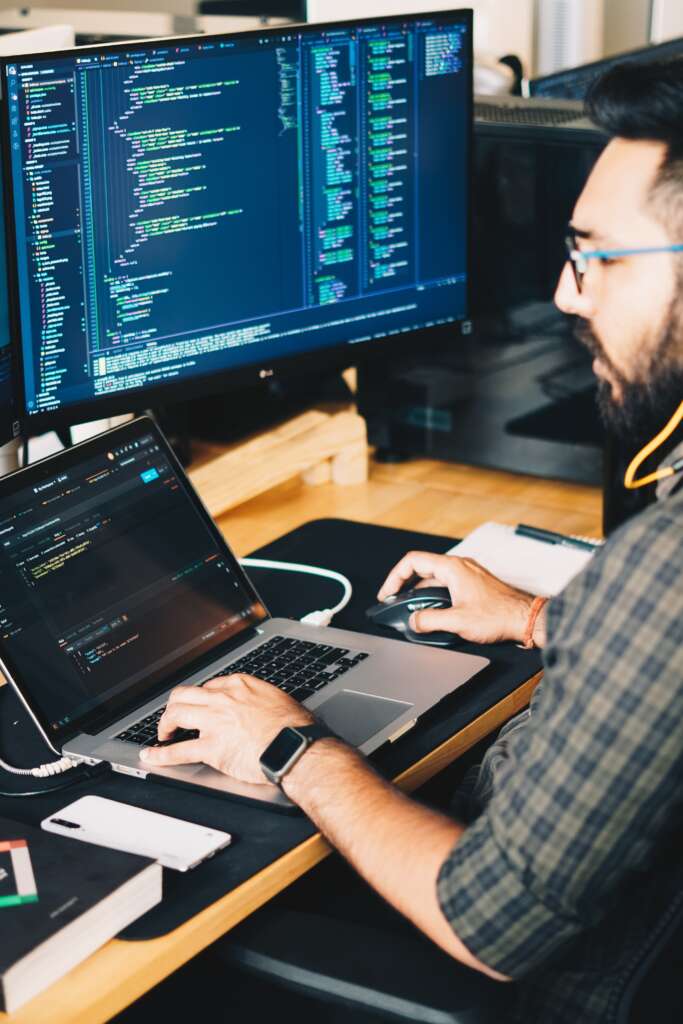 Is It Safe To Hire in Ukraine?
The answer is YES. More than 2.5 million Ukrainians, including coders, have moved to safe places in Western Ukraine. In addition, lots of working spaces have already opened their doors for everyone who needs a place to work. Coworking spaces provide all the equipment, stable internet, and unlimited time for productive work.
Moreover, all the banks and payment systems are working great so it won't be a problem with any payments and communications.
Ukrainian coders are motivated and driven about new projects and business opportunities. Not only for helping the country but for showing their courage and dedication. So hiring Ukrainian developers, you get not only a highly-skilled professional but great individuals who will boost your business.
Why Should You Hire Developers in Ukraine Today?
If we look at the labor market in Ukraine today, we can probably see that the situation is quite unstable. Yes, there are more vacancies than before, and more and more people, including coders, are more motivated than before for new projects and cooperation. Especially for foreign companies, our developers offer all their skills, education, and dedication. However, for companies, there are a few excellent benefits of hiring programmers in Ukraine:
1. Ready to Work Straight Away
Most of the developers are looking for new projects which means they will be ready to put all their effort into your business from day one.
2. You Support the Country
Hiring coders in Ukraine means supporting Ukraine in fighting the war and helping the economy. All those factors help to come back to everyday life quickly.
3. Level of Experience
You can be sure that you will find highly-skilled professionals in Ukraine as Ukrainian developers are familiar with the most demanding programming languages. Moreover, there won't be any language barrier as most developers have good English skills.
4. Stable Internet Access
Ukraine puts considerable effort into keeping stable internet access for everybody. It is crucial to get in touch with families and employers from other countries, so staying connected with your team won't be a problem.
Moreover, the banking system is also doing great, so international payments are booming. Ukraine gives all the opportunities for IT specialists to do successful jobs like before the war.
5. New and Motivated Specialists
Even during the war, people continue adjusting to new life conditions. Therefore, many Ukrainian and foreign educational resources allow them to go on studying online for Ukrainian developers. Also, many educational resources give free access to their courses to improve hard and soft skills.
As you can see, many positive factors make Ukraine an excellent destination to hire developers even during the war. With hiring in Ukraine, you get a dedicated team and help our people get closer to glory.