In recent years proxies, and VPNs have become increasingly popular. That's led to an explosion of proxies being offered.
However, not all proxies are the same quality.
It's important to understand what a proxy is and why you may need an American one, before you choose the best places to buy US proxies.
Understanding Proxies
To access the internet you need an address. In this sense it is much like sending a parcel, there is a sender and a receiver.
The address allows both parties to give and receive information.
On the internet this is called an IP address and your router will automatically assign you one which comes from your internet supplier.
The trade off is that your internet supplier knows your physical location and can monitor everything you do online.
That leads to several potential issues:
Your internet provider can build a file on you and even sell the details
Hackers can access your internet connection. If they do they can work out your physical address
You may find it hard to access geographical internet services
Many people turn to proxies because of the safety risks to personal information.
A proxy gives you a new IP address, unrelated to your original one. This IP address can be located anywhere in the world and can't be traced back to you.
In addition, proxy services tend to encrypt data and have additional protection to ensure your data stays safe and can't be hacked.
Why You Need a US Proxy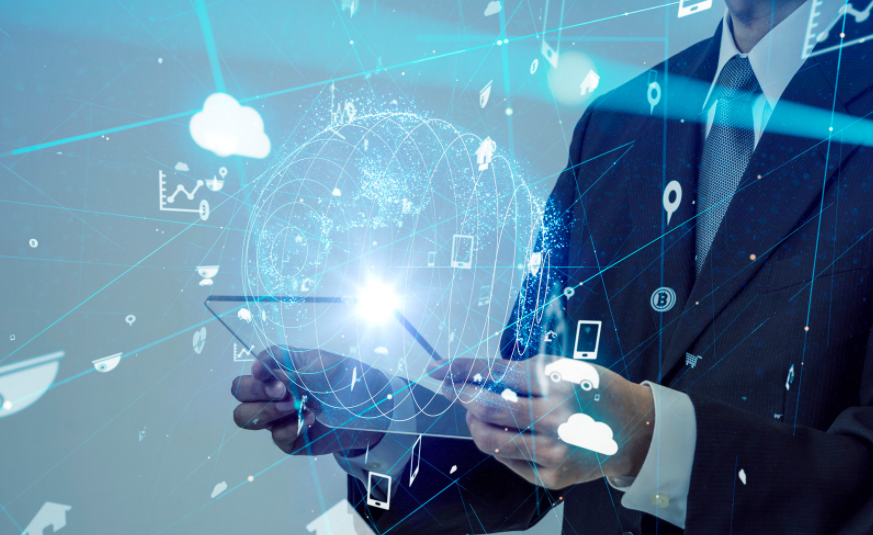 When using a proxy you can choose which location you want to show.
The best proxy services will have hundreds of locations, you can choose any of them and it will appear to other internet users and sites that you are based in that location.
While proxies allow you to be located anywhere, one of the most popular options is to use a US proxy.
There are several benefits to appearing to be in the US, even if you are actually in the US.
Access to Local Service
A proxy server will allow you to access local content, regardless of where you are in the world.
For example, you could be in Europe but want to access US television shows.
Streaming services provide programs based on your location.
By using a US proxy you will appear to be in the states and can access US television. It's that simple.
Avoid State Laws
State laws vary across the US, especially if you are interested in online gambling.
Many states won't allow this. That means, you can't access the service from home.
But, the proxy US server allows you to choose a location in a different part of the US, one that does allow online gambling.
In short, the proxy will allow you to access legitimate sites and potentially win big.
Get Around a Block
It is possible to be blocked from accessing your account, especially if you are talking on social media and the provider doesn't approve of the subject.
Unfortunately, once you're blocked you can't simply create a new account because the site will recognize your IP address.
However, use a US proxy and you will have a new IP address.
You may not be able to unblock the social media account, but you will be able to create a new one.
Bulk Purchase
Some people make a substantial amount of funds buying limited edition products and selling them on. There is a huge market for limited edition sneakers.
The problem is you can only buy one pair.
But, if you invest in a US proxy you can buy a pair every time you change your IP address.
It's also worth noting that a US proxy will allow you to access data on US websites.
This can be beneficial to find out more information on a competitor.
Best Sites To Buy US Proxies in 2024
The market is flooded with proxy providers, making it challenging to choose genuine ones that offer you the service you need.
Fortunately, we have reviewed the available proxies and the following six are currently the best places to buy U.S. proxies.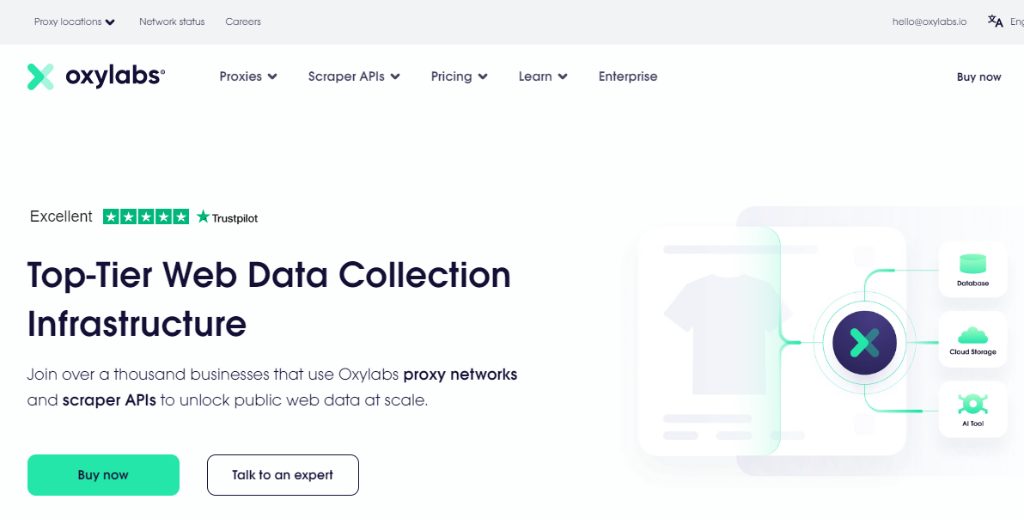 It's hard to beat Oxylabs when choosing a US proxy provider.
The company offers a huge proxy pool with locations in more than 195 countries and roughly 100 million IP addresses.
The majority of these are residential proxies.
This ensures security over speed but Oxylabs do have plenty of datacentre and mobile IPs if needed.
Interestingly, Oxylabs has an ethical approach to proxies, meaning that all IP addresses are ethically sourced.
This helps to ensure they offer a very reliable, secure, and fast service.
The downside is that this is one of the more expensive US proxy providers. But, the expense is worth it.
They are also a great option if you want to undertake web scraping.
Finally, the customer service team is easy to get hold of and offers excellent support.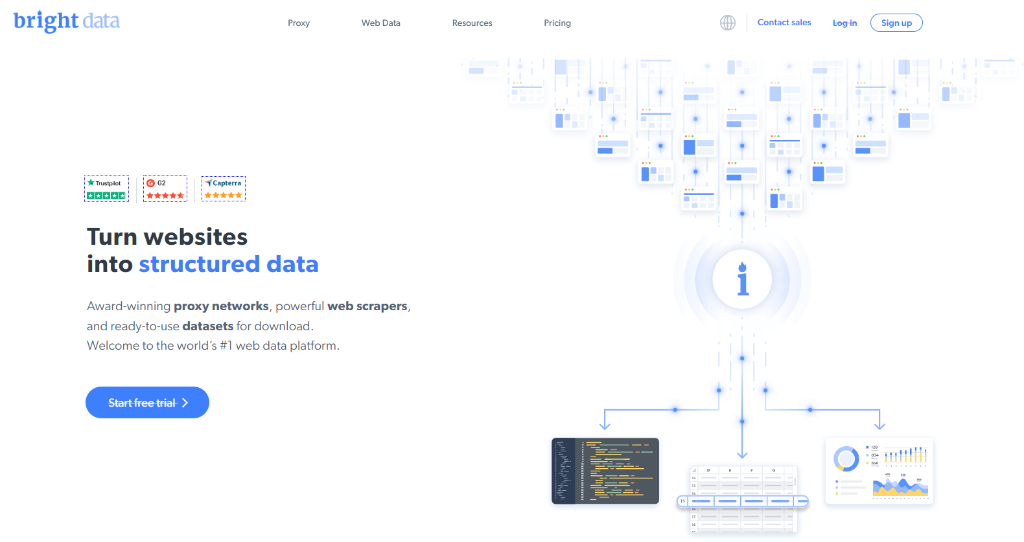 Bright Data is another great option although they don't have as many IP addresses as Oxylabs.
They do have an impressive 72 million IPs. These are a mixture of residential, mobile, and datacentre.
It's worth noting they have at least 5 million US IP addresses, making them a great choice for a US proxy.
Bright Data offers an array of tools to help you get the most from their service and also has a very competent customer service team.
Again, they are one of the more expensive options. You'll also find setting them up can be complicated.
However, they do have more flexible billing options and a good service record.
They are a good option if you want an alternative to Oxylabs.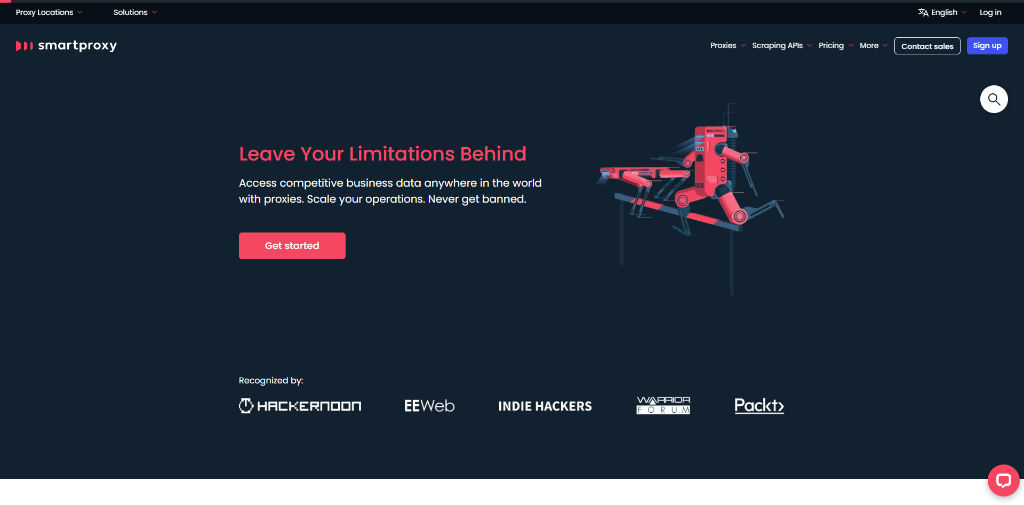 SmartProxy is an excellent choice for small businesses and individuals.
The pricing is extremely competitive and you'll find it easy to get started with them. The simplest plan is just $39 per month.
They offer over 40 million IP addresses, the majority of which are automatic rotating ones, ensuring you stay connected.
Smartproxy gives you access to 195 locations across the globe with a significant proportion of these being US-based.
The lack of limits on connections also means this is a great proxy supplier for web scraping.
Smartproxy works hard in the background to ensure unique user profiles are constantly created, massively reducing the likelihood of the proxy being detected and blocked.
A nice touch is the ability to set up multiple Chrome profiles. Each one can have its own IP address and, therefore, location.
It's the perfect way to access local information in various parts of the world at the same time.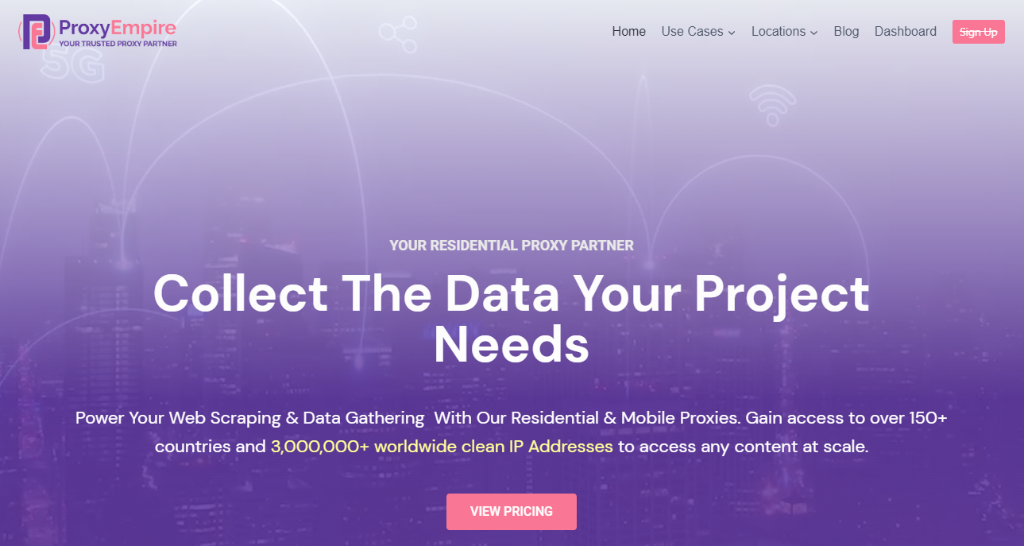 ProxyEmpire separates itself from the competition by offering unlimited rollover data.
In short, if you don't use up your monthly allowance it rolls to the next month.
It's easy to check what data you have used and what you have left on the Proxyempire dashboard.
An interesting feature is the ability to pay by cryptocurrency, as well as the standard debit or credit card.
Proxyempire offers mainly residential IP addresses, although they have a good collection of mobile IPs and even a few datacentres.
You can choose from over 150 countries and hundreds of thousands of IP addresses.
This means they offer US residential proxies and US mobile proxies.
Alongside a very easy to use dashboard, Proxyempire has an excellent customer support team.
You can contact them at any time and they have the knowledge to help you resolve any issue.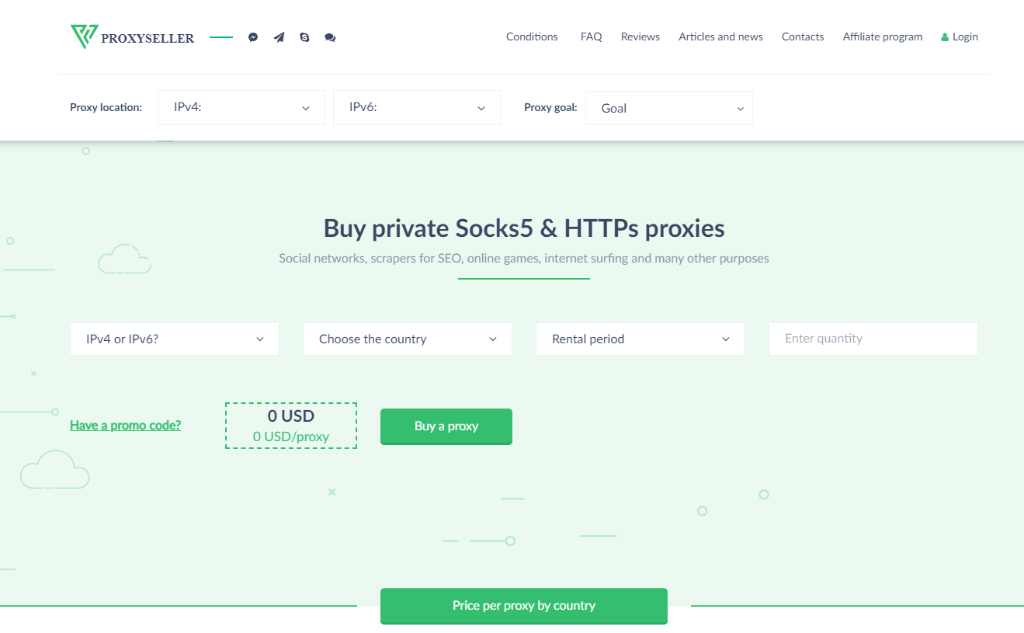 Proxy-seller is a relative newcomer to the proxy market but it's making a good impact.
They currently have servers in 40 countries and allow you access to thousands of residential IP addresses.
However, the bulk of their proxies are datacentre based.
This may explain why their service is surprisingly cost-effective. It's possible to get a proxy from just $1.73 per month!
As with most proxy providers, the longer you sign up for the better the price will be.
It's worth noting that they verify all their proxies regularly, helping to ensure you're not accidentally blocked from accessing an important US-based site.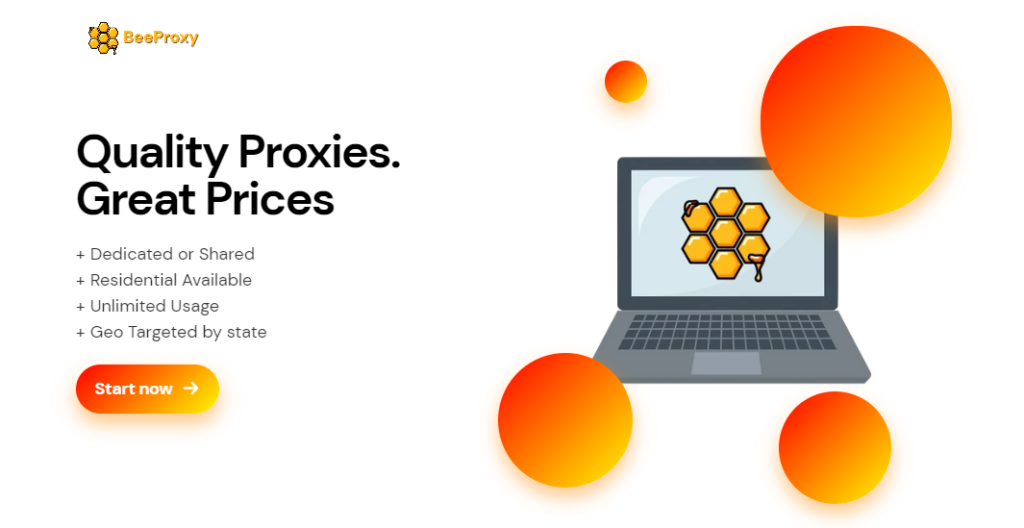 BeeProxy focuses on offering static US IP addresses.
These work well for anyone who simply needs a US IP address and doesn't need to change it frequently.
Of course, it is possible to change IP address but the number of times you can change per month is limited.
As well as US proxies they have a large collection of European proxies. You can choose a city in Europe or the US and make it your proxy.
Alongside the static residential proxies they do offer rotating proxies which can help you appear to be in different places.
The customer support team at Beeproxy is excellent. They are available 24/7 and have plenty of knowledge to help you resolve any issue.
How To Use A US Proxy
Anyone can sign up for a US proxy account with one of the above providers. The process is surprisingly straightforward.
1. Choose A Supplier
As mentioned, there is a huge choice of proxy providers online. However, not all of them have your best interests at heart.
That's why it's best to choose one of the above 6 reputable ones.
2. Create An Account
Having decided on a provider you'll need to visit their website and register for an account.
It doesn't take long. The majority of them need very few details.
However, you will need a username, password, and your payment details.
Part of the subscribing process means choosing the right subscription for your needs.
3. Download The Software
Once you've chosen your software and set up the subscription you'll be given the download link, allowing you to install the software on your designated device.
In most cases it's best to do this on your desktop, you can then ensure all other connected devices use the same proxy protocols.
Downloading is simple, you just follow the on-screen instructions.
4. Choose Settings In The Dashboard
Once the proxy is installed you can open it and log into the dashboard.
Here you can set your preferred US proxy IP address and other parameters.
The program will automatically update your proxy settings on the computer.
However, if you wish to check you can click on settings, then network and internet. You'll see a proxy option.
If you select this the details should already be completed. If necessary, you can add them manually.
That's it, next time you open a browser you'll be using the proxy and your connection will appear to originate from your designated US location.
Is A Free Proxy A Good Idea?
When searching for proxies you'll find plenty of free ones. These can be tempting. After all, they cost nothing.
Unfortunately, in the majority of cases the cost is hidden.
Free proxy providers tend to capture more of your information, allowing them to sell your profile.
In some cases, the proxy provider may simply be scamming you.
Once you sign up they include malware in the software download and they gain access to your computer and all your personal details.
You may find that the IP addresses you are using cause constant issues or don't actually change your location.
That's because free proxy providers don't have the necessary resources or desire to check IP addresses regularly.
In short, using a free proxy provider isn't a viable option. It's better to pay a little for the quality associated with a good reputation.
Final Thoughts
Everyone could benefit from installing a proxy today.
Whether you're looking for the best places to buy US proxies or you want to use a European proxy, the 6 providers mentioned in this article will provide you with a secure connection.
When you buy USA proxies, you get access to local US content and can bypass state laws.
But, the best reason to get a proxy is to ensure the safety of your connection and your data.
It's that simple, choose a proxy provider and sign up today!