If you are someone who frequently purchases items on Etsy, there is a good chance that you have tried to buy a limited edition item before only to get the disappointing message that it is sold out.
However, when you do win these kinds of items, it feels like winning the lottery. Of course, when it comes to limited edition items, the demand for them is a lot higher than the supply, which means that the competition is hot.
As more and more people are embracing the concept of using an automated Etsy bot to give themselves a competitive advantage, the process of trying to come out on top becomes even more challenging.
We believe that it has actually gotten to the point where if you are not using a bot for your Etsy engagement, then you are most likely going to miss out every time. This is why we recommend that if you can't beat them, join them.
Below, we are going to talk all about Etsy bots & automation, as well as the bots that we think are the best for you to use in the industry right now. They will give you an advantage over the competition and make it a whole lot easier to purchase those limited edition items.
Let's talk about it.
Etsy Automation
Etsy automation is the process of using an automation tool commonly known as an Etsy bot to carry out your activity automatically. Through this type of activity, your tasks can be done very quickly, and the best part is that it can take care of those mundane, everyday tasks that you would rather not do.
Whether you are trying to buy something on Etsy, or you are trying to sell something, using a bot can be very helpful. There are two main types of Etsy bots, which we will talk about a little bit more in-depth below.
Etsy Purchase Bots
These types of Etsy bots are great if you are trying to purchase an item. However, we don't recommend that you use them just for a regular purchase, because the high-quality ones aren't free.
We think that you should only use an Etsy purchase bot when you are trying to buy something that is a limited edition, as the speed of it is going to increase your chances of beating out the competition. However, if you are just trying to purchase a regular item, you do not need to use a bot.
Etsy Growth Bots
The other type of popular Etsy bot is an Etsy growth bot, and these are mainly used by sellers.
Growing and managing an Etsy account is not the easiest task in the world, and if you want your store to become particularly popular, then you will need to use an Etsy growth bot so that you can interact with other users and share details of your store automatically.
First Look at Etsy Bots
1. Best of the Best: Growth Bot by Viralwoot
"Perhaps the best thing about Growth Bot for Etsy for me is that they have been approved by Etsy for me to use. This means that there is absolutely no risk involved, and I can grow my account automatically without worrying about my reputation."
2. Second Best: EtsyBot
"One of the things that were important to me when finding a high-quality Etsy growth bot was safety. Luckily, I was able to find it with EtsyBot, and I haven't looked back since."
"I love that I can use my Etsy Spinner bot to make those limited edition purchases on Etsy that I would otherwise miss out on. It's stressful to think that I might end up at the back of the line, which is why a bot like this is so important to me."
"I take my Etsy growth really seriously, but I also have a number of purchases that I want to make without thinking that I'm going to miss out. Most Advanced Bot is by far the best option for both activity, in my opinion."
Best Etsy Bots
1. Best of the Best: Growth Bot by Viralwoot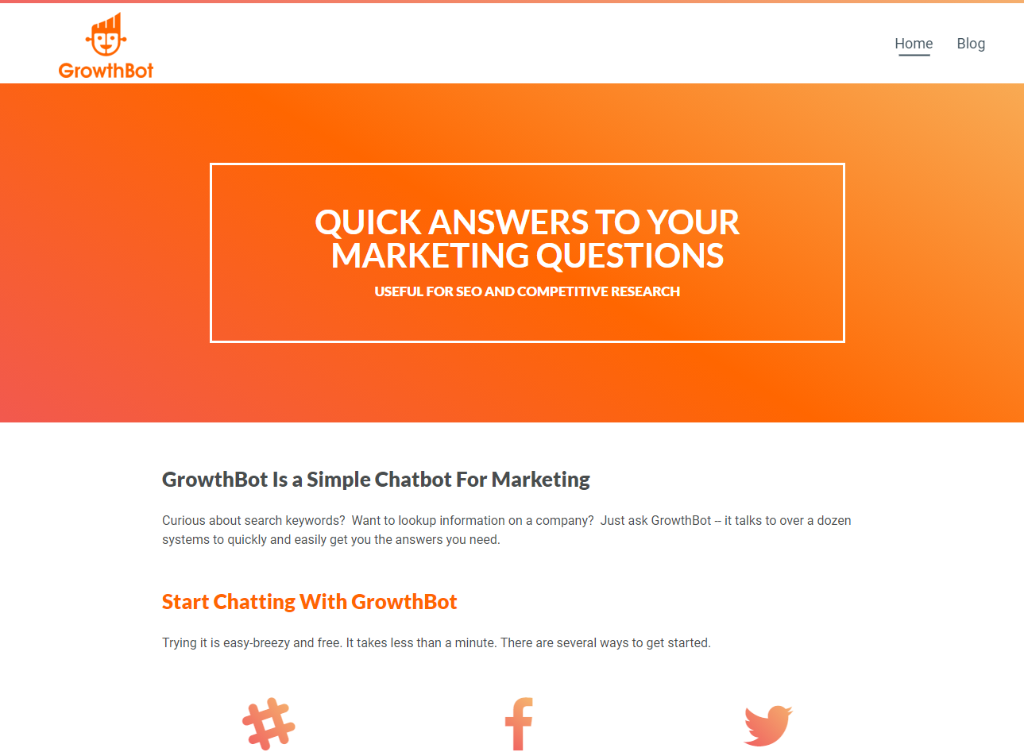 Just like our reviewer said above, one of the best things about the first Etsy bot on our list is that it has actually been approved by Etsy. This is pretty amazing; you really won't find many other bots like this that are not only going to do a good job for your Etsy account but are going to keep you completely safe while doing it.
This bot can help you automate your Etsy store marketing by automatically promoting its, as well as your products on other social media accounts. All you have to do is set it up, and they will start the process of working automatically on your behalf. It can also help you with other social media networks, including Twitter, Pinterest, Facebook, and Instagram. It follows the rules and helps turn potential visitors into paying customers.
2. Second Best: EtsyBot
The second Etsy growth bot on our list is another bot that complies with its Etsy's terms and conditions around using a third party to grow your account. We love that it comes with a good number of limitations, and while it might not be as effective as other bots out there, it is definitely going to keep you safe.
With this kind of bot, you can grow your Etsy account and easily become one of the top sellers. It can help you automate the process of following buyers and sellers on Etsy as well, and all you need to do is give them the name of your store, and it will start the process of automatically growing up for you.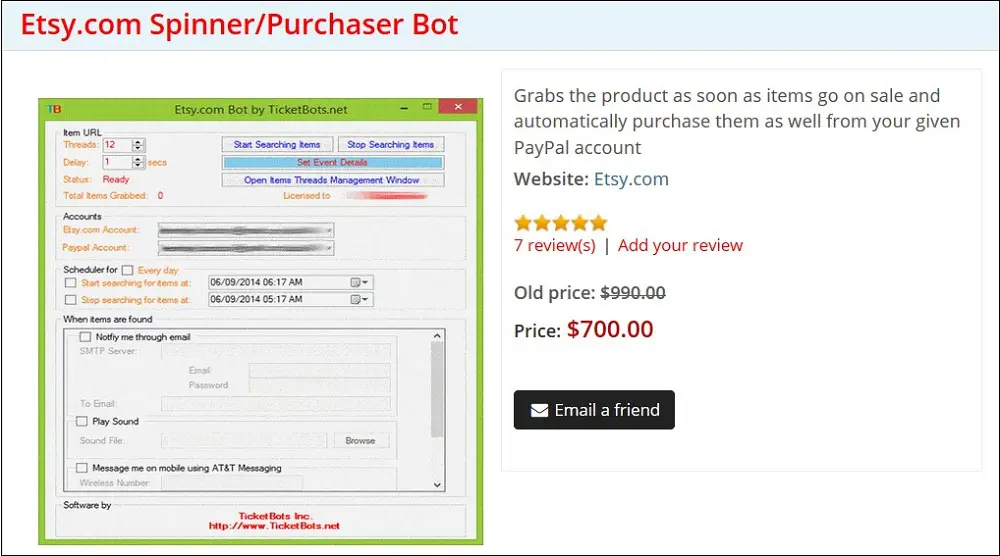 The next Etsy bot on our list is the kind that you need to focus on if you are looking to purchase limited edition items on Etsy. With this kind of bot, you can grab a product as soon as it goes up for sale on Etsy, and the best part is the process is automatic. All you need to do is provide them with your PayPal account details as well as your Etsy details, and they will get the job done for you.
They also offer a scheduling feature, which allows you to specify when they should start working on your behalf. You can even customize their bot to meet your specific needs, and their desktop-based application works with Windows. The only downside is that they're quite expensive, but if you are committed to purchasing those limited edition items, we think that it is worth it.
You might have heard of the next Etsy bot on our list before, mainly because it is also known as being an effective sneaker bot. This means that it is one of the best Etsy purchase bots on the market when it comes to having advanced features, and it even comes with a Chrome extension so that you can go through the process of making your Etsy purchases a lot quicker than if you were to do it manually.
They can help you both with adding items to your cart, as well as checking them out efficiently, and you can even search for limited edition items with keywords. Their interface is super easy to use, and they're really reliable when it comes to finding and purchasing those in-demand items.
FAQs
Will Etsy Let Me Use a Bot?
The great news is that most sites, including Etsy, do allow a limited number of bots for their users to make the most of for their purchases and optimizing their store. On the flip side of this, you also have to remember that there are plenty of bots out there that Etsy doesn't approve of either, which is why it's important that you stick to lists like the one above. You will also need to make sure that you read up on Etsy's terms and conditions around third party usage as well.
Can a Bot be Stopped on Etsy?
Unfortunately, there is no way that you can stop a bot from interacting with your shop, and writing a review, or making a purchase. However, Etsy does have some tricks up their sleeve to prevent and detect bots on their platform; however, there will always be bot companies that somehow manage to evade detection on platforms like Etsy.
Are Etsy Bots Updated?
This all depends on the kind of company. If it is a high-quality company that cares about its client's Etsy growth, then they will be committed to regularly updating their bot for optimal use. However, if they are not a high quality company, then they might drop the ball on this, and you could end up using an outdated bot. Most companies that are onto it and will make sure that they update their bots when Etsy updates its algorithm.
Our Review Process
When we try to find the best bots for you to use for Etsy growth, we make sure to do our homework. While there aren't too many out there right now in the industry for you to use, there are enough for us to get a good grasp on what a legit one looks like and how to detect an average one.
This is why we look through at least 20 Etsy bot services and read through at least 410 customer reviews.
These customer reviews detail both good and bad things about the companies so that we can get a really good idea of what we're recommending you and why we are recommending them. Good luck, and make sure that you check out any free trials on offer.