An AIO bot is a bot that is used to cop sneakers online that you can use to get more than one pair of sneakers from different websites. There are a lot of these bots available on the market right now, but some have proven to be better than others.
This is why we love to do our research and come up with a list of the top 10 AIO bots that you can use for copping sneakers online if you want to get your kicks from more than one website. The AIO bots that we talk about below can be used to shop through Shopify stores, Adidas, and Supreme.
The one thing that you need to know about them is that because they are so popular, they often get quickly sold out, and some of the time you only get a chance to use them if you get invited.
First Look
1. Best of the Best: Nike Shoe Bot
"It's definitely not a secret anymore that Nike Shoe Bot is one of the best AIO bots around when it comes to helping everyone with their sneaker copping online. I have been using them forever and they haven't let me down yet."
2. Second Best: Cybersole
"As someone who gets a lot of their sneakers online, I love that Cybersole can help me cop my sneakers from hundreds of different sites. There's really no need for me to go anywhere else, which is awesome because I can consolidate everything."
3. Third Best: Kodai AIO
"I'm someone who loves to find not only sneakers to cop online, but those that are super rare and limited edition. I have worked with a lot of AIO bots over the years, and there haven't been too many that have been able to find me super exclusive deals – until I came across Kodai AIO."
4. Fourth Best: AIObot
"AIObot is an in-demand sneaker copping bot that I have been using for ages, and it's still as good as the day I bought it. I love that they are always updating their features, which means that I can keep up with the competition no matter what they bring to the table."
5. Best for Variety: Better Nike Bot
"When I use an AIO bot to cop my sneakers online, I don't want it to be a hassle to set up. I don't have a lot of time to get technical, so being able to find a bot like this that makes it super easy to get going is exactly what I need."
6. Best for Speed: Project Destroyer
"When I look for my favorite pairs of sneakers online, I want to make sure that I'm not going to miss out. As a really competitive person, I need a bot that's going to put me at the front of the line, and not lose my place. Project Destroyer can do that and so much more."
7. Best for Exclusivity: Sole AIO
"If you are someone like me who really doesn't like the idea of missing out on your favorite pair of sneakers, then I highly recommend that you check out Sole AIO. They can help you jump the queue, like they've helped me dozens of times."
8. Best for Reliability: Prism AIO
"I get FOMO when I find bots that get sold out quickly, but I also know that it's because they are super reliable and popular. I have managed to get a place with Prism AIO a couple of times, and there's honestly nothing else out there that can beat it."
9. Best for Security: Ghost AIO
"If you're looking for security in an AIO bot like I was, then I highly suggest that you check out Ghost AIO. This super reliable, secure bot can help you like they have helped me, and the best part is that they are super easy to adapt to, which is great for someone like me who doesn't have any technical skills."
10. Best for Being Established: Heated Sneaks
"I have high standards when it comes to copping my sneakers online, and I only want to work with the best. Heated Sneaks took that bar up another level, so I know that I'm definitely working with one of the greatest AIO bots out there."
Our Reviews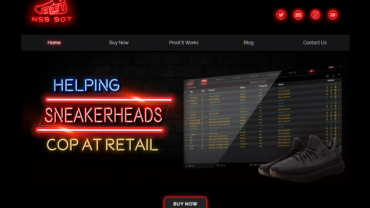 Of course, Nike Shoe Bot can help you cop all of your favorite Nike sneakers online, but the best part is that they can help you with other sneaker brands as well. This means that they can help you with Adidas, Supreme, and Footlocker, as well as others. They have been doing their thing since 2014, and they are one of the easiest to use when it comes to the technical side of things.
The only downside that we can see is that it is pretty expensive when compared to other AIO bots out there, but you do get more features with them. They support both Mac and Windows, they update their features regularly, and they support proxies as well. They are going to set you back $499 a year though, so if you have it on the budget, go for it, but if you don't, that's understandable.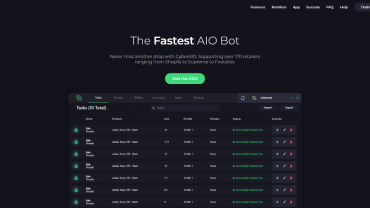 Cybersole is the kind of AIO bot you want if you are looking for support from many different sneaker sites online. In fact, they can help you obtain limited-edition shoes from more than 170 stores, including Supreme, Mesh, Shopify, and Footsites. As a result, they have proven themselves to be one of the best AIO bots in the industry, so if you're looking for an option out there that is going to get the job done no questions asked, we highly recommend these guys.
Another thing that we really like about them is that they come with a mobile app, so that you can control the bot even when you're away from your computer. They support Windows, update their features regularly, and support proxies.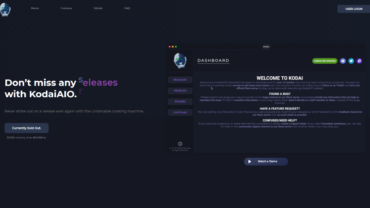 Kodai AIO definitely knows a thing or two about helping its clients cop the best sneakers online. We love that their AIO bot can be used for copping limited-edition shoes from lots of different websites. They are constantly detecting which websites are avoiding bots and which ones aren't, so that they can get around restrictions, and remain undetected.
There are many AIO bots that have gone before these guys, that have been detected and banned by sneaker websites out there, but Kodai AIO just seems to go from strength to strength. It supports Windows only, and offers its clients regular updates, as well as proxy support. It will cost you $172.00 for two months and then $34.99 a month. Personally, we think that this is a really affordable option.
4. Fourth Best: AIObot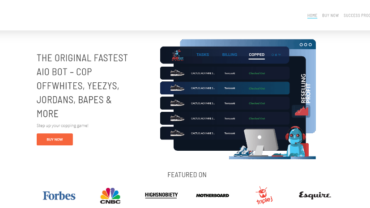 AIObot is one of those AIO bots for copping your sneakers online that can help you get the most limited-edition, exclusive sneakers out there. This means that if you have been a sneakerhead for a while, and you are serious about your sneaker copping, this is the best AIO bot for you. They can help you get all of your favorite sneakers including Yeezy, Bapes, NiceKicks, and plenty of others from popular Shopify sites.
They only have support for Windows, but in saying that they support multithreads, which means that you can access more than one account at the same time and cop all of your sneakers simultaneously. They update their features regularly, support proxies, and only going to cost you a one-time payment of $325, which we think is pretty decent.
Better Nike Bot is all about doing the best by its clients. This is why they are easily one of the best AIO bots on the market, and one feature that we particularly love about them is how easy it is to get set up with them. They can help you with all major sneaker retailors except for Nike, and you can register unlimited accounts with them as well.
You can also do bulk editing of tasks and enjoy free updates for up to six months. Their platform supports Windows only, multithread, and they provide regular updates for their features. You can also use proxies with their features, and their prices begin at $200 for a six-month license.
If you are a relatively seasoned sneaker copping person that has spent a lot of time online finding limited-edition kicks, then you will know how important it is to use an AIO bot that is fast. In fact, there's almost no point in using one if you can't beat everyone else out when it comes to speed. If you are someone that wants to put all their eggs in the speed basket, then we highly recommend the checkout Project Destroyer.
Another amazing feature that they offer is being able to support more than 200 sneaker retail sites, including all the popular ones. They also come with a site monitor, that makes sure they are in compliance with that particular website's security measures. This platform supports Windows only, updates its features regularly, and it's going to cost you $450 as a one-time payment.
7. Best for Exclusivity: Sole AIO
Sole AIO Is an AIO bot that is able to bypass the queue and increase your chances of getting those sneakers that you really want. Similar to Project Destroyer, this is a super-fast AIO bot which comes with a monitoring system, so they can make sure that the codes aren't broken, so that you won't miss out on a new release.
They definitely remain one of the top AIO bots in the market, and while they can only support Windows, they offer their clients regular updates with their features, and support proxies. Their pricing begins at $240 for six months.
8. Best for Reliability: Prism AIO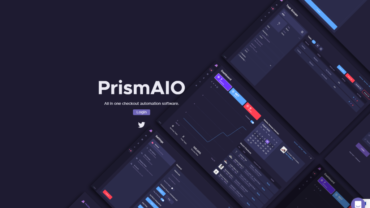 Prism AIO just like our reviewer talked about above, get sold out a lot because it is super reliable. This is why we suggest getting onto them today, so that you can make the most of them, and avoid missing out. Not only are they super reliable, but this AIO bot can help you with a modern, clean, intuitive design.
Another thing that we really like about them is that they are super easy to use, and they offer support for copping sneakers from a number of different sneaker retailers. They imitate human action on the websites, which means that they can easily evade anti-spam checks. They support both Mac and Windows, update their features regularly, and are going to cost you $250 as a one-time payment.
9. Best for Security: Ghost AIO
Ghost AIO is one of those secure and reliable sneaker bots that is not only functional, but user-friendly too. It can help you cop sneakers from stores like Met-a-Porter, Adidas, Finish Line, and Supreme. They provide their clients with an analytical page where you can learn more information about whether you're copping behavior is working or not.
They have in-office support for Windows and Mac, regularly update their features, and are going to cost you from $300.00 for a six month license. Yes, they are definitely on the expensive side, but if you have it in the budget, we think that it is worth it.
10. Best for Being Established: Heated Sneaks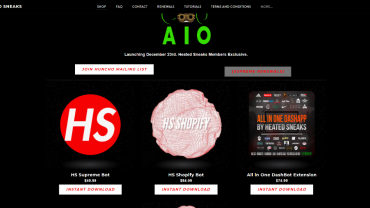 Last but not least on our list is Heated Sneaks. This effective AIO bot is great at mimicking human behavior, and has a strong antispam evasion system that works to support a good number of popular sneaker websites online.
It has varying features including auto checkout, as well as auto add-to-cart, and link monitor as well. It only supports Google Chrome, applies updates when needed, supports proxies, and begins at just $74.99, which we think is pretty decent.
Our Review Process
When we review companies like the ones on the list above, we make sure to do our homework. We want to offer our readers the best AIO bots in the industry, which is why we put a bit of work in before we finalize the top 10 list. We end up looking at more than 153 AIO bot companies, and reading through at least 213 client testimonials, that detail both good and not so good things about them.
This is the best way for us to determine which companies out there are worth your time, and which ones you should avoid at all costs. Stick with ones like those above, and we promise that you won't go wrong. Good luck!