If you have a bank account separate for your ecommerce business, it might help you handle your resources while keeping them separate from your personal ones. In the past, you may have gone to a neighboring traditional bank to open an account. However, many small company owners are resorting to full-service alternate banking services these days.
Traditional brick-and-mortar banks often target large enterprises, where they can make more money. Banks that collect fees, set minimum deposit requirements, limit your amount of transactions, and have long approval processes are hard to work with and expensive for your company.
Recognizing the various demands of ecommerce businesses, online banking alternatives provide more convenient and cost-effective services. Continue reading to discover more about alternate banks and their benefits for ecommerce businesses.
Advantages Of Online Banking Alternatives
Convenience
Transfer service
Monitoring service
Quality service
High liquidity
Online bill payments
Low-cost banking service
High-interest rates
Better customer support
1. Convenience

It is not practical for ecommerce businesses to make time for bank visits for every small task like checking interest rates, account balance, transferring money, or taking other updates. For client convenience, today there are alternatives for online banking that allows individuals to access their banking system at any time and from any location.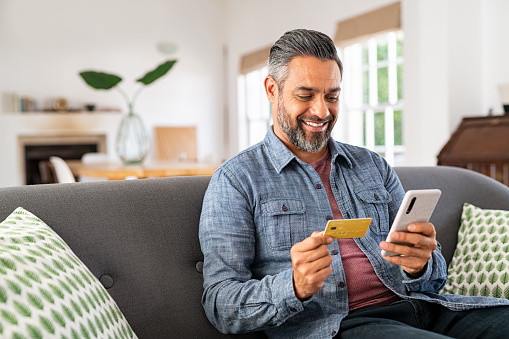 There are several instances in which your money cannot be moved due to a banking holiday. Online banking alternatives have made life easier by giving services 24 hours a day, 365 days a year. It overcomes problems that clients had with the old banking system. Individuals are not required to wait in line for any money deportation or transfer.
2. Transfer Service
The alternatives to the traditional banking system make it possible to transfer money 24/7, all year round. You are not required to execute any transactions during working hours because you may do it whenever it is convenient for you.
3. Monitoring Service
Customers may check their revised passbook at any time to track their transactions and manage their finances.
4. Online Bills Payment
You don't have to stand in line to pay bills since it contains a function that allows you to send any payment, including energy, water supply, telephone, and other expenses.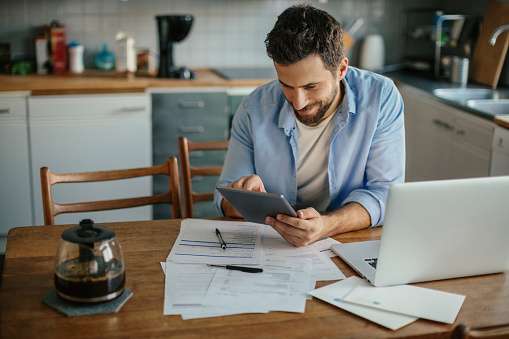 5. Quality Service
Banking alternatives have boosted the quality of service by allowing ecommerce businesses to do transactions at any time of day. Customers may apply for loans, insurance, and other solutions without actually visiting the banks, demonstrating that the efficiency of e-banking is quick and effective.
6. High Liquidity
The ability to move money and use it at any time is the most significant advantage of using internet banking. You do not need to visit banks to transfer money because you can do it from anywhere without physically visiting the banks.
7. Low-cost Banking Service
Banking alternatives allow for lower operational expenses while providing higher-quality services. It offers convenience and excellent customer service at a moderate cost. The bank charges a low fee for activities, indicating that the e-banking services are affordable and efficient.
8. High-interest Rates
Internet banking offers lower mortgage interest rates than banks. The running costs are relatively cheap, which helps to save money for the clients. Some features like ones in which you do not require a minimum balance, which allows you to keep an account with a $0 balance, can help you support your business from scratch. It boosts users' overall discretionary income without requiring them to maintain a minimum balance.
9. Better Customer Support
One prevalent misperception about online banking alternatives is that it does not offer the same degree of customer care or assistance as a local location. The opposite is also conceivable.
Most online banks offer 24-hour customer care by phone, chat, or email. Furthermore, some firms provide one-on-one consulting or a specialized business banker for your accounts, whom you may contact at any time.
Best Online Banking Alternatives
1. Juni
Juni is the best ecommerce bank and a financial buddy that improves your cash flow by centralizing all of your finances. Ecommerce businesses may use their Juni dashboard to set up payments and measure their ROI throughout their whole organization.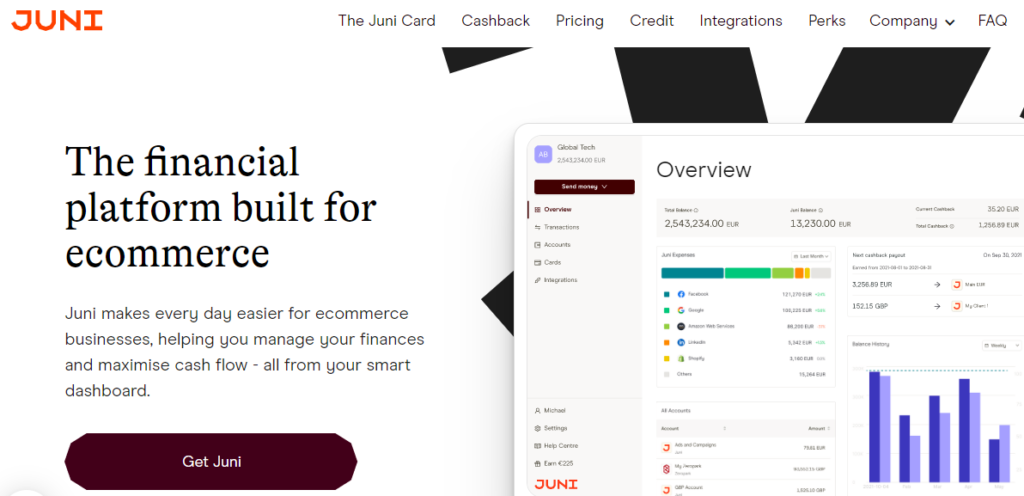 It offers the most cost-effective and flexible approach to handling your company's money, and it has ambitions to grow shortly. Juni is a good alternative for a simple-to-use, low-cost financial solution for digital enterprises. It aims to offer less-priced and more versatile financial services than traditional banks.
It takes pride in offering the lowest fees. Organic search, social media, and paid advertising are the most common sources of traffic for ecommerce stores. However, once they discover a successful ad, many shops find themselves spending hundreds of dollars per day on it until their ROAS falls.
Juni eliminates the need to double- and triple-check the amounts you pay to the major ad networks; It's interface with Google Ads and Facebook Ads will automatically acquire invoices and match them to expenses in the Juni dashboard.
When you have all of your invoices and charges in one place, you can quickly share them with your accountants and monitor your advertising budget at a glimpse, saving you money and time.
2. Quicken
Quicken comes in a number of flavors, all of which are targeted at getting and keeping your money in order. It provides a full experience with a rich collection of tools and a relatively decent interface. It is unquestionably a program for ecommerce businesses who desire to become financially solid and have emergency funds for the future. Not only that, but it also shows how much revenue a person has in comparison to their spending budget.
3. TractionTools
Traction Tools is a web-based company management program that helps you to synchronize all aspects of your business. You can use Traction Tools to organize your To-Do list, manage team member responsibilities, arrange meetings, and visualize goals.
This program is intended for ecommerce business owners. It can prove to be a genuine game changer in several industries. If you face challenges in tracking and executing procedures on your own, you can bring on Traction Tools.
Traction Tools has evolved into a platform that will continually keep everyone in your firm on track, focus on where you're heading, and create responsibility across the board.
4. Buxfer
Buxfer offers a superb money management alternative, with app versions that complement its clean desktop-based dashboard with an attractive layout and a slew of useful capabilities. Buxfer personal finance is an online tool that can be used to investigate your spending habits and assist you in organizing and budgeting for the future.
Along with managing your personal money, Buxfer may be used to keep track of all of your bank accounts and other financial interests, such as investments and savings. While Buxfer may be linked to your bank accounts, the service is not yet set up for the Open Banking plan, making it a less apparent alternative than other related products.
5. Creditsafe
Creditsafe, which has credit data on over 365 million firms worldwide, provides the most comprehensive and up-to-date information accessible in an easy-to-use manner for businesses of all sizes.
Creditsafe is also endorsed by all major credit insurers, indicating that our credit ratings and limitations are among the most trusted in the industry and can anticipate over 70% of all liquidations up to 12 months ahead.
Their effort in developing the world's most predictive scorecard guarantees that their clients are informed of possible dangers ahead of time, allowing you to make the best decisions to protect yourself and your organization.
6. Fixed Assets CS
Fixed Assets CS offers you the resources you need to estimate and track your clients' fixed asset and loss activities. You may enter customer data, resources, and asset data. Fixed Assets CS determines the right depreciation depending on the asset's depreciation method, lifespan, and date of service.
You may then produce basic or customized depreciation spreadsheets, forms, and reports depending on the client's activities, asset groupings, regions, kinds, divisions, and other affiliations.
Wrapping Up
Hopefully, now that you have read the article, you understand how beneficial online banking alternatives are for your ecommerce business. Such solutions not only help you manage your business finances but also helps streamline operations and enhance productivity.
You can easily choose among several banking alternatives available online, such as Juni, which is a one-stop solution for all your ecommece finance management issues. If you still have any questions, don't forget to reach out to us via the comments.